Saturday, September 03, 2005
MULTIPURPOSE THREAD?
GAME 134: ANGELS 4, MARINERS 1
Angels 4, Mariners 1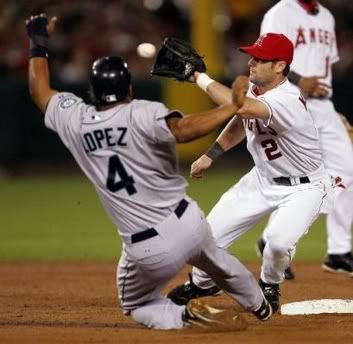 In 25 words or less: The Mariners had an early lead until Jamie Moyer's road pitching took effect. Also, the bats couldn't fly with the Byrd.

This one featured Jamie Moyer going up against Paul Byrd. Both pitchers are not young. Yes, two men enter, but only one man escapes with the win. The other gets the complete opposite. Could the Mariners build a streak after splitting the home series with the Yankees?

TOP 1ST
Grade: B+
Ichiro bunted the first pitch near the third-base line, and Byrd came off the mound and had no play. Jeremy Reed got ahead 2-0 and watched as Ichiro stole second on the next pitch. Reed ended up popping a full-count pitch high to third. Raul Ibañez bounced the second pitch hard to first for a 3-1 putout, moving Ichiro to third. Richie Sexson got ahead 2-0 and pounded a bullet past Kennedy and all the way to the wall for a double, easily scoring Ibañez.
»» MARINERS 1, ANGELS 0
Beltre was ahead 2-0 and eventually smoked a 2-2 pitch to Robb Quinlan at third, who stopped and threw in time to first.

BOTTOM 1ST
Grade: B+
Minimal turbulence. Chone Figgins bounced the second pitch to second. Orlando Cabrera flew out on the second pitch high to fairly deep centerfield. Garret Anderson golfed a double off the rightfield wall. Vladimir Guerrero rolled the first pitch to first for a 3-1 putout.

TOP 2ND
Grade: C
Quashed. Dave Hansen fell behind 0-2 and wound up checkswung a 2-2 dribbler off the mound to Byrd on the right side, who tossed to first. Jose Lopez shoveled an 0-2 pitch over Darin Erstad in shallow rightfield near the line for a single. Yorvit Torrealba fell behind 0-2, took a 2-2 pitch barely high, then whiffed on a full-count breaking ball, and Lopez was nailed trying to take second.

BOTTOM 2ND
Grade: B+
Decent. Bengie Molina hit a sinking liner to leftfield which was caught by Ibañez with a sliding catch. Darin Erstad popped foul to Torrealba in foul ground on the right side. Robb Quinlan ripped a 1-2 pitch down the leftfield line and into the corner for a double. Juan Rivera flew out to centerfield on the second pitch.

TOP 3RD
Grade: C
Ho hum. Yuniesky Betancourt reached down on an 0-2 pitch and flew out to centerfield. Ichiro shot a grounder right to Quinlan on the infield grass on the left side. Reed dribbled the second pitch past Adam Kennedy and through the right side for a single. Ibañez grounded a 1-2 pitch hard to Kennedy plugging the hole on the right side.

BOTTOM 3RD
Grade: C+
Dent. Adam Kennedy walked on four pitches. Figgins bunted along the first-base line, where Sexson picked it up and tagged him, moving Kennedy to second. Cabrera got ahead 2-0 and watched his 2-1 pitch as Kennedy stole third, with Beltre having to get in front of the wide throw. Cabrera wound up dribbling the 3-1 pitch up the middle for a single, scoring Kennedy.
»» ANGELS 1, MARINERS 1
Cabrera took second without a throw on the first pitch to Anderson, who fell behind 0-2 and eventually bounced the 1-2 pitch to Sexson behind the bag at first, moving Cabrera to third. Guerrero grounded the second pitch hard to third.

TOP 4TH
Grade: C-
Nada. Sexson flew out to leftfield on a 1-2 pitch. Beltre hit the first pitch off of Byrd's foot (kick save) to Cabrera, who threw over in time. Hansen got ahead 2-0 and flew out high to short on a 2-2 pitch.

BOTTOM 4TH
Grade: B-
Aversion. Molina rolled a single past Betancourt's glove side and into centerfield. Erstad bounced the 0-2 pitch to the right side for a 4-6 fielder's choice (Molina forced). Quinlan lined the first pitch into leftfield for a single. Rivera popped the second pitch to the left side, but Betancourt climbed the ladder and caught it as the runners held. Kennedy bounced a 3-1 pitch to Sexson for a 3-1 putout.

TOP 5TH
Grade: C-
Bottom third. Lopez flew out high to second on an 0-2 pitch. Torrealba popped the second pitch to centerfield. Betancourt flew out just short of the leftfield track on the second pitch.

BOTTOM 5TH
Grade: C-
More. Figgins dumped the second pitch into shallow leftfield just in front of Ichiro. Cabrera bunted the first pitch near the first-base line, where Moyer threw over to first, moving Figgins to second. Anderson watched the first pitch and saw Figgins take third, just beating Beltre's tag. Anderson ended up golfing to Reed on the rightfield track, though Reed dropped the ball after the catch. Figgins scored nonetheless.
»» ANGELS 2, MARINERS 1
Guerrero blistered the second pitch well over the wall in leftcenter for his 300th career home run.
»» ANGELS 3, MARINERS 1
Molina got ahead 2-0 and bounced to third on a full count.

TOP 6TH
Grade: C
Sigh... Ichiro lofted the second pitch into the gap in leftcenter for a double. Reed popped the first pitch to leftfield. Ibañez bounced out to short, moving Ichiro to third. Sexson got under the second pitch, flying out to Figgins in deep leftcenter.

BOTTOM 6TH
Grade: C+
Even more. Erstad clubbed the first pitch just over the rightfield wall for a homer.
»» ANGELS 4, MARINERS 1
Quinlan grounded hard to Beltre behind the bag at third. Rivera lined out to centerfield. Kennedy smashed the first pitch to Beltre, who knocked it down and threw from his knees in time to first.

TOP 7TH
Grade: C-
Bored. Beltre popped high to rightfield on the second pitch. Hansen fell behind 0-2 before popping the 1-2 pitch high to Quinlan down the leftfield line. Lopez flew out to deep centerfield on the second pitch.

BOTTOM 7TH
Grade: C+
Somehow a zero. Figgins got ahead 2-0 before popping high to Beltre along the leftfield line just past the bag. Cabrera ripped the second pitch down the leftfield line for a double. Anderson bounced the first pitch through the right side for a single, moving Cabrera to third (he was held there).

Julio Mateo came in for Moyer. Guerrero got the hitters' counts and walked on a low full-count pitch, loading the bases. Molina whiffed badly on a 1-2 dirtball way outside. Erstad whiffed over a 2-2 low breaking ball.

Moyer's line: 6 1/3 innings, 4 runs, 10 hits, 1 walk, 0 strikeouts, 89 pitches (54 strikes)
Mateo's line: 2/3 inning, 0 runs, 0 hits, 1 walk, 2 strikeouts, 16 pitches (9 strikes)

TOP 8TH
Grade: C-
Same crap. Torrealba popped the first pitch to centerfield. Betancourt fell behind 0-2 and flew out to Figgins in leftcenter. Ichiro served an 0-2 pitch into Anderson's glove in leftfield.

Byrd's line: 8 innings, 1 run, 5 hits, 0 walks, 1 strikeout, 92 pitches (65 pitches)

BOTTOM 8TH
Grade: A-
Shigetoshi Hasegawa came in for Mateo. Quinlan looped a flyout to centerfield. Rivera got ahead 3-0 and wound up bouncing out to short on a full count. Kennedy popped to Lopez in shallow rightfield on the second pitch.

Hasegawa's line: 1 inning, 0 runs, 0 hits, 0 walks, 0 strikeouts, 11 pitches (6 strikes)

TOP 9TH
Grade: C
Francisco Rodriguez came in for Byrd. Reed whiffed on a 1-2 breaking ball low and inside. Ibañez poked a single through the left side. Sexson bounced the second pitch over the mound, where Cabrera charged and threw to first, moving Ibañez to second. Beltre got ahead 2-0 and eventually popped near the leftfield corner on a full count. Ballgame.

Rodriguez' line: 1 inning, 0 runs, 1 hit, 0 walks, 1 strikeout, 16 pitches (10 strikes)
---

Gameball: Julio Mateo.
Since there was maybe only one situation after the first inning where the bats failed in the clutch (there rarely were opportunities to begin with), Mateo gets the nod here. I realize I'm doing these even though he walked the first batter he faced, Vladimir Guerrero. That's not such a bad thing sometimes, considering Vlad is good. That did load the bases, however. Mateo got out of that hole by striking out the next two hitters he faced. Granted, Bengie Molina and Darin Erstad don't really strike fear into people, but he struck out the next two guys after the cleanup hitter, so that's got to go for something. As a result, the score stayed 4-1, and if the Mariners were doing anything with their bats at all, they might have had a fighting chance to win this game. Either way, Mateo took over with two of Moyer's runners on base, and none of them came around to score. In related news, if Ryan Franklin leaves with the bases loaded on Saturday and Matt Thornton comes in and gives up a grand slam, I'll laugh. Okay, that's not so related, but it's there.

Goat: Jamie Moyer.
The home-road splits are holding up a little too well. He's 8-0 at home and 3-6 on the road. Having a pitcher that's perfectly suited to his home ballpark is one thing, but the same pitcher still has to throw half the time away from the friendly digs. Today obviously was a road game, and Jamie was banged around for ten hits, three of them doubles and two of them being homers, including a Vladimir Guerrero MegaBlast (ask for it by name). I didn't realize it until right after I typed that last sentence, but half of the hits that Moyer gave up went for extra bases. I don't have to tell you that that's probably a bad ratio (the homers make it more so). Luckily he only walked one batter. However, Moyer didn't strike out a single batter in his 6 1/3 innings of work. He faced thirty batters and didn't issue a single strikeout. Basically what I guess that means is go to Lookout Landing or something to see further analysis of balls in play, because there was a buttload of them with Moyer's line (1 walk + 0 strikeouts + 10 hits + 11 groundouts + 8 flyouts = 30 batters).


Yr W-L Pct GB Stk
2001 96-38 .716 -- W2
2002 79-55 .590 17 W1
2003 77-57 .575 19 L2
2000 72-62 .537 24 L2
2005 57-77 .425 39 L1
2004 51-83 .381 45 L3


What an unabashed non-show by the offense. Someone forgot to tell the Mariners that it wasn't 2002 again. In other words, Paul Byrd isn't supposed to be good. He's no longer one of countless additions the Mariners could have made at the 2002 trade deadline. Are the Mariners fazed by the old-skool windup of Byrd? It can't be hyperspeed or a horseshoe curve or anything like that. It's got to be the windup. Do chicks did the old-skool windup? The obvious answer is no, since only Byrd does it these days at the Major League level. On the other hand, the question I just posed could provide for a completely outlandish college term paper idea. If you get the right english professor, though, I think you could convince him or her to go along with it. Of course, the whole thing would degenerate into a scope-out of players' wives and/or girlfriends in the form of a term paper. It'd be a total joke of a term paper...but that'd be the whole point, wouldn't it?

I'd mentioned in Mateo's gameball entry that the offense hadn't gotten into much situations after the first with which to fail in the clutch. I guess I'm defining these situations as having a runner in scoring position with less than two out. The only situation that fits this bill in the rest of the game after the first would be the sixth, where Ichiro led off with a double and advanced to third only when the second out was made. Sure, that opens you up for a scoring opportunity if Byrd throws a wild pitch or something, but when this is the only scoring opportunity I'm mentioning, it has to be bad. When you get an early lead and then see the Angels tack on four more runs after that while you don't do anything, that's bad too. Yes, it's possible for the Mariners to get shut out after the first inning and still be an offensive team, it's just that the word "offensive" takes on a different meaning.

I've noticed broadcasts from both Mariner feed and opposing feeds showing the Mariner defense graphic and pointing out how they have the least errors (correct me if I'm wrong) in the American League. I'm not sure what kind of consolation I'm supposed to take from that. I'm quite satisfied with the left side of the infield defensively, and I'm satisfied with Richie Sexson at first. I remember the Jose Lopez defensive adventure last year, though I'll watch his batch of games this year and I'll hope that he's improved. If it turns out that he can hit but can't field...maybe in a twisted world he'd be in a battle with a 6'4" guy to play second base. I'm not sure how much easier a healthy Chris Snelling would have made this entire situation (it is an intriguing thought), but leftfield is a hole again, the starting rotation is full of gaping holes, I'll assume that Eddie Guardado's gone, and I hope there's no way Jeff Nelson's back next year. Could it be Seattle Mariners: Rebuilding Year #3? I sure hope not. I was expecting 77 wins this year and a pennant race next year. I guess by "pennant race," I want meaningful baseball in September.

Owner of the only multi-hit game for the Mariners in this one, Ichiro is now sitting on 166 hits for the season. If he gets at-bats at the same pace he's been getting them for the season (560 at-bats in 134 games, 4.18 at-bats per game)...
-- he needs 34 hits to reach 200 for the season; he'd need to hit .291 for the remainder of the season, and that'd leave him with a .295 season average.
-- he needs 37 hits to finish with a .300 average for the season; he'd need to hit .316 for the rest of the season, and he'd end up with 203 hits.
-- he needs 51 hits to finish with a .320 average (.321) for the season; he'd need to hit .436 for the rest of the season, and he'd end up with 217 hits.

Can the Mariners keep their hopes alive for a series win in Orange County this weekend? Probably not. Look who's starting for the Mariners tonight. For what it's worth, Jarrod Washburn won't have to pitch to that guy from Port Orchard, on account of his injury and everything.

Franklin. Washburn. Tonight.
Friday, September 02, 2005
GAME 133: MARINERS 5, YANKEES 1
Thursday, September 01, 2005
NOT WALKING ON SUNSHINE
GAME 132: YANKEES 2, MARINERS 0
Wednesday, August 31, 2005
PRAY FOR FELIX, 8/31/05 YANKEES AT MARINERS
Tuesday, August 30, 2005
GAME 131: MARINERS 8, YANKEES 3
GAME 130: YANKEES 7, MARINERS 4
Monday, August 29, 2005
YANKEES VS MARINERS 8/29/05
Sunday, August 28, 2005
GAME 129: MARINERS 9, WHITE SOX 2
WHITE SOX VS MARINERS 8/28/05
GAME 128: WHITE SOX 4, MARINERS 3