Sunday, July 03, 2005
THE BOONE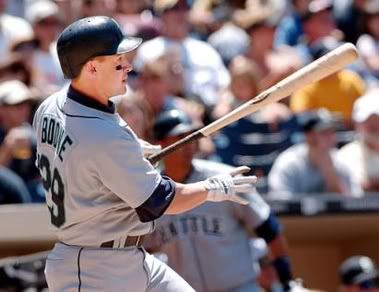 I'll admit it, when I saw Bret Boone in tears during his press conference (I saw a bit of it on Sportscenter), I couldn't help but feel bad for the guy.

Sure, it's easy for some fans to say, "suck it up, Bret. You're a professional athlete. You make more money in a year than I do in 10 years!". But the fact is, those fans are jealous. There aren't too many players like Bret Boone left in baseball right now.

He's a third-generation ballplayer who's been in the game his whole life. So, when I saw him in tears earlier tonight, it didn't shock me. When you've been a solid player for the better part of your career, days like this will humble anybody. It's not everyday that an All-Star caliber player gets designated for assignment.

We've railed on Boone all season long for his performance. But we did that because we wanted him to succeed. At the same time, we knew that Boone's tenure with the Mariners was coming to a close. He's 36 years old and there's a 21-year old kid named Jose Lopez who was waiting in the wings.

What I've always respected about Boone is that he's always been willing to speak his mind, for better or for worse. I didn't quite care for the Batflip or the highlights in his hair. However, as a Mariner fan, I have to give him credit for the team's success from 2001-2003.

He came back to Seattle before the 2001 season after a 7-year tour that had him in such places as Cincinnati, Atlanta, and San Diego. He came up through the Mariners farm system, so in essence, he was "coming back home" in 2001.

And what a way to "come back home"! In 2001, Boone put up MVP-caliber numbers, hitting a career-high 37 home runs and driving in 141 runs. Boone was a major reason why the 2001 Mariners won 116 games. He had never put up those type of numbers before. Baseball can be a funny game sometimes. Boone proved that in 2001.

The follow-up to the career year of 2001 wasn't as thrilling, but Boone rebounded from a poor first half in 2002 to put up numbers close to his pre-2001 resume (24 HR, 107 RBI). 2003 saw a return to Boone's 2001 season, or at least close to it. Boone hit .317 with 35 home runs in 2003, 2 fewer than his 2001 total of 37. The Mariners would miss the playoffs in 2002 and 2003, even though they did win 93 games each of those two seasons. That's been well-documented, but this post is about Boone and Boone only.

Losing a ton of ballgames can make one look towards the future more quickly than usual. Losing can also make an older ballclub even older in a hurry. That's what happened to Boone and the 2004 Mariners. Boone would hit 24 home runs, but would only have 83 RBI, hitting only .251. It was during the 2004 season where some fans would begin to realize a future without Boone.

Turning 36 years old on April 6 of this season, time was running out for Boone. When Mariners manager Mike Hargrove benched Boone on June 17, he was hitting just .231. Boone's numbers were atrocious (5 HR, 29 RBI, 45 K in 239 AB) at the time of his benching. The writing was on the wall when the benching occurred. He would be back in the lineup just less than a week after his benching. He started to hit better, but his future in Seattle was going to end sooner or later. It just happens that sooner was today, July 3.

Boone's numbers in Seattle (2001-2005)

694 games, .283 BA, 127 HR, 482 RBI, 770 H, 2719 AB

The move to designate Boone for assignment today was the best for all parties involved. Boone can go ahead and try to pick up his career in another city. And more importantly for the Mariners, they can now find out if Jose Lopez is the real deal at second base. Here's hoping that he is.

But know this, there will never be another Bret Boone in Seattle.

Thanks, Bret.