Tuesday, February 22, 2005
THE TIM RUSKELL FILE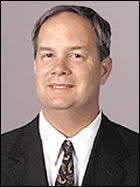 As David posted earlier, the Seattle Seahawks will name Tim Ruskell as their new president. With the resignation of general manger Bob Ferguson, there is a possibility of Ruskell becoming the GM as well.



THE TIM RUSKELL FILE



1983-1985 Saskatchewan Roughriders (CFL) scout
1985-1986 Tampa Bay Bandits (USFL) scout
1987-1991 Tampa Bay Buccaneers regional scout
1992-2000 Tampa Bay Buccaneers director of college scouting
2001-2003 Tampa Bay Buccaneers director of player personnel
2004-2005 Atlanta Falcons assistant general manager



2002 Super Bowl XXXVII Champions --- Tampa Bay Buccaneers





"If there are 50 great evaluators of talent in the NFL, I believe Tim is in the top five," said Falcons president and general manager Rich McKay, who worked with Ruskell in Tampa Bay. "We had great success in the draft while we were in Tampa, due in large part to Tim and the players who he would put up on the draft board and that he believes in."



Here's a list of players the Bucs drafted from 1993 to 2002.

---S John Lynch (1993, 3rd round)
---QB Trent Dilfer (1994, 1st round)
---DT Warren Sapp (1995, 1st round)
---LB Derrick Brooks (1995, 1st round)
---FB Mike Alstott (1996, 2nd round)
---CB Donnie Abraham (1996, 3rd round)
---RB Warrick Dunn (1997, 1st round)
---DB Ronde Barber (1997, 3rd round)
---CB Brian Kelly (1998, 2nd round)
---DT Anthony McFarland (1999, 1st round)
---QB Shaun King (1999, 2nd round)
---K Martin Gramatica (1999, 3rd round)
---S Dexter Jackson (1999, 4th round)
---CB Dwight Smith (2001, 3rd round)

All of these players played a key role in taking the Tampa Bay Buccaneers from the NFL's laughingstock pile to the NFL's penthouse. Before you scoff about the selection of current Seahawks backup quarterback Trent Dilfer, keep in mind that he did lead the Bucs to their first postseason victory since 1979 in 1997, which was the first year of the pewter uniforms. Shaun King helped lead the Bucs to the 1999 NFC Championship Game, before losing to the St. Louis Rams.

John Lynch, Warren Sapp, Derrick Brooks, and Ronde Barber were the cornerstones of a Tampa Bay defense that was regarded as arguably the league's best from 1997-2002. Brooks and Barber are still in Tampa Bay, while Lynch and Sapp left for the AFC West in 2004 (Denver and Oakland, respectively). Dexter Jackson was the Super Bowl XXXVII MVP.

As far as free agents go, I will only mention the players that came to Tampa Bay from 2001 to 2003, since Ruskell was the director of player personnel during that time.

---QB Brad Johnson (2001, free agent)
---DE Simeon Rice (2001, free agent)
---WR Keenan McCardell (2002, free agent)

Johnson did what Dilfer and King couldn't do: lead the Bucs to a world championship. Rice's presence on the Bucs' defensive line helped Sapp immensely and McCardell was a nice weapon for Johnson during the Bucs' 2002 championship season.

In Ruskell's one season in Atlanta (2004), the Falcons won the NFC South and advanced to the NFC Championship Game before losing to the Philadelphia Eagles. The Falcons drafted CB Deangelo Hall, WR Michael Jenkins, QB Matt Schaub, and DT Chad Lavalais in the 2004 draft. All four players have the potential to be solid NFL players, although Schaub's possible NFL success will have to take place outside of Atlanta, because there's a guy named Michael Vick in the crowd.

Here's a few links from the national media on Ruskell (mostly from his days in Tampa Bay). While Rich McKay got the credit in Tampa Bay, Ruskell was part of the Bucs' success as well.

The Sporting News : Dan Pompei 1/23/03
Sports Illustrated : Don Banks 1/25/03

Judging by his body of work, I am impressed with Ruskell. He's one of the best talent evaluators in the NFL today. Just ask Rich McKay about the man. Ruskell has helped build a Super Bowl championship team. While some Seahawks fans were hoping for former executive Randy Mueller or current Patriots executive Scott Pioli to come to Seattle, they should be impressed by the hiring of Ruskell.

Oh, and Matt Hasselbeck is back in the saddle again. Shaun Alexander was given the franchise tag, so if he were to sign with another team, the Seahawks would get 2 first-round picks. February 22, 2005 may just be one of the most important days in Seattle Seahawks history. Let's just say I'm feeling a lot better about the Seattle Seahawks fortunes today than I was a few weeks ago.

Welcome to Seattle, Tim. Now get to work, bro. We're starving for a Super Bowl.