Saturday, December 04, 2004
CHAMPIONSHIP SATURDAY
Damn, what an exciting day in college football.

There's 5 undefeated teams at the end of the regular season.

USC, Oklahoma, Auburn, Utah, and Boise State

However, only 2 of these 5 teams can play for the national championship in Miami January 4. The 2 teams will be USC and Oklahoma, barring any unforeseen circumstances. Yes, Auburn ran the table in the SEC. But they are ranked 3rd, while the Trojans and Sooners are ranked 1st and 2nd, respectively.

Is it fair? Well, it certainly wasn't fair when USC didn't get to play in the Sugar Bowl last year, was it? That was last year though. As for this year, the one main reason why Auburn shouldn't play in the Orange Bowl is because of their non-conference schedule. No, I don't care if they play in the SEC. Schedule a Mountain West Conference team, I don't care. Here's Auburn's 2004 OOC schedule:

Louisiana-Monroe, The Citadel, and Louisiana Tech

That's pitiful. At least Oklahoma had Bowling Green and Oregon on their OOC schedule. USC's OOC schedule had BYU, Colorado State, Notre Dame, and Virginia Tech.

Using that good ol' phrase "barring any unforeseen circumstances", here's how I see the BCS shaping out tomorrow afternoon:

ORANGE BOWL (National Championship Game, Jan. 4, Miami)


VS.



SUGAR BOWL (Jan. 3, New Orleans)


VS.



FIESTA BOWL (Jan. 1, Tempe, AZ)


VS.



ROSE BOWL (Jan. 1, Pasadena, CA)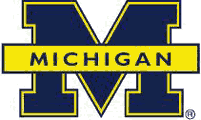 VS.



So there you go, USC-Oklahoma in the Orange, Auburn-Virginia Tech in the Sugar, Utah-Pittsburgh in the Fiesta, and Michigan-California in the Rose.

A few thoughts on these possible BCS matchups:

---USC-Oklahoma will be a very good game. The two best running backs in the country are USC's Reggie Bush and OU's Adrian Peterson. I can't wait to see these two backs matchup in the same damn game. Despite what Auburn fans think, USC and Oklahoma are the two best teams in the country. Start the hype now.

---Be wary of Virginia Tech, Auburn. The Hokies faced USC back in August and gave them a fight. I think Virginia Tech will win this game, because of their special teams. Beamer Ball, baby!

---Utah deserves better than this. Pittsburgh? Come on.

---Regardless of their performance in Hattiesburg tonight against Southern Miss, Cal deserves to be in the Rose Bowl. If you want to compare them to Texas as to who deserves the last at-large bid (Utah has the other one), just look at each team's lone loss:

Cal lost to USC 23-17, even though Aaron Rodgers was nearly perfect, going 29-for-31, completing his first 23 passes. The Golden Bears are the best 1-loss team in America, no question.

Texas was shut out by Oklahoma, 12-0. If you have 1 loss and in that 1 loss, you get shut out, you have no business being in a BCS bowl, no matter who the opponent was. And let's not forget that the Longhorns scraped by both Arkansas and Kansas, two less-than-stellar teams.

--- --- --- --- --- --- --- --- --- --- --- --- --- ---

In non-BCS news...

---The Army-Navy Game is the most important sporting event in America, no question about it. Navy beat Army, 42-13. It was Navy's 3rd straight win over Army. But what I love about the Army-Navy Game is the tradition. The men that play in this game will go on and defend our country. I can't say enough about that. What really gives me chills is the postgame scene, when both Army and Navy's alma maters are performed. This year, it was Army's alma mater that was played first (the loser's song is always performed first), then Navy played their alma mater. If you can't get even the slightest of chills while watching that, then you're not human.

If you really want to get a feel for the Army-Navy Game, then by all means, you need to read John Feinstein's excellent book, "A Civil War". I can't recommend it enough.

---Crap. Eastern Washington loses on the final play of the game to Sam Houston State, 35-34, in Cheney in the NCAA D-1AA playoffs. What a run for the Eagles though. They were co-Big Sky Conference Champions with Montana and finished the 2004 season at 9-4. Head coach Paul Wulff has done a very good job at Eastern, bringing in some very good talent. With EWU's success in 2004, Wulff should be able to bring another good recruiting class to Cheney. Sam Houston State will face Montana next Saturday in Missoula in the semifinals. Good luck with that.

--- --- --- --- --- --- --- --- --- --- --- --- --- --- ---

The BCS Selection Show will be on ABC tomorrow afternoon (check your local listings). ESPN will air a special edition of College Gameday tomorrow afternoon as well, announcing the official lineup of bowls. The bowl season really is the most wonderful time of the year.

Hooray for college football.