Friday, June 17, 2005
BRET BOONE DEATH MARCH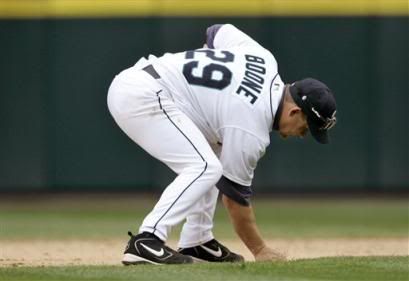 With the callup of infielder Jose Lopez, the future of Bret Boone as a Seattle Mariner is as dark as ever.

Mariners manager Mike Hargrove plans on sitting Boone for a few games to let him work on his hitting. In other words, this is the beginning of the end for #29 in Seattle. At least that's what I believe this news to be.

So, faithful Sports And Bremertonians readers, I'll ask you a question:

When will Bret Boone leave the Seattle Mariners for good?

It doesn't matter how it happens. I don't know how much the M's can get for Boone at this point. What matters is that Boone is not in the future plans of this franchise.

Post the date you think Boone will leave the Mariners, via trade or release, in the comments box. As for my date when Boone will exit the organization, I'll say July 25.

It's your turn.

This is the Bret Boone Death March.

Batflips are not acceptable.