Monday, February 21, 2005
VINYL PRESIDING
Yes, it's the final day of the weekend for most out there. I hope you're having a dandy Presidents Day.

For the random note today...not many things are worse than having the rearview mirror in your car manage to detach itself from the windshield. I had this problem maybe a year or two ago before finally taking the time to scratch away the rest of the old adhesive before putting on some new glue. That and I had to take my rockhammer to pound out the metal thingy that sticks to the windshield and slots into the base of the mirror apparatus. That was a good day when I finally got all of that done. Before that, well, I had to do some pretty tactical driving, what with having to definitely look over the shoulders when changing lanes. The rearview mirror is a nice thing to have, let's just put it that way.

Okay, enough of my crazy talk. On with the post!

MARINERS
The full squad reports today, and the whole crew works out tomorrow. Yippee!

As for the rain in camp so far, I don't think it's rained this much over there since...well, just two years ago, when the Mariners had prepared to go to Japan, had their trip cancelled, and then struggled to get work in for everybody as the rains came down.

Let's get Campy!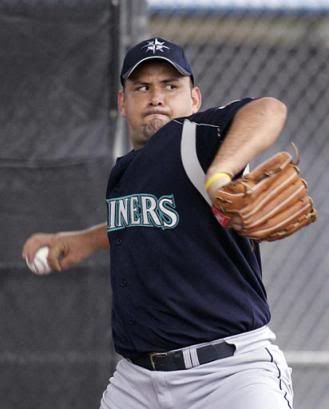 New clothes are fun...but they won't save you any money on car insurance!

Much to my chagrin, I think that ad campaign is over with. I thought the Old Navy parody ad was pure brilliance, and it blindsided me the first time I watched it all the way through. I think the first couple times I came across it, I saw the intro, thought that it was an actual Old Navy ad, and turned away.

Back to the pitcher at hand, Bryan Price is liking Jorge Campillo, and he seems to be getting attention. If he goes north with the big club and does any damage, let's thank Rodrigo Lopez for teaching him the cutter. Then let's have the Mariners pound Lopez whenever they face him. Benji Gil likens the Campillo changeup to that of Brad Radke, and also says that Campillo is confident enough in the change to throw it consecutively, a la Jamie Moyer. Also in the P-I article is a token quote from Randy Winn regarding offseason trade rumors, Mike Hargrove's preference for an eight-man fight for five rotation spots, and some more raves about Felix Hernandez.

The Times notebook starts off with Hernandez, whose change is "nasty," according to Hargrove. Also discussed is the eight starters thing, and how Hargrove says the hitters dread the first day of live-arm.

SEAHAWKS
Maybe if the Seahawks had hired a president by now, they'd have a VP of football operations and a director of college scouting. Instead, everyone's multitasking, and Will Lewis is working twelves. Ouch. The well-deserved addition of Mike Reinfeldt helped lighten Lewis' load a bit, but he's still going to be helping put together the draft board and interviewing players at the combine.

In related news, I'm touting Nate Odomes as the Westside Burrito Connections' Honorary Seahawk President of the Day. He may not have played a regular-season game with the Seahawks, but hey, I felt like I had to give him something.

I've just looked through some stuff and found that Darrell Jackson led the Seahawk receiving corps in touchdowns last year (7), but that in the 1999 season, Derrick Mayes led the receiving corps in touchdowns with...10. Ricky Watters ran for five touchdowns and 1210 yards, while Shaun Alexander this year had his 16 scores and 1696 yards.

BASKETBALL
The Marvin Williams Watch
The Tar Heels travel to face NC State on Tuesday (5p, local only) and Maryland next Sunday (2:30p, FSNNW)

Huskies
Yes, the Huskies had that team meeting after the Oregon State loss, a couple of players said some stuff, and then they proceeded to blow out the Cougars. For their sake, it's a good thing they didn't lose two conference games in a row.

The Huskies host Arizona State on Thursday (7:30p, FSNNW) and Arizona on Saturday (1p, FSNNW)

Bulldogs
The Zags go to Portland on Thursday (8p, ESPN2) and host Northern Colorado the following Monday (FSNNW Seattle, Q6 NBC Spokane) before starting WCC Tournament play.

Sonics
Well, I saw maybe a minute of the All-Star Game. I missed Ray Allen leading all scorers with 17 points in 23 minutes. He bricked his final four shots, and probably lost the MVP to Allen Iverson over that span, but the West didn't win either. Mentions were made about the game ball, which apparently stuck more. Anyway, Allen was 6-for-16 with four rebounds and an assist. He nailed five threes. Rashard Lewis only hit one basket for all of his points, and airballed his first shot. He pulled down four boards and stole the ball once.

...And there's the inevitable wonderings in regards to Ray Allen's future in Seattle.

Upcoming...
Tuesday at Houston (5:30p, FSNNW)
Wednesday at New Orleans (5p, FSNNW)

HOCKEY
John Levesque is a fan of the Saint Louis Blues? Say it ain't so, John! Anyway, he harkens back to the Monday Night Miracle in May of 1986, when the Blues came back from three goals down with 12 minutes remaining to tie the game and win it in overtime. Levesque contends that no one involved in the labor negotiations is a fan anymore.

Seattle beat Prince George 3-2. Denis Tolpeko scored the winner early in the second period to get the victory for the Thunderbirds. Goals alternated in the game, with Seattle scoring the first and last goals. Ladislav Scurko opened the scoring, and Nate Thompson got the Thunderbirds a 2-1 leading heading into the second period. Seattle outshot the Cougars 35-25, and Bryan Bridges stopped 23.

Incredibly, the Portland Pioneers, who had an incredible regular season with some ridiculously long winning streaks, lost the deciding game of their three-game series with the Tri-City Titans. Thus, the Titans will face the Tomahawks in a best-of-5 series, of which the first two games are Friday and Saturday at the rink in Bremerton. The Tomahawks were 7-0-1 against the Titans during the regular season.

Upcoming...
Tomorrow: Everett at Kamloops, Kelowna at Portland
Wednesday: Seattle at Kelowna, Tri-City at Vancouver, Manitoba at Wilkes-Barre Scranton
Thursday: Manitoba at Syracuse
Friday: Seattle at Kamloops, Everett at Tri-City, Portland at Spokane, Kelowna at Vancouver, Tri-City at Puget Sound (Cascade Cup semifinal -- Game 1 of best-of-5)
Saturday: Portland at Seattle, Vancouver at Everett, Manitoba at Hamilton, Tri-City at Puget Sound (Cascade Cup semifinal -- Game 2 of best-of-5)
Sunday: Spokane at Seattle, Tri-City at Everett
---

Have a great Presidents' Day, everyone. It might be a tad cold outside, but it should be sunny again in the northwest. To anyone out there who's got one, I say fire up the grill. Yes, it's that twisted kind of year where you can barbecue in February in the northwest and actually get away with it.