Friday, February 18, 2005
SEE-YESTAH
Welcome to Friday. The three-day weekend is soon to be upon you.

Random note...my all-time least favorite font is Comic Sans. I don't care about its readability -- if you want any of your official/scholarly documents to immediately give a hint of childishness and unprofessionality, don't hesitate to use Comic Sans. My favorite fonts are probably Calisto, Century Gothic, Book Antiqua, and Denmark (i.e., our header and sidebar tags). A geology cohort of mine back at Central is a big fan of Palatino Linotype, which is also a solid font.

Now, to the post.

MARINERS
You know, I was flipping around on the TV last night, and the season premiere of Survivor Palau was on CBS. I surfed around later, and I couldn't believe an ad I saw for another reality show...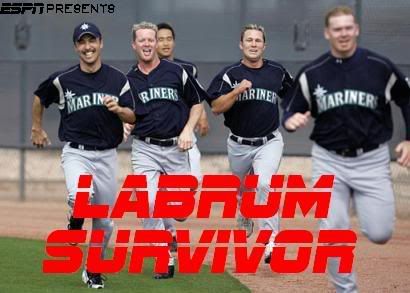 Two articles on Jorge Campillo, to whom the Mariners now officially have rights. GM Bill Bavasi looks at the 26-year-old righty speed-changer/control pitcher as a back-end rotation guy, if need be. Campillo pitched for the Culiacan Tomateros (Tomato Growers) in winter ball. If you're a fan of team nicknames in different languages, look no further than junior hockey in Quebec. Go Sagueneens!

As for camp itself, 14 position players are there. Bryan Price isn't concerned about Joel Pineiro, who apparently threw without any red flags being raised, as did Eddie Guardado. Rafael Soriano also threw, with his ETA in game action with the big club being July or thereafter. Also, my coaches didn't have me pitch too much in high school, but I did run through some PFPs, and a little of those go a long way, and they do get tiresome. They're a total pain, but they're completely necessary, and I keep that in mind every time I see a seamless 3-1 putout during the season. And since I'm a lazy washed-up lout who hasn't played competitive ball in five years, I'm hungry for some PFPs and running poles right about now.

Bobby Madritsch tattoos himself much more than other teams tattoo him. He's got a couple more, but he's also got family on the mind as well. He's never seen his mother, and he's had chances to do it. There's just issues. What they are isn't our business, and it does make for kind of an ominous and somewhat awkward article, but that's how it is.

SEAHAWKS
Do you think there will be any automatic recounts triggered when the Seahawks name their new president?

BASKETBALL
The Marvin Williams Watch
The Tar Heels host Clemson tomorrow (10a, ABC) and travel to face NC State on Tuesday (5p, local only)

Huskies
Nate Robinson. Father. Hooray for full-ride athletic scholarships and a great chance at the NBA, because I know if I'd had a kid my junior year of college (keep in mind, this would have been two years ago for me)...it would have been far from smooth sailing, to say the least. I'd venture to say I definitely wouldn't have gotten out of Central in four years, which I was fortunately able to do. That said, the best of luck to Nate, Sheena, and little Nahmier.

Next year's point guard will more than likely be Florida transfer Ryan Appleby, who transferred after one year with the Gators. He wasn't digging the whole deviation from run-and-gun to a more halfcourt-oriented offense that Billy Donovan was instituting in Gainesville.

The Huskies go to Washington State tomorrow (4p, FSNNW) and host Arizona State the following Thursday (7:30p, FSNNW).

Bulldogs
Gonzaga extended its home win streak to 23 with a 90-73 win over San Diego. Derek Raivio went nuts, scoring 29 (12 from the line) with 5 boards and 7 assists. JP Batista scored 19 and pulled down 5 boards. Ronny Turiaf had his third straight double-double (yes, he's back) with 15 points and 13 boards. A win tomorrow against USF will clinch a 5th straight WCC regular season title for the Zags.

The Zags host San Francisco tomorrow (3p, ABC) and go to Portland on Thursday (8p, ESPN2)

Sonics
You know, Luke Ridnour has worn some combination of green and yellow on the court for the last six years. My favorite shots of his this year are the running right-side high banker in the lane and the 18-footer. If they stay together a few years, Ridnour and Collison are going to be absolutely awesome together, and not just because they ran a flawless pick and roll in the Golden State game.

Nate McMillan has to be coach of the year at this point, right? He took basically the same cast from last year and has somehow gotten it to do what it's doing this year. No significant additions, a la Steve Nash to Phoenix. Just instilling a mentality.

Speaking of mentality, the Sonics seemed to stray away from what got them to this point in the season, and that isn't lost on me or John Levesque. I didn't like the loss to Dallas, which wasn't good at all, blowing that fourth-quarter lead and everything, but given the competition in that four-games-in-five-days stretch, I figured I might be able to let it slide. That loss to Golden State, though, was brutal in every way. Just horrid. The team still sits pretty recordwise here at the break, but they just haven't clicked on all cylinders since the calendar turned over to 2005. This was somewhat coincident with when Reggie Evans sat out of the lineup with his gastrointestinal hell. The typical Ridnour/Allen/Lewis/Evans/James starting lineup had to change for the first time at that point, and although it shouldn't matter, it seems like it did.

Also, the new NBA security guidelines seem to pretty much be what KeyArena already had in place. Hooray, KeyArena. They're eight ounces under the new alcoholic beverage capacity limit. As for the Fan Code of Conduct, it's totally obvious, and it really shouldn't have to be said. However, I'm hoping it carries more weight than the Blazers' 25-point pledge.

Upcoming...
Tuesday at Houston (5:30p, FSNNW)
Wednesday at New Orleans (5p, FSNNW)

HOCKEY
It's an overload of non-game coverage for the Seattle Thunderbirds, as Matt Gaschk sits down with goalie Bryan Bridges, and Jim Riley brings the news of an impending return of captain Tyler Metcalfe to the lineup to help curb a 6-game winless streak. Both articles seem to express that the Thunderbirds are on their way back defensively, but just need to bury a few more of their chances offensively.

Upcoming...
Tonight: Red Deer at Seattle, Prince George at Everett, Spokane at Portland, Kamloops at Vancouver, Edmonton at Manitoba
Tomorrow: Seattle at Portland, Red Deer at Everett, Vancouver at Kamloops, Edmonton at Manitoba
Sunday: Prince George at Seattle
Tuesday: Everett at Kamloops, Kelowna at Portland
Wednesday: Seattle at Kelowna, Tri-City at Vancouver, Manitoba at Wilkes-Barre Scranton
Thursday: Manitoba at Syracuse
---

Have a great Friday and a great extended weekend, o faithful readers of ours.