Saturday, May 21, 2005
THE PUMP 5/21/05
GAME 41: PADRES 6, MARINERS 1
Padres 6, Mariners 1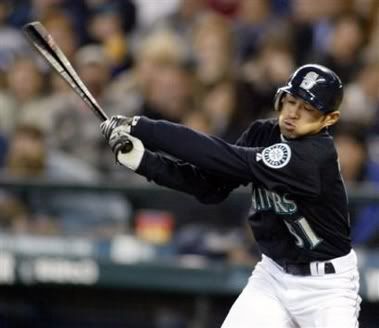 In 25 words or less: Tough-luck starting pitchers don't give up five walks and pour the gasoline on the way out.

This one featured Jake Peavy and Ryan Franklin. The Padres wore their road golds (the Padres' current crop of uniforms have managed to rip off not one, but the last two generations of the Milwaukee Brewers' uniforms). Franklin chose the absolutely abhorrent black tops with the hokey font.

You know, the thought just occurred to me -- KeyArena is nicknamed the Key, Safeco Field is nicknamed the Safe, and those two nicknames can somewhat apply, since you can unlock a safe with a key. Basically, what I'm getting at is that we need the theme to keep going. Nabisco needs to buy out the naming rights to Qwest Field so we can call it the Cracker, since it would fit with the theme. Then the Seahawks would need to be introduced by Chris Rock. "Welcome to Crrrackah Field for Seahawks football!!"

TOP 1ST
Grade: A-
Franklin had a laborious first. Dave Roberts grounded out to short. Mark Sweeney had a 3-1 count before flying out to Randy Winn in leftfield. Ryan Klesko fouled off four pitches with two strikes on him and worked the count full before whiffing on the tenth pitch he saw. Franklin threw 21 pitches.

BOTTOM 1ST
Grade: C-
Peavy established the tone for the rest of the game. Ichiro got down 0-2 and tapped back to the mound. Randy Winn got behind 0-2 as well, hacking for the third strike six pitches later. Adrian Beltre, a former NL West opponent of Peavy's, got ahead 3-0, took the next pitch for a strike, then swung and missed at the next two pitches. Two strikeouts for Peavy in the inning, and there were many more to come. Peavy threw 19 pitches.

TOP 2ND
Grade: C+
Needless to say, Franklin had to be the one giving up runs first. Brian Giles hacked at the first pitch, but Winn caught it in leftfield as the yard held it. Phil Nevin flew out to Jeremy Reed in centerfield. Ramon Hernandez, surely used to seeing Franklin back in Oakland, hit a solo shot just over the wall in rightfield.
»» PADRES 1, MARINERS 0
Sean Burroughs took three strikes on three pitches, failing to get the bat off his shoulder. Franklin threw 13 pitches.

BOTTOM 2ND
Grade: C-
Peavy was in a groove from the start of the game. Richie Sexson entered the whiff. Raul Ibañez bounced out to first. Bret Boone hit a deep fly ball to leftfield, but as usual, it wasn't deep enough. Peavy threw 10 pitches.

TOP 3RD
Grade: A
Franklin had his best inning of the night, though it did depend on facing the bottom of the Padres' lineup. Khalil Greene popped one to Miguel Olivo in foul ground on the first pitch. Geoff Blum was caught looking. Roberts flew out to Winn to end the inning. Franklin threw 11 pitches.

BOTTOM 3RD
Grade: C-
Nine up and nine down for Peavy. Jeremy Reed bounced out to first. Miguel Olivo had a 3-1 count, but whiffed on the next two pitches. Wilson Valdez also generated wind with the stick. Peavy had threw 16 pitches in the inning and had thrown first-pitch strikes to seven of the first nine hitters he faced.

TOP 4TH
Grade: B+
Franklin stranded a runner. Sweeney got behind 0-2, eventually flying out to Reed. Klesko singled to centerfield. Giles didn't quite get all of his 3-1 swing, as the yard held it and Ichiro made the catch. Nevin hit a weak pop to Valdez at short to end the inning. Franklin threw 13 pitches.

BOTTOM 4TH
Grade: C-
Make it twelve Mariners up and twelve down for Peavy. Ichiro swung at all five pitches he saw, fouling off the third and fourth, but missing the other three for a strikeout (fifth pitch was hard stuff outside). Winn had a 2-0 count, but eventually grounded out to third. Beltre hit the ball hard, but right to Klesko in leftfield. Peavy threw 15 pitches.

TOP 5TH
Grade: D+
Franklin buckled. The first-pitch flyout to left from Hernandez wasn't bad, but walking Burroughs on a 3-1 pitch was. Beaning Greene with the count 0-2...also bad. Giving up an RBI single to centerfield to Blum, the #9 hitter -- also bad. Greene went to third on the play.
»» PADRES 2, MARINERS 0
Roberts hit what looked like a gapper to rightcenter on the first pitch, but Ichiro ran roughly a mile and caught it, a real nice catch. Of course, momentum took Ichiro in a direction other than toward the plate, and Greene tagged up and scored.
»» PADRES 3, MARINERS 0
Klesko roped one into Reed's glove in centerfield to end the inning. Franklin threw 18 pitches.

BOTTOM 5TH
Grade: C+
A blip appeared on the radar screen for the Mariner bats. Sexson singled to center to lead off. Ibañez worked a 1-2 count, but whiffed. Boone was able to leg out an infield single to make it a semi-sticky situation. Unfortunately for the Mariners, the bottom third of the lineup was due to the plate. Reed was caught looking and Olivo went away swinging. Peavy threw 21 pitches.

TOP 6TH
Grade: B+
Franklin cashed in on the "unless it doesn't" part of Levine's Law. Giles took a strike followed by three balls. Nevin grounded out to short. Hernandez foul-tipped strike three into Olivo's glove. Burroughs grounded out to short. Franklin threw 17 pitches.

BOTTOM 6TH
Grade: C
Peavy cashed in on the same thing Franklin did in the top half of the inning. Valdez drew a leadoff walk. Ichiro flew out to centerfield. Valdez stole second on the second pitch to Winn, who took Giles deep enough to rightfield so that Valdez could tag and go to third. That's where Beltre grounded his first pitch. Peavy threw 16 pitches.

TOP 7TH
Grade: D
Then the roof fell in. Greene whiffed. Blum had a 1-2 count and took the next three pitches for balls. He's the #9 hitter, which I pointed out earlier in the post. Roberts took a strike, and then four balls.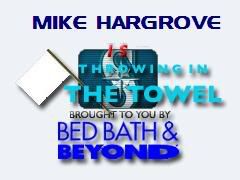 Matt Thornton came in and proceeded to prove the towel's merit. Miguel Ojeda came out to hit for Sweeney and Thornton immediately fell behind 2-0. Thornton dirtballed the 2-1 pitch off Olivo's chest protector and into the seats (no joke) as the runners advanced. Ojeda hit the 3-1 pitch to Sexson, who didn't corral it right away, but still threw home to try to get the out. Predictably, it wasn't in time. Sexson should have gone to first. In a related story, walking guys still sucks.
»» PADRES 4, MARINERS 0
Klesko swung at all three pitches he saw, whiffing at the outside third pitch. Giles doubled down the leftfield line on a full count, plating Roberts and Ojeda.
»» PADRES 6, MARINERS 0
Nevin foul-tipped strike one, looked at strike two, and whiffed at strike three. Thornton's outing was quote schizophrenic in nature.

Franklin's line: 6 1/3 innings, 5 runs, 3 hits, 5 walks, 5 strikeouts, 108 pitches (65 strikes)
Thornton's line: 2/3 inning, 1 run, 1 hit, 0 walks, 2 strikeouts, 17 pitches (11 strikes)

BOTTOM 7TH
Grade: C
Peavy got through his final inning with little turbulence. Sexson whiffed at a fastball down and away. Ibañez grounded a ball up the middle, but Blum was able to make the play and throw him out. Boone hit a soft poke of a single to centerfield, but the euphoria was short-lived as Reed flew out to leftfield on a 2-0 pitch.

Peavy's line: 7 innings, 0 runs, 3 hits, 1 walk, 10 strikeouts, 111 pitches (72 strikes)

TOP 8TH
Grade: A-
JJ Putz came in for Thornton. Hernandez hit a high fly to Valdez for the first out. Burroughs had a 2-0 count, but flew out to Winn two pitches later for the second out. Greene quickly got behind 0-2, but eventually swung through a low pitch to end the 1-2-3 inning.

Putz' line: 1 inning, 0 runs, 0 hits, 0 walks, 1 strikeout, 13 pitches (8 strikes)

BOTTOM 8TH
Grade: C+
Dennys Reyes came in for Peavy. Olivo whomped the second pitch into the visitors' bullpen in leftfield. Hoorah! Shutout spoiled! It's sad that celebration has come to this.
»»PADRES 6, MARINERS 1
Valdez grounded out to first. Ichiro hit a grounder toward Burroughs at third, who tried an off-balance sidearmed toss to first that wasn't in time as Ichiro got his first hit of the game. Winn hit a broken-bat soft liner to short. Beltre hit a ball to the left side, and Burroughs made a diving stop and threw him out.

Reyes' line: 1 inning, 1 run, 1 hit, 0 walks, 0 strikeout, 18 pitches (13 strikes)

TOP 9TH
Grade: B-
Jorge Campillo made his Major League debut, coming in for Putz. He was the first to get Blum (#9 hitter) out, as the latter flew out to Ichiro on an 0-2 pitch. Roberts hit a ball to Boone that went under his glove and off his left instep. It's one thing when you make an error, but it's quite another when you literally boot the ball. Robert Fick came out to hit for Ojeda. He quickly got behind 0-2 and eventually whiffed on an outside pitch. Damian Jackson, who had come out earlier as a defensive replacement for Klesko, took a 3-1 fastball inside for a free pass. Giles flew out to Valdez in shallow leftfield to end the inning.

Campillo's line: 1 inning, 0 runs, 0 hits, 1 walk, 1 strikeout, 22 pitches (14 strikes)

BOTTOM 9TH
Grade: C+
Akinori Otsuka came in for Reyes. For all of Rick Rizzs' drilling of the correct pronunciation of Wang into the heads of Mariner fans around the region, he failed to tell us that the letter "u" in Otsuka is only mildly enunciated, much in the same way as one would say "ohayo gozaimasu." Anyway, Sexson walked on four pitches to lead off. Ibañez broke his bat on a flyout to centerfield. Boone had the hitters' counts, foul-tipping the 3-1 pitch and getting a late call for strike three on a pitch somewhat low and away. Reed had a 2-0 count which went full before he popped out to Greene in shallow leftfield. Ballgame.

Otsuka's line: 1 inning, 0 runs, 0 hits, 1 walk, 1 strikeout, 20 pitches (9 strikes)
---

Gameball: JJ Putz.
When the hitters do barely anything, I've got to reach. Putz worked a 1-2-3 eighth inning. Sure, it was garbage time, but when you've yielded grand slams in each of your last two appearances, you've got to start bouncing back somewhere.

Goat: Adrian Beltre.
Though Ryan Franklin didn't help himself by walking five guys and beaning one, I don't feel like goating him this time for some reason. I spent the 25-words line on him already and he's the first Mariner starting pitcher since Gil Meche on the 9th to record an out in the seventh inning. The game was also reasonably close through 6 1/3 innings until he walked the last two guys he faced. For Adrian, though, you could really go to a couple of other hitters for the goat, but Beltre faced Jake Peavy a ton of times over the past few years given the NL West division rivalry with the Dodgers. Given that he had a book on Jake Peavy and went 0-for-4, he gets the goat.


I'll check the Magic 8-Ball to see if this indeed was a dog of a game. Let's shake it around really good here...I'm waiting for the triangle-dice thing to come up...ah, here we go. "ALL SIGNS POINT TO YES." I tell ya, the Magic 8-Ball and Jinkies from the Sonic posts are nothing short of being invaluable resources to humanity.

I was sitting there after the game deciding that sure, maybe I'd make myself sick and watch FSNNW's postgame coverage, even though Matt Morrison is -- how do I put this politely? -- no Rich Waltz, and Cameron Wong is Cameron Wong. That and I knew the first thing I'd be bombarded with was Ryan Franklin not getting run support. Sure enough, it happened. I think the postgame show went a whole few minutes without mentioning that hey, he did walk five batters and bean a guy. Doesn't make the three hits look all that great now, does it? People on Franklin's side after this one would have a more valid argument if Spiro Man didn't walk the final two batters he faced. Those two walks came around to score after he left, fittingly, as did a third walk (#7 hitter) and the beanball (#8 hitter) in the fifth. If there's one thing Franklin did right, it's that he got into the seventh with the score still 3-0. He left with runs four (the #9 hitter) and five on the bases with one out. As you might be able to surmise, three of San Diego's runs were scored by the bottom third of the lineup. An additional fourth, though by the #6 hitter, was the Ramon Hernandez solo shot.

Yup, Ryan Franklin poured out the gasoline, and Matt Thornton lit the place ablaze. It's always a team effort with these Mariners, and you've gotta love that. As for Thornton, even if you factor in the "decent" garbage-time outing in the Carl Pavano whitewash game, you still remember the game in the Bronx where he turned a three-run lead into a three-run deficit, and then you see him in this game making sure that Ryan Franklin's runners score in the 7th. There might have been a small stretch in there where I had a glimmer of hope for this guy, and all he's done since is prove to me that I'm no more higher on him than I was for Aaron Taylor, and I couldn't stand Aaron Taylor. Back to Thornton, I think Towelie has a piece of advice -- "Remember, if you're designated for assigment, always make sure to bring a towel." Seriously, at this point I wouldn't care if Thornton gets the supposed Rick Adelman/Jerome James treatment, he's just gotta go.

The hitting? Well, it was stymied effectively by Jake Peavy, who ran his streak of scoreless innings against the Mariners to a mere 21 2/3. Remember, Pedro's gone to the other league now, so the dominance has got to reappear somewhere else. While the Padres are in the NL as well, they are considered the "natural" interleague rival of the Mariners, so I think we might have something here. Peavy wiggled out of the only jam he had, and that was in the 5th when Richie Sexson and Bret Boone were aboard with one out. Too bad the lineup didn't turn over to Ichiro right after that or something.

Now comes the requisite spiel about the performance of the Mariners' starting pitchers in the month of May. Ryan Franklin's Friday performance knocked the rotation's May ERA down by 0.01, making it a grand 7.30. The average per-game line for Mariner starting pitchers this month: 5.29 innings (about 5 1/3), 4.41 runs (4.29 earned), 6.9 hits, 2.7 walks, 2.9 strikeouts, 93.5 pitches (56.4 strikes). Franklin himself now has a May ERA of 5.16, which unfortunately is the best out of the entire rotation. He's also gotten into the 5th inning in every start, and the fact that what I said is no small feat for this group is sad in itself.

Now, some completely unnecessary numbers. I've taken this Excel thing way too far, and I won't pretend to know what Matt Thornton's equivalent ERA is on day games when throwing a slider behind in the count to the #9 hitter with the wind blowing in. All I'm doing is throwing the numbers of the Mariners' starting pitchers into a table to see how bad they get before they turn it around. Twenty days into May, and it still hasn't happened. What follows this will be the bests and worsts of the Mariner staff. Franklin has four starts, Mateo has the one (I've left his name out of the following), and the four others have three. Don't get scared by the principles behind the per-inning stuff, just be scared by the numbers.

The very merry month of May
ERA
best -- Franklin 5.16; worst -- Moyer 15.30; whole rotation 7.30

innings per start
best -- Meche 6.89 (round it to 7); worst -- Moyer 3 1/3; whole rotation 5.29 (about 5 1/3)

earned runs per start
best -- Franklin 3.25; worst -- Moyer 5.67; whole rotation 4.29

hits per inning
best -- Franklin 0.79; worst -- Moyer 2.5; whole rotation 1.3

walks per inning
best -- Meche 0.24; worst -- Sele 1; whole rotation 0.5

strikeouts per inning
best -- Franklin 0.71; worst -- Piñeiro 0.43; whole rotation 0.6

pitches per inning
best -- Meche 15.3; worst -- Moyer 24.4; whole rotation 17.7

Man, what out of all of this isn't damning? The crap that the starting pitchers have put up this month is alarming in every sense of the word. It's hard to say what the worst numbers are out of that. Moyer giving up 2.5 hits per inning is pretty bad. Sele walking a batter every inning is horrible. We know the staff isn't a strikeout staff, so those numbers are no surprise. But 24.4 pitches per inning out of Moyer -- a 24-pitch inning is something we should see maybe every other outing out of Jamie Moyer, but definitely not three times or more every day he takes the mound. Just awful.

This team is 16-25. The offense has gone from abhorrent to substandard recently, but the starting pitching has gone from okay/mediocre to Hamster Huey and the Gooey Kablooie. They're a mere two games better than their mind-numbing pace of last season. While there's more room for improvement than their was last year, at least with the hitting, this pitching staff is just brutal. Just a bit of trivia for you here, but the Mariners have been at or above .500 after just 14 of the 41 games they've played so far this season, and that'll grow to at least 50 before it happens again. This team had a .500 April. No matter how bad it gets, just keep in the back of your mind that the 2004 Mariners lost all nine games of a road trip going into the All-Star break and 16 of 19 overall. The current Mariners have lost 14 of their last 18 games. Does it even feel like they won the Boston series at home?

Let's get Campy! New pitchers are fun, but they won't save you any money on car insurance. Congratulations to Jorge Campillo for finally getting to the bigs. With due time, he should replace Aaron Sele in the rotation if/when the latter gets designated for assignment.

So, two more left against the Padres, then a road swing with Baltimore (ouch) and Tampa Bay (Lou, yikes) before a couple of games with Toronto close out the month. If you win all your remaining games, it's called "running the table," but if you lose the rest of your games, can you call it "walking the table"? I know it'd sure apply to the starting rotation, but I'm not sure I'd be surprised if the Mariners lost eight of their remaining 10 games in May. I'm not trying to be negative here, this is cold, hard truth.

Lawrence. Meche. Tonight.
Friday, May 20, 2005
THE PUMP 5/20/05
SEATTLE SUPERSONICS 2004-2005 SEASON IN REVIEW
GAME 6: SPURS 98, SUPERSONICS 96
Thursday, May 19, 2005
GAME 6: SPURS/SUPERSONICS
STRAY
TROUBLING
GAME 40: MARINERS 7, YANKEES 6
Wednesday, May 18, 2005
JEREMY!!!
THE PUMP 5/18/05
GAME 39: YANKEES 6, MARINERS 0
GAME 5: SPURS 103, SUPERSONICS 90