Sunday, April 24, 2005
GAME 19: MARINERS 9, INDIANS 1
Mariners 9, Indians 1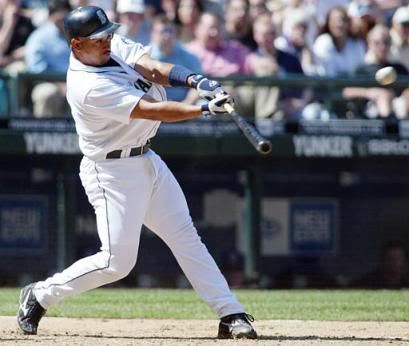 In 25 words or less: Jamie Moyer did his thing, and the Mariners got some timely hits that turned into a big inning.

This one featured ex-Astro Scott Elarton and slow-as-molasses Jamie Moyer.

TOP 1ST
Grade: B-
Moyer didn't get blasted in the first inning like Gil Meche the night before. Coco Crisp chopped the first pitch of the game over Beltre and into left for a single; Crisp got hits on the first pitch of all three games in this series. Ron Belliard bunted on the first pitch down the first-base line, and Moyer tossed to Richie Sexson at first as the sacrifice went as planned. Victor Martinez went down hacking on a 1-2 change. With Jose Hernandez up, Crisp got a huge jump on the 1-2 pitch and stole third base without a throw. One pitch later, he hit one off the end of the bat and flew out to Jeremy Reed in center. Moyer threw 11 pitches in the inning.

BOTTOM 1ST
Grade: B
The Mariners scored first. Ichiro fouled off some 0-2 pitches before getting a 1-2 change he liked, singling into leftfield on the seventh pitch of the at-bat. On the 0-1 pitch to Jeremy Reed, Elarton made a false head movement that was called for a balk, and Ichiro got a free pass to second. Reed drove a 3-1 pitch almost to the track in leftfield, but it was caught. However, Ichiro nicely tagged up and went to third on the play because he's fast. Ryan Ludwick's throw from leftfield one-hopped Aaron Boone at third, who bobbled it. Adrian Beltre got a 3-1 pitch to drive, and sent it to the gap in leftcenter, sufficiently deep to score Ichiro.
»» MARINERS 1, INDIANS 0
Richie Sexson got behind 1-2 and worked the count full, only to foul-tip strike three into the catcher's glove. Elarton was worked for 24 pitches in the inning.

TOP 2ND
Grade: A
Moyer got a 1-2-3 inning. He got ahead 0-2 on Casey Blake and got him to hack at a ball in the dirt. Aaron Boone hit a high flyout to Reed in center. Josh Bard flew out to Bret Boone on the infield. Moyer threw 11 pitches.

BOTTOM 2ND
Grade: C-
Guess what the Mariners were doing again? Bret Boone got a 2-0 count, fouled off three pitches, and went down swinging. Raul Ibanez flew out to center on a 2-0 pitch. Randy Winn popped an 0-2 pitch into foul territory, caught by Other Boone. Elarton threw 12 pitches.

TOP 3RD
Grade: A-
Moyer would get into a groove. Ryan Ludwick grounded out to Beltre at third. Jhonny Peralta bounced his second pitch to Wilson Valdez at short. Coco Crisp muddied things up, singling into centerfield. Moyer got Ron Belliard to whiff on a 2-2 pitch to end the inning. Moyer threw 14 pitches in the inning.

BOTTOM 3RD
Grade: C-
Boring. Miguel Olivo flew out to center on a 2-0 pitch. Wilson Valdez got behind 0-2 and swung at a curve up and in, flying out to Other Boone along the third-base line just in front of the plate. Ichiro put what looked like one of those home-run swings on a 1-1 pitch, but flew out to rightfield. Elarton threw 10 pitches, and had set down nine straight Mariner hitters.

TOP 4TH
Grade: A-
Moyer got some glove help in the inning. Martinez lined one just past Beltre and into left for a single. Hernandez tapped a 2-2 pitch back to the mound. Moyer was more than ready for the ball, and started the 1-6-3 double play. Blake hit a ball to the gap in rightcenter, but then Reed fully extended and made a crazy-good diving catch to end the inning. Moyer threw 11 pitches.

BOTTOM 4TH
Grade: C-
Again, not much. Like it always seems, the player making an incredible play to end the inning ended up starting the next inning at the plate. Reed took a 2-0 pitch just short of the track in left. Beltre grounded an 0-2 pitch to third. Other Boone threw a bit wide to first, but Hernandez apparently made a sweeping tag on Beltre as he ran past. Sexson drew a four-pitch walk to stop Elarton's retired hitters streak at 11, but Boone foul-tipped a 1-2 pitch on the outside corner into the catcher's glove to end the inning. Elarton threw 15 pitches.

TOP 5TH
Grade: A-
Moyer was cruising, getting a 1-2-3 inning. Other Boone rolled a 3-1 pitch down the first-base line, and Sexson took it to the bag. Bard one-hopped the first pitch to Beltre at third. Ludwick generated some wind currents on a 2-2 changeup. Moyer threw 12 pitches.

BOTTOM 5TH
Grade: C-
Elarton was still getting it done for the most part. Ibanez whiffed on a 1-2 pitch up and in. Winn whiffed on an 0-2 pitch up and in. Olivo did something extremely extraordinary, smacking one down the leftfield line. The ball hit the angling part of the stands near the line, and it probably would have been a double anyway. Still, Ludwick tried to barehand the ball, and it skipped past, but Olivo wasn't able to scoot to third base or anything ridiculous like that. Valdez had a 3-1 count, but later bounced out to short. Elarton threw 17 pitches in the inning and had thrown 78 through five.

TOP 6TH
Grade: B+
Moyer wasn't quite as sharp in other innings, but he still got the job done. Peralta grounded out to short. Crisp got behind 0-2 and eventually flew out to center. Belliard smashed a single to left because that's what it seems like he does against Mariner pitching, or at least in this series. Martinez had a 2-0 count, but bounced to short on a 2-2 pitch. Moyer threw 15 pitches.

BOTTOM 6TH
Grade: A
Inning gigante! Ichiro ripped the second pitch to right, and Reed walked. Beltre stung an 0-2 pitch past Peralta at short and into leftfield. Ichiro scored on the play, and the ball went under Ludwick's glove in left, enabling Reed and Beltre to move to third and second, respectively.
»» MARINERS 2, INDIANS 0
Sexson was walked to load the bases and put the double play in order. Boone hit an 0-2 pitch to sufficiently deep rightfield, enabling Reed to score. Beltre was able to tag up from second and go to third on the play.
»» MARINERS 3, INDIANS 0

Scott Sauerbeck came in for Elarton. Ibanez worked a walk out of a 1-2 count to load the bases.

Rafael Betancourt came in for Sauerbeck. Winn tapped an 0-1 grounder to Peralta at short. Peralta threw home, and Bard appeared to have stepped on home plate to force out Beltre coming in from third. Or did he? Replays showed Bard's toe was a few inches off the plate when he caught the ball, partly necessitated by a short Peralta throw (error on Peralta). Beltre scored, and the bases remained loaded.
»» MARINERS 4, INDIANS 0
Olivo fell behind 0-2, fouled off a pitch, then smoked his fourth pitch into the gap in leftcenter to clear the bases. Much joy and jubilation were had as the Mariners had a commanding lead.
»» MARINERS 7, INDIANS 0
Valdez whiffed. Ichiro had a 2-0 count, but grounded out two pitches later to first. That's an inning.

Cleveland pitching lines...
Elarton: 5 1/3 innings, 5 runs (4 earned), 4 hits, 3 walks, 5 strikeouts, 95 pitches (57 strikes)
Sauerbeck: 0 innings, 1 run, 0 hits, 1 walk, 0 strikeouts, 7 pitches (3 strikes)
Betancourt: 2/3 innings, 1 run, 1 hit, 0 walks, 1 strikeout, 13 pitches (11 strikes)

TOP 7TH
Grade: B-
Somebody spoiled the shutout. Hernandez fell victim to a nice play by Beltre, who went back to the glove side, spun around, and threw to first in time. Blake was blown down on a 2-2 change. Other Boone hit a rope over the manual scoreboard in left, and that ball got out of there in a hurry. Laser beam. Friggin' lasers!
»» MARINERS 7, INDIANS 1
Bard was victim to another Beltre play, this time cutting across the diamond and firing to first in time to end the inning. Moyer threw 10 pitches and was at 84 through seven.

BOTTOM 7TH
Grade: C-
Jason Davis came in to pitch for Betancourt and looked pretty good, with an explosive heater to boot. Reed hit his first pitch off the handle to first (3-1 putout). Beltre got a 3-1 count, but popped out to Belliard in shallow rightfield. Sexson couldn't catch up to Davis' gas on a full count. Davis threw 12 pitches.

TOP 8TH
Grade: B+
Moyer showed no signs of imminent about-to-get-poundedness. Ludwick flew out to Reed. Peralta got a 2-0 count, and knocked one through the left side on a 2-1 pitch for a single. Crisp hit his second pitch high into the air in foul territory, and Sexson was able to come down with the ball in front of the camera well. Belliard hit a 1-1 pitch to Valdez, who didn't quite catch it on the fly, but caught the shorthop and stepped on the bag at second to end the inning.

Jamie Moyer is defying age again. We're 19 games into the season, and Moyer is 4-0. We thought last year might be the beginning of the end, but it appears the quadragenarian's got some fuel left in the tank. More importantly, the Mariners needed this start out of somebody. Of course, it helped that Elarton's balk helped let the first run score, and Bard's foot wasn't on the plate, etc. Still, Moyer was the beneficiary of having the Mariners score first, and eventually was the beneficiary of having them score often. All hail the ageless one! No walks!! Amazing!

Moyer's line: 8 innings, 1 run, 6 hits, 0 walks, 5 strikeouts, 95 pitches (59 strikes)

BOTTOM 8TH
Grade: A
Jason Davis would get the complete opposite of a 1-2-3 inning. Boone flipped his bat after hitting a 2-1 pitch to the track in right. Ibanez walked on a 3-1 pitch. Winn walked on four pitches. Olivo had his two hitters' counts before walking and loading the bases. Valdez walked on four pitches and Ibanez scored.
»» MARINERS 8, INDIANS 1
Ichiro got the two hitters' counts and walked on a 3-1 pitch, scoring Winn. Was this really happening?
»» MARINERS 9, INDIANS 1

Thankfully, Eric Wedge didn't let Davis suffer out there much longer. He had thrown 21 pitches in the inning, and not many were strikes. It wasn't like watching Rick Ankiel out there, and I'm sure this guy will do better than Ankiel, but yikes. It was like watching The Degeneration of Jason Davis out there. Five straight walks! I couldn't believe it.

David Riske came in for Davis. Three pitches later, he got Reed to tap one back to him and he started the 1-2-3 double play.

Pitching lines...
Davis: 1 1/3 innings, 2 runs, 0 hits, 5 walks, 1 strikeout, 39 pitches (11 strikes)
Riske: 2/3 innings, 0 runs. 0 hits, 0 walks, 0 strikeouts, 3 pitches (2 strikes)

TOP 9TH
Grade: A
Eddie Guardado came in for Moyer and pitched a 1-2-3 ninth, though I think it was helped immensely by Cleveland's hurry-up offense as they were anxious to get on the plane and go back home...where it was snowing. Martinez popped out to Ichiro on a 1-0 pitch, Hernandez took Ichiro to the track on his first pitch, then Blake popped the first pitch behind the mound, where Valdez caught it. Ballgame.

Guardado's line: 1 inning, 0 runs, 0 hits, 0 walks, 0 strikeouts, 4 pitches (3 strikes)
---

Gameball: Miguel Olivo.
Olivo hit one double with two out and nothing else happening in the inning, but then hit the other double to clear the bases and put the game out of doubt. I've been waiting for the longest time for him to have a game like this, and he did. If last season was an indication, I was used to this guy sucking most of the time and then getting a multi-hit game every 10 days or so, possibly putting a ball in the seats every once in a while. He raised his batting average by 35 points today. Yeah!

Goat: Bret Boone.
Are you sick of seeing the bat flip on balls that don't even get to the warning track? I am. Boone struck out twice, stranded a baserunner, and went 0-for-3, driving in the Mariners' third run with a sacrifice fly in the big inning. There's no real clear-cut goat today. Reed stranded two of his four runners on that double play in the 8th, but by that time it was completely meaningless. Richie Sexson balanced his two strikeouts with two walks (one intentional). I guess it boils down to this: Bret Boone didn't reach base in this game, and he didn't even draw a walk off Jason Davis.


Congratulations to Jamie Moyer, who with his 130th win as a Mariner tied Randy Johnson on the franchise's all-time wins list. [Add ~11:30p -- Moyer is also the American League's first 4-game winner this season] Hoorah! I thought Sele struck out more people than I was used to last night, and though Moyer didn't beat him in that department, I was more impressed with the fact that Moyer didn't walk anybody.

I'm just glad to see the Mariners win a game. Losing four games in a row just wouldn't have been good. Is it a little unnerving that they only scratched out five hits? Sure it is. It was nice to see them take advantage of the opposition's mistakes, though. It was nice to see them not go hack-happy when Jason Davis couldn't find the strike zone if his life depended on it. The six Mariner hitters Davis faced in that 8th only swung at three pitches that inning. They watched two strikes and 22 balls.

Last night he got two hits, but today, Richie Sexson had another 0-fer, going 0-for-2. It's not an 0-for-4, though, and that's because he made himself useful and drew a couple walks. As for the other money hitter in the lineup, Adrian Beltre drove in the first run of that big inning and drove in another on a sacrifice fly.

Still, I would have liked to have seen a big inning because of a bunch of hits and stuff rather than a bunch of weird-ass plays, but as Mariner fans, we'll take it. Wins are wins. Wins where everyone stays healthy are good wins too.

Can I comment on how uncomfortable-looking Scott Elarton's motion is? I've seen the guy throw in years past, and I thought it was herky-jerky when he was in Houston, but at least back then he didn't shortarm it as much as he does now. His speed is decent-looking, too, so I'm going to secretly anticipate his shoulder exploding or something. Of course, if he were to sign with Seattle somehow, I'm sure his shoulder would explode right after pen hit paper.

In a related note of uncomfortable-looking pitching motions, I saw part of the UW/Stanford game on FSNNW this afternoon, and man, Tim Lincecum's motion just makes me cringe. It's like he does that thing like Mark Gubicza when he brought his arm back and it kind of locks and comes back. The thing is, it looks like Lincecum rotates too soon or something, like maybe he'd drag his arm behind or something. I hope for him that his shoulder doesn't explode, but I'm just spewing blather at this point through the keyboard, so I'll just stop now.

The Mariners lie one game under .500. They'll have their chance to get back to .500 on Tuesday in Arlington. Raise your hand if you actually call it Ameriquest Field? I didn't think so. It's the Ballpark, it's always been the Ballpark, and it will always be the Ballpark.

Oh crap. The Mariners have tomorrow off. What am I going to do? We've had some ideas floating around, I guess. Or I could just sleep. I've wanted to sleep because of NFL Draft/Mariners/Sonics playoff day yesterday. That was crazy. I loved it, too.

Pineiro. Drese. Tuesday.