Sunday, April 24, 2005
2005 NFL DRAFT - DAY TWO 4/24/05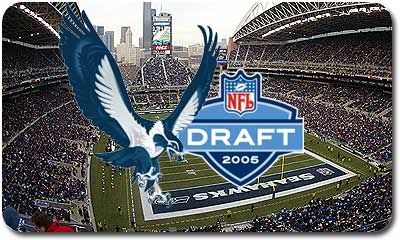 (Final update at 3:25 p.m. Pacific)

It's the final day of the 2005 NFL Draft.

Enjoy it.

Click here for a recap of the Seahawks' first three rounds

Another must-read Seahawks draft site (other than us, of course) is Mike Sando's draft weekend blog at The News Tribune. Sando is in Kirkland at the Seahawks headquarters. Do yourself a favor and check it out.

2005 NFL DRAFT

SEATTLE SEAHAWKS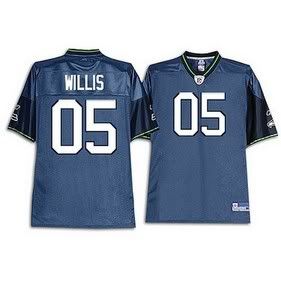 4TH ROUND
#105 (from Oakland)
OT Ray Willis, Florida State (6'6", 327 lbs)
---Ray Willis played right tackle for Bobby Bowden's Florida State Seminoles while Alex Barron (1st round selection of the St. Louis Rams) was on the left side.

Willis is 6'6", 327 lbs and will give the Seahawks more depth at tackle. Granted, there has been a lot of talk about improving the defense in this draft. But keep in mind that the offensive line needs some help as well.

There's a pretty good left tackle in Seattle who also played his college ball in Tallahassee. He wears #71. He also needs a road map to get to Cheney.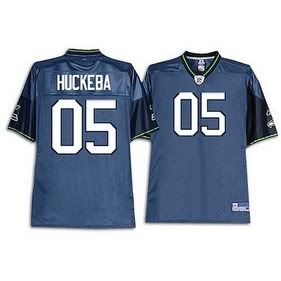 5TH ROUND
#159
DE/LB Jeb Huckeba, Arkansas (6'4", 247 lbs)
---YES! I ACTUALLY GOT A PLAYER RIGHT IN MY MOCK SEAHAWKS DRAFT!

This was my review on Jeb Huckeba (pronounced HUCK-a-BEE), from that same post:

"Jeb Huckeba played outside linebacker, inside linebacker, and defensive end during his career at Arkansas. He earned All-SEC first-team honors at defensive end in 2004. Huckeba is a player that fits the mold of players that Ruskell is looking for. If anything, there may be a few more folks here in Arkansas who will root for the Seahawks. I'm sure Ken Hamlin can show Mr. Huckeba around Seattle to see the sights and sounds. No word on whether Huckeba would host a rush-hour show on KUBE, however."

I'm ecstatic that Jeb Huckeba is a Seattle Seahawk. You're going to like this kid, Seattle fans. Very down-to-earth, humble, son of a coach. Huckeba is the type of player that Tim Ruskell is looking for. Great pick by the Seahawks.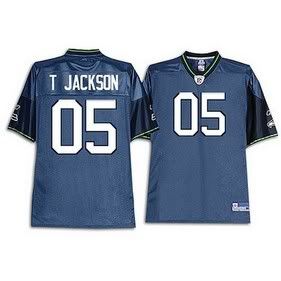 6TH ROUND
#196
TE Tony Jackson, Iowa (6'2", 264 lbs)
---Tony Jackson played tight end for the Iowa Hawkeyes, but could possibly move to fullback in the NFL, according to Mike Sando.

He should get a opportunity to play special teams for the Seahawks in 2005, as he is regarded as a solid wedge buster.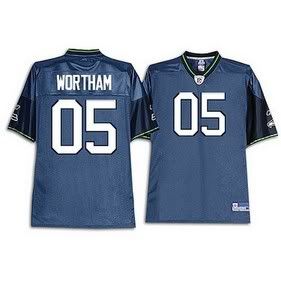 7TH ROUND
#235
LB Cornelius Wortham, Alabama (6'1", 234 lbs)
---The Seahawks have raided the SEC once again, grabbing Alabama's Cornelius Wortham in the 7th round. One-third of the SEC has been represented in this year's draft class for the Seahawks (Chris Spencer/Ole Miss, David Greene/Georgia, Jeb Huckeba/Arkansas, Wortham/Alabama).

Wortham missed the 2003 season with an elbow injury, but came back to the Crimson Tide in 2004 at middle linebacker. He led Alabama with 99 tackles in 2004. Wortham should bring strength and a good work ethic to Seattle.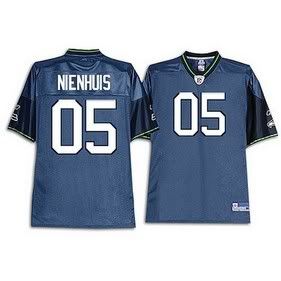 7TH ROUND
#254 (Compensatory Pick)
OL Doug Nienhuis, Oregon State (6'6", 307 lbs)
---Mr. Almost Irrelevant is Oregon State's Doug Nienhuis.

Nienhuis started 38 consecutive games at right tackle in Corvallis, where he helped the Beavers average 463 yards in total offense during the 2003 season. He earned first-team All-Pac 10 honors in 2004 blocking for Derek Anderson.

--- --- --- --- --- --- --- --- --- --- --- --- --- --- --- --- ---

Now that the draft is over, what is the one area where the Seahawks improved?

It has to be their depth on the offensive line. Chris Spencer isn't the popular first-round pick, but a few seasons from now, Seahawks fans will likely put him in the same class as Kevin Mawae. High praise, I know. Ray Willis could be the starting right tackle if he has a good camp in Cheney. Doug Nienhuis will provide depth at tackle and guard. It's not fair for any Seahawks fan to say that this team didn't do a thing in this draft, because that's not true.

As for the much-talked about pass rush we've been wanting, it's important to note that players such as New Orleans' Darren Howard and Tampa Bay's Simeon Rice could be released on June 1. So don't be suprised if the Seahawks add another free agent or two in June.

If I had to grade this draft for the Seahawks, I'll give it a B. Tim Ruskell addressed the depth on the offensive line with three solid players. The names Jeb Huckabe and LeRoy Hill won't get too many fans riled up, but believe me, these two men are good football players. You don't earn first-team SEC honors and a ACC Defensive Player of the Year award for nothing (Huckabe/SEC, Hill/ACC). Don't sleep on Lofa Tatupu, folks. No way do you sleep on a guy that was part of a outstanding USC team that won 2 national championships.

The draft is over. Training camp in Cheney isn't too far away. Until then, I'll leave you with this little diddy I created.