Saturday, April 23, 2005
2005 NFL DRAFT --- DAY ONE 4/23/05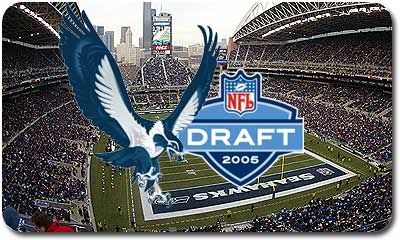 NFL.com 2005 NFL Draft Tracker

The News Tribune's Mike Sando 2005 NFL Draft Day Blog (live at Seahawks headquarters)

(FINAL UPDATE AT 8:05 p.m. Pacific)

2005 NFL DRAFT

SEATTLE SEAHAWKS

TRADE (1ST ROUND)
---Seahawks trade their 1st round choice (#23) to Oakland for 1st round choice (#26) and 4th round choice (#105).

FIRST ROUND


#26 (from Oakland)
C Chris Spencer, Ole Miss (6'3", 310)
---Chris Spencer passed up his senior year at Ole Miss to enter the NFL Draft. It looks like it has paid off for him, since the Seahawks selected him in the 1st round.

I had pegged LSU's Ben Wilkerson as the center the Seahawks would pick in this draft. I missed that one. If you were to ask anybody who knows anything about the Seahawks, I don't think many people would have said that the 'Hawks would select Chris Spencer in the first round. But this is where we are at.

What about Spencer's ability on the field? He's 6'3, 310 pounds. Earned honorable mention All-SEC honors in 2004. In 2003, Ole Miss ranked first overall in the SEC in scoring (34.0 ppg), passing (286.0 ypg), and total offense (433.2 ypg). Spencer also played guard in Oxford, but is expected to be the replacement for Robbie Tobeck.

I'll give Tim Ruskell the benefit of the doubt. Sure, Dan Cody is still on the board. But I have a feeling that the Seahawks wanted to trade up to possibly get David Pollack or Erasmus James, to no avail. There's a method to Ruskell's madness. Don't panic, Seahawks fans. This is a deep draft. The Seahawks will get the players they need.

TRADE (2ND ROUND) (thanks to Mike Sando)
---Seahawks trade 3 choices (2nd round #54, 4th round #121 and #126) to Carolina for 2nd round choice (#45).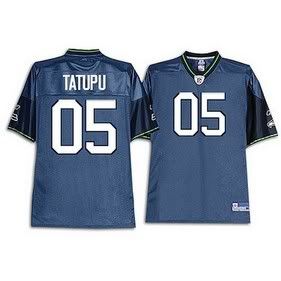 SECOND ROUND
#45 (from Carolina) MLB Lofa Tatupu, USC(5'11", 226 lbs)
---If there's one thing to be said about Tim Ruskell's strategy so far, it's that he's very unconventional. Unconventional in the sense that the Seahawks have drafted two guys that weren't on many fans' radars coming into this weekend, at least when it came to the first two rounds.

Lofa Tatupu is 5'11", 226 pounds. He comes from USC, a school that was won the last two national championships. In 2004, Tatupu was a first-team All-Pac 10 selection and earned USC's co-Most Inspirational Award. He led the Trojans in 2004 with 104 tackles, including six sacks, two fumble recoveries, three forced fumbles, and three interceptions.

The last two years, the Seahawks have come up big in the second round. Ken Hamlin was a second round pick in 2003 and Michael Boulware went in the second round last year (2004). Can Tatupu keep the second round momentum going?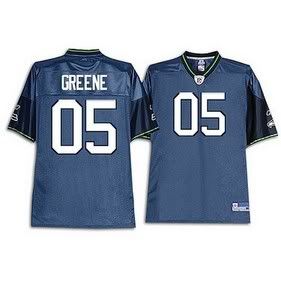 THIRD ROUND
#85 QB David Greene, Georgia (6'3", 231 lbs, left-handed)
---This is all you need to know about quarterback David Greene.

Set the SEC career mark for passing yards (11,528 yards)

Set the NCAA career mark for most wins by a quarterback (42 wins)

Started every game at Georgia in his 4-year career

Greene is a winner. Look for him to be the backup to Matt Hasselbeck in 2005. As ESPN's Chris Mortensen said, Greene will do well in Mike Holmgren's West Coast Offense. There is a benefit to living in SEC country, folks: I've seen Greene play on plenty of occasions. Kudos to the Seahawks for picking up Greene.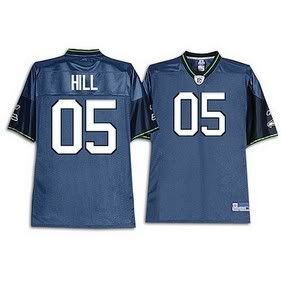 THIRD ROUND
#98 OLB LeRoy Hill, Clemson (6'1", 224 lbs)
---Since the Seahawks released Anthony Simmons, they had to find another Clemson guy to replace him.

All kidding aside, LeRoy Hill was the 2004 ACC Defensive Player of the Year at Clemson, where he had 106 tackles and 8 sacks for the Tigers. During his career in Death Valley, Hill recorded 311 tackles and 16 sacks.

Hill played middle linebacker at Clemson, but scouts have said that he will likely play on the outside in the pros. But we won't know exactly where Hill will play until defensive coordinator Ray Rhodes sees him in action this summer in Cheney.

--- --- --- --- --- --- --- --- --- --- --- --- --- --- --- --- ---

Today was a very interesting day for the Seahawks organization. Certainly it was for the fans as well. But that's to be expected. This weekend is special because each team gets an opportunity to bring in new players. Some of them pan out and some of them don't pan out. That's the beauty of the NFL Draft.

My advice to you, the Seahawks fan, is to relax. All 4 picks today by the Seahawks serve a purpose. Chris Spencer will take over for Robbie Tobeck. Lofa Tatupu will bring a ton of energy to a linebacking corps that needs it. David Greene may be the most underrated quarterback in this draft. LeRoy Hill can flat out play.

Am I the Seahawk Optimist? No. I just choose to not go too overboard on draft weekend. When these players step on to the field, that's when we'll know if these guys are NFL-caliber or not. Paper is paper.

We'll be back tomorrow with another NFL Draft running post. The Seahawks have 5 picks tomorrow (barring any trades). Tomorrow can't some soon enough.