Friday, April 22, 2005
THE NOT-SO-PRODUCTIVE OUT-MAKING BOX 4/22/05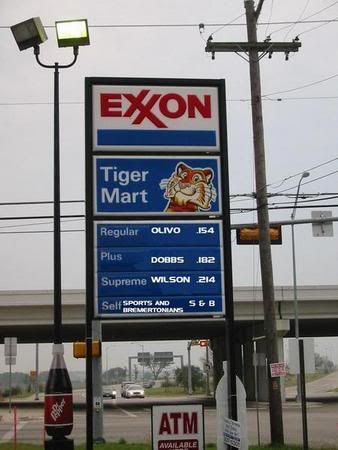 Indians at Mariners, 7:05 Pacific (FSN Northwest and MLB.TV)

C.C. Sabathia (0-0, 1.59 ERA) vs Gil Meche (1-0, 6.14 ERA)

Scott Spiezio (.083) is off the PUMP until he gets off of the disabled list. I should have made that clear last night, but I didn't. Sorry for the confusion.

As I posted earlier, we're going to have a NFL Draft running post this weekend. So join us here at Sports and B's for the NFL Draft. The draft coverage starts at 9 a.m. Pacific on ESPN. It's a busy Saturday for Seattle sports fans. The NFL Draft, Indians-Mariners, and the Sonics' Game 1 matchup with the Sacramento Kings. Don't worry, we'll fit everything in tomorrow. That's how we do things here. We aren't just a one-sport site. The title says Sports and Bremertonians for a reason.

Since there seems to be a demand for it, we have brought back the infamous towel! Instead of Bob Melvin throwing in the towel this season, it's Mike Hargrove who will do the "honors". Credit to Sportspot poster IcebreakerX for the design of the towel. I added the Sports and B's font (Denmark) for Hargrove's name. COME GET YOUR TOWEL!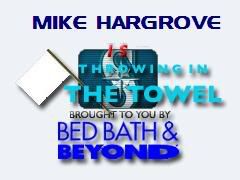 The box is open so you might as well use it. Empty boxes are worthless. Full boxes aren't. Fire it up.

LINEUPS!

CLEVELAND INDIANS (6-10)
Crisp lf .261
Cora ss .281
Martinez c .222
Hafner dh .296
Blake rf .244
Broussard 1b .224
Belliard 2b .265
Hernandez 3b .308
Sizemore cf .222

SEATTLE MARINERS (8-8)
Ichiro rf .375
Winn lf .304
Beltre 3b .254
Sexson 1b .216
Boone 2b .279
Ibanez dh .259
Bloomquist cf .222
Olivo c .154
Valdez ss .245

Mike Hargrove is already throwing in the towel by starting Willie Bloomquist for the second time in three nights. It's the 6-10 Cleveland Browns against the 8-8 Seattle Seahawks! Catch the fever!