Tuesday, April 19, 2005
GAME 14: MARINERS 5, ANGELS 3
Mariners 5, Angels 3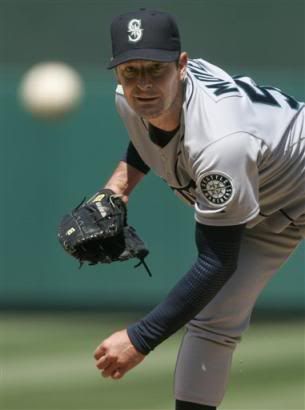 In 25 words or less: The bats rose early before falling asleep. Jamie Moyer had to fight through a couple of jams and the bullpen semi-treacherously held the late lead.

This one featured ageless wonder Jamie Moyer going up against Kevin Gregg, who made sure today that he'll be out of the rotation when Kelvim Escobar gets back.

TOP 1ST
Grade: A
The Mariners were able to jump ahead right away. Ichiro checkswung but held on a full-count pitch low and away for a walk. Gregg threw over to first base four times with Jeremy Reed at the plate before uncorking a wild one in the dirt that snuck past Jose Molina behind the plate. Ichiro scampered to second. Like Ichiro, Reed also worked his count full from 1-2 and walked. Gregg had walked the first two batters of the game and had Adrian Beltre coming to the plate. Beltre hit a nice healthy fly ball to centerfield, but it wasn't deep enough to advance anyone. Richie Sexson took care of that on his first pitch, though, and smashed it out to left-center.
»» MARINERS 3, ANGELS 0
Bret Boone popped a foul ball on 2-1 that Robb Quinlan lost in the sun. Despite the second life in the at-bat, Boone was caught looking. Raul Ibanez was green-lit on 3-0 and fouled it off, as he did with the 3-1 pitch. With a full count, he lofted a ball that Dave Niehaus thought was going to be a simple flyout, but it carried over the wall in leftcenter. The Slide is in the other room; this is the Long Ball.
»» MARINERS 4, ANGELS 0
Then Randy Winn swung, looked, and then whiffed for his strikeout to end the inning. Gregg threw 35 pitches.

BOTTOM 1ST
Grade: B+
Moyer had a moderately trying inning. Moyer got ahead 0-2, but eventually Darin Erstad doubled off the wall in rightcenter. The next two batters swung at the first pitch. Orlando Cabrera rolled one to short, and Vladimir Guerrero hit a very high fly ball to Randy Winn in left. Moyer fell behind 3-0 to Garret Anderson but somehow fought back to catch him looking on the inside corner. Moyer threw 12 pitches.

TOP 2ND
Grade: B
The good stuff happened with two out. Miguel Olivo grounded out to short, and Wilson Valdez flew out to Chone Figgins at second. Ichiro was down 0-2, but ended up hitting one up the middle for a single. Ichiro broke for second on the second pitch to Reed, and Molina threw in the dirt to second, and the ball bounced away from Cabrera. Ichiro moved to third on the Molina error. Reed got 2-0 and 3-1 counts before walking. Beltre didn't come through in the first inning with the same two runners on and nobody out, but was able to do so with two out, as he ripped a single into left to score Ichiro and move Reed to third.
»» MARINERS 5, ANGELS 0
Sexson fouled off four pitches in his at-bat before being caught looking at a pitch on the outside corner. Sexson was none too pleased with the call of Jim Runnels behind the plate. Gregg threw 31 pitches and had a whopping 66 through two.

BOTTOM 2ND
Grade: C+
Moyer was touched up in the inning. Robb Quinlan grounded out to first. Juan Rivera singled a 2-0 pitch into the hole on the left side. Steve Finley took an 0-2 pitch over the inside corner, and was miffed at Runnels behind the plate much like Sexson was. Moyer fell behind 2-0 but worked the count back full before walking Molina. Chone Figgins then doubled down the leftfield line past Beltre to plate Rivera.
»» MARINERS 5, ANGELS 1
Moyer got ahead 0-2 on Erstad and got a ground ball to short. He threw 18 pitches in the inning.

TOP 3RD
Grade: C
Once again, everything happened with two out. Boone bounced the first pitch into the hole on the left side, but Quinlan made a nice play to first. Ibanez had a 3-1 count and walked on an outside pitch. Gregg fell behind 2-0 on Winn.

...and Mike Scioscia had seen enough of Kevin Gregg. That's too bad since the Mariners had teed off against him.

Chris Bootcheck came in and inherited the 2-0 count on Winn. He immediately threw two balls for the walk. Olivo hit a weak infield fly to Erstad. Valdez tagged a line drive, but right to Anderson in left. Bootcheck threw 12 pitches.

Gregg's line: 2 1/3 innings, 5 runs, 4 hits, 5 walks, 3 strikeouts, 73 pitches (38 strikes). Positively putrid. I loved every second of it.

BOTTOM 3RD
Grade: A-
This was a quick one for Moyer. Cabrera lined out to Valdez. Moyer fell behind 2-0 to Vlad, but got him to chop one along the third base line, and Moyer picked it up and threw to first. Anderson flew out to Winn on his first pitch. It was a quick six-pitch inning for Moyer.

TOP 4TH
Grade: C-
Unfortunately, Chris Bootcheck would pitch a quick inning as well. Ichiro grounded out to third on a 2-0 pitch. Reed grounded out to second. Beltre watched the first strike, fouled off a pitch, then whiffed on a ball in the dirt. Bootcheck threw 10 pitches.

BOTTOM 4TH
Grade: C
Moyer was touched up again, but before that, he caught Quinlan looking and got a high flyout to Boone from Rivera. Then Moyer fell behind 2-0 and Finley went down and got one, depositing it into the seats in right. I think that pitcher-hitter matchup added up to 148 years or however old those two are combined.
»» MARINERS 5, ANGELS 2
Moyer threw a first pitch strike to Molina after the home run, but followed up with three straight balls for the walk. Figgins swung at the first pitch and chopped one in front of the plate, where Olivo picked it up and threw him out. Moyer threw 18 ptiches in the inning.

TOP 5TH
Grade: C-
It was another futile inning for the Mariner bats. Sexson watched a strike, then whiffed at the next two pitches. Boone put a 3-1 pitch through the hole on the right side for a single. Ibanez got a hack at a 2-0 pitch, but didn't quite give it a good-enough ride to center. Winn knocked a base hit into center before Olivo bounced one to Cabrera at short, who threw to second for the fielder's choice. Bootcheck threw 17 pitches.

BOTTOM 5TH
Grade: C
Moyer was touched up once again, though a little less surprisingly this time. Erstad took Reed to the track in center, and Reed made a leaping catch, though the leap was probably unnecessary. The sun was bright out there today. Cabrera cranked out a 10-pitch at-bat, fouling off four pitches with a full count before flying out to Ichiro. This may have taken some fuel out of Moyer, just in time to pitch to Vlad, who took a ball at about mid-shin height and put a sand wedge to it. The Angel bullpen beyond the fence in leftcenter was the recipient of an airborne baseball.
»» MARINERS 5, ANGELS 3
Anderson popped out to shallow right which was caught by Ichiro to end the inning. Moyer threw 19 pitches in the inning, 10 to Cabrera. He had 73 through five.

TOP 6TH
Grade: D+
Again, futile Mariner offense. Valdez rolled a ball to Cabrera at short, who bobbled it and couldn't make a play (error). I'm a firm believer that every time Valdez gets on base, he's got to score. Such wasn't the case in this inning. Ichiro bounced one to Figgins at second, who missed the tag on the passing Valdez before throwing to first to get Ichiro. Figgins vehemently thought that he made the tag on Valdez. Nonetheless, the Mariners had a runner on second and one out. Reed then flew out to Cabrera in shallow left. That's when Bootcheck walked Beltre on four pitches and got the hook. He had thrown 15 pitches in the inning.

Esteban Yan came in for Bootcheck. If Sexson wasn't due up for the Mariners at this point, I was wishing they could bring Mark McLemore back to pinch hit just this one time after their fun run-ins of the past. I've always been waiting for Yan-McLemore II. Nonetheless, Yan fell behind 2-0 on Sexson, but eventually got him to bounce to Cabrera for a fielder's choice. Yan threw four pitches.

Bootcheck's line of very solid long relief: 3 1/3 innings, 0 runs, 2 hits, 1 walk, 2 strikeouts, 52 pitches (32 strikes). He held the fort and enabled the Angels to pull a little closer in the game.

BOTTOM 6TH
Grade: C-
The team as a whole gets a C-minus, but Moyer alone would get probably a B-minus. Quinlan grounded out to Valdez on the first pitch. Moyer fell behind 2-0 on Rivera, but got a 3-1 ground ball to short. Valdez knocked the ball down and threw high to first, pulling Ibanez off the bag (error). Moyer got a ground ball from Finley, this one going to second. In an attempt to turn the double play, Boone threw to second. Correction: he threw wide of second and into leftfield, where Beltre backed up the throw. Errors on consecutive plays. Don't worry, kids, the infield defense will get their bearings soon enough. Moyer's defense obviously wasn't getting it done, so he did the unthinkable -- he struck out the final two hitters. Molina whiffed at all three of his pitches. Rivera stole third uncontested on the 1-2 pitch to Figgins. After a 2-2 pitch that was barely outside, Moyer got Figgins to whiff on the full count, ending the inning. Moyer threw 19 pitches in the inning.

After that extremely turbulent inning, Moyer was done for the day. Sure, Old Man Finley and Vlad went yard on him, but he had to finish with a flourish after the misdeeds of Valdez and Boone. He left the game in line for his third win of the year in three starts. His line: 6 innings, 3 runs, 5 hits, 2 walks, 5 strikeouts, 92 pitches (57 strikes).

TOP 7TH
Grade: C-
More of nothing from the Mariner offense. At least Yan doesn't pull down the headband on his caps inside-out anymore like he did with the Devil Rays. Boone had a 2-0 count, but bounced out in a 3-1 putout. Ibanez bounced out to third. Winn put a jolt into a 1-0 pitch, but hit it barely foul down the rightfield line. He grounded out to short on the next pitch. Yan threw 19 pitches.

BOTTOM 7TH
Grade: B-
JJ Putz came in for Moyer. He immediately fell behind 3-0 on Erstad. He threw the next two for strikes, then Erstad got the bat off his shoulder and fouled one off. Putz froze Erstad on a pitch over the inside corner as the crowd groaned in unison. Putz fell behind 2-0 on Cabrera to make things dicey again, but Cabrera ended up tapping a ball along the third-base line. Putz barehanded it and threw to first in time. Guerrero grounded a ball to the right side, and Boone tried to slide to get it, but couldn't get a glove on it. That went for a single.

Ron Villone came on for JJ Putz to face the lefty Garret Anderson, who dropped one into shallow left that Winn couldn't quite get to. Luckily, Villone got Quinlan to fly out to Ichiro to end the cliffhanger of an inning.

Putz's line: 2/3 inning, 0 runs, 1 hit, 0 walks, 1 strikeout, 13 pitches (7 strikes). He was shaky. Wobbly, even. He was like a backup Guardado out there.

TOP 8TH
Grade: D
Well, this one was frustrating. Olivo coaxed a walk out of Yan. Valdez bunted his first pitch along the first-base line and was tagged by Erstad as Olivo advanced to second. Ichiro was given four wide ones. Reed singled sharply into leftfield, loading the bases with one out. Yesterday, the Mariners had the bases loaded and one out with Winn and Olivo coming to the plate, who didn't get the ball out of the infield. Today, the Mariners had Beltre and Sexson coming to the plate. Beltre fell behind 0-2. He worked the count 2-2 and fouled one off before whiffing for the third strike. Sexson followed it up by whiffing on another 2-2 pitch. It's contagious! Where's Jay Buhner?! He probably had a hand in this. Yan threw 25 pitches in the inning, but was none worse for the wear, it seemed.

Yan didn't come out for the 9th, since the Angels didn't want any more drama, even if it was shutout drama. His line: 2 1/3 innings, 0 runs, 1 hit, 2 walks, 2 strikeouts (those last two), 44 pitches (25 strikes).

BOTTOM 8TH
Grade: A-
Villone put out a small fire. Rivera led off with a single to leftcenter. Finley bounced a high chopper to first, and Ibanez threw to Villone covering for what wasn't the easiest 3-1 putout. Villone then set Molina and Figgins down swinging. Boy, that bottom of the Angel lineup sure likes to strike out (see the 6th inning).

The Mariners would have a Guardado-friendly situation in the 9th, so Villone was done. His line: 1 1/3 innings, 0 runs, 2 hits, 0 walks, 2 strikeouts, 21 pitches (15 strikes).

TOP 9TH
Grade: D+
Scot Shields came on to pitch in place of Esteban Yan. He only faced three batters. Boone tapped an 0-2 pitch back to Shields, who easily threw him out. Ibanez tagged his 0-1 pitch into the gap in leftcenter for a double. The problem was, Ibanez had his mind made up that he was going for three. "YOU BETTER GET DOWN!" screamed Dave Niehaus. It wasn't close. Ibanez was gunned down at third. It sure would have been nice to play add-on and get at least one more run for Guardado, or more than that for whoever else would pitch. Winn flew out to center to end the inning.

Shields' line: 1 inning, 0 runs, 1 hit, 0 walks, 0 strikeouts, 12 pitches (9 strikes).

BOTTOM 9TH
Grade: B
Eddie Guardado came in to close it out. He got ahead 1-2 on Erstad, but the count went full to turn up the heat. Erstad ended up grounding out to Beltre at third. Cabrera also grounded out to third, and the Mariners were one out from victory. Then Vlad just had to drill one into left for a single. At least Villone got the first two out before he had to face Vlad. Anderson took a huge hack at his first pitch, and hit the next one to Ibanez behind the bag, and he ran to step on it. Ballgame.

Guardado's line: 1 inning, 0 runs, 1 hit, 0 walks, 0 strikeouts, 17 pitches (12 strikes).
---
Gameball: Ron Villone.
Probably a controversial choice here, but let me explain. What you see in the boxscore is that he gave up two hits in 1 1/3 innings. The first one was especially inopportune because it was the first pitch he threw out of the bullpen, and it put two on and two out in the 7th. You may be wondering, why Villone? He threw strike one on the first pitch to all six batters he faced. For all the crap I've given him about the much-overrated phrase "effectively wild," I guess I feel like I should just be giving him a break for once. I considered Guardado for the gameball as well. Though it was a little shaky to start, Guardado only gave up the two-out single instead of having to get out of a bases-loaded jam or anything morbid like that.

Goat: Bret Boone.
Boone went 1-for-5 and struck out once. The only reason he didn't strand anybody was because he led off three innings and Sexson homered in front of him in the first. He was the second hitter in the inning when he singled (5th, after Sexson whiffed). Other than that, I guess you could say I'm ticked at him for the defensive issues. From the radio broadcast, Boone shouldn't have slid to get the Guerrero hit in the 7th, and would have had Guerrero at first had he come up with it cleanly. Of course, the big gaffe was when he threw wide of Valdez trying to turn the double play in the 6th, the inning before. Luckily for Boone, the #8 and #9 hitters were coming to the plate, and Moyer buckled down to get both of them swinging. With Moyer getting higher into the pitch count, if the bases load up at that point, then I'm really irate at Boone. There was an error on the play before that, for goodness' sake. So yeah, that's how I feel about making four outs and giving away two or three on the defensive end. I guess that's enough for me to look the other way when I see that Adrian Beltre stranded five runners. No goat for him. Sexson hit the three-run shot, so I'll look away from his seven stranded runners as well. The dude still isn't all the way back either.


They didn't score late this time, though one of the other early trends of the season was sort of holding up -- the big inning. I guess four innings may or may not be big, but bear with me here. The point is, when the Mariners get these types of innings, the bats don't do anything in the rest of the game. Of course, it might be somewhat different these past two games -- it seems in past games they wouldn't even get hits, but these last two games they've been getting the runners and stranding them. Even more weird was that (from my memory of the radio broadcast) Sexson came into the game with a .455 average with runners in scoring position. He made good on that once today, at least.

Here's a somewhat encouraging thing -- I don't think Jamie Moyer has had a vintage Moyer start yet this season, but he's 3-0 after three starts. I'll take it. Moyer gets big props for picking up after his brutal middle infield defense in the 6th, which pretty much saved the game. In other news, Randy Johnson lost to the Devil Rays tonight. Ha.

One important thing when facing the Angels' lineup is to limit the baserunners in front of Vladimir Guerrero. In his five at-bats, he only had one of them in which there was a runner on base, and that was in the first (Erstad leadoff double). His wedge-shot homer was a solo shot. Aaron Sele walked Erstad to lead off the 3rd yesterday before yielding his Guerrero mortar shot. One run is better than two.

Both bullpens threw shutout ball in this one. The Mariner pen's line: 3 innings, 0 runs, 5 hits, 0 walks, 3 strikeouts, 51 pitches (34 strikes). The Angel pen: 6 2/3 innings, 0 runs, 4 hits, 3 walks, 4 strikeouts, 108 pitches (66 strikes). If I'm an Angel fan, Chris Bootcheck gets my gameball. No question.

Your Seattle Mariners...back at .500! It's better than last year!

This post was aided by the background music of...
-- Reign In Blood, Slayer
-- Does This Look Infected?, Sum 41

To anyone who read this far and waited a few hours in anticipation, I give you this: it's Vonzell Solomon's competition to lose.

Zito. Pineiro. Tomorrow.