Saturday, April 16, 2005
GAME 11: WHITE SOX 2, MARINERS 1
White Sox 2, Mariners 1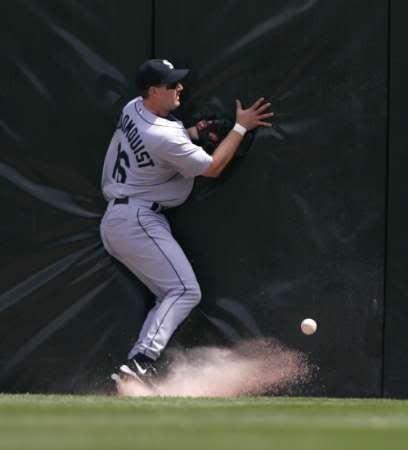 In 25 words or less: Paul Konerko and Mark Buehrle sent everyone home early. Ryan Franklin wasn't going to get run support from this lineup.

This one was fast. I hope you don't like hitting.

TOP 1ST
Grade: D+
Ichiro singled to center on the first pitch of the game, and that's how rallies get started with this team. Randy Winn has a decent average so far this year, but Mike Hargrove had him bunt anyway. Adrian Beltre lined out to center. Bret Boone flew out to Paul Konerko at first on the 2-0 pitch. Buehrle needed only seven pitches in the inning. This whole Ichiro-and-nothing deal would hold up for the rest of the game.

BOTTOM 1ST
Grade: A-
Franklin threw a 1-2-3 first inning. Timo Perez bounced to Bret Boone on the first pitch. Tadahito Iguchi grounded out to Wilson Valdez on his second pitch. Carl Everett hit his 2-0 pitch to Adrian Beltre, who threw to first. Franklin threw a miniscule six pitches in the inning.

TOP 2ND
Grade: C-
Raul Ibanez and Scott Spiezio both fanned. Willie Bloomquist bounced one back to the mound. At least the Mariners worked the count a bit. Buehrle threw 16 pitches in the inning.

BOTTOM 2ND
Grade: B-
Paul Konerko hit a majestic blast about 15 rows or so into the stands in left-center. Franklin got too much of the plate.
»» WHITE SOX 1, MARINERS 0
Jermaine Dye then bounced out to Valdez. Aaron Rowand went down swinging, then Juan Uribe popped out weakly to Valdez instead of jumping all over the ball like he did last night against Joel Pineiro. Franklin threw 15 pitches in the inning.

TOP 3RD
Grade: C-
Dan Wilson took his 3-0 pitch for a strike, but put a nice lick on the 3-1 pitch, which was a popup to first. Wilson Valdez flew out to right on his first pitch. Ichiro flew out to left on his second pitch. Buehrle threw only eight pitches in the inning.

BOTTOM 3RD
Grade: B-
This half-inning was one of the more longer ones in the game. Chris Widger, ex-Mariner and guy who fractured Jamie Moyer's shin in a rehab sim game back in late 2000, popped out to Spiezio at first. I found that popups hit to first today were more of an adventure than they were with Richie Sexson out there. Joe Crede mashed his first pitch off the wall in center. Bloomquist looked like he had somewhat of a beat on the ball, but he hit the wall about the same time as the ball, and the ball was about 10 feet to his left. I'll admit that I had something like that happen to me once in leftfield (ball got above the lights in a night game), but he's a Major Leaguer and I'm not. Perez had 2-0 and 3-1 counts, but he's Timo Perez, and he realized this as he bounced out to Boone. Franklin got ahead 0-2 on Iguchi and got a bouncer to third to end the inning. Franklin threw 18 pitches in the inning, but that was no danger toward his longevity today.

TOP 4TH
Grade: C-
The non-Ichiro components of the lineup continued to suck. Winn attempted to check-swing on a 2-2 pitch, but that's in the books as a whiff. Beltre was caught looking. Boone walked on a 3-1 pitch, but Ibanez whiffed. Yes, Buehrle struck out the side, needing 20 pitches.

BOTTOM 4TH
Grade: A
This inning almost went as quick as Franklin's first. Everett rolled the first pitch to Boone. Konerko didn't homer this time, instead swinging over the top of a breaking ball for strike three. Dye hit his second pitch on the ground to Valdez. Franklin threw eight pitches in the inning.

TOP 5TH
Grade: C-
The non-Ichiro components of the lineup continued to suck. Buehrle only struck out two-thirds of the side this time. Spiezio was one of them, and he did so to lead off. Bloomquist didn't strike out, but hitting a weak liner to second isn't much better. Wilson was the other strikeout in the inning. Buehrle threw 12 pitches and was at 63 through five.

BOTTOM 5TH
Grade: B
Franklin didn't get by quite as easily as in the 4th, but he still came away all right. He fell behind 2-0 to both Rowand and Uribe to start, but got flyouts from both. Uribe's flyout was to Spiezio in foul ground down the rightfield line, truly an adventure. Widger tagged a ball into leftfield that Winn had to play on an unexpectedly high hop. Crede reached on a pitch low and away and he called Winn's number as well, but Winn was able to make a sliding catch to end the inning. Franklin threw 14 pitches and was at 61 through five.

TOP 6TH
Grade: C-
Ichiro and nothing else. Valdez led off with the whiff before Ichiro rolled a slow one through the right side for a single. Winn bounced one to Konerko that probably should have been a double play to end the inning. Konerko bobbled it a bit and couldn't get the play at second, and pulled a 360 and threw in time to Buehrle at first to get Winn. Beltre then grounded out to second. Whoopdee-damn-doo! Buehrle threw 12 pitches and was at 75 through six.

BOTTOM 6TH
Grade: A
Franklin got the three outs in different ways in this 1-2-3 inning. Perez popped one to Valdez on the outfield grass, Iguchi watched strike three on the outside corner, and Everett nubbed one to Boone. Easy enough. Franklin threw 10 pitches in the cinch of an inning.

TOP 7TH
Grade: D+
The only thing not futile for the Mariners today was the futility itself. Boone rolled a slow one to short which Uribe bobbled, but Boone was still nailed. Ibanez grounded his second pitch to first, and Spiezio hit a weak flyout to short. Yippee. At least the game was fast. Buehrle threw nine pitches and was at 84 through seven.

BOTTOM 7TH
Grade: B-
Franklin threw almost the same pitch to Konerko, and with the same result. The only difference this time was that it was Konerko's third pitch, it landed a little more to the left, and it only landed about five rows deep this time.
»» WHITE SOX 2, MARINERS 0
Dye then flew out, and groundouts and jolly good fun times were had from Rowand and Uribe to end the inning. Franklin threw 10 pitches and was at 81 through seven.

TOP 8TH
Grade: C-
Come on, there's no way the 7-8-9 hitters were going to do anything today if the 2 through 6 hitters weren't going to do anything. Bloomquist flew out to right-center on his first pitch, then Wilson and Valdez used their all-day passes to the Festival of Whiff. Buehrle threw nine pitches and was at 93 through eight.

BOTTOM 8TH
Grade: A
Franklin threw his final 1-2-3 inning for naught. Widger flew out to Beltre on the first pitch. Crede took Bloomquist to the warning track in left-center. Perez flew out to Winn. Franklin threw 10 pitches in the inning.

Well, Franklin didn't have run support today. Come on, though. This lineup was brutal. Franklin's line, however, was not: 8 innings, 2 runs, 4 hits, 0 walks, 3 strikeouts, 91 pitches (61 strikes). He did his part today, and though this will undoubtedly feed the Franklin-gets-no-run-support people, just look at the names in the boxscore for the Mariner lineup and think about the remote possibility of runs actually coming from this lineup.

TOP 9TH
Grade: B-
Ichiro got way ahead and hit a pitch to Konerko's left, but it got past him and rolled slowly down the line and toward the corner. Ichiro had the double for sure, and pretty much had third base when a fan touched the ball, but it really didn't have much impact on the outcome of the play (triple). Winn then watched one strike and whiffed on the next two pitches, which was clutch. Beltre hit his 2-1 pitch toward first, though Konerko had to make a diving stop before throwing to Buehrle at the bag. The Mariners put one across and spoiled the shutout, but now there were no runners on and two out.
»» WHITE SOX 2, MARINERS 1
With the lineup the way it was today, the only way the Mariners could hope for anything was if Bret Boone came up hacking and ended up tying the game. He watched the first pitch for a strike, and fouled off the next pitch. It was 0-2, and Buehrle is left-handed, so I imagine the patented Boone whiff pitch (slider low and away, off the plate) was out of the question. Instead, Buehrle went high over the inside part of the plate. Whiff. Ballgame.

Well, Mark Buehrle sure tossed a nice one today. His line: 9 innings, 1 run, 3 hits, 1 walk, 12 strikeouts, 106 pitches (73 strikes).

Gameball: Ryan Franklin.
I had the choice between Ichiro getting three hits, or Franklin making two bad pitches and losing the game. People are going to cry and say that he didn't get run support, but when the Mariners were basically punting a third of their lineup today (Spiezio, Wilson, Bloomquist), the Mariners were pretty much beaten before they even took the field.

Goat: Raul Ibanez.
He was 0-for-3, struck out twice, and left Bret Boone on base with two out in the 4th. Worse yet, his sparkling .175 average will keep him on the Pump. But hey, the Exxon Ibanez Plus fuel would be a lot cheaper than what any of us are paying for real fuel these days.
---

At one hour and 39 minutes, today's game was the shortest in the history of the Seattle Mariners. After missing out on the perfect game yesterday, I'm glad I could be a part of watching this, though I got a late start because I thought it was a late-afternoon start for today's game. Alas, it was not.

Ichiro was the only other possible choice for the gameball, going 3-for-4 and scoring the only run. Hey, at least the Mariners only stranded five runners. Should I tabulate what the non-Ichiro Mariners did at the plate today? Here are the grisly numbers: 0-for-25, 1 walk (Beltre), 1 RBI (Beltre), 12 strikeouts. Willie Bloomquist somehow avoided the strikeout virus along with Ichiro. Every other Mariner struck out, and Beltre and Boone were the only ones that struck out just once; everyone else did so twice. There's nothing like eight Ks from your 5 through 9 hitters. I'm sure that's exactly how Mike Hargrove drew it up. In a way, it is exactly how he drew it up, though not with the fate I'm sure he would have liked.

Well, what can you say about Ryan Franklin? He got the eight-inning complete game and didn't get the run support. Granted, he won't always be this good, and the Mariners won't always be this bad, but we've got to take the good Franklin outings when we can get them. He threw 8 2/3 innings last time out, and he threw eight more today, with both outings not really getting too high in terms of pitch count. If he keeps getting a lot of low-pitch games, he'll be the 200-inning starter he's been. The Mariners need as many innings as possible out of the starting staff this year, especially since Garcia and Madritsch are gone. Let's face it, the Mariners are still looking for the 200-inning starter they lost when they traded Garcia. Unless they trade for an innings-eater at the deadline (the Mariners would have severely exceeded my expectations to warrant such a thing) or wait for Felix or something, they'll have to patch it up with what they've got.

Can you guess what the other great thing is resulting from Ryan Franklin throwing a complete game? The bullpen's well-rested if/when Gil Meche throws 95 pitches in 3 2/3 innings tomorrow. They're keeping themselves covered, and you gotta admire that.

The Mariners are once again under .500. I don't think it's anything to get worked up over. I'd get more worked up about the thought of the Mariners getting swept in Chicago.

This post was chugged through with assistance of background music provided by the first disc of Van Halen's Best of Both Worlds compilation. As per usual, I skipped "Love Walks In" because it's easily my least favorite song in the entire Van Halen catalog.

Meche. Garcia. Tomorrow.