Saturday, April 16, 2005
THE NOT SO PRODUCTIVE OUT MAKING BOX 4/16/05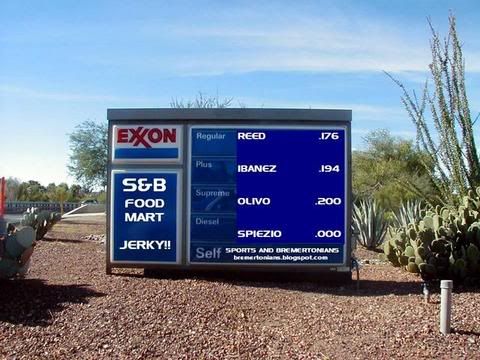 Mariners at White Sox, 11:05 Pacific (FSN Northwest, WGN, MLB.TV)

SEA: Ryan Franklin (1-0)
CWS: Mark Buehrle (1-1)

THIS. LINEUP. SUCKS.

RF Ichiro
LF Winn
3B Beltre
2B Boone
DH Ibanez
1B Spiezio
CF Bloomquist
C Wilson
SS Valdez

Here's hoping that my MLB.TV feed won't have WGN. I already have the game on WGN on my cable system, so it would really be a terrible deal if I have Hawk Harrelson on my computer as well. HE GONE! Hopefully.

Jon F**king Garland?