Wednesday, April 13, 2005
GAME 8: MARINERS 2, ROYALS 1
Mariners 2, Royals 1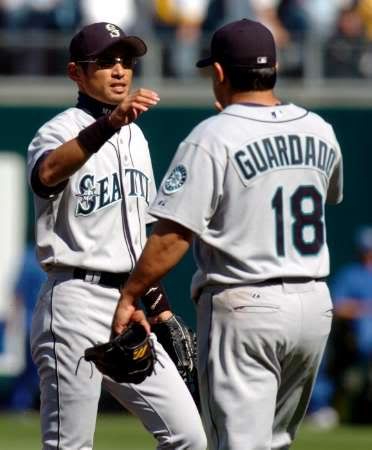 In 25 words or less: It was yet another late-inning victory. Aaron Sele held the fort, and Eddie Guardado made me chew my nails.

This game had Aaron Sele going up against Zack Greinke on a windy afternoon in Kansas City.

TOP 1ST
Grade: C-
The leadoff man got aboard and busted out the Barcalounger. Ichiro fought back in the count and bounced a ball to third. Tony Graffanino sidearmed his throw and pulled Mike Sweeney off the bag at first, and Ichiro was safe. Mike Hargrove had Jeremy Reed bunt, which I won't try to think about at risk of it making me mad. It's not like Reed didn't have a four-game hitting streak coming into the game or anything. Adrian Beltre fouled off a hanging curve and later flew out to right. Then Richie Sexson whiffed on 0-2 to end the inning. Greinke threw 11 pitches.

BOTTOM 1ST
Grade: A-
Sele had a pretty painless first inning. He froze David DeJesus for strike three, got Ruben Gotay to hit a ball back to him, and mowed down Sweeney on a curve. Sele threw 13 pitches in the inning.

TOP 2ND
Grade: C-
The only baserunner got on with two outs. Bret Boone was down 1-2 in his count before working it full and bouncing out to third. Raul Ibanez popped a ball to short on his first pitch. Randy Winn accounted for the base hit in the inning, knocking one to right. Then Miguel Olivo was just a bit late beating a grounder to short, as Sweeney had to stretch at first to take the throw. Greinke threw 20 pitches in the inning.

BOTTOM 2ND
Grade: B+
The inning looked like it might get a little interesting, but 'twas not to be. Matt Stairs grounded out to lead off. Calvin Pickering was down 1-2 in his count before Sele walked him. Angel Berroa hit a 1-1 pitch to Ichiro in right, who caught it. Then Ichiro threw to first to double off Pickering, who was a bit too far off the bag. That's a 9-3 double play to end the bottom of the 2nd. Sele threw 11 pitches.

TOP 3RD
Grade: C-
It always starts okay when Wilson Valdez gets on base. He got the count his way and singled into left; at this point it was his 6th hit in his last 9 at-bats. Ichiro hit a popup to Gotay, who intentionally let it drop to try to get the double play, but the umpires weren't having it, and Ichiro was called out for the flyout. Reed had a 2-0 count but flew out to center. Beltre fell behind 0-2 in the count before getting nailed in the back four pitches later. Richie Sexson was up with a 1-1 count when catcher John Buck caught Valdez napping off of second base for a 2-4 pickoff. Greinke threw 21 pitches.

BOTTOM 3RD
Grade: B+
Sele didn't start off too well, going 3-0 on Terrence Long, who singled past a diving Bret Boone. Graffanino hit his first pitch behind the mound, which Valdez played, spinning and throwing to second to force out Long. Buck popped one to Boone, then David DeJesus flew out to Winn to end the inning. Sele got by using 10 pitches.

TOP 4TH
Grade: C-
Not much doing for the middle of the order. Sexson popped out to second on his first pitch, though Boone did rip one to center for a single after working the count full. Then Ibanez bounced into a double play on his second pitch. Greinke threw only 9 pitches.

BOTTOM 4TH
Grade: C+
Sele fell behind a couple hitters, but left unscathed. He got behind 2-0 on Gotay before getting a lineout. Sweeney singled to center on his first pitch. Sele got ahead but fell behind Stairs before getting him to whiff on a curve. He fell behind 2-0 on Pickering, but induced a flyout to Reed. Despite minimal trouble, Sele threw 13 pitches.

TOP 5TH
Grade: D+
I wasn't a big fan of this inning. Winn started it off on the right foot by doubling down the leftfield line on a 1-2 pitch. Hargrove made Olivo bunt (grrrrr) and he hit it back to the mound too hard. Still, Winn had time to read whether the ball was hit back to the mound too hard, but never hit the brakes and still tried to nab third. Not a chance. Hargrove put a hit-and-run on with Valdez up, which moved Olivo to second and prevented the inning-ending double play. Despite the runner at second, Ichiro grounded out to end the inning. No hitting shoes today for Ichiro. Greinke threw 15 pitches and was at 76 through five.

BOTTOM 5TH
Grade: C+
Berroa flew out to Boone, then Long bounced one to Sexson, who tossed to a covering Sele. Sele fell behind 3-0 to Graffanino, eventually walking him. He fell behind 2-0 to Buck, but thankfully got a flyout to Reed. Could Sele be faltering? He still only threw 12 pitches in the inning and had 59 through five.

TOP 6TH
Grade: C-
The Mariner bats did absolutely nothing. Reed flew out to left. Beltre lined out on his second pitch. The crowd ooh'd and aah'd when Sexson hacked and missed Greinke's slow curve on 1-0. Greinke threw another one on 2-2 with the same outcome. Greinke threw 10 pitches in the inning and had 86 through six.

In what was a mild surprise to me, Greinke didn't come out for the 7th. I would have had him come out for the 7th, and maybe get the first out, and at least get an ovation. Anyway, Greinke was done. His line: 6 innings, 0 runs, 4 hits, 0 walks, 2 strikeouts, 86 pitches (54 strikes). Solid outing by the youngster.

BOTTOM 6TH
Grade: B+
Maybe Sele wasn't faltering after all. He started off all three hitters in this inning with first-pitch strikes. He got an 0-2 groundout from DeJesus. Gotay worked his count full, but flew out to a sliding Randy Winn. Sweeney hit a 1-2 pitch to Valdez, who had to make a long throw to nail him. Sele threw 14 pitches in the inning and was at 73 through six.

TOP 7TH
Grade: C+
Jamie Cerda came in for Greinke. He got ahead 0-2 on Boone, who later singled to rightfield. Ibanez then singled past the shortstop. Winn bunted along the third-base line, moving the runners.

Cerda was pulled and Mike MacDougal was put in to face Olivo. Olivo took a strike and also took the next pitch, which was in the dirt and got past the catcher Buck, allowing Boone to score and Ibanez to move to third.
»» MARINERS 1, ROYALS 0
Olivo singled to left on the next pitch to score Ibanez. How about the clutch hitting from Olivo in this series?
»» MARINERS 2, ROYALS 0
With that, the book was closed on Jamie Cerda. His line: 1/3 inning, 2 runs, 2 hits, 0 walks, 0 strikeouts, 10 pitches (7 strikes).

Valdez hit a 1-2 pitch to short, and Olivo was forced out on the fielder's choice. Ichiro was up, but he never had a pitch thrown to him as Valdez was nailed at second AGAIN, the same 2-4 putout as last time, except this one was on a steal attempt, and the bat was taken out of Ichiro's hands this time instead of Sexson's. MacDougal threw eight pitches in the inning.

The ball that scored the first run wasn't the only time John Buck was having trouble with MacDougal's sinking stuff in the inning, as he was having multiple balls go off his glove.

BOTTOM 7TH
Grade: C
Sele fell behind immediately 2-0 on Stairs, who hit a ball deep to centerfield which Reed dove for and missed. Take that into account if you look into the boxscore and see Matt Stairs credited with a triple, because that's the only way it's going to happen. I was listening to the radio, but I bet on TV that play took forever to unfold. On the next pitch, Pickering hit a deep-enough fly to center to Winn (it was windy in this one) to score Stairs.
»» MARINERS 2, ROYALS 1
With that, Hargrove pulled Sele. He had a solid start today, especially for this early in the season, though it was against a Kansas City lineup that proved to hack early in the count for the second game in a row, though not quite to a degree as on Monday. Sele's line: 6 1/3 innings, 1 run, 3 hits, 2 walks, 3 strikeouts, 79 pitches (46 strikes). It wasn't a question of strength, I'm guessing, but Sele was falling behind some hitters, so I'm not really questioning the move to lift him this early.

Hasegawa came in for Sele. He threw three pitches and got out of it. Berroa popped to Valdez on the first pitch, and Long flew out to Ichiro.

TOP 8TH
Grade: C
This inning was a mild letdown. Ichiro hit one hard to short, but he was thrown out. Reed managed to walk. Niehaus gave the "BELTED!" call when Beltre swung at a 1-0 pitch and hit it to centerfield, but the wind killed it for a flyout. Sexson then walked on four pitches.

That was enough for Tony Pena to yank Mike MacDougal and put in the Reignman, Shawn Camp. Boone worked the count full, but flew out to short.

MacDougal's line: 1 1/3 innings, 0 runs, 1 hit, 2 walks, 0 strikeouts, 24 pitches (11 strikes)

Shawn Camp didn't come out for the 9th. His line: 1/3 inning, 0 runs, 0 hits, 0 walks, 0 strikeouts, 6 pitches (3 strikes)

BOTTOM 8TH
Grade: A
It was a 1-2-3 inning spread across two pitchers. Graffanino flew out to Reed on his second pitch, and Buck flew out to Boone in shallow rightfield on his second pitch.

Hargrove then called on Ron Villone to face David DeJesus. Hasegawa's line: 1 1/3 innings, 0 runs, 0 hits, 0 walks, 0 strikeouts, 6 pitches (4 strikes). Four outs on six pitches for Hasegawa.

Villone got ahead 0-2 on DeJesus and eventually got him to ground out to Boone. The Mariners had the lead going into the 9th, so Villone wasn't going to come back out. His line: 1/3 inning, 0 runs, 0 hits, 0 walks, 0 strikeouts, 6 pitches (4 strikes).

The inning ended (the Villone part) with an odd Dave Niehaus story. He built it up first with some facts about the Harry S. Truman presidential museum(/library?) in Independence, not far from Kauffman Stadium. Then he segued that into how on his off day yesterday, he'd asked some people where he could get a good bowl of chili. He was recommended to some place in Independence, but didn't feel like traveling that far for a bowl of chili.

TOP 9TH
Grade: C-
Jeremy Affeldt replaced the Reignman. He warmed up with the training staff around him, but he stayed in the game. Based on results, he looked okay with this 1-2-3 inning. Ibanez bounced out to second, then Winn and Olivo both flew out to Matt Stairs in right.

Affeldt's line: 1 inning, 0 runs, 0 hits, 0 walks, 0 strikeouts, 11 pitches (7 strikes)

BOTTOM 9TH
Grade: C-
Eddie Guardado came on to close the game out and provided all Mariner fans listening on the radio network or watching on MLB.tv with a nail-biting, edge-of-your-seat, borderline infuriating inning that somehow yielded the desired result. How? He started out 2-0 to four of the five hitters he faced. Gotay put his 2-1 pitch into rightfield for a single. On his first pitch, Sweeney bounced a ball to third that could have been a double play, but Beltre threw the ball a bit high to Boone, who couldn't finish off the DP. Eli Marrero came on to pinch hit for Stairs, and Joe McEwing came on to run for Sweeney at first. As mentioned, Guardado fell behind 2-0, but then fought back to get the whiff. McEwing stole second on the whiff pitch, though Olivo argued that Marrero stood in front of the plate while Olivo uncorked his throw, which was much wider than usual. Emil Brown came on to pinch hit for Pickering, and Guardado fell behind 2-0, then 3-1 before walking Brown. This was not good. Guardado then fell behind 3-0 (even worse) no Berroa before thankfully getting him to whiff on some high Swiss. Whew. Sigh of relief. Ballgame.

Guardado's line: 1 inning, 0 runs, 1 hit, 1 walk, 2 strikeouts, 24 pitches (12 strikes)
---

Gameball: Bret Boone.
He went 2-for-4 and didn't make any defensive gaffes. It's not his fault the four hitters in front of him in the lineup didn't get a hit (that includes Ichiro, whose hitting streak is kaput). He was erased on a double play in the fourth. He led off the 7th with a single and scored the first run of the game by scampering home on the wild pitch by Mike MacDougal.

Goat: Adrian Beltre.
It's a tough choice between Ichiro and Beltre, but I'm going with Beltre here. Beltre got on base once, but that's because he got beaned. He was 0-for-3 and stranded two runners. Most notably for me is that he threw the ball high to Boone at second in the 9th inning, and I think a double play in that situation makes the 9th inning that much easier. On another day, with that play and Olivo not getting the interference call, the Mariners might lose this game.


If this team gets to the playoffs (not likely), I want him off the roster at all costs, but after two starts I'm pretty impressed with Aaron Sele. I didn't think he was going to get into the 7th today, but he did, and I'm guessing he had juice left in the tank to finish off the 7th, though not necessarily the command or control. I could have done without the two walks, but amazingly none of them came around to score.

My second choice for a gameball today might have been Shigetoshi Hasegawa, who got four outs on six pitches. Hasegawa hasn't reeked anywhere nearly as fierce as last season, and so far he and the team have been better for it. That 1.42 ERA looks good even if it is early.

Eddie Guardado, though. Yikes. If we get two or three outings like that in a row, I might make him Every Other Day Guardado and send out JJ Putz once in a while. Yikes. I like watching Guardado pitch, but seriously, yikes.

The first four hitters in the Mariner lineup were 0-for-12 today with two walks, two strikeouts, one beanball, and the ability to strand 9 of the Mariners' 14 stranded runners today. You can't have everyone hitting everyday, I guess. The 5 through 9 hitters, however, went 7-for-18 and had all the Mariners' hits.

In baserunning news, Randy Winn ran to third on a hard bunt even though he had time to pull back and even though he apparently had no chance to make it. Wilson Valdez was picked off at second by John Buck and caught stealing second by Buck as well. How aggressive can this team be on the basepaths if this stuff keeps happening? Did I mention that Winn is 0-for-3 on steal attempts so far?

The Mariners have won two straight! The Mariners are at .500! They've won this series! They could sweep tomorrow! They could have a winning record after tomorrow!

Congratulations to Mike Hargrove on his 1000th win as a Major League manager.

Moyer. Bautista. Tomorrow.