Tuesday, April 12, 2005
SEAHAWKS SIGN JAMIE SHARPER TO 5-YEAR DEAL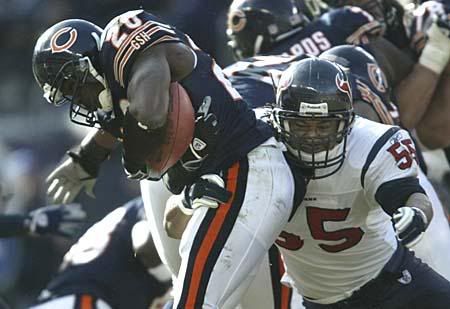 ESPN.com

The Seattle Seahawks have signed linebacker Jamie Sharper to a 5-year deal worth $17.5 million, according to ESPN.com. He will also receive a $1.5 million signing bonus from the Seahawks as well.

Folks, the Seahawks just got a football player. A damn good football player. Jamie Sharper is one of the best linebackers in the NFL. You don't believe me?

---Has not missed a game in his 8-year career (1997-2001 Baltimore, 2002-2004 Houston)

---Recorded over 100 tackles in each of the last 4 seasons

(2001 - 108, 2002 - 137, 2003 - 166, 2004 - 139)

---Has won a Super Bowl (2000 with Baltimore)

What does this mean for Chad Brown? There has been talk of the Seahawks releasing Brown if he does not restructure his current deal. Brown is 35 years old while Sharper is 30. I'd love to see both Brown and Sharper in Seattle, but if Brown doesn't restructure his deal, he's likely to be gone. I can't shed too many tears about that. At this stage, Sharper is the better player.

Thank you, Tim Ruskell. The man knows defense, folks. In Tim I trust. You should trust Tim too if you're a Seahawks fan.

WELCOME TO SEATTLE, JAMIE!!!