Monday, April 11, 2005
THE NOT SO PRODUCTIVE OUT MAKING BOX 4/11/05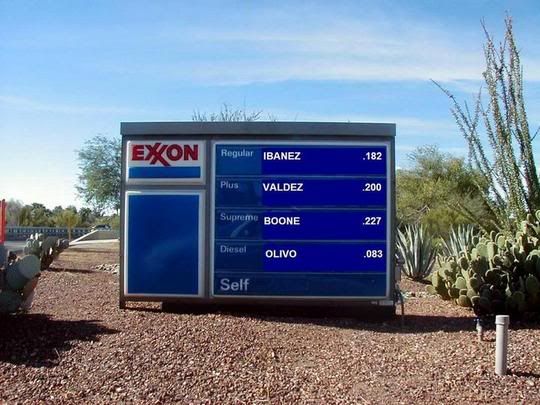 Mariners at Royals, 1:10 p.m. Pacific (no TV in Seattle; Royals Sports Television Network)

I had thought I was going to see the broadcast today, since KYPX (PAX) in Little Rock was a broadcast affiliate. But then I notice that KYPX is no longer an affiliate of the Royals. Which means that I'm in the same boat as y'all up in the Northwest. Yeah, I can't wait until I pick up the MLB.TV package, although I believe the game would be blacked out for me today anyway, since i'm in the Royals market.

As for the Pump today, there's an explanation as to why I didn't put Jeremy Reed up there today. Granted, Reed and Raul Ibanez have the same batting average (.182). However, I have a rule when it comes to the Pump. If two players have the same batting average, I'll put up the player who had the worst game of the two the previous day. Yesterday, Reed was 2-for-4 while Ibanez went 0-for-4. So for today, Ibanez is up on the Pump. Sorry to the 4 charter members of the Raul Ibanez Fan Club. Well, not really. I've added diesel to the pump today as well. And say hello to Bret Boone, as he makes his first appearance on the Pump.

Anyways, it's Ryan Franklin making his first start for the Mariners today against Runelvys Hernandez, who missed all of the 2004 season after undergoing Tommy John surgery. For my thoughts on Ryan Franklin, click here.

Buckle up and hold on, because today may just be a very bumpy ride.