Saturday, April 09, 2005
GAME 4: MARINERS 9, RANGERS 6
Mariners 9, Rangers 6
[originally to be posted ~1:20am, but Blogger was very very down]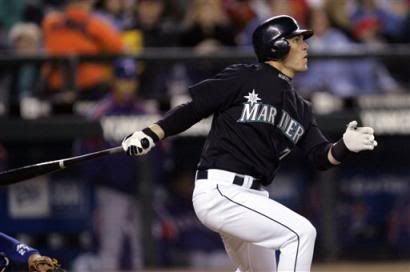 In 25 words or less: It looked like neither team wanted to win. The Mariners finally ended up on the right side of the fifth lead change of the night.

Free-agent Signing Bust of the Century Chan Ho Park squared off against 0-for-the-playoffs Aaron Sele.

TOP 1ST
Grade: C-
Two pitches into the game, Sele got Alfonso Soriano to bounce one back to him for an easy out; not a bad start. Sele then got ahead 1-2 on Blalock before walking him. Michael Young smoked a single to left. Sele got a ground ball off the bat of Mark Teixeira, but it was too far to Bret Boone's glove side to turn a double play, so Boone merely got the sure out. With two runners in scoring position, Richard Hidalgo socked one to the base of the wall in left-center to score both runners.
»» RANGERS 2, MARINERS 0
Sele then got Adrian Gonzalez to fly out to centerfield on the first pitch, the 20th pitch of the inning for the Mariners' starter.

BOTTOM 1ST
Grade: C-
Somebody forgot to tell the Mariners they weren't still facing Carlos Silva. Ichiro notched a shallow single to left on his second pitch, then Jeremy Reed continued his futile start by grounding into a 4-6-3 double play, leaving him hitless in 12 at-bats. Adrian Beltre hit a too-short rainmaker into left-center for a flyout to end the inning. Park needed all of six pitches to get through the inning.

TOP 2ND
Grade: B-
Kevin Mench got aboard when he lined a hot grounder toward Beltre that went off his jaw. Fortunately for the Mariners, Gary Matthews, Jr. rolled a ball to short, starting a 6-4-3 double play, and it wouldn't be the last double play for the Mariners tonight. Rod Barajas fouled an 0-2 pitch just short of the stands on the first-base side, but Richie Sexson couldn't quite get to it. Then Sele hung a curve to Barajas, the Rangers' #9 hitter, who put it into left for a single. Soriano hit a high fly to Randy Winn to end the inning. Sele threw 16 pitches in the inning.

BOTTOM 2ND
Grade: C-
Sexson was jammed and grounded out to third, then Bret Boone's bouncer over the middle was picked by Young. Park started to show signs of Parkness, walking Raul Ibanez on four pitches and walking Randy Winn after having a 1-2 count on him. That was an inopportune time to have Miguel Olivo at the plate, and he chopped the first pitch to the mound for an easy groundout. Park threw 19 pitches in the inning, significantly more than in the first inning.

TOP 3RD
Grade: B
Blalock sliced one into left for a single. Sele got ahead 0-2 on Young, who hit the 1-2 pitch into the gap, but the wind caught it a bit and Ichiro camped out under it. Then Wilson Valdez was able to start another 6-4-3 double play. Sele threw 12 pitches in the inning.

BOTTOM 3RD
Grade: C
An inning starting out with Wilson Valdez isn't usually something to look forward to, and the 3rd was no exception. Valdez at least worked the count a bit before flying out to right. Ichiro flew out to Matthews, who had to go back a bit for it; it looked like the ball might get over his head. Then Jeremy Reed continued the march of futility, grounding out to first to bring his hitless streak to 13 at-bats to start the season. Park threw 13 pitches in the inning.

TOP 4TH
Grade: B
Sele had a good inning, getting to two-strike counts with every hitter, and getting ahead with a two-strike count on Hidalgo and Gonzalez. Sele sandwiched a groundout with a couple of flyouts, needing 16 pitches to get through the inning (foul-offs).

BOTTOM 4TH
Grade: D+
Yeah, I might have been hard with this low of a grade, but I was tired of seeing the meat of the order do jack. Beltre whiffed at a low and away pitch on 3-1, then bounced one up the middle that was slowed by Park's glove and barehanded by Young, whose throw was in time. Sexson hit a comebacker to the mound, and hadn't had good swings when he made contact. Then Boone waved through a fastball that was up and away. The Mariners were getting Park'd. The Korean threw 10 pitches in the inning.

TOP 5TH
Grade: B-
Sele gets a lower mark for this inning because four-pitch walks are inexcusable, and four-pitch walks to Barajas, who I clarified was the #9 hitter, are worse. Still, Barajas was erased on yet another double play, this time of the 6-3 variety off Soriano's bat. Sele need 11 pitches in the inning, and had 75 through five innings.

BOTTOM 5TH
Grade: B+
Ibanez flew out to lead off the inning, but the real juicy events began when Winn was nailed in the shin, and Olivo hit a broken-bat single to center. Wilson Valdez hit one to Teixeira, who got Olivo at second, but Valdez beat the throw back to first (Park covering, and also tweaking his ankle a bit on the play) to put runners on the corners with two out. Ichiro got down in the count 0-2, but was able to put one into rightfield to score Winn and move Valdez to third.
»» RANGERS 2, MARINERS 1
On the 2-2 pitch to Jeremy Reed, Ichiro took second base without a throw. Reed worked the count full, and on the eighth pitch of the at-bat, he one-hopped the FSNNW sign in the gap in right-center. Valdez and Ichiro scored, and Reed had his first hit of the season. Great stuff, and I hope it's one of many more.
»» MARINERS 3, RANGERS 2
Then Beltre whiffed on a pitch low and away to end the inning. Park showed more signs of Parkness in this inning, and he needed 34 pitches to survive the 5th, and had 82 through five innings.

TOP 6TH
Grade: D+
Sele started by getting Blalock 1-2, then walking him; it was the second such occurrence in the game. Ichiro made a nice running catch toward the rightfield line off Young. Teixeira rocketed a grounder to Boone, who got caught between hops and couldn't turn the inning-ending double play, though he did get the lead runner (Blalock). Hidalgo hit a hard single to rightfield before Aaron Sele was pulled.

Ron Villone came in from the pen. He warmed up. Play resumed. He came set, then he delivered a pitch to Adrian Gonzalez. The pitch was pretty high in the zone and caught a lot of the plate, and Gonzalez mashed it into rightfield for a single to score Teixeira and tie the game (Ichiro's throw home was Vlad-like and up the line).
»» RANGERS 3, MARINERS 3
That was Villone's only pitch. Sele was no longer in line for the victory. Villone gets blame, but Sele didn't have to walk the leadoff guy either.

Julio Mateo came in for Villone. Mench put some decent wood on a 2-2 pitch and hit a single to center to give the Rangers the lead.
»» RANGERS 4, MARINERS 3
Matthews rolled into a double play in the second, and ended this inning by hitting a roller along the first-base line that Mateo fielded cleanly and threw to first.

So, to recap, Aaron Sele left a mess for Ron Villone to clean up. Villone dashed Sele's hopes for a W with just one pitch. Worse yet, Sele was on the hook for the loss after Mateo allowed a single to his first hitter (Mench). That's some turnover.

The lines...
Sele: 5 2/3 innings, 4 runs 6 hits, 3 walks, 0 strikeouts, 91 pitches (54 strikes)
Villone: 0 innings, 0 runs, 1 hit, 0 walks, 0 strikeouts, 1 pitch (1 strike)

BOTTOM 6TH
Grade: D+
The middle of the order continued doing jack. Sexson rolled one to second and Boone lined out to left.

Park came out and Ron Mahay came in. Park left with no runners aboard, and therefore his book was already closed. His line: 5 2/3 innings, 3 runs, 4 hits, 2 walks, 2 strikeouts, 93 pitches

Four pitches later, Mahay got Ibanez to bounce out to second.

TOP 7TH
Grade: A-
Mateo had a great inning. He got Barajas to fly out on the first pitch (Sele couldn't get him out), then blew down Soriano and got Blalock to line out to Ichiro just short of the warning track. Mateo needed only nine pitches.

Mateo wouldn't come out for the 8th inning. His line: 1 1/3 innings, 0 runs, 1 hit, 0 walks, 1 strikeout, 15 pitches (11 strikes)

BOTTOM 7TH
Grade: B+
Winn led off with a base hit up the middle, but Olivo nullified a promising inning by bouncing a ball to Soriano to start the 4-6-3 double play. Then Valdez managed to get a ball to deep right, and Hidalgo was a little bit short of it and muffed it. Valdez was given credit for a double, his first hit of the season. Way to go, Exxon. The Rangers were protecting a one-run lead with a runner on second and Ichiro at the plate. Buck Showalter didn't let Ichiro swing the bat, and gave him four wide ones. Despite the fact that Reed had hit a double in his last at-bat, Mike Hargrove brought Scott Spiezio off the bat to pinch-hit.

Showalter took out Ron Mahay and brought in Doug Brocail to turn Spiezio around to the left side. Spiezio fouled off a 2-2 pitch and then took a pitch that looked to be over the outer half of the plate and definitely not missing vertically; that should have been the end of the inning. It wasn't, and Brocail ended up walking Spiezio to load the bases. Then Beltre ripped a single into center on a 1-0 pitch to score Valdez and Ichiro and get the Mariners the lead.
»» MARINERS 5, RANGERS 4
Then Sexson put a healthy whiff on a 1-2 pitch from Brocail to end the inning.

Mahay: 1 inning, 2 runs, 2 hits, 1 walk, 0 strikeouts, 17 pitches (7 strikes)
Brocail: 1/3 inning, 0 runs, 1 hit, 1 walk, 1 strikeout, 13 pitches (7 strikes)

TOP 8TH
Grade: F
I was not a big fan of this inning. It was a lot like the top of the 6th, but with an added twist -- errors. JJ Putz had come in for Mateo. He started out great, getting ahead of Young 0-2 and getting a groundout to second. He had Teixeira 1-2 before he walked him, though I thought the full-count pitch caught the inside corner. Putz had Hidalgo 2-2 before also walking him. Putz had surrendered back-to-back walks, surely not something you want to do with a one-run lead in the 8th. On a 2-2 pitch, Gonzalez rolled one down toward Sexson at first, and the ball hit his wrist and rolled behind him; it just ate him up. Yes, that was an error. One run scored, and runners were left on the corners.
»» RANGERS 5, MARINERS 5

At least temporarily unfazed, Putz got ahead of Mench 0-2. He got a grounder from Mench too, to Valdez at short. Too bad Exxon had it go off his glove and the inside of his thigh. It would have been an inning-ending double play. Another run scored, and runners were at first and second, with Texas now having the lead.
»» RANGERS 6, MARINERS 5

Putz got himself into the mess with two walks, and his defense didn't help him get out of it. So, he took matters into his own hands and struck out Matthews and Barajas to end the inning. JJ needed only 33 pitches to get through the 8th.

Putz was done for the night. His line: 1 inning, 2 runs (unearned), 0 hits, 2 walks, 2 strikeouts, 33 pitches (22 strikes)

BOTTOM 8TH
Grade: A
An F-grade half-inning followed by an A-grade half-inning? Yes, it's true.

Though never on the hook for the loss, Doug Brocail was left to stew on the bench because he didn't come out for the 8th, and was replaced by Nick Regilio.

It didn't start too nicely for the Mariners, at least for the first couple pitches. Boone was behind in the count 0-2 against Regilio to lead off, prompting him into his dog-taking-dump stance. Nonetheless, it worked, as Boone stuck a double down the leftfield line. The go-ahead run was at the plate, in case someone were to hit a homer or something like that, but when does that ever happen? Raul Ibanez whacked a 1-0 pitch over the wall in right-center for a two-run shot. Folks, this year is different. Most likely not division-winning different or playoff-different, but different.
»» MARINERS 7, RANGERS 6

The fun didn't stop there. Winn singled up the middle. Olivo got behind 0-2, but later rolled a ball along the first-base line, but Regilio hurried his throw, and it skipped past Teixeira and into rightfield. Runners stood on second and third with nobody out. Valdez turned back into his normal self and was caught looking on a 1-2 pitch. Ichiro was intentionally walked again, loading the bases for Willie Bloomquist, who had taken over in centerfield after Spiezio had pinch-hit for Reed.

Regilio was then pulled for RA Dickey. Bloomquist inexplicably chopped Dickey's 0-1 pitch over up the middle and into centerfield for a two-run single.
»» MARINERS 9, RANGERS 6

That was more than enough nuttiness for the night, as Beltre was caught looking on the outside corner and Sexson hit a healthy fly ball to center to end the inning.

Regilio: 1/3 inning, 4 runs (3 earned), 3 hits, 1 walk, 1 strikeout, 26 pitches (18 strikes)
Dickey: 2/3 inning, 0 runs, 1 hit, 0 walks, 1 strikeout, 8 pitches (7 strikes)

TOP 9TH
Grade: B+
The Mariners had the lead and hoped the fifth lead change of the game was going to be the final one. Eddie Guardado came in to close, and had a three-run lead to work with. Two pitches in, Soriano hit one to the track in centerfield, but Bloomquist was able to track it down on an admittedly nice running catch. Blalock double down the rightfield line to keep everyone honest before Eddie got Young to bounce out to short and Teixeira to fly out to Ichiro on the first pitch.

Guardado: 1 inning, 0 runs, 1 hit, 0 walks, 0 strikeouts, 14 pitches (11 strikes)


Gameball: Randy Winn.
He was 2-for-2, walked once, got beaned once, and scored twice, reaching base in all four of his plate appearances. It was nice to have some production from the bottom of the lineup. Speaking of which, Winn/Olivo/Valdez went a combined 4-for-10 and scored five of the Mariners' nine runs.

Goat: Ron Villone.
One pitch, and poof went the lead and Sele's chances for a win. I have to admit that you could make a good argument for Sexson in this spot for going 0-for-5 with an error and stranding four runners.


Well, that was one mother of a seesaw affair. Sele had a much better start than what I thought he'd put up, especially considering it was his first of the season, and usually he won't give you more than six innings. He didn't, but it was still a decent start. I guess the only thing that would temper my enthusiasm is that I think the start from this game is a top-level start from Sele; that this is the best we'll see out of him. Maybe it's just me, but that's what I'm thinking.

Like I said in the Gameball section, the bottom of the lineup was actually doing something in this one. Interestingly enough, it was Beltre and Sexson this time that were combining for a 1-for-10 night, though Beltre did have a go-ahead 2-run single.

Yes, it's games like this one where you can send out four relievers, have two of them blow saves, and have one actually get the save.

Lastly, hooray for Jeremy Reed for finally raising his average above triple zeroes. It was a nice rip, too.

The Mariners are at .500 once again, and for the second time this season. Remember, that's opposed to being at .500 exactly zero times last year. Even mediocrity is an improvement over the pure horror that was the 2004 season. Even getting some runs off of Chan Ho Park is an improvement over last year, that's how bad it was.

Astacio. Moyer. Today.