Wednesday, April 06, 2005
KRASCH
Welcome to Wednesday.

For the random...I was using my introductory geology text for a hard writing surface, and it's still off the shelf. I noticed it and thought of somewhat of a public service announcement. It goes something like this: if you're going to pound the crap out of a rock with a rockhammer, wear eye protection and have people back away a few feet. I think I saw someone get a sliver of rock into their arm, or somewhere it definitely shouldn't have been. There was a place in Oregon near the Newbery Volcanic Monument that had obsidian just everywhere, but if you're hammering that stuff with reckless abandon, well, don't come to me when you need a bandage. That stuff gets vile if you expose any edges.

Two days after winning the 100m breaststroke final at the USA Swimming World Championship Trials in Indianapolis, Bremerton's Tara Kirk came away with the victory in the 200m breaststroke. She posted a preliminary time of 2:29.22 (2nd) and a final time of 2:26.64, edging out Megan (Quann) Jendrick, who was 3rd and 4th in the races. Tara's two wins get her into two events at the 2005 worlds in Montreal. Hooray for former classmates!

To the post!

MARINERS
For my thoughts on last night's game, scroll down two posts or click here if this is the only post on the page.

The bats yesterday showed up early and often, but nowhere after that. The often was also restricted to the early. The Twins hit so many singles in the 5th, you could swear that the inning was sponsored by Kraft Singles, made with real milk.

David Locke says Ichiro's hits do more damage this year in that he has hitters behind him to put him across the plate.

Pokey Reese's MRI showed a strained right shoulder. Also, as revealed by the papers and the broadcasts yesterday, you can't just plug in Jose Lopez because he's out 4 to 6 weeks with a broken hamate bone, or as I liked to call it, The Griffey Injury. Yeah, Griffey's had tons of injuries since I left Seattle, but I'll remember when he broke that hamate bone.

Did you know Dan Wilson is on the bench now? Okay, we all did. Early returns show that Miguel Olivo is hitting just as well in the lineup as Dan did. That doesn't say much. There haven't been any balls in the dirt skipping to the backstop yet, so at least that's been squared away for the span of two games.

By now you've probably heard about the 39 positive minor-league spring training steroid tests, and that eight of those came from the Mariners' system. Frankly, I'm anticipating a glut of positive tests for the Grapefruit League's minor-league testing numbers, if and when those come out to the public. The evil side of me wants a majority of those tests to be Yankees.

Upcoming...
Today vs. Minnesota (3:35p, radio)
Friday vs. Texas (7:05p, UPN11)
Saturday vs. Texas (1:05p, FSNNW)
Sunday vs. Texas (1:05p, FSNNW)
Monday at Kansas City (1:10p, radio)

SEAHAWKS
The Seahawks have zero unrestricted free agents left, as Brandon Mitchell is now an Atlanta Falcon. Five of the Seahawks' 16 unrestricted free agents this offseason signed with other teams. Who are the five? Off the top of my head, I can name Chike Okeafor, Ken Lucas, Heath Evans, and Brandon Mitchell. I have to cheat for the final one...Orlando Huff. Too many sports going on at once! Mind exploding!

Well, it looks like the Seahawks will at least get a visit from Jamie Sharper tomorrow. All accounts I've heard say that the Seahawks' chances aren't that great, but hey, the fans can dream. The article says Sharper's unfamiliarity with the coaching staff is one thing working against the Seahawks...but the other interested teams are Cleveland, Cincinnati, and Jacksonville. I know they're teams on the way up, but...Cincinnati and Cleveland. Come on.

BASKETBALL
The Miah Davis Update
The NBDL's Roanoke Dazzle close out the regular season this weekend, with road games Friday at Huntsville and Saturday at Columbus.

The Marvin Williams Watch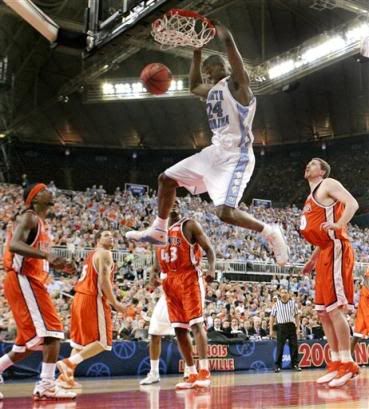 Great job, Marvin.

Sonics
For my thoughts on the game, scroll down a post or click here if this post is the only one on the page.

Blazing shooting or poor defense? More of the former, I'd have to say. The Kings shot 58.8%, and usually I would associate such a high field goal percentage with the Sonics getting blown past for easy layups and dunks, and the Sonics should have been demolished in the paint. The Sonics actually won the paint battle for once, and the one time they do it, they lose. In a related story, the Sonics squandered another double-double, this time from Reggie Evans, who had 11 and 12.

The Sonics have a day off, not just from games, but from practice as well. They'll have a tiny frame of time to rest their aches and strains and assorted injuries, and boy, are there a lot of them. Chalk up another one, this time with Antonio Daniels, who played only 10 minutes after feeling a pop in his left knee before the game. If it gets real bad, the Sonics might have to sign Miah Davis to a 10-day contract or something. This of course depends on whether Mateen Cleaves is on the injured list or on the "injured list."

Upcoming...
Friday vs. Lakers (7:30p, FSNNW)
Saturday at Denver (6p, FSNNW)
Monday vs. Houston (7p, FSNNW)

HOCKEY
(content posted ~7:33a)
Everett beat Portland 3-2. What an Everett-type game. The Winter Hawks dominated most of the game territorially and badly outshot the Silvertips, but Everett had the hot goalie and a capitalized on a couple of Portland mistakes. Quite simply, I've been looking at Everett boxscores all season and they just reek of the Minnesota Wild. Mark Kress scored first on a one-timer in front of the net with 6:05 remaining in the first period. Everett was nailed for too many men not long into the second period, and Garrett Festerling tied the game at 1-1 on a give-and-go. A loose puck on a pass that never found its target out of the Portland zone was picked up by Kyle Annesley, whose shot was stopped and rebound was put in by Alex Leavitt to make it 2-1 about halfway through the second period. A blocked slapshot led to a Leavitt breakaway halfway through the third period which stood up to be the winner. Portland pulled the goalie and got a Braydon Coburn goal, but time ran out on them before they could tie it. Portland fans and Vancouver fans both saw their teams get eliminated on home ice in the WHL's opening round of playoffs. Shots were 38-21 for Portland. Blake Grenier stopped 18 for Portland, and Mike Wall stopped 36 for Everett. Everett took the series 4-3, and they advance to the Western Conference semifinals. Seattle and Everett have brutal draws, and I can't say I expect them to get past the next round.

Manitoba beat Syracuse 3-1. Manitoba clinched a spot in the Calder Cup Playoffs with this win. The Moose got a hat trick from Lee Goren to account for the scoring. Goren started early, just 21 seconds into the game with a wrister. He scored later in the first period on the power play as well. Syracuse made it 2-1 in the second period and spent a long time trying to tie the game. Goren still had his third goal to get, and it was an empty-netter from center ice in the final minute. Ryan Kesler assisted on two of the goals. Shots were 32-25 for Manitoba, and Alex Auld (many timely saves in this one) stopped 24.

Upcoming...
Tonight: Syracuse at Manitoba
Friday: Seattle at Kelowna (Game 1), Everett at Kootenay (Game 1)
Saturday: Seattle at Kelowna (Game 2), Everett at Kootenay (Game 2), Hamilton at Manitoba
Sunday: Hamilton at Manitoba
Monday: Kootenay at Everett (Game 3)
Tuesday: Kelowna at Seattle (Game 3), Kootenay at Everett (Game 4)
---

Have a gargantuan Wednesday.