Wednesday, April 06, 2005
GAME 2: TWINS 8, MARINERS 4
Twins 8, Mariners 4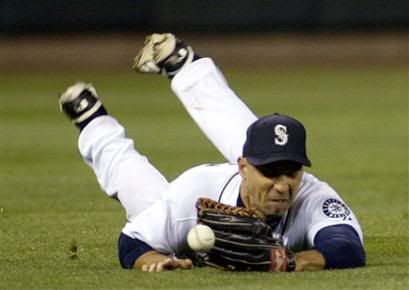 In 25 words or less: The Mariners took an early lead. Johan Santana settled down and waited for the wheels to fall off of Gil Meche and Matt Thornton.

TOP 1ST
Grade: B
Gil Meche gave up a two-out walk to Joe Mauer as his only baserunner in the inning. Raul Ibanez couldn't quite get to Mauer's foul ball earlier in the at-bat. Runner aside, Meche caught Jason Bartlett looking on a breaking ball and blew a high fastball past Justin Morneau, the latter to end the inning. Moyer threw 21 pitches in the first.

BOTTOM 1ST
Grade: A-
Ichiro beat out a dinker that Johan Santana charged, but couldn't throw to first in time. Jeremy Reed walked. Adrian Beltre fouled off the first pitch, and he had a nice rip at it. Then he bashed the 1-2 pitch and rolled it to the wall in center to score Ichiro and Reed.
»» MARINERS 2, TWINS 0
Then Richie Sexson hacked at the first pitch he saw and doubled just to the left of the Starbucks sign in the corner in left, scoring Beltre.
»» MARINERS 3, TWINS 0
Boone killed the euphoria a bit and hit a weak dribbler to the right side to advance Sexson, who scored from third on a chipshot into right by Raul Ibanez on a full-count curve.
»» MARINERS 4, TWINS 0
Ibanez was as good as picked off (though Santana had stepped toward home), but Morneau one-hopped Bartlett with the throw and Ibanez was safe (ruled as a steal). It didn't matter though, because Mike Cuddyer made a nice stab on Winn's grounder to nail him, and Miguel Olivo was next. He whiffed on a change.

Johan Santana needed 33 pitches to get through that inning. Though he did give up the four runs, it could have been more. The Mariners did have Ibanez on second with one out. Granted, that doesn't seem like much of a threat when Winn and Olivo are the next two hitters, but Santana still has to get the hitters out.

TOP 2ND
Grade: B+
Meche walked Torii Hunter to lead off, but got Jacque Jones to hit a ball right back to him, turning it into a double play. A lazy popup to Ichiro made it a 1-2-3 inning. Meche turned in a short 11-pitch inning.

BOTTOM 2ND
Grade: C
Santana was about to settle into a groove. Getting a groundout from Wilson Valdez is expected, so no eyebrows raised there. Santana then got Ichiro to bounce out on the second pitch, and got a nice play toward the line from Morneau on Reed to end the inning. Santana needed 33 pitches in the first, but only 10 in the second.

TOP 3RD
Grade: B-
Meche froze Mike Cuddyer with an offspeed pitch on 2-2 for the first out. With two outs, Shannon Stewart knocked one between Bret Boone and the second base bag for a single. Then Bartlett hit one off of Meche's glove, and the ball was close to Boone, but he couldn't get to it. Luckily Meche was able to mow down Mauer with some belt-high gas to end the inning. The turbulence resulted in a 25-pitch inning for Meche.

BOTTOM 3RD
Grade: C-
The leadoff hitter reached base, and that was Beltre with a single he smacked over the shortstop. Santana then struck out the next three hitters -- Sexson on a change low and away, Boone on a change as well, and Ibanez with high cheese. Ibanez had a 2-0 count in his at-bat. Of course, strikeouts require pitches, and Santana needed 22 to get through the third.

TOP 4TH
Grade: A-
Morneau grounded out to Boone, Hunter flew out to Ichiro, and Jones hit a slow roller to Sexson. It was Meche's easiest inning, and he needed only nine pitches. Too bad it would also be his last full inning.

BOTTOM 4TH
Grade: C
Winn, Olivo, and Valdez went away 1-2-3 against Santana. Call me impatient, but the struggles of the bottom third of the lineup are getting old already. Two groundouts to the first two, and Valdez was blown down with a fastball. Santana needed 10 pitches, and was at 75 through four innings.

TOP 5TH
Grade: D
The thing that started this whole mess was a high 2-2 pitch that Lew Ford fought off into centerfield for a single. Cuddyer hit a ball that went off the tip of Beltre's glove into left. Meche didn't help himself by falling behind 2-0 on Rivas, who poked a ball into center to load the bases with nobody out. Meche got Stewart to bounce to Valdez, and they got the out at second, but not at first (Stewart's too quick). Ford scored, and the shutout hopes went away.
»» MARINERS 4, TWINS 1

Bartlett laced his second pitch up the middle and past a diving Valdez into centerfield. That scored Cuddyer.
»» MARINERS 4, TWINS 2.

Meche lost the shutout not long before, and now the hopes for a win went away too; Mike Hargrove pulled him in favor of Matt "Crown of" Thornton. Meche didn't go the required five innings.

What does Thornton do? Give yourself a gold star if you said, "fall behind immediately to the first hitter he sees." That was Joe Mauer, and he fell behind 2-0 and 3-1. Ron Gardenhire sent the runners on 3-1, and Valdez went toward second to cover the steal attempt. Mauer roped one where Valdez would have normally been. That scored Shannon Stewart.
»» MARINERS 4, TWINS 3

The next hitter proved that the bounces wouldn't go the Mariners' way tonight. Justin Morneau had gone to two strikes, and then hit a checkswing parachute-job into left. Ibanez dove for it, but trapped it (not a close trap, it was a pretty blatant trap). Bartlett scored on the play to tie it.
»» TWINS 4, MARINERS 4

FINALLY, the book was closed on Gil Meche. His line was 4 1/3 innings, 4 runs, 6 hits, 2 walks, and 5 strikeouts on 82 pitches (49 strikes, 16 pitches in the 5th). He didn't give up any runs in the first four innings (needless to say), and though he didn't face too many hitters in those innings, he was throwing a lot of pitches. I know that's somewhat of an expectation for a power/strikeout pitcher, but I think it was to a fault tonight, since there seemed to be (intuition, I can't prove this) a lot of two-strike foul balls when he was trying to challenge the hitters for strikeouts.

Then Thornton gave up another two-strike hit, a poke into center from Torii Hunter to score Mauer. In minimal consolation, Jeremy Reed gunned down Morneau trying to take third. The Twins, once down 4-0 in this game, had taken the lead, and there wasn't any looking back.
»» TWINS 5, MARINERS 4
Jones got a belt-high meatball and clubbed it out to right field. I remember seeing him hit that exact same ball multiple times against the Mariners in the past. It's not emblazoned in my mind like David Justice against Arthur Rhodes in Game 6 of the 2000 ALCS, but it's still there. Anyway, Hunter scored along with Jones (obviously) on the dinger.
»» TWINS 7, MARINERS 4

With that, Thornton was pulled, and Shigetoshi Hasegawa took over. Thornton's sparkling line: 1/3 inning, 3 runs, 4 hits, 0 walks, 0 strikeouts, 15 pitches. Weird to think I want to rail on Matt Thornton on a night when he didn't walk anybody. Amazing. Still, to let your two inherited runners score and then let three of your own score while only getting one out...ugh. I know there might have been a bad bounce or two, but he didn't have to fall behind to Mauer either.

Anyway and mercifully, Hasegawa got Ford to ground out and end the inning.

Let's face it. The game was over at this point. Sure, the Mariners would only face Santana for one more inning, but the offense had already gotten cold, and the Minnesota bullpen doesn't exactly suck.

BOTTOM 5TH
Grade: C-
The 1-2-3 hitters went 1-2-3. Ichiro bounced out to first, Reed whiffed an a breaking ball away, and Beltre got a 2-0 pitch that it looked like he socked, but it was just a low liner to right. Sigh...

First inning aside, that was an okay start from Johan Santana, especially for the first start of the season. He had a line of 5 innings, 4 runs, 5 hits, 1 walk, and 6 strikeouts on 93 pitches (59 strikes). I might be going a little far with the pitch counts, but he threw 60 pitches in the four scoreless innings. Like Jamie Moyer the night before, Santana wasn't quite at the top of his game, but he did have flashes of brilliance, and was good enough to win.

TOP 6TH
Grade: B-
Hasegawa gave up a one-out single after falling behind 3-0 on Rivas, the #9 hitter, Rivas was wiped away on a fielder's choice, and Valdez caught a Bartlett fly close to the leftfield line. Hasegawa struck out Cuddyer to start the inning.

BOTTOM 6TH
Grade: C
Jesse Crain came in for Santana.
Richie Sexson swung at the first pitch and got way under it, skying a ball that eventually landed in Bartlett's glove in short left. Boone had a 2-0 count and was nailed in the right forearm on a full-count pitch.

Crain was pulled and JC Romero took over. Crain's line was pretty simple. He threw 1/3 of an inning, and the rest of his line was zeroes, except for beaning Boone, and seven pitches with three strikes.

Then Ibanez waved at a 1-2 pitch and Winn harmlessly grounded out to Romero.

TOP 7TH
Grade: B-
Hasegawa got Mauer to whiff, then Morneau hit a one-out single to right and moved to second on a Hunter ground ball. Then Jones did damage again, singling to center to cap the scoring.
»» TWINS 8, MARINERS 4
Then Ford bounced to Beltre for a fielder's choice to end the inning.

Hasegawa didn't come out for the 8th. He at least put out the fire in this one, finishing with a line of 2 1/3 innings, 1 run (earned), 3 hits, 0 walks, and 2 strikeouts on 35 pitches (21 strikes). I guess it's good to know that at least for once, Hasegawa didn't implode like last year.

BOTTOM 7TH
Grade: C+
Romero had little to no trouble with a 8-9-1 hitters in the Seattle lineup. Hunter didn't have to move on the fly that Olivo hit to him. Romero made a nice play off the mound to nail Valdez, who tried to bunt his way aboard. Ichiro beat out a grounder, and Cuddyer threw the ball past Morneau at first and into foul ground. Ichiro was on second with two out, but Jeremy Reed bounced out to second.

JC Romero is good; this we know. He looked like he was in midseason form in this game. There didn't appear to be any Opening Day kinks for Romero to work out. Romero's line: 1 2/3 innings, 0 runs, 1 hit, 0 walks, and 1 strikeout on 21 pitches (14 strikes). I'd love to have Romero in my bullpen as opposed to, say, Ron Villone.

TOP 8TH
Grade: B+
I guess I feel like being nice to Ryan Franklin for once. He's probably really ticked off that he's not starting, but a 1-2-3 inning against the 8-9-1 hitters in the Twins' lineup is a good start. Actually, it's a relief. Appearance. Hell, you know what I'm trying to say. Mike Cuddyer took Ichiro to the warning track before Rivas and Stewart both grounded (yes, grounded) out.

Franklin's line is fairly obvious too. One inning, and the rest of the numbers are zeroes, except for five strikes out of six pitches.

BOTTOM 8TH
Grade: C-
I figured this was the last real hope for the Mariners. The meat of the order was up against Juan Rincon. Beltre had a 3-0 count to work with, but he ended up whiffing. Richie Sexson walked, but Boone bounced into a 3-6-3 double play. If there was any doubt it was over, well, it was definitely over now.

Rincon's line: 1 inning, 0 runs, 1 walk, 1 strikeout, 14 pitches (7 strikes).

TOP 9TH
Grade: B+
JJ Putz came in and allowed only a two-out rip of a single to Morneau. He whiffed Bartlett and Mauer to start the inning, and ended it with a Hunter broken-bat groundout to Beltre.

Putz's line: 1 inning, 0 runs, 1 hit, 0 walks, and 2 strikeouts on 12 pitches (9 strikes).

BOTTOM 9TH
Grade: C
Just to rub it in, Ron Gardenhire put in Joe Nathan even though it was a non-save situation. Ibanez had a 2-0 count but ended up whiffing at some high gas. Winn swung at the first pitch and almost dropped a double, but Stewart made a nice catch running toward the gap in leftcenter. Greg Dobbs pinch-hit for Olivo and two-hopped the wall in the corner in rightfield for a double. Scott Spiezio pinch-hit for Valdez and worked a 1-2 count to a full count, which was a miracle in itself. Nathan dropped a slider over the outside corner to end it.

Nathan's line: 1 inning, 0 runs, 1 hit, 0 walks, and 2 strikeouts on 16 pitches (10 strikes)

Gameball: Ryan Franklin. He had the 1-2-3 8th, and though only one outing, I at least found it somewhat encouraging. I think he might turn into that useful long reliever that hates relieving. We used to have one of those in Seattle a couple years ago. Franklin should give John Halama a call.

I guess the semi-obvious pick(s) for the gameball would have been Ichiro or Beltre.

Goat: Matt Thornton. I'm going obvious here. You know what the sick thing is? He didn't walk anybody.


Well, that was quite the turnaround, wasn't it? I know Meche didn't set the table well at all in the 5th, but did anyone expect Matt Thornton to implode that badly? I'm not kidding you, when that ball jumped off Jacque Jones' bat into the rightfield seats, I was knocked back into 2004, that's how bad it was. I mean, a seven-run inning is so 2004, right?

On the other hand, what do you expect when you blow a lead and Johan Santana's pitching for the other team? Is a seven-run inning bad? Sure it is. But the Mariners didn't lose to some spot starter claimed three days ago off the waiver wire, and they didn't lose to some no-name Tampa Bay pitcher. They lost to Johan Santana and the big guns in the Minnesota bullpen. They threw four innings of shutout ball and gave up two hits, walked one, and struck out four.

I know I won't have to worry about it for the entire year, but I had the feeling two or three times tonight on grounders near Valdez that "oh, Pokey would have had that one." It's a whole new spin on the "Cameron would have had that" mantra of last year.

I've said I don't expect a division title or even a .500 season out of these Mariners, but I can tell already after two games that I'm going to like watching this season unfold a lot more than the last.

But until the next game...

ICHIRO'S BATTING .500!

RICHIE SEXSON IS ON PACE FOR 486 RBI!

MATT THORNTON'S ERA IS 81.00!

Silva. Madritsch. This afternoon.