Monday, April 04, 2005
GAME 1: MARINERS 5, TWINS 1
Mariners 5, Twins 1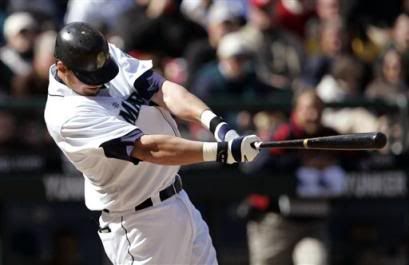 In 25 words or less: Brad Radke really only made two bad pitches in the game, and they were both to Richie Sexson with runners on base. That was the difference.

The format for me this year won't involve the spectrum. It'll be letter grades instead, per half-inning. I think the spectrum I'd put together last year was a little limiting. Letter grades, though wholly unoriginal, will help me be more freeform in what I want to say about the half-innings.

Keeping with last year, gameballs and goats will return. Again, this year I'm not going to try to pick the obvious gameballs.

Dive in!

TOP 1ST
Grade: B-
Jamie Moyer fell behind 2-0 to all three hitters he faced, and fell behind 3-0 to Joe Mauer, the Twins' #3 hitter. The key was that Moyer only faced those three hitters, getting a called strikeout, a groundout, and a flyout, needing 14 pitches to do so.

BOTTOM 1ST
Grade: A
The Mariners took advantage of the Twins' mistakes, and tell me that isn't a refreshing change from last year. An Adrian Beltre comebacker to the mound should have been a double play, but Radke had trouble pulling the trigger on a throw to second, and then dirtballed it when he did. Everyone was safe, and then Richie Sexson blasted off on the first pitch he saw as a Seattle Mariner. The ball went behind the right side of the manual scoreboard in leftfield. Bret Boone almost got the Mariners another baserunner, but Jacque Jones used full extension to dive and catch a short fly ball.
»» MARINERS 3, TWINS O

TOP 2ND
Grade: B-
Though Moyer fell behind 2-0 to only the first hitter in the inning (Justin Morneau), the Twins actually reached base in the second, though only with two out. That was only because he beaned Jacque Jones on the left elbow. Moyer struck out two in the inning and fielded a comebacker, needing 23 pitches to get through the inning.

BOTTOM 2ND
Grade: C-
The bottom third of the Mariner lineup set a tone for themselves with this half-inning. Both Randy Winn and Miguel Olivo got behind in the count and made harmless contact (grounder and pop to the catcher, respectively), and Wilson Valdez hit into a 1-4-3 putout (I thought I saw it go off Radke's glove before Lew Ford picked it up).

TOP 3RD
Grade: B
Moyer gave up a one-out single to Luis Rivas, but got some help from his defense in the inning. Shannon Stewart bailed Moyer out by lofting a 2-0 pitch behind the plate, though Olivo still had to make sure the guy in the first row didn't catch it. Valdez also snared a fairly hot grounder to end the inning. Moyer needed only 10 pitches to get through.

BOTTOM 3RD
Grade: A-
Something happening with two out? This definitely isn't 2004. Ichiro didn't even set the table for this one; he'd gotten behind 0-2 and whiffed on a dirtball. Adrian Beltre socked an 0-1 pitch into center for a single. Then Sexson went yard again, reaching the hitters' backdrop (batters' eye, whatever) on one bounce over the centerfield fence, a 418-foot cannon shot. It was enough to make us gloss over Bret Boone's first-pitch groundout to end the inning.
»» MARINERS 5, TWINS O

TOP 4TH
Grade: B
Joe Mauer sliced a ball into left for a lazy leadoff single. He stole second and stayed there when Justin Morneau looped out to Valdez in shallow left. Then Moyer made Torii Hunter look like a fool, which is funny considering Hunter has torn up Moyer in the past. Hunter kind of half-swung at Moyer's first-pitch fastball, and then Hunter was fooled on the second-pitch breaking ball. He ended up grounding out to Beltre. Moyer fell behind 3-0 on Jacque Jones before getting one strike and then a grounder to Boone's right. Boone threw off-balance to first, and Sexson dug it out at first. Moyer needed 18 pitches to get through the 4th.

BOTTOM 4TH
Grade: C-
Raul Ibanez golfed one on the first pitch for a flyout in center where Stewart and Bartlett almost collided. Then Radke got Winn to whiff over the top of a change and then blew down Olivo with a fastball. This was a 13-pitch inning for Radke.

TOP 5TH
Grade: B-
Moyer threw a low cutter that caught the inside corner and froze Ford for a strikeout. Then Bret Boone muffed and over-the-shoulder catch in shallow rightfield. I think the error call was kind of debatable, but oh well. Then the Twins got another bounce when Stewart hit a roller up the middle that Valdez got to, but couldn't do anything with. Bartlett singled three pitches later to score Mike Cuddyer. Moyer, whose command had gotten better since the earlygoing, fell behind Mauer 2-0 before inducing a short bloop to left that was caught on the run by Winn. Moyer threw 21 pitches in the inning and had 86 through four. Julio Mateo was warming up in the bullpen toward the latter stages of the inning.
»» MARINERS 5, TWINS 1

BOTTOM 5TH
Grade: C
Ichiro hit a one-out single to right, then Jeremy Reed popped out to right on a hit-and-run attempt. Adrian Beltre took a mighty hack at an offspeed 0-1 pitch, but then Ichiro got nailed trying to steal second, though I thought his foot was in and the umpire didn't have the right angle. Something like that. He should have been safe though. Either way, it was an easy 13-pitch inning for Radke.

TOP 6TH
Grade: B+
Moyer gave up a two-out double down the rightfield line to Jacque Jones; the ball went off where the stands jut out toward the foul line. Moyer was pulled and received a warm ovation. Julio Mateo came in and got Ford to bounce to Boone on the third pitch.

Moyer left with a line of 5 2/3 innings, 1 run (unearned), 5 hits, 4 strikeouts, and zero walks on 95 pitches (57 strikes). He didn't have his best stuff, but it still was pretty good, and on this day it was good enough to win. I'm not expecting Jamie Moyer to come out and get into the 8th inning on Opening Day. I'm not expecting pitchers to have all their kinks worked out in their first and second starts of the regular season. Jamie Moyer today had a solid Opening Day start. Not a spectacular one, but a solid one.

BOTTOM 6TH
Grade: C-
This was an even easier six-pitch inning for Radke. Beltre gave the 1-1 pitch a good ride just short of the warning track in center. Sexson got too much under a ball to right. Boone flipped the bat, but much like last year, the flip was fruitless. Warning track power for Boone on that one.

TOP 7TH
Grade: B+
Mateo mowed through the 8-9-1 hitters in the Twins' order with two flyouts and a groundout. If it were the meat of the order, this inning's grade is an A.

BOTTOM 7TH
Grade: C
Man, did this part of the lineup suck today. Actually, if you look at the boxscore, you'll see that the Mariners only got five hits in this one, and they all went to the top four hitters in the lineup. Ibanez and Winn grounded out to Rivas in this inning, and Olivo whiffed on an evil 2-2 changeup, one of those pitches where you know the pitcher is just messing with the obviously overmatched hitter.

Radke got through the inning in 12 pitches. He finished with a line of 7 innings, 5 runs (4 earned), zero walks, and five strikeouts on only 89 pitches (65 strikes). That's usually good enough to win.

TOP 8TH
Grade: A-
Mateo got Bartlett to fly out to Reed in leftcenter, and then he was pulled for Ron Villone. Mateo had a line of 1 2/3 perfect innings on 17 pitches.

Ron Villone then came in and mowed down Joe Mauer on three pitches. Then he got Morneau to fly out to Beltre. I've complained about Ron Villone's control many a time, but to slice through Mauer and Morneau is no small task. Kudos to Rovo for those two outs.

BOTTOM 8TH
Grade: C-
Terry Mulholland wore a monocle and walked with a cane out to the mound. Nonetheless, he retired Valdez, Ichiro, and Reed on eight pitches.

TOP 9TH
Grade: A
If he was a holdout, we could have equated Eddie Guardado with Seahawk offensive lineman Walter Jones for just this one day. He didn't throw in a single Cactus League game, but to hell if he cared. He threw a first pitch ball to Torii Hunter, then threw six straight strikes. He got Hunter to whiff on four pitches, and got Jones to whiff on three. Lew Ford put up a bit of a fight, fouling off three pitches before lining out to Winn to end the game.

Gameball: Julio Mateo.
Five outs, no baserunners, 17 pitches. I've been hoping this guy can rebound from the injuries he had, because when he's on, he's invaluable to this bullpen.

See, that's not obvious (Sexson).

Goat: Jeremy Reed.
Yeah, I should probably give him a break for being a rookie, but he never reached base and screwed up the one hit-and-run. Even though Boone made an error, which I'm still sketchy about, he didn't strike out three times and leave a bunch of guys on base, or else I would have given this to him.

If I had to give the goat to a group, though, it'd be the 5-9 hitters of the Mariner lineup, who went 0-for-15 with three strikeouts. Two-thirds of your Mariner lineup has a 2005 batting average of .000.

The most shocking thing about this game? Not a single walk was issued by either side. Moyer may have fallen behind to some hitters early, but he never got to ball four. Brad Radke was Brad Radke, and he doesn't walk people, so that's no surprise.

Hey, the Mariners are above .500! We were never able to say that last season.

Santana. Meche. Tomorrow.