Tuesday, April 05, 2005
WRESTLEMANIA WEEKEND IN L.A.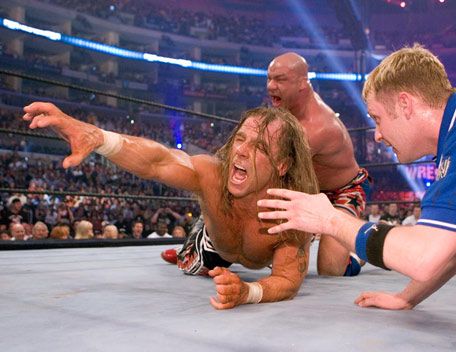 Before I give you my take on Wrestlemania 21 in Los Angeles, I'd appreciate it if Richie Sexson isn't referred to as "Big Sexy". Thanks in advance.

Anyways, in case you visited Sports and Bremertonians over the weekend and noticed that David was the one doing all of the posting, there was a reason for that. I was in Los Angeles for Wrestlemania 21, thanks to my brother winning a contest from the WWE. Instead of giving you a recap of Wrestlemania 21, I'll just direct you to the WWE's official Wrestlemania website.

Wrestlemania 21 was my second Wrestlemania in three years, as I had attended Wrestlemania 19 in Seattle. Since I was closer to the ring this year, I enjoyed Wrestlemania 21 more than I did Wrestlemania 19.

FAVORITE MATCH
Kurt Angle d. Shawn Michaels (submission)

It's about time these two guys wrestled each other. The wait was well worth it. I didn't care who won, because I'm a fan of both guys. Easily a contender for "Match of the Year".

WORST MATCH
Akebono d. Big Show (sumo match)

My eyes.

BEST MOMENT
Angle making Michaels tap out

SIGN OF THE NIGHT
"Who Booked This?" (during the Akebono-Big Show match)

A few notes from Wrestlemania 21:

---Brooke Hogan is outstanding. She sat in the front row and I'll just say that she's everything as advertised. By the way, the Hogan family is going to have their own reality show on VH1 later this year. Brooke had a video camera with her to film some of the crowd, so there's a good chance I'm going to be on one of the episodes. Since I don't want the Hulkster to give me the leg drop, I'll stop talking about her right now.

---Motorhead performed Triple H's theme "The Game" live. Lemmy is God!

---The "Money In The Bank" Ladder Match featured the best entrance themes of the night.

Edge - Alter Bridge "Metalingus"
Chris Benoit - Our Lady Peace "Whatever"
Kane - Finger Eleven "Slow Chemical"

---I really wanted to tell David Arquette that "Ready To Rumble" was an awful movie to his face, but decided against it.

---Other celebrities at Wrestlemania included Adam Sandler, Rob Schneider, John Travolta, and ZZ Top's Billy Gibbons.

---Wrestling crowds are insane. What I love about going to wrestling shows is that I can yell just about anything and I won't get criticized too much for it. I think I threw out a few old school references during the show. The best reference of the night came from a fan sitting two seats from me, however. He brought up Scott Norton, who used to wrestle for WCW. Now that's a diehard.

---Once the Wrestlemania 21 DVD comes out, I'll find out whether my loud voice can be heard or not. I'd laugh if the mike picked up a few of my comments.

--- --- --- --- --- --- --- --- --- --- --- --- --- --- --- --- ---

The Staples Center is overrated.

Yes, I said it. I've known from day one that the place has no soul. Not only does the place have no soul, the event staff is awful as well. I heard this one lady yell at a fan to get back to his seat. She didn't ask him to return to his seat, she YELLED at him to return to his seat. Tell me, what kind of customer service is that? You can't yell at the customers. You just can't.

The employees in the L.A. Shop at the Staples Center aren't much better. I was looking for anything Los Angeles Kings related in the shop, but I couldn't find anything, until I saw a puck keychain on the rack behind the register. I ask the woman if that puck keychain was for sale. She tells me that it isn't. THEN WHY IS IT OUT IN FULL VIEW? I think the Staples Center event staff needs to take a page or two from the Safeco Field event staff in terms of how to treat the fans. You can say all you want about the Seattle Mariners organization, but they do know how to treat the fans right at Safeco Field.

There were metal detectors at the Staples Center entrances. I was surprised that I didn't have to sign a pledge saying that I wouldn't criticize the owner/general manager/star player Kobe Bryant. I'm loving the demise of Team Kobe, by the way. The Clippers are an afterthought at the Staples Center. Just move them to Anaheim already.

--- --- --- --- --- --- --- --- --- --- --- --- --- --- --- --- ---

Wrestlemania 21 was a fun event to watch. Next year's Wrestlemania is in Chicago. I doubt if I'll make it to that one.

I should have my pictures ready by Thursday afternoon, so I'll post some of them then. It's not often I talk about pro wrestling at Sports and Bremertonians, so this is one of the few times that this is the case.

The jet lag is wearing off, so I'm starting to feel normal again. Los Angeles was nice, but I'm glad to be back in Arkansas. Believe me, I never thought I would say that.