Friday, April 08, 2005
L.A. VISUALS
Yes, I finally have some visual evidence that I was in Los Angeles last weekend.

This is just a small portion of the pictures that I took last weekend. As you will tell, I didn't get a chance to leave downtown Los Angeles to go to the beach. I'll hit the beach when I go back to Southern California, whenever that may be.

I liked Los Angeles. I enjoyed talking to the people for the most part. Various topics discussed included Wrestlemania, the Dodgers not signing Adrian Beltre, and the Lakers (Team Kobe!). Believe me, the Beltre discussion almost got very heated. There are more than a few people that are still puzzled that Frank McCourt gave big money to J.D. Drew instead of Beltre. Oh, and the Clippers are an afterthought.

Anyways, here are my photos. I'm a much better writer than I am a photographer.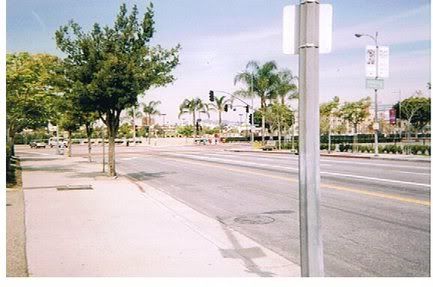 This photo was taken on my way to Staples Center on Saturday morning. My brother and I met the WWE's Theodore Long and Hardcore Holly at the LA Shop at Staples Center. The Hollywood sign is somewhere in the middle of the photo, a long ways away.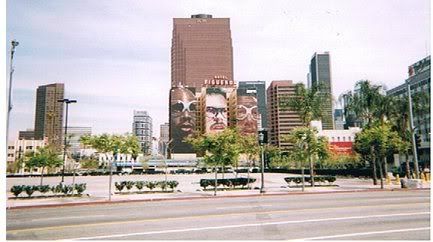 Kareem Abdul-Jabbar. Kurt Rambis. James Worthy.

Great stuff.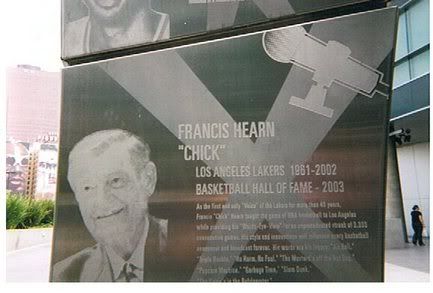 RIP, Chick.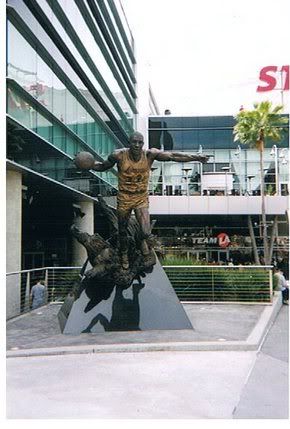 "Hey, I'm no longer the worst coach in Laker history!"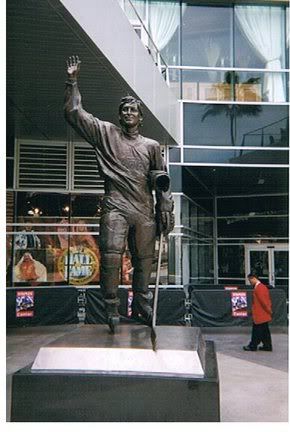 The best hockey player ever. And I bet you that the guy in the red blazer has no idea who Wayne Gretzky is.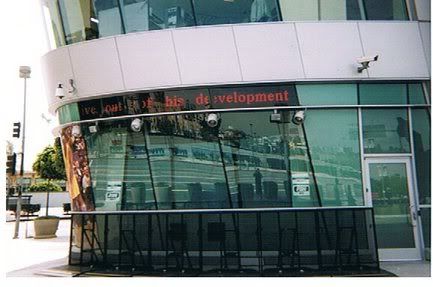 This is where FSN West tapes the "Southern California Sports Report". On Friday night, I walked by the studio while there were doing the 6:30 edition, so I may have been on FSN West. I couldn't tell who was in there though.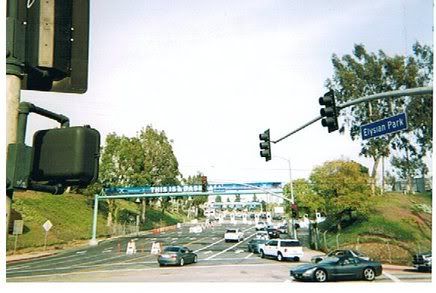 I walked up to Dodger Stadium from the corner of Sunset Boulevard and Elysian Park Avenue. Man, that was a bitch. It's not that I can't walk uphill, it's that I haven't walked up any hills in over two years. Pine Bluff, Arkansas doesn't have any hills. Oh, and for Arte Moreno: THIS IS L.A. BASEBALL, BITCH!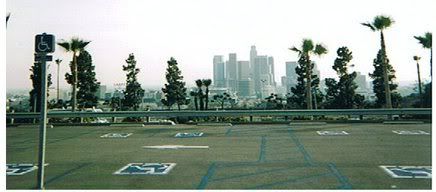 Downtown Los Angeles from the Top Deck parking lot of Dodger Stadium.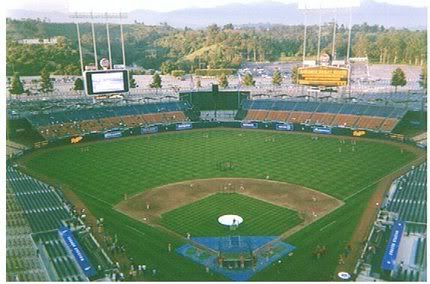 The view behind home plate on the Top Deck. My seat was just a few sections over to the left (between 3rd base and home plate).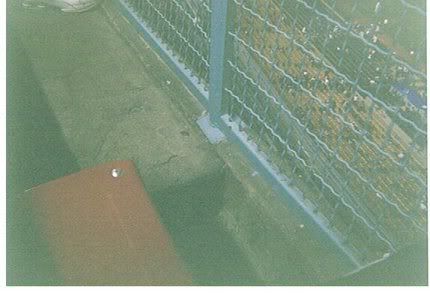 This was my seat. Aisle 11, Row 1, Seat 19.

I'm a tall guy. So, does this look like a seat that a tall guy should be sitting in?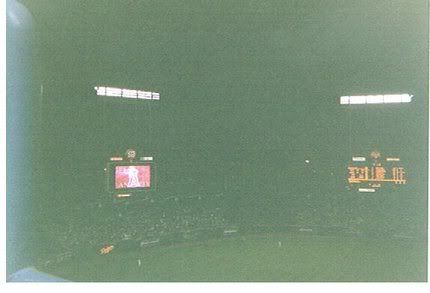 The left field video board tagged the Angels as "Anaheim", not "Los Angeles". Funny stuff. Once again, THIS IS L.A. BASEBALL, BITCH!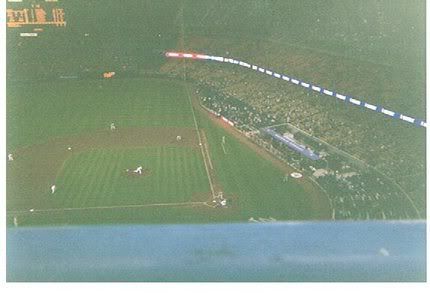 First pitch: Jeff Weaver to Chone Figgins.

The Dodgers promoted their "Dodger Stadium Renovation" to death all night long. What renovation? All they did was reduce foul territory at Chavez Ravine just to put 1,600 rich people seats in and install a LED scoreboard on the facade that stopped working in the 7th inning. Some renovation.

The Angels won 6-4, clinching the Freeway Series title. Do they give the winning team a freeway sign? Free carpool lane passes? For me, the Dodger Stadium experience was good and bad. Good, because the fans chanted "Angels Suck" many times. Even little 7-year olds joined in the fun. Bad, because the event staff was very rude to me. I wanted a program (official program, BTW; I didn't see any unofficial programs at all outside of Dodger Stadium). But they told me that they didn't sell programs during the Freeway Series. It's just another way for Frank McCourt to save money, that's all.

As for the beach ball tally, I counted 12 beach balls in the stands.



Waiting to get inside the Staples Center on Sunday afternoon.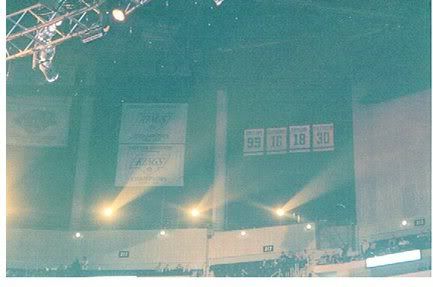 Los Angeles Kings Smythe Division Champions 1990-1991

Los Angeles Kings Campbell Conference Champions 1992-1993

Wayne Gretzky 99. Marcel Dionne 16. Dave Taylor 18. Rogie Vachon 30.

I still love hockey.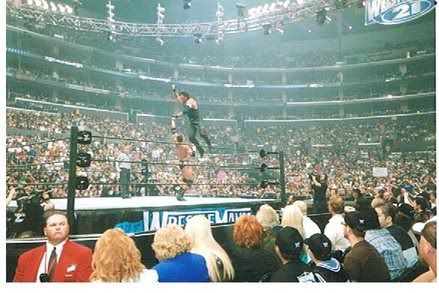 The Undertaker going "old school" off the top rope against Randy Orton.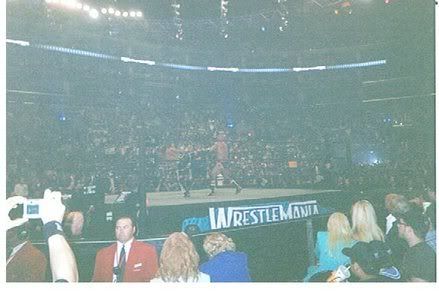 Shawn Michaels with the superkick to Kurt Angle.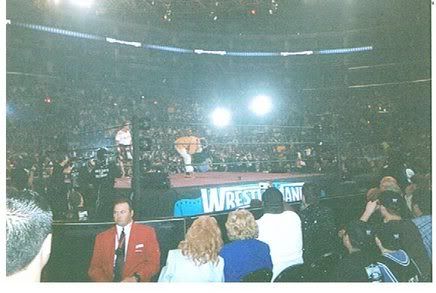 Stone Cold Steve Austin giving Carlito Cool the Stone Cold Stunner, with Rowdy Roddy Piper looking on.

--- --- --- --- --- --- --- --- --- --- --- --- --- --- --- --- ---
I don't know when I'll be going to Los Angeles again.

But I tell you, it was the best weekend I've had in over two years. Hopefully you've enjoyed looking at my photos. Unless I get lucky in the next few months, I'm in Arkansas for a while. I could use another vacation though. Don't we all?

THIS IS L.A. BASEBALL, BITCH!