Wednesday, April 06, 2005
GAME 3: TWINS 4, MARINERS 1
Twins 4, Mariners 1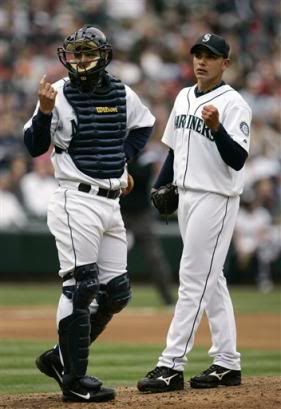 In 25 words or less: Carlos Silva might have duplicated his start in Seattle from last May, and the Mariners tried a strategy that didn't work against Tim Hudson last April either.

TOP 1ST
Grade: A
Bobby Madritsch started out great. He got to two-strike counts on both of the first two hitters, and all Shannon Stewart, Nick Punto, and Torii Hunter could manage were a foul flyout to Richie Sexson and a couple groundouts. Madritsch needed only 11 pitches.

BOTTOM 1ST
Grade: C
Adrian Beltre hit a ball off Juan Castro's glove at short, and he reached base on what was ruled a single. He would be stranded there. Indicating a team-wide trend that would continue against Carlos Silva, Ichiro and Richie Sexson both swung at the second pitch. Silva was the beneificiary of a nice backhand stab of a Jeremy Reed grounder behind second base by Punto.

TOP 2ND
Grade: B+
Madritsch set down the side in order again. He got behind 2-0 on Matt LeCroy, but induced a flyout. He got 0-2 on Jacque Jones and eventually got him to whiff on a changeup to end the inning. It was another 11-pitch inning for Madritsch.

BOTTOM 2ND
Grade: B
Bret Boone got behind 0-2, got in that dog-taking-dump stance, and then mashed a 1-2 pitch over the manual scoreboard in left. Happy birthday to Bret Boone.
»» MARINERS 1, TWINS 0
Too bad that capped the Mariners' scoring for the day. Randy Winn was up with two out and worked the count to 2-0 and 3-1, but could only manage a grounder to Justin Morneau at first. Raul Ibanez and Dan Wilson flew out and grounded out, respectively, both to short and on the third pitches of their at-bats.

TOP 3RD
Grade: B+
Madritsch ran his streak to nine straight hitters retired. He fell behind Mike Redmond 2-0, but got a ground ball out of him. All three outs in the inning were on the ground. Madritsch threw 14 pitches in the inning.

BOTTOM 3RD
Grade: C
The 9-1-2 hitters in the Seattle lineup saw a total of five pitches in the 3rd. Wilson Valdez tried to bunt his way aboard on the first pitch, but was gunned down by a charging Mike Cuddyer in from third. Ichiro flew out to center on the first pitch. Jeremy Reed bounced out to short on the second pitch. Thus, it was little surprise that Carlos Silva had recorded only 33 pitches through three innings. His numbers would get even more out of hand; he was done giving up runs.

TOP 4TH
Grade: C
Punto broke up Madritsch's perfect game bid, ending the string at 10 straight retired Twins to start the game. Punto did so with a push bunt up the first-base line, making me wish that Bob Melvin was still around for that extra "ticked-off-because-someone-ruined-a-perfect-game-with-a-bunt" nuance. Madritsch got Torii Hunter to flyout. Ron Gardenhire put on the hit-and-run on an 0-1 pitch, and Morneau singled to right to put runners on the corners. Matt LeCroy put on his own hit-really-hard-and-trot-around-the-bases, clubbing one out to leftfield on his second pitch, one which got a little high and a little too much of the plate.***
»» TWINS 3, MARINERS 1
Luckily, Madritsch got ahead 0-2 on Jacque Jones right away and got a ground ball out of him. Madritsch threw 18 pitches in the inning and had 54 pitches through four innings.

***Adjusted after I saw video replay of the LeCroy wallop.

BOTTOM 4TH
Grade: C-
Beltre bounced out to short. Two pitches later, Sexson singled up the middle. One pitch after that, Boone singled to right. Runners were on first and second with one out, and the Mariners were down two runs. That meant it was a great time for Raul Ibanez to swing at the second pitch and bounce into a 4-6-3 double play. Silva threw 10 pitches in the inning and had 43 through four innings.

TOP 5TH
Grade: B+
Madritsch got ahead on Cuddyer 0-2 and eventually got a comebacker to the mound. Madritsch threw somewhat high, but Sexson is tall. Then Redmond roped his first pitch down the leftfield line for a double.

Bobby Madritsch knew something wasn't right after he delivered his 2-1 pitch to Juan Castro. Rick Griffin and friends came out right away, and Madritsch had to come out of the game for what was later revealed to be a strained left shoulder. Who will Pokey Reese sprinkle with the strain-your-throwing-shoulder pixie dust next?

Having had starting experience the last couple seasons, and having thrown only one inning the night before, Ryan Franklin came on to relieve the injured Madritsch. He inherited the 3-1 count on Castro and walked him on the first pitch. Stewart then roped a single into center to load the bases. Though the Mariners didn't know at the time that they wouldn't score for the rest of the game, the 4-6-3 double play off of Punto's bat to end the inning was timely. They gave up zero runs, but the Mariners seemed to have experienced a trainwreck inning for the second night in a row.

Madritsch's line: 4 1/3 innings, 3 runs, 4 hits, 0 walks, and 1 strikeout on 64 pitches

BOTTOM 5TH
Grade: D+
Randy Winn doubled to the wall in left. He took off for third on the first pitch to Dan Wilson and was gunned down. You run when Dan Wilson's behind the plate, not at the plate in the batter's box. Wilson and Valdez both grounded out to short to end the inning. Silva threw nine pitches in the inning and had thrown 52 through five innings.

TOP 6TH
Grade: B+
Franklin's only misstep was falling behind 2-0 to Morneau, but he set the Twins down in order with three fly balls. He needed 12 pitches to accomplish this.

BOTTOM 6TH
Grade: D+
Ichiro rolled a ball to Castro at short and beat it out. Jeremy Reed, who hasn't done anything yet in three games (yes, I know it's only been three games), swung at the second pitch and Morneau started the 3-6-3 double play. Beltre had nothing to drive in and bounced out to short. If you're betting on how many pitches Silva threw in this inning, the big-money winner is whoever bet closest to six. Silva had thrown 58 through six innings.

TOP 7TH
Grade: B-
The inning started with a Jones bunt down the third-base line that Beltre couldn't quite barehand. Franklin got two flyouts before Castro lined one into left for a single. Franklin got a grounder for a fielder's choice to end the inning. Franklin threw 12 pitches in the inning.

BOTTOM 7TH
Grade: C-
No Mariner hitter got to a two-ball count in what would turn out to be Silva's final inning, though I'm sure he could have easily thrown 12 innings against the Mariners at this pace. Boone hit a one-out single to center, and was moved to second when Raul Ibanez singled the other way on a 1-2 pitch. Randy Winn hit one hard up the middle for a single, but it was hit too hard to score Boone, and Hunter probably would have nailed him at the plate. Of course, the bad thing about having the bases loaded with one out in this situation was that Dan Wilson and Wilson Valdez were coming up in the order. Valdez didn't even get his chance. Wilson swung at the first pitch and hit it right to Cuddyer, who tagged third and threw to first for the double play. The double play was almost too predictable. It was a 10-pitch inning for Silva.

Silva's final line: 7 innings, 1 run, 9 hits, 0 walks, 0 strikeouts, 68 pitches (49 strikes)

TOP 8TH
Grade: C
Franklin had Punto 2-2 and then lost him. He got a popout to Valdez from Hunter, and then was pulled.

Ron Villone came in for Franklin. He beaned Morneau in the helmet (he left the game and was to undergo a CT scan) and fell behind LeCroy before walking him to load the bases with one out. Jones then hit a fly ball to Ichiro, and Punto tagged up to head home. The throw was up the line, and Wilson couldn't reach back to get Punto in time, though apparently Punto had missed the plate on his first pass. Oh well. He got it the second time.
»» TWINS 4, MARINERS 1

I'd had enough of Ron Villone, and so did Mike Hargove, who brought in Jeff Nelson. He got a ground ball from Cuddyer on his third pitch.

Franklin's line: 3 innings, 1 run, 3 hits, 2 walks, 0 strikeouts, 34 pitches
Villone's line: 1/3 inning, 0 runs, 0 hits, 1 walk, 0 strikeouts, 11 pitches

BOTTOM 8TH
Grade: C
Juan Rincon came in for Silva, who had thrown seven masterful innings against a hack-happy Mariner lineup. Greg Dobbs came in and was a pinch-looker, watching a fastball down the pipe for strike three. Ichiro singled on an 0-2 pitch to right. Reed continued his trend and didn't get a hit (short sample size, I know), this time a flyout. Ichiro stole second on the first pitch to Beltre, but Big 5 whiffed on a breaking ball outside.

TOP 9TH
Grade: C
Nelson walked Redmond on four pitches to start the inning. Redmond went to second on a sacrifice bunt by Castro. Nelson got two flyouts to end the inning.

BOTTOM 9TH
Grade: C-
Joe Nathan came in for Rincon. It was a save situation, although to me it felt like a very low-pressure save situation. For whatever reason, I felt like the game was over long before that.

Anyway, Sexson flew out to right on an 0-2 pitch, Boone bounced out to third on a 1-1 pitch, and Ibanez eventually grounded out to Cuddyer, who had replaced Morneau at first.

Gameball: Ichiro
Ichiro was a quiet 2-for-4 with a steal. Randy Winn was 2-for-3, but he was nailed at third to nullify what would have been a great scoring chance if somehow he could have stayed on base until Ichiro got to the plate.

Goat: Dan Wilson
I've already picked on Reed once, but Wilson was an 0-for-3 in this one with the killer double play on the first pitch with the bases loaded and one out in the bottom of the 7th.


Has everyone come down from the high of Opening Day yet? This team will be better than last season, sure, but they won't be that good every night. They definitely won't be that good every night if Bobby Madritsch isn't able to come back and solidify the rotation a bit. Scroll down a post to see what Jeremy dug up with respect to the pitch counts that Bob Melvin was letting Madritsch get to last season. I liked that he was going deep into the games every night, but the 133-pitch game was the last straw for me.

As for the hitting today, Ichiro was Ichiro, Bret Boone showed up, but no one else drove in any runs, obviously. The Mariners best chances came with Dan Wilson at the plate, and that doesn't say much in itself. I mentioned the double play in Wilson's Goat paragraph, but he was also up when Randy Winn was nailed at third. Sigh...

The backbreaking inning was a trait of every game in this series. Seattle had the 5-run first on Opening Day, the Twins had the 7-run inning last night, and they had the 3-run inning today that was enough. If there's one thing the Mariners have down in the first three games, they've scored early. A 5-run first, a 4-run first, and a little 1-run second. I'm trying to look for positives here.

Normally I'd be jazzed about the Mariners facing Chan Ho Park on Saturday, but I remember the one good start he had against the Mariners. I'm keeping myself honest.

Park. Sele. Friday.