Friday, April 08, 2005
TEMBLOR
Welcome to Friday and the end of your work week. Unless you have to work the weekend, in which case crank up the Loverboy and remember that Ameritrade commercial where Joel McHale is singing that song. Unfortunately, he's not Bobby Tango in the commercial, nor is he singing the Chariots of Fire theme.

For the random...for the outsider, eastern Montana on I-94 is a very unforgiving drive. Take it from someone who got stuck there in triple-digit heat. Anyway, the land east of Billings (home of Yankee great Steve Howe; he'll hook you up) is a fairly straight one, with long stretches of barren landscape and little to no inhabitants. If you need to drive through there, you're going to need someone to talk to and/or caffeine. If you're talking with someone, eventually that someone will fall asleep. If you're driving in the summer, you absolutely must have air conditioning. I've been on the wrong end of that too, in eastern Montana as well as Ellensburg. Music helps very much, but you can't really zone into it very well, or else you'll drive off or sleep. This is one reason I never use and never will use cruise control on a car. I don't have any proof that my body in slumber will notice a decrease in speed, but I think my chances are better to wake up and survive there than if I fall asleep with the cruise on and go out like Toonces. If you learned anything from this really weird public service announcement, I'm glad to have helped.

To something sports-related...

When did I know that the Pacific Rim Sports Summit was going to be doomed? I knew pretty early on. I heard they couldn't get Husky Stadium for the track and field events because graduation ceremonies were scheduled there, so that was bad to begin with. Though Bremerton is home to a couple of Olympian swimmers that we've covered in this space, I have to say I was bearish on these games from the moment I heard that the only swimming at this Summit would be of the synchronized variety. Remember that if you ever see the logo on the TV ads again...the swimmer silhouette in the logo is supposed to indicate synchronized swimming. Anyway, as soon as I heard there wouldn't be timed swimming, I knew there was no way that they'd be able to capitalize on the Michael Phelps thing or the semi-rivalry with Australia or any of the swimming-related stuff that a good portion of the country found so highly enjoyable and captivating to watch last summer at the Olympics. If you ask me, this Summit's timing (June 7-12) was also horrible. They missed out on having the Husky Stadium track and field by scheduling for graduation weekend, and then they missed out on the swimmers because they're swimming a Grand Prix meet in Indianapolis from the 10th to the 12th. The Summit organizers picked a brutal weekend, resulting in the omission of a marquee event (swimming) and the moving of all the track events to a track in West Seattle. How does this sound like a recipe for success? You can't tell me that the light way down at the end of the tunnel a few years from now was going to be the Summer Olympics in Seattle. No way in hell. It definitely won't happen after the USOC sees this mess. But hey, they gave the Winter Olympics to the bribery-riddled Salt Lake contigent, so I guess anything's possible.

To the post!

MARINERS
In non-news, Ryan Franklin would rather be a starter. In news, Justin Morneau is showing no residual damage from being nailed in the head and helmet on Wednesday. The projectile was an 0-2 pitch from the "effectively wild" Ron Villone. I liked Mitch Levy's semi-sarcastic remark yesterday morning about how they should start Villone in Bobby Madritsch's spot because "they can always fall back on Matt Thornton" for lefty pitching in the pen. I laughed, and then buried my face in my hands and cried.

"I said, no CAMERAS." That's not just what Randy Johnson said upon arrival in the Bronx, but it's also a rule at the Ichiro Exhibition Room near Ichiro's childhood home in Toyoyama, Japan. Admission is about $8.50, and 30 to 50 visitors come in every day...that's $255 to $425 a day into the coffers of Ichiro's dad. Apparently 1234 people went through after Ichiro shattered that whole record for hits that people were raising a big stink about last year (yes, I'm being sarcastic), and that would have netted Papa Suzuki a nice sum of $10489. That's some pull.

...but Hideki Matsui, the most successful franchise in baseball history, and the city they're based in are stealing away some of the Japanese tourists away from Seattle. I can't say I'm surprised. Of course, September 11th and SARS had a lot to do with the general across-the-board decline of all kinds of tourism coming from Asia.

Bobby Madritsch is injured for the time being, and Art Thiel laments the Freddy Garcia trade. I'm not sure I have anything constructive to say about the article. I'd have loved for the Mariners to get an arm in the offseason, but when Carl Pavano is considered a high-end catch, it's really not a good market for pitchers. Being that the Mariners aren't one season away from the playoffs, I find it a little bit more tolerable that the Mariners didn't land a big free-agent arm. Adding two big bats to the lineup and two big gloves in the field wasn't too bad of a backup plan with the big money.

Hey, the Rainiers are returning 14 guys from last year's squad. I have to say I'm guilty of snatching a bunch of those free admission slips from Safeway a couple years ago. They'd just get you to the metal bleachers, but oh well, it was baseball. This was in the Juan Thomas era.

Greg Dobbs is happy to be a Mariner. Though at the end of the bench, he's two years departed from the gruesome torn Achilles injury. In my Sarcastic Quote Snipe of the Day, I'll respond to Benny Looper's account of the injury, which he said "looked like someone had shot him with a gun." As opposed to what? A paper football? A rubber band? A paper football propelled by a rubber band? A rubber band propelled by a paper football? The latter wouldn't be a very devastating projectile. Still, I once again thank Dobbs for signing my 2000 Carlos Guillen batting practice warning track ball.

I know they're three days games in the middle of the week, but can't at least ONE of those games in the Kansas City series be televised?

Upcoming...
Today vs. Texas (7:05p, UPN11)
Tomorrow vs. Texas (1:05p, FSNNW)
Sunday vs. Texas (1:05p, FSNNW)
Monday at Kansas City (1:10p, radio)
Wednesday at Kansas City (11:10a, radio)
Thursday at Kansas City (11:10a, radio)

SEAHAWKS
The Jamie Sharper pursuit is underway. A limousine is involved. I'd love it if they could pull this off, though I'm not getting my hopes up or anything. I've been anticipating the draft a lot more than the free-agency period.

Also, Chris Gray and Alex Bannister have finally signed the contracts that seem like they were agreed to in principle about a week ago, maybe more. Anyway, Gray will make $1.875M with a $250k signing bonus, and Bannister will make $4M over four years, with a $1M signing bonus. I'm glad Bannister will return, that's for sure. As for Gray, I wouldn't have been sad if he left, though I'm sure that would have given the Seahawks some depth issues on the right side of the line.

Jeremy has wanted the Seahawks to take Florida linebacker Channing Crowder with the 23rd pick in the draft, though he admits Crowder apparently may have off-the-field behavior problems causing his stock to slip. In the Sporting News mock draft, they have the Seahawks taking cornerback Fabian Washington out of Nebraska. The Sporting News explains that with the air game of the Rams and the receivers of the Cardinals, the Seahawks need to beef up on the corners. What do I say? I think they need to get people who can get to the freakin' quarterback, so that the opposition's passing game is disrupted to begin with. Seriously, if they don't beef up the pass rush, how much different will next year be compared to this past year? In a sick twist, the Sporting News mock draft has Crowder slipping to New England at the end of the first round; Jeremy points out that the Patriots will probably make Crowder into a model citizen. I don't doubt it.

BASKETBALL
The Miah Davis Update
The NBDL's Roanoke Dazzle close out the regular season this weekend, with road games tonight at Huntsville and tomorrow at Columbus.

Sonics
Ray Allen apparently was right on his preseason prognostication about the Lakers' season. I really don't much care for this story because the Sonics are in a tough stretch and they've got injuries to worry about instead. Still, it sure is fun to see the Lakers just eat it this year. It's really too bad I can't convince myself that David Stern won't pull strings so the Knicks and Lakers won't suck for much longer.

Great! Antonio Daniels has a muscle strength imbalance in his left kneecap, most likely resulting in his being out for tonight's and tomorrow's games. The injury train keeps a-rollin' all night long, with a heave and a ho, and I just couldn't tell her so.

Also, Rashard Lewis will be out at least one more week.

Upcoming...
Tonight vs. Lakers (7:30p, FSNNW)
Tomorrow at Denver (6p, FSNNW)
Monday vs. Houston (7p, FSNNW)
Wednesday vs. Dallas (7:30p, ESPN)

HOCKEY
The NHL's general managers met yesterday in Detroit. The discussion included prospective ways to increase scoring whenever they start up again -- smaller goalie pads (including a CCM equipment presentation), bigger nets, tag-up offsides, etc. About those first two things, Jose Theodore of the Habs says both ideas are "crap." I noticed a picture at the top of the first article, and I thought it was computer-generated until I read about the suggestion for a net that is "six feet wide at the base and is bow-shaped to reach a width of six feet six inches and a height of four feet six inches, or 13 per cent bigger." It turns out the photo is real. Incredible. That'd be weird.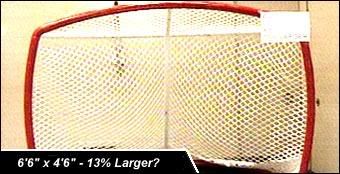 The WHL Western Conference semifinal series are starting tonight, and both Seattle and Everett have series against Kelowna and Kootenay, respectively. The Kelowna Rockets are the defending Memorial Cup champions (we could have had a Memorial Cup winner in Tacoma...) and the Kootenay Ice have Jeff Glass, the goalie who played in net for the gold-medal Canada squad in the World Junior Championships a couple months ago. Just my opinion, but the local teams are going to have to play reeeeally well to advance.

The Western Conference on the WHL website is called the "Kal Tire Western Conference."

Also, the AHL ends their regular season on the 17th, two Sundays from now. The almost-Canucks, the Manitoba Moose, have clinched a spot in the Calder Cup Playoffs.

Upcoming...
Tonight: Seattle at Kelowna (Game 1), Everett at Kootenay (Game 1)
Tomorrow: Seattle at Kelowna (Game 2), Everett at Kootenay (Game 2), Hamilton at Manitoba
Sunday: Hamilton at Manitoba
Monday: Kootenay at Everett (Game 3)
Tuesday: Kelowna at Seattle (Game 3), Kootenay at Everett (Game 4), Manitoba at Edmonton
Wednesday: Manitoba at Edmonton
Thursday: Kelowna at Seattle (Game 4)
---

Have a great Friday, everyone.