Sunday, April 10, 2005
THE NOT SO PRODUCTIVE OUT MAKING BOX 4/10/05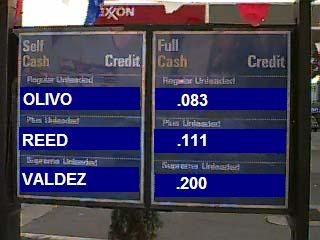 This particular photo will be the "Sunday Special".

It's the final day of Boeing Salute To Kids Weekend. Today, all kids 14 and under receive a Dan Wilson shirt. Poor kids. The last two days, the kids received Adrian Beltre and Richie Sexson shirts. Now those were lucky kids.

Ryan Drese vs Gil Meche, 1:05 p.m. Pacific (FSN Northwest and FSN Southwest)

Well, hopefully I'll have the game on FSN Southwest. Yesterday, SEC baseball pre-empted the game. What's in store for today? SEC redneck beer bottle tossing?

TODAY'S LINEUPS

TEXAS
1 Alfonso Soriano, 2B
2 Hank Blalock, 3B
3 Michael Young, SS
4 Mark Teixeira, 1B
5 Richard Hidalgo, RF
6 David Dellucci, LF
7 Gary Matthews Jr., CF
8 Adrian Gonzalez, DH
9 Rod Barajas, C

SEATTLE
1 Ichiro Suzuki, RF
2 Jeremy Reed, CF
3 Adrian Beltre, 3B
4 Richie Sexson, 1B
5 Bret Boone, 2B
6 Raul Ibanez, DH
7 Randy Winn, LF
8 Dan Wilson, C
9 Willie Bloomquist, SS

Willie Bloomquist gets his first start of the 2005 season. Yippie.