Saturday, April 09, 2005
GAME 5: RANGERS 7, MARINERS 6
Rangers 7, Mariners 6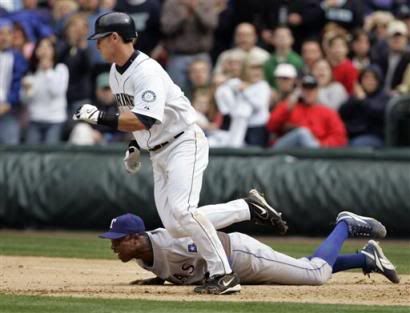 In 25 words or less: The Mariners played like they were facing Pedro Martinez, not Astacio. They tagged the Texas bullpen, and blew the win late -- defense was a factor.

Nick Regilio gave up the game-winning homer to Raul Ibanez last night, and was optioned to Oklahoma City today. Ouch.

Anyway, this one had Pedro Astacio facing Jamie Moyer.

TOP 1ST
Grade: C+
Jamie Moyer fell behind 2-0 on the first two hitters, with equally bad results; Alfonso Soriano doubled into the corner, and Hank Blalock walked. Moyer was able to get out of it, though, by getting a harmless pop foul from Michael Young, and by catching both Mark Teixeira and Richard Hidalgo looking. Moyer threw 24 pitches in the first inning.

BOTTOM 1ST
Grade: C-
Ichiro was ahead 3-0 before rolling the 3-1 pitch to Soriano at second. Jeremy Reed hit one back to the mound. Adrian Beltre had a 2-0 count, but lined out to right on his 2-2 hack. Astacio threw 16 pitches.

TOP 2ND
Grade: A-
Moyer had a 1-2-3 inning, getting a flyout from Kevin Mench, a Chad Allen groundout to short (nicely picked by Richie Sexson), and a Gary Matthews, Jr. groundout to third. Moyer had no three-ball counts in the inning, and he threw 12 pitches.

BOTTOM 2ND
Grade: C-
This was a completely unthreatening inning by the middle of the lineup. Sexson grounded out to short, Bret Boone popped up to right, and Raul Ibanez was frozen on a 1-2 breaking ball that caught the outside corner. Astacio needed only nine pitches in the inning.

TOP 3RD
Grade: C+
Sandy Alomar, Jr. singled to lead off, then Moyer got Soriano and Blalock swinging. Moyer then fell behind 3-1 on Young and walked him. Teixeira hit a slow grounder to Boone, who made a nice backhand flip to Sexson to end the inning. Moyer threw 20 pitches in the inning.

BOTTOM 3RD
Grade: C
Randy Winn was caught looking on a 1-2 pitch, and Miguel Olivo whiffed on the same count. Wilson Valdez hit an 0-2 pitch up the middle which looked like it might sneak through, but Young made a nice running play and throw. Astacio got well ahead of the bottom of the Mariners' lineup, and threw 13 pitches in the inning.

TOP 4TH
Grade: C-
Adrian Beltre made a nice charge and throw on a Hidalgo grounder, and Mench hit a lazy popup to Boone. Things got dicey with two outs. Allen ripped a single into left, and Matthews doubled into the rightfield corner, putting two runners in scoring position. Sandy Alomar then ripped a 3-1 pitch up the middle to score both runners.
»» RANGERS 2, MARINERS 0
Moyer needed only two more pitches to get a flyout from Soriano. Moyer threw 19 pitches in the inning, and was already up to 75 after three innings, enough to make one harken back to some of Freddy Garcia's old pitch counts from Aprils past.

BOTTOM 4TH
Grade: B-
Thankfully, Ichiro parachuted a ball into the gap in left-center, enough to get him a double and break up Astacio's perfect game bid. Reed worked the count and hit a hot shot right to Teixeira, who went to the bag, moving Ichiro to third. Beltre swung out of his shoes on his first pitch, but was able to reach and put some wood on his 2-2 pitch, singling into center to score Ichiro and finally get to Astacio a little bit.
»» RANGERS 2, MARINERS 1
Then Sexson turned an 0-1 pitch into a 6-4-3 double play. Despite the trouble, Astacio had only thrown 14 pitches in the inning.

TOP 5TH
Grade: B-
Moyer got Blalock to pop an foul ball to Beltre in front of the third-base dugout. He then fell behind to Young 2-0 and 3-1, eventually walking him. Teixeira then whiffed and Hidalgo grounded out to Boone. Moyer threw 18 pitches in the inning, but had a whopping 93 through five innings of work.

BOTTOM 5TH
Grade: C-
Boone had a 2-0 count and tagged a ball up the middle that would have been a single had it not hit Astacio in his lower left leg. Astacio picked it up, threw Boone out, and stayed in the game. Ibanez whiffed, then Winn got ahead 2-0 and 3-1, but struck out looking. Astacio threw 14 pitches, and had 66 through five.

TOP 6TH
Grade: C-
Mench flew out to Ichiro to lead off, then Allen poked a single to center. Matthews had a very long at-bat, coaxing a walk after being down 0-2 and fouling off many pitches. Alomar did damage again, reaching out on a low and outside 1-2 pitch for an RBI single to center.
»» RANGERS 3, MARINERS 1

That was it for Moyer, and Shigetoshi Hasegawa was summoned from the bullpen. He got Soriano to fly out to Ichiro and got Blalock to roll one to Boone. Hasegawa threw 11 pitches to end the inning.

Hasegawa didn't score any of Moyer's runs. Moyer's final line: 5 1/3 innings, 3 runs, 7 hits, 4 walks, 5 strikeouts, 110 pitches (63 strikes).

BOTTOM 6TH
Grade: C
Olivo bounced one up the middle on the first pitch for a groundout, then Valdez knocked one up the middle as well, this time for a base hit. Ichiro tattooed the first pitch, but right to the rightfielder. Reed hit a one-hopper to the mound to end the inning. Astacio threw 10 pitches, and had 76 through six.

TOP 7TH
Grade: A-
Hasegawa's only misstep was falling behind 3-0 on Hidalgo with two outs. He got Young and Teixeira to ground out on their first pitches. Hidalgo hit a grounder to Beltre, who bobbled it, but was still able to rifle the ball to first in time. It was a mere seven-pitch inning for Hasegawa.

BOTTOM 7TH
Grade: B-
Beltre led off by ripping a single to right. Sexson whiffed on a pitch low and away. Boone flew out to shallow right, and it looked like the inning wouldn't generate much. Then Ibanez singled up the middle and Winn got the count to 3-1 and singled up the middle as well, netting an RBI in the process.
»» RANGERS 3, MARINERS 2
Scott Spiezio went up to pinch-hit for Olivo. On the 1-2 pitch, Astacio threw a low pitch that hit Spiezio's right foot, though the umpire didn't call it that way, and it was instead just ball 2. Astacio almost hit Spiezio with the next pitch as well. With the full count, Astacio put Spiezio out of his misery, getting him to whiff at a change. Astacio threw 25 pitches in the inning.

Astacio was done for the day. His line: 7 innings, 2 runs, 6 hits, 0 walks, 7 strikeouts, 101 pitches (65 strikes)

TOP 8TH
Grade: B
This inning turned out okay for Hasegawa, and that usually doesn't happen when you start off by giving up a four-pitch walk. Mench was the beneficiary of said walk. Mench took off for second on the 1-0 pitch to Allen, which is weird in itself, but even weirder was that Dan Wilson gunned him out at second. Allen then hit a ball down the third-base line, but Beltre made a nice backhanded stab and nailed him at first. Matthews hit a ball that Valdez had to make a hard throw with, and he did. Hasegawa threw 11 pitches in the inning.

Hasegawa didn't come out for the ninth (reasons are below), but he turned in a great afternoon of long relief. His line: 2 2/3 innings, 0 runs, 0 hits, 1 walk, 0 strikeouts, 30 pitches (16 strikes)

BOTTOM 8TH
Grade: A
Brian Shouse came in for Astacio. Valdez led off with a single, which has been rare, but it was a definite bonus considering the lineup was going to turn over. Ichiro got down 0-2 in the count, but reached down on a pitch and singled to rightfield. Then the weird play of the game happened. Reed bunted a high chopper to the mound. Shouse fielded it, and looked to third, then turned and threw toward first. The throw was into the runner a bit, and Soriano (covering) was a bit attentive to Reed barreling at him down the line. The throw went past, the two collided, and Reed headed toward second as Valdez scored. Two runners were in scoring position in a now-tied game with Soriano down on the dirt. He later got up and finished the game.
»» RANGERS 3, MARINERS 3

Shouse was then pulled for Doug Brocail. Beltre smoked a 1-1 pitch just under Soriano's glove into rightfield to get the Mariners the lead.
»» MARINERS 4, RANGERS 3
Sexson got down 0-2 and hit one back to the mound, but Reed was hung up between third and home. Reed was able to stay in the rundown long enough to have Beltre and Sexson move to third and second. With the infield drawn in, Boone singled past the shortstop to plate the two runners and solidify the Seattle lead.
»» MARINERS 6, RANGERS 3
Ibanez and Winn then grounded out to end the inning.

The two lines...
Shouse: 0 innings, 2 runs, 2 hits, 0 walks, 0 strikeouts, 7 pitches (6 strikes)
Brocail: 1 inning, 2 runs, 2 hits, 0 walks, 0 strikeouts, 17 pitches (14 strikes)

TOP 9TH
Grade: D
Eddie Guardado came on to shut the door. Alomar didn't get a hit for once, grounding out to Valdez. Then came the play that turned the game. Soriano hit a 1-2 roller to Boone, who Bucknered it (E4). Blalock took a 1-1 pitch and wrapped it around the rightfield foul pole to at the very least make it interesting. Surely the Mariners couldn't blow a 3-run lead in the 9th, right?
»» MARINERS 6, RANGERS 5
Young hit a ball that was just above the glove of a jumping Valdez and into leftfield. Guardado was able to get Teixeira to stupidly swing at some high cheese, but then Hidalgo reached out on a pitch low and away and put it to the right of the bullpens; quite a shot. With that, the lead had changed hands and now the Mariners were suddenly behind.
»» RANGERS 7, MARINERS 6
Mench was down 0-2 and worked the count a bit before mercifully flying out to end the inning.

Guardado wasn't helped by Boone, and then the Rangers mashed his pitches. His line: 1 inning, 4 runs (1 earned), 3 hits, 0 walks, 1 strikeout, 30 pitches (23 strikes)

BOTTOM 9TH
Grade: C+
Francisco Cordero came on for Texas to slam the door shut. Wilson got down 0-2 and quickly whiffed. Greg Dobbs pinch-hit for Valdez. He swung at the first two pitches, and let the third one go by, which was a called strike. With that, there were two outs but Ichiro was up. Ichiro was able to grind out an 8-pitch at-bat for a walk. Reed ripped a single to right, putting runners on the corners for Adrian Beltre. Beltre was 3-for-4 at that point, but this time he hacked at the first pitch and flew out to center.

Cordero's line: 1 inning, 0 runs, 1 hit, 1 walk, 2 strikeouts, 20 pitches (13 strikes)
---

Gameball: Shigetoshi Hasegawa.
2 2/3 innings of no-hit shutout baseball in long relief. He was great in getting the ballgame from Moyer to Guardado, even though his ball-strike ratio was crap.

Goat: Bret Boone.
I can't go with Richie Sexson (second straight 0-fer, and it was his shirt day at the park) when Bret Boone muffed a play that he's made a billion times before. I'm going obvious for this one, but oh well. That started the snowball effect.


Reader Morgan pointed out in the comment boxes that in the Minnesota series the Mariners were scoring early and getting nothing, whereas in this Texas series so far, the Mariners haven't been able to touch up the starters, but have been getting the bulk of their runs late. If nothing else, it seems the Mariners are getting more timely hits this year, though we're only five games into the season.

If there's only one thing that would convince you that Moyer's Opening Day start was better than this one, it's this: he didn't walk anyone on Opening Day. He walked four today. Despite the walks and the directly related high pitch count, Moyer didn't completely crap the bed and give up ten runs or anything like that, so that's a slight positive.

If there's one unexpected source of offense today, it was Wilson Valdez, who went 2-for-3 and came very close to a third hit if not for a nice play up the middle. He had a warning-track double yesterday, too, though he did have an error in the comedy-of-errors inning, so I didn't gameball him.

As for Adrian Beltre, that gameball would have been a little too obvious, but he certainly had a superstar day, going 3-for-5 and driving in two, and also had a couple of nice stabs over at the hot corner. Also in the good offensive category was Ichiro, with another quiet 2-for-4, but with a walk as well, coming on the heels of two intentional walks last night. It's just two games I'm looking at, but if he keeps walking like this...certain records could be broken.

The Mariners could have been over .500 today, but let's face it -- you can't shake away 2004 with just five games. They've still got some of it in them. It might take a while, but it'll be worth the wait. At least this team is watchable again.

Drese. Meche. Tomorrow.