Saturday, April 09, 2005
THE NOT SO PRODUCTIVE OUT MAKING BOX 4/9/05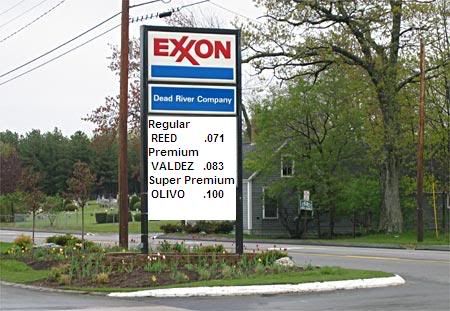 Rangers vs Mariners, 1:05 p.m. Pacific (FSN Northwest and FSN Southwest)

What's the deal with the Exxon picture, you're asking yourself? For the remainder of the season, I'll post that photo, updated with the three lowest batting averages of the Mariners regulars. So, for today, it's Jeremy Reed at .071, Wilson Valdez at .083, and Miguel Olivo at .100. We like to have fun here at Sports and Bremertonians. This is just one of the many ways we do just that.

If you are looking for David's Mariners and Sonics game recaps from last night, he has posted them at Sportspot, since Blogger has been acting up for him.

David's 4/8/05 Rangers-Mariners recap
David's 4/8/05 Lakers-Sonics recap

Pedro Astacio vs Jamie Moyer today, Ryan Drese vs Gil Meche tomorrow.

FIRE IT UP!