Monday, April 11, 2005
FRANKLIN!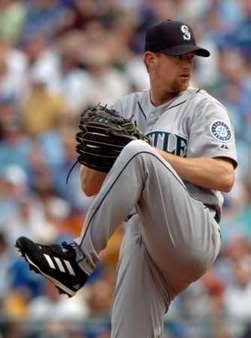 So much for my post last night.

Ryan Franklin was brilliant for the Mariners today in Kansas City, allowing just 2 runs and 5 hits in 8 2/3 innings as the M's defeat the Royals 8-2.

Franklin was starting in place of injured starter Bobby Madritsch and with his outing today proved that he may be of good use in the starting rotation. He had just 82 pitches until being pulled by manager Mike Hargrove in the 9th inning. Franklin had retired 15 Royals in a row before walking Ruben Gotay in the 9th, who would score the Royals' first run.

For the first 7 innings, the game was at a very fast pace, with the Mariners clinging to a 1-0 lead. But staying true to the early portion of the 2005 season, the 8th inning was very kind to the M's once again.

Adrian Beltre hit his first home run as a Mariner, a 2-run shot over the left field fence, to give the Mariners a 3-0 lead. Royals starter Runelvys Hernandez, making just his second start since 2003, was pulled after walking Richie Sexson in the 8th. Hernandez went 7 1/3 innings, allowing 3 runs on 8 hits, walking 3 men and striking out 4. Back to the Mariners, however.

After reliever Nate Field intentionally walked Randy Winn to load the bases, it was up to Miguel Olivo. Olivo made the Royals pay with a 2-run single, making it 5-0 Mariners. In a twist of "what the hell is going on here?", Wilson Valdez follows Olivo's 2-run single with a RBI single of his own, scoring Winn from third base. 6-0 Mariners.

Ichiro earned his second hit of the day with a double that scored Winn and Valdez. 8-0 Mariners. The 8th inning hysteria would end with a Jeremy Reed flyout to left. If there's one thing I can point to this year as to why the 2005 season is already better than the 2004 season, it's their play in the 8th inning. We're just 7 games into the 2005 season, but if this is how things are going to go in the 8th inning all year long, count me in.

While the offense gave Franklin a ton of run support, it was definitely obvious who the star was in Kansas City today. It was Mr. Franklin. Give credit where credit is due, folks. I know I am. To see Ryan Franklin go 8 2/3 innings and allow 2 runs makes me happy to say the least. In order for the Mariners to have a chance in the American League West this season, they are going to need Franklin to step up. Today is just one game and yes, it was against the Kansas City Royals. A win is a win, though. I don't do the gameballs here, but if you want to know which player would earn my gameball today, it's gotta be Franklin. The goat would go to me, since I said he would get rocked. Stupid me. I make dumb statements like that from time to time.

The Mariners are off tomorrow, so maybe they can take a day trip to the Negro Leagues Baseball Museum in downtown Kansas City. Buck O'Neill is a legend, folks. I'd love to meet him one day if I ever got the opportunity to.

Sele. Greinke. Wednesday. I hate off-days.