Tuesday, April 12, 2005
THE RING CEREMONY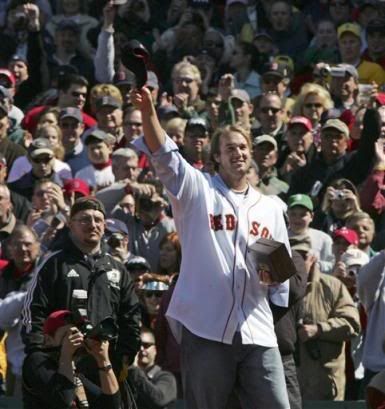 Yesterday afternoon in Boston, the Red Sox received their 2004 world championship rings. Sure, the whole deal was played to death, but hey, when you haven't won in 86 years, you might as well make it the biggest deal ever. Speaking of big deals, Derek Lowe and Dave Roberts were at Fenway Park to accept their rings. Not only that, but both players were wearing Red Sox jerseys. In case you haven't kept up, Lowe is now in Los Angeles and Roberts is in San Diego.

ESPN's "Baseball Tonight" brought up the issue last night of whether it was right for Lowe and Roberts to wear their former team's jersey. Personally, as a diehard baseball fan, I didn't see a problem with it at all. Lowe and Roberts were two key cogs of the Red Sox' 2004 postseason run. If it weren't for Lowe's three series-clinching victories (ALDS Anaheim, ALCS New York Yankees, World Series St. Louis), the Red Sox Nation might have said "wait til' next year" one more time. Hell, if it weren't for Roberts' stolen base in Game 4 of the ALCS (no, it was NOT the greatest stolen base of all-time), the Red Sox probably would have been swept by the Yankees.

I've made light of the Yankees-Red Sox rivalry and how I don't really care too much about it. But I'm not that ignorant to know that yesterday's ring ceremony meant something to the Red Sox organization. One, they received world championship rings. Two, they received their rings when the Yankees were in town. The latter fact may be of more importance to the Red Sox Nation.

One day, I hope to see an overblown ring ceremony in Safeco Field. And to be honest with you, I wouldn't care if a player from that future championship team signed with another team the next season but came to the ceremony wearing a Mariner jersey anyway. If you ask me, I'd much rather see Lowe and Roberts "offend" tradition than hear about steroids anyday of the week. Of course, that's asking too much.

Then again, I'm always asking for too much, aren't I?

THIS OFF-DAY POST BROUGHT TO YOU BY SPIRO'S PIZZA, WHICH IS NOT LOCATED IN RYAN FRANKLIN'S HOMETOWN OF SPIRO, OKLAHOMA.