Thursday, April 14, 2005
GAME 9: MARINERS 10, ROYALS 2
Mariners 10, Royals 2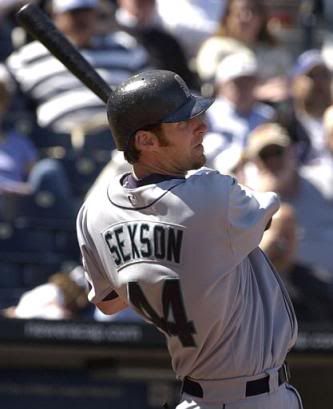 In 25 words or less: The big inning arrived again. Jamie Moyer got through seven innings, though sometimes in an awkward fashion.

This one featured Jamie Moyer and Denny Bautista and a cool clear day in Kansas City.

TOP 1ST
Grade: C-
Bautista got ahead of all three hitters he faced, and got them all to ground out. No hits for Ichiro, Jeremy Reed, or Adrian Beltre in the first. Bautista threw 15 pitches.

BOTTOM 1ST
Grade: C-
Moyer started off by throwing three straight balls to David DeJesus, who later lined a single to centerfield. DeJesus was bunted over to second by Tony Graffanino. Mike Sweeney bashed his first pitch into the gap in right-center for a double, scoring DeJesus.
»» ROYALS 1, MARINERS 0
Emil Brown hit his first pitch hard to Wilson Valdez at short, who completed the putout. Eli Marrero flew out on his second pitch. Moyer threw 10 pitches in the inning despite the trouble.

TOP 2ND
Grade: B-
The Mariners started off by showing a bit of patience. Richie Sexson got behind 1-2 but came out with a walk. Bret Boone walked on four straight pitches. Raul Ibanez tapped one back to the mound and Bautista got Boone at second. Randy Winn was down 0-2 in his count before he hit a deep-enough fly ball to left, enabling Sexson to cross the plate. Eli Marrero caught the ball and tried to nail Sexson at the plate, but his throw was too high and Ibanez was able to sneak to third.
»» ROYALS 1, MARINERS 1
Two pitches later, Dan Wilson bounced one up the middle that went under Graffanino's glove, and Ibanez scored.
»» MARINERS 2, ROYALS 1
Then Valdez tapped one back to the mound to end the inning. Bautista threw a 22-pitch inning.

BOTTOM 2ND
Grade: C-
Calvin Pickering hit a very high fly ball to Ichiro. Angel Berroa singled into centerfield on his first pitch. Moyer threw four times over to first during John Buck's at-bat to try to keep Berroa honest. Buck only saw three pitches and ended up flying out to Boone. Moyer threw once more to first during Joe McEwing's at-bat, but ended up yielding a single to the ex-Met. DeJesus singled hard over Valdez to score Berroa and tie the game.
»» ROYALS 2, MARINERS 2
Graffanino bounced a ball to Beltre at third, who stepped on the bag to force out McEwing and end the inning. Moyer threw 12 pitches in the inning and threw five pickoff throws to first.

TOP 3RD
Grade: C-
This inning gets into the "mild letdown" category. Ichiro poked a 3-1 pitch into left for a leadoff single. Ichiro stole second on the 2-1 pitch to Reed, who flew out to center on the next pitch. Then Beltre bounced out to short and Sexson was caught looking. Bautista threw 18 pitches in the inning.

BOTTOM 3RD
Grade: C
Sweeney hit a ball to Beltre at third, who then threw low to first and was charged with an error. Beltre was replaced by Scott Spiezio in the lineup and then in the field, leaving the game with tightness in his lower back, possibly contributing to the error. Moyer then fell behind 3-0 on Brown and gave up a single on the 3-1 pitch. Marrero lined out to Beltre and Moyer got ahead 0-2 on Pickering and eventually got the whiff. Moyer looked like he might get out of it until he fell behind 3-0 once again, this time to Berroa, who walked. Luckily, John Buck had been hitless so far this season, and he continued the futility, flying out to Ichiro. Moyer threw 26 pitches in the inning.

TOP 4TH
Grade: A
Then Bautista lost control. Boone got the yummy 2-0 and 3-1 counts, but bounced out to short. Ibanez walked on four pitches. Winn got a 3-1 count and singled with a full count. Wilson was beaned in the back on his 1-1 pitch. Valdez was up with the bases loaded and one out. He doubled down the rightfield line to score Ibanez and Winn. I don't know what's gotten into the bat of Wilson Valdez, but if he hits like this on a semi-consistent basis, he'll stick somewhere in the Majors even after Pokey Reese gets back onto this team.
»» MARINERS 4, ROYALS 2
Terminator Exx brought the end to Denny Bautista's outing, and Mike Wood came in. Apparently Tony Pena didn't even trust Bautista to throw four wide ones to Ichiro, who was put aboard. The bases were loaded once again with one out, this time for Jeremy Reed, who hit his second pitch over DeJesus' head in the gap to clear the bases and MAKE IT CRAZY.
»» MARINERS 7, ROYALS 2
Now that Wood had scored all of Bautista's runs, the book was closed on the latter. Bautista's line: 3 1/3 innings, 6 runs, 4 hits, 3 walks, 1 strikeout, 78 pitches (41 strikes).

Spiezio came in to pinch hit for Beltre, who had officially come out of the game with his back tightness. Spiezio whiffed. Then Sexson doubled down the leftfield line, scoring Reed and making this inning even crazier.
»» MARINERS 8, ROYALS 2
Sexson scampered to third on a Buck passed ball, and Boone ended up walking in the at-bat. Ibanez got a 2-0 count, but ended up whiffing. Oh, what an inning! Six freakin' runs! Wood threw 25 pitches to get his two outs.

BOTTOM 4TH
Grade: B-
Moyer got ahead 0-2 on McEwing and threw three straight balls before giving up a single to the right side. Moyer got 0-2 on DeJesus also, but got a lineout to Winn. Graffanino flew out to Ichiro, then Sweeney bounced a ball to Valdez, who stepped on the bag to force out McEwing and end the inning. Moyer threw 18 pitches, kinda high for a mostly harmless inning, and had 66 through four.

TOP 5TH
Grade: C
The bottom third of the order did nothing. Winn flew out, Wilson popped one to Berroa in shallow left. Valdez at least worked the count a bit before grounding out to third. Wood threw 11 pitches.

BOTTOM 5TH
Grade: A
Moyer threw first-pitch strikes to everyone in a 1-2-3 inning. Brown was down 0-2 and flew out to Reed in rightcenter. Marrero gave Reed some more work, flying out to him on the second pitch. Pickering then whiffed. Moyer threw 10 pitches and had 76 through five.

TOP 6TH
Grade: B+
It wasn't the fourth, but the Mariners scraped something together with two out. Ichiro tapped one back to the mound and Reed flew out to Brown in right. Who would start the two-out rally? Scott Spiezio did it with a walk after he swung the bat once in an at-bat where he watched a 3-0 count work itself full before fouling off a pitch. Spiezio scored when Sexson blasted off into the grass beyond the centerfield fence.
»» MARINERS 10, ROYALS 2
Boone was down 0-2 in his count before working it full and singing into center. Ibanez got a 2-0 count and later singled. Winn grounded out to second to speed the game along. Wood threw 31 pitches in this inning, as the Mariners worked the count multiple times.

That was it for Wood, who didn't come out for the 7th. His line: 2 2/3 innings, 4 runs, 5 hits, 3 walks, 2 strikeouts, 68 pitches (36 strikes).

BOTTOM 6TH
Grade: B-
Moyer had a very laborious 1-2-3 inning. Moyer threw three straight balls to Berroa, who took the green light on 3-0 and popped out to Boone. Buck finally snapped his season-long hitless streak, singling past a diving Boone into rightfield. McEwing was down 0-2 but grinded out a nine-pitch at-bat, though it resulted in a 6-4-3 double play. Moyer threw 15 pitches in the inning and was at 91 through six.

TOP 7TH
Grade: C-
Eastlake grad 6'10" lefty Andy Sisco came in for Wood. Dan Wilson had a 2-0 count but ended up whiffing. Valdez whiffed as well. Ichiro managed an opposite-field single. Reed got a 2-0 count, but later bounced out to first. Sisco threw 16 pitches in a harmless 7th.

BOTTOM 7TH
Grade: B-
Moyer allowed only a two-out single in his final inning of work. DeJesus fanned, Graffanino bounced out to Sexson, Sweeney hit the single, and Brown whiffed. Moyer yielded no true hitters' counts in his last inning. He threw 16 pitches.

Moyer was done for the day. His line: 7 innings, 2 runs, 9 hits, 1 walk, 4 strikeouts, 107 pitches (71 strikes).

TOP 8TH
Grade: C
Oddly, Spiezio walked again. Sexson grounded out to third to move Spiezio to second. Spiezio wouldn't score, since Boone and Ibanez both whiffed. Sisco threw 17 pitches in the inning.

BOTTOM 8TH
Grade: B+
Julio Mateo came in for Moyer. This inning also featured the all-scrub infield, with a fearsome foursome of Spiezio/Valdez/Bloomquist/Dobbs. Yowza. Marrero rolled a grounder to Valdez, who nearly made a nice play to gun him down at first. Pickering foul-tipped a ball into Wilson's glove for strike three. Berroa popped an easy one to Spiezio (as easy as it can be on another windy day), and Buck flew out to Reed. Mateo threw 16 pitches.

TOP 9TH
Grade: C-
The bottom of the lineup did nothing, but the game was just about over anyway. Winn flew out on his second pitch, and Wilson flew out on the first pitch. Way to move the game along, guys! Then Valdez spoiled it all by grinding out an 8-pitch at-bat before flying out to right. Sisco threw 11 pitches.

Sisco was done for the day, as one might suspect with the huge Mariner lead. His line: 3 innings, 0 runs, 1 hit, 1 walk, 4 strikeouts, 44 pitches (28 strikes).

BOTTOM 9TH
Grade:
No single Royal saw more than three pitches in this inning. They probably wanted to get this one over with as well. McEwing flew out to Reed. DeJesus hit one under Spiezio's glove and into left for a single. Mateo beaned Graffanino before getting Sweeney to fly a high one to Reed. Brown bounced one to second to finally end the game. Mateo threw 12 pitches in the inning.

Mateo's final line of pretty nice garbage-time relief (where was Thornton?): 2 innings, 0 runs, 2 hits, 0 walks, 1 strikeout, 29 pitches (20 strikes).
---

Gameball: Ichiro.
He's starting another hitting streak, going 2-for-4 today and being intentionally walked once, both good things for the batting average, now up to .417. Ichiro also scored once and stole a base. Sexson and Moyer are the too-obvious gameball choices, though in a closer game I might have gone with Mateo with the two scoreless innings in relief.

Goat: Raul Ibanez.
Well, I could have goated Beltre two days in a row because of the error and his hitless day today, but he might have managed a hit with two more at-bats (we never know). Since every other Mariner that batted got a hit, I'll just go with the guy that struck out the most and stranded the most runners. Ibanez was 1-for-4 with a walk and scored twice (decent enough), but also struck out twice and stranded five.


No late scoring this time, though the big inning showed up again. I'm liking the fact that every once in a while, the Mariners can get a baserunner or two aboard and the hits just keep coming. It almost makes me forget about those games where they do barely anything else for the rest of the game. The hits are infectious sometimes, I guess.

Jamie Moyer had a line with only one walk, which is amazing considering how many times he was falling behind to hitters. There were a ton of hitters' counts with Moyer on the mound today, and this might partially manifest itself in the fact that the Royals outhit the Mariners 11-10 in this game, and Moyer gave up nine hits. Of course, it helps that he struck out four guys and was able to come away unscathed in the inning where Beltre made the error. Speaking of which, I hope Beltre is okay. Back to Moyer, though, I was a tiny bit surprised that Hargrove left him in there for the entire seventh inning, but I was unsurprised at the same time. I'd be more worried if Moyer threw faster. I know Moyer's not Wakefield-slow to the point where I wouldn't worry if he threw 140 pitches, but I'm not as afraid of Moyer throwing this many pitches as I would for Joel Pineiro tomorrow night.

For hitting stars today, obviously there's Richie Sexson, who cleared the wall in center, and I'm still hoping to see that on ESPN here. Ichiro was the only other guy with a multi-hit game. There were two other big hits though. Wilson Valdez had the first big hit in the fourth with the double down the line, and Jeremy Reed blew the game wide open two hitters later (Ichiro was put on first) with the bases-clearing double. Valdez has a batting average higher than Beltre, Sexson, and Ibanez, and I'm not quite sure what to think about this.

But hey, it's a win. The Mariners have a winning record for the first time since...Opening Day. It hasn't been that long. Before that, though, it was a very very long time.

Do you know what tomorrow is? Besides Friday. It's the return of televised Mariner baseball to the Seattle area!! I vaguely remember what that's like. I think it requires use of the eyes.

Pineiro. Garland. Tomorrow.