Saturday, April 16, 2005
GAME 10: WHITE SOX 6, MARINERS 4
White Sox 6, Mariners 4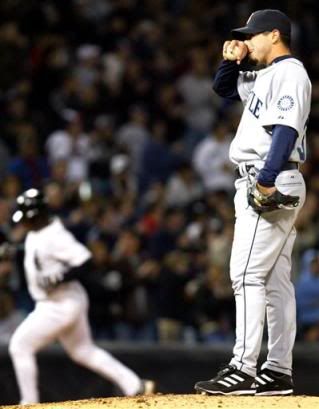 In 25 words or less: Joel Pineiro was far from sharp, but the Mariners went from trying to fend off a perfect game to almost winning it.

Joel Pineiro made his first start of the year and was up against Jon Garland. Richie Sexson was a late scratch due to the flu, and it would have been nice to have him in this one. The flu bug the Mariners have had lately is the type of thing I usually see sweeping through hockey teams, not baseball teams.

TOP 1ST
Grade: C-
Garland made quick work of the top of the order. Ichiro fanned, Jeremy Reed hit a grounder up the middle that Juan Uribe was able to make a play on, and Adrian Beltre nubbed a fly to shallow centerfield that was caught by the second baseman. Garland threw only 10 pitches.

BOTTOM 1ST
Grade: B-
Pineiro looked fairly decent in his first inning of regular-season Major League action in a long while. Though he gave up a leadoff single to Timo Perez, he set down Tadahito Iguchi with a nasty curve on 1-2. Carl Everett harmlessly popped one out in front of the first row of stands by the third-base dugout, and Olivo was there for the catch. Pineiro got ahead 0-2 on Paul Konerko and got a tapper back to the mound for the easy out. Pineiro threw 12 pitches.

TOP 2ND
Grade: C-
Garland made quick work of the middle of the order. Raul Ibanez sliced a 1-2 pitch into the glove of Perez in leftfield. Bret Boone grounded out to short. Randy Winn had a 3-1 count, but later grounded out to second. Garland threw 13 pitches in the inning.

BOTTOM 2ND
Grade: D+
Unfortunately, the first inning (and maybe the fifth) was as good as it would get for Joel Pineiro on this night. He got ahead 0-2 on Jermaine Dye and walked him to lead off, then handed a four-pitch walk to Aaron Rowand. Pineiro snapped out of it long enough to get way ahead on AJ Pierzynski and drop one low and in to catch him looking. Then the "bad" switch flipped on again, and Joel walked Joe Creded on four pitches. The bases were loaded with walks for Juan Uribe. On the first pitch, he lifted a deep enough fly ball to left-center. Randy Winn caught the ball, so really that's all I have to tell you. To those not grabbing hold of my sarcasm, Winn has no arm. Of course, the ball was probably deep enough anyway even if Reed would have caught it and gone straight home. Anyway, Jermaine Dye scored on the sacrifice fly.
»» WHITE SOX 1, MARINERS 0
Perez then bounced out to Boone in his first pitch, though the putout wasn't of the easy variety. Boone had to go to his knees on his glove side, and then turn to throw. As an added degree of difficulty, the mammoth Sexson wasn't the one receiving the throw tonight (it was Scott Spiezio instead). Pineiro threw 21 pitches in the inning.

TOP 3RD
Grade: C-
Garland made quick work of the bottom of the order. Scott Spiezio got behind 0-2 and ended up flying out to the gap in leftcenter. Miguel Olivo grounded out to short. Wilson Valdez got down 0-2 in his count and eventually struck out. Garland threw 12 pitches in the inning.

BOTTOM 3RD
Grade: C
This inning was a bit less traumatic for Pineiro than the one before. He fell behind 2-0 on Iguchi before inducing a comebacker to the mound. Everett flew out to Winn. Bad Pineiro made an appearance again, walking Konerko on four pitches on the third four-pitch walk issued by Pineiro in the game. Luckily, Dye bounced his second pitch to Beltre, who threw to Boone to force out Konerko and end the inning. Pineiro threw 16 pitches in the inning.

TOP 4TH
Grade: C-
Garland made quick work of the top of the order. Ichiro flew out in foul ground down the line in left. Reed flew out to right on his second pitch. Beltre took a couple of horrible swings in his at-bat on balls that were riding up and in. On one pitch, it appeared that the ball had badly missed Pierzynski's target, but Beltre was badly thrown off anyway and tried to fight it off. It looked awkward. He should be okay, though. I'm not really worried. Garland needed only nine pitches to get through the inning.

BOTTOM 4TH
Grade: C-
Pineiro didn't walk a billion people in this inning, but damage was done. Rowand bounced his first pitch to Valdez, so it didn't start out too bad. Pineiro got Pierzysnki to chase a pitch for strike three on the same down-and-in location that caught him looking in his previous at-bat. Joel had two out, and it looked fine and dandy. Crede hit one up the middle for a single. Everything should have been fine; it should have been just a two-out scratch hit by the 8th hitter in the lineup, and the #9 hitter was about to come to the plate. Juan Uribe stepped to the plate and just unloaded on a belt-high 1-1 pitch, sending the rocket into the stands in leftcenter. It got out of there in a hurry. That ball was blistered.
»» WHITE SOX 3, MARINERS 0
Then Perez grounded out harmlessly to Boone to end the inning. Still, the way Garland was throwing, one wondered whether the three runs was enough for the White Sox to take this game going away. Pineiro threw 16 pitches in the inning and had thrown 65 through four.

TOP 5TH
Grade: C-
Garland made quick work of the middle of the order. Ibanez got a nice 2-0 count, but his ball to the warning track in left-center was caught. Boone hit a seemingly well-placed grounder to short, but he was nailed by a nice throw. Winn got a 2-0 count as well, but he ended up lining out to left. Garland threw 11 pitches and was at 55 through five.

BOTTOM 5TH
Grade: B
This inning wasn't that bad for Pineiro. He got Iguchi to hack and miss on a breaking ball down and in. He got 0-2 on Everett, and got him to checkswing twice (I thought one of those two had to have been a swing), but Everett managed to single into right. Pineiro got out of it by getting Konerko to ground a 1-2 pitch to Beltre, who started the 5-4-3 around-the-horn double play. That kind of around the horn is better than the one that starts with Tony Reali at 2pm every day on the "worldwide leader." Pineiro threw 15 pitches and was at 79 through five.

TOP 6TH
Grade: C-
Garland made quick work of the bottom of the order. Spiezio bounced out to second. Olivo broke his bat and nearly beat out a grounder to short, but was nailed by about a quarter-step, or slide (he did the latter). Valdez also bounced out to short. Garland needed only 10 pitches in the inning, and was at 75 through six perfect innings.

BOTTOM 6TH
Grade: C-
Pineiro would meet his demise. Dye busted out the 9-iron and laid up somewhere behind the fence in left-center. He later made the putt for par.
WHITE SOX 4, MARINERS 0
Rowand tagged the first pitch he saw to right for what was at least a double and definitely was a triple after the relay was somewhat botched. Pierzynski again couldn't solve Pineiro, but this time hit a ball right to Beltre, who held Rowand at third and got the out at first. Pineiro saved the strikeout he would have gotten on Pierzynski for Crede instead, who was caught looking on a 1-2 thigh-high inside pitch. Who would deliver the knockout punch for Pineiro? Juan freakin' Uribe again. Uribe jumped all over his second pitch, but didn't get the lift this time, instead sending a laser beam with less trajectory into left for a single, easily scoring Rowand.
»» WHITE SOX 5, MARINERS 0

Matt Thornton came in for Pineiro, signaling to most fans that this game was over. The Mariners' garbage-time reliever got Perez to hack and come up empty on an off-speed pitch to end the inning.

Pineiro's line: 5 2/3 innings, 5 runs, 7 hits, 4 walks, 5 strikeouts, 98 pitches (60 strikes).

TOP 7TH
Grade: B-
Garland would not make quick work of the top of the order. Ichiro bounced out to Konerko at first. It appeared that maybe history might be on Garland's side as he faced Reed. Reed had gotten ahead 2-0 and 3-1, but he fouled off a pitch well out of the zone that would have been ball four. Nonetheless, Garland threw one even more outside of the zone to put Reed on first and end the threat for the perfect game. Beltre then came up and drilled a 1-2 pitch up the middle to end the no-hit bid and make things even more interesting. Ibanez got himself a 3-1 count and was able to coax a walk to load the bases for Boone. This was getting very VERY interesting. Boone then smacked his first pitch the opposite way to score Reed and Beltre and ruin the shutout bid. Very quickly, the Mariners had brushed aside the perfect game, the no-hitter, and the shutout. Beautiful.
»» WHITE SOX 5, MARINERS 2
The Mariners still had two on and one out for Winn. He hit the ball hard, but right to Crede, who started the 5-4-3 double play. FIDDLESTICKS! Garland threw 22 pitches in the inning.

Garland's almost-perfect start was over. His line: 7 innings, 2 runs, 2 hits, 2 walks, 3 strikeouts, 87 pitches (55 strikes).

BOTTOM 7TH
Grade: A-
Something had gotten into Matt Thornton. He caught Iguchi looking, then got Everett to whiff on a slider in the dirt. Konerko popped one out to Valdez in front of the bag at second. Thornton threw 15 pitches.

Thornton was done for the night. His surprisingly good line: 1 1/3 innings, 0 runs, 0 hits, 0 walks, 3 strikeouts, 21 pitches (14 strikes).

TOP 8TH
Grade: C-
Luis Vizcaino came in for Garland. Spiezio popped out lazily to short. Olivo whiffed. Valdez whiffed on a slider low and away. Vizcaino threw 11 pitches in the quick inning.

BOTTOM 8TH
Grade: C
Jeff Nelson came in for Thornton. He got a quick lineout to Boone from Dye. He fell behind 2-0 and Rowand shot one up the middle for a single. Pierzynski singled on his first pitch as well. Rowand took advantage of Nelson's high leg kick and stole third on the first pitch to Crede. Rowand's hand got to the bag in time, and his contortionist slide away from Beltre's tag helped as well. On the next pitch, Crede bounced one to Beltre's left, and he forced Pierzynski out at second, but Rowand scored.
»» WHITE SOX 6, MARINERS 2
Crede went to second on Nelson's first pitch to Uribe, a wild pitch. Uribe woudl get ahead 2-0 but didn't jump on Nelson like he did to Pineiro. Instead, he whiffed on a frisbee pitch. Nelson threw 11 pitches.

Nelson was done for the night. His line: 1 inning, 1 run, 2 hits, 0 walks, 1 strikeout, 16 pitches (10 strikes).

TOP 9TH
Grade: C-
Would the Mariners mount a final rally? Ichiro rolled one up the middle into center for a leadoff single. Reed got down 0-2 in his count but managed to bloop one into center for a single. Beltre had two on and nobody out but fell behind 0-2 right away. He had a decent at-bat, but finally whiffed on a soft breaking ball low and away.

Former Mariner farmhand Damaso Marte came in for Vizcaino as Ozzie Guillen started playing the chess match. With an 0-1 pitch, Marte nailed Ibanez just above the right elbow, on the ol' triceps muscle. That'll smart for a while. It also loaded the bases with one out for Boone.

Guillen continued with the chess match, bringing in Shingo Takatsu to face Boone. Last summer, I was listening to the Mariners playing in Chicago when I was at geology camp in the middle of nowhere in central Oregon. It was Boone against Takatsu in the bottom of the 9th and two out. In that game, Boone got ahead 3-0, but eventually struck out (it was 2004, after all). In this game, Takatsu got ahead 1-2 on Boone, before the latter got into the doggy-dump stance and served one into leftfield to plate two runs (Ichiro and Reed) and make the game much more interesting that it seemed it would ever get just a few innings before.
»» WHITE SOX 6, MARINERS 4
With that, the book was closed on Luis Vizcaino. His line: 1 1/3 innings, 2 runs, 2 hits, 0 walks, 3 strikeouts, 25 pitches (18 strikes).

Winn got a 3-1 count and eventually walked, loading the bases again with one out.

That's when Guillen went with the chess match again, all a part of making the ninth inning last about four hours. Dustin Hermanson, he of the goatee that transcends time and space, was brought on with the bases loaded and one out and a two-run lead. Of course, the hitters we would end up facing were Scott Spiezio and Greg Dobbs (pinch-hitting for Olivo). Spiezio got down 0-2, though he had me on edge for a few seconds fighting back to 2-2 before watching Hermanson paint the outside corner, or the dirt just past the outside corner. Dobbs got down 0-2 as well, fouling off multiple pitches. He bounced a 1-2 pitch to short for a fielder's choice, ending the game.

Marte's very uneventful and short line: 0 innings, 0 runs, 0 hits, 0 walks, 0 strikeouts, 2 pitches (1 strike, 1 beanball)
Takatsu's line: 0 innings, 0 runs, 1 hit, 1 walk, 0 strikeouts, 12 pitches (6 strikes)
Hermanson's line: 2/3 innings, 0 runs, 0 hits, 0 walks, 1 strikeout, 10 pitches (7 strikes)
---

Gameball: Matt Thornton.
What happened to the guy who seemed destined to be 2005's Kevin Jarvis? I seem to remember an instance last year where Kevin Jarvis was brought into the game for some garbage-time relief, and he held it close until the Mariners came back within reach. Then Jarvis got knocked around. Amazingly, this didn't happen to Thornton in this game, and to top it off, he didn't walk anyone. Between Thornton, who was conceivably on the roster only because he was a lefty with a fastball who was out of options, and Valdez, who's on the roster because Pokey Reese in injured and Jose Lopez absolutely cannot be brought up, the Mariners are getting some positive contributions out of two spots where I thought the positives would be severely minimal. It's early, though, and the positives could level off in a hurry.

Goat: Scott Spiezio.
He was 0-for-4, stranded three, and made everyone wish Richie Sexson wasn't out of the game with a brutal case of the flu. I know I didn't feel good when I realized Sexson was out of the lineup, especially since the whole lineup got shuffled around. I really don't feel comfortable with Ibanez batting anywhere higher than fifth, and to have him at cleanup just made the lineup seem that much more fallible, though it did get Guillen to shuffle his bullpen a bunch in the 9th, which was good for the Mariners but bad for fans at home who just wanted to watch baseball instead of pitching changes and commercials.


Hey, it's a .500 team again. This might happen a few more times this season, but remember -- it's still way better than last year. Luckily my expectations for this year aren't very high, so I'm not hanging from a thread watching every game, but I'm enjoying this season a lot so far. With such a bad year last year, any sort of competitive baseball on a regular basis is a welcome departure. I've said it more than once here at Sports and B's, but I'm going to sit back this year and enjoy the better baseball, but then I'm going to REALLY look forward to the 2006 Mariners. I know this season just started, but I'm looking forward to 2006, and not just because Felix should be up with hopefully another free-agent arm. I'm also looking forward to the 2005 Seahawks as well, but that gushing of enthusiasm will come with another more applicable post.

Joel Pineiro was looking like a pitcher making his first Major League start after coming off the disabled list. He sure did after the first inning anyway. His fifth wasn't bad as well, but handing out four-pitch walks to three guys is never good. Hargrove didn't let him get the pitch count crazy into the hundreds or anything, so at least I was happy to see that. Joel was kinda all over the place, though. Still, I can't help but wonder if the Mariners win this game if Joel just figures out how to pitch to Juan Uribe.

Bret Boone drove in all four of the Mariners' runs in the game. He didn't start out too hot in the first couple games, but he's up to .316 now, and I've been feeling a little better with him up at the plate lately. I hope he just figures out how to lay off the slider low and away, or take it the other way, or foul it off. I dread any pitcher that faces Bret Boone with a decent slider.

You know, if I was in front of the TV for a perfect game, I guess I would have witnessed some history, though it'd have been at the expense of the Mariners. Still, you don't get to see a perfect game every day. Not that I was relieved when it was over, because I was. I was also surprised at how quickly the game turned and the White Sox ended up having to hold off the Mariners for the victory.

Good gracious, the bench is weak.

Well, it was different watching televised baseball in the northwest again. I forgot what it was like, though it also means that Ron Fairly was welcomed back into our homes after a four-day layoff. I'm sure he was happy to be at the ballpark because that meant he would be watching baseball.

This game post was chugged through with help from the following albums...
-- The Thirteenth Step, A Perfect Circle
-- Lullabies to Paralyze, Queens of the Stone Age

Franklin. Buehrle. Today.