Monday, April 18, 2005
SAM MILLS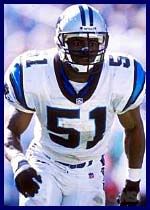 Former NFL linebacker Sam Mills is dead at the age of 45.

Mills, a 5-time Pro Bowler with the New Orleans Saints and Carolina Panthers, had fought cancer of the small intestine since August 2003. He was on the Panthers' coaching staff during their run to Super Bowl XXXVIII in 2003, despite undergoing chemotherapy treatments. Linebacker Mark Fields was diagnosed with cancer during the 2003 season as well. Fields was back on the field for the Panthers in 2004.

I'll always remember Mills as someone who always played the game the right way. He didn't have the greatest size (he was 5'9"), but he played bigger than guys much bigger than him. That's why Mills was a 5-time Pro Bowler.

Sports and Bremertonians sends its condolences to the Mills family, the Panthers and Saints organizations today. Rest in peace, #51.