Sunday, April 17, 2005
GAME 12: MARINERS 5, WHITE SOX 4
Mariners 5, White Sox 4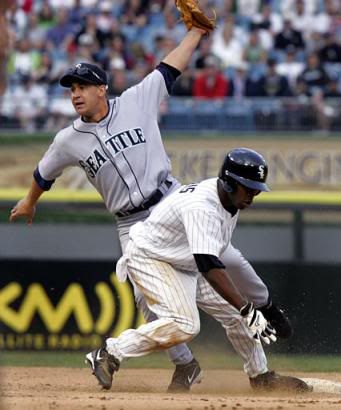 In 25 words or less: The long ball reappeared for the Mariners. Gil Meche was a bit more sharp and therefore more effective.

Gil Meche was coming back from elbow soreness after having his start moved back. Ol' Freddy Garcia took the ball for the White Sox.

TOP 1ST
Grade: B+
Ball go far. Ichiro put a jolt into the second pitch of the game, sending it into the first couple rows in right-center to put an early crooked number up on the scoreboard. That was quick.
»» MARINERS 1, WHITE SOX 0
Jeremy Reed hit the 3-1 pitch off of Freddy's glove, and the ball rolled slowly into centerfield for a single. Adrian Beltre flew out to center. Reed took off for second base on the 2-0 pitch to Raul Ibanez. AJ Pierzynski gunned down Reed at second. Luckily that pitch was a ball. Ibanez had a 3-0 count and later clubbed the 3-1 pitch into the humanity over the wall in left-center. Too bad Reed was gunned down, though I'm using complete hindsight in such regret.
»» MARINERS 2, WHITE SOX 0
Bret Boone got jammed inside and popped out harmlessly to third to end the inning. Garcia threw 18 pitches.

BOTTOM 1ST
Grade: C
It wasn't good to see Gil Meche come off of elbow soreness and look more like Joel Pineiro did on Friday. He threw three straight balls to Timo Perez to start, and walked him on a 3-1 pitch. Tadahito Iguchi bunted the first pitch back to the pitcher, and the sacrifice worked. You know, because it makes so much sense to bunt the guy over to second and waste an out. You gotta love moving a guy over one base so that they don't have to trot as far when Carl Everett or Paul Konerko goes yard. Anyway, Meche fanned Everett on a 1-2 pitch. Meche followed up that nice display by walking Konerko on four pitches. Jermaine Dye went down swinging, though apparently Miguel Olivo dropped the ball on the play, but first base was occupied. I'm sure not if Olivo realized this before he spiked the ball on what would have been a throw to third because the runners were in motion. Meche threw 18 pitches.

TOP 2ND
Grade: C-
Garcia threw a 1-2-3 inning against the 6-7-8 hitters. Randy Winn bounced out to Konerko at first. Greg Dobbs, starting at first in place of fever-stricken Richie Sexson (and thankfully instead of Scott Spiezio), took a ball to the warning track in center for a lengthy flyout. Miguel Olivo went down hacking on a 1-2 pitch that was low and away. Garcia threw only eight pitches in the inning.

BOTTOM 2ND
Grade: B+
Meche came back with a 1-2-3 inning of his own. Aaron Rowand flew out to Ichiro. Meche got ahead 0-2 on Pierzynski before getting him to miss on some high gas. Joe Crede flew out to Boone on a 1-2 pitch. Unlike Garcia's eight-pitch inning, though, Meche threw 17 in this one. The three Chicago hitters fouled off four pitches after having two strikes in the count, for what that's worth.

TOP 3RD
Grade: C-
Garcia was into somewhat of a groove, as he threw another 1-2-3 inning. Wilson Valdez, Ichiro, and Reed grounded out to short, second, and first, respectively. Garcia threw 10 pitches in the inning.

BOTTOM 3RD
Grade: C-
Gil Meche ran into some trouble. Juan Uribe did some more damage in the series, double his 2-2 pitch down the leftfield line. Perez stupidly bunted with a 2-0 count, and later flew out to Reed in center. Iguchi jumped on his first pitch, dropping one in front of Ichiro. That scored Uribe.
»» MARINERS 2, WHITE SOX 1
Meche immediately fell behind 2-0 on Everett and threw him a pitch that got too much of the outer half of the plate. Everett tagged it into the rightfield seats.
»» WHITE SOX 3, MARINERS 2
Meche luckily got ahead of Konerko 0-2 and got him to ground out to second. He fell behind 2-0 to Dye, which was bad, but did get a grounder to Beltre. Beltre uncorked a high throw that Dobbs had to jump for at first. He got the ball and came back down to tag Dye on the ground. I think the latter had missed the bag on his first pass and was trying to come back and touch it. I'd have to see replay, but this play didn't figure into the final outcome of the game, so let's just shrug it off as an out. Meche threw 22 pitches in the inning and was already at 57 through three.

TOP 4TH
Grade: D+
Garcia was feeling it, and he made quick work of the meat of the Mariner lineup. Garcia got ahead 0-2 on Beltre, who took the 2-2 pitch out to the warning track in center. Ibanez bounced out to second, Boone to third. Garcia threw 14 pitches in the inning and had retired 10 straight Mariner hitters since the Ibanez homer in the first inning.

BOTTOM 4TH
Grade: A-
This was a fairly quick inning for Meche. On a 2-0 pitch, Rowand grounded out to a charging Valdez. Pierzynski flew out to Winn in left, and Crede flew out to Ichiro. Meche needed 11 pitches to do this, and was at 67 through four.

TOP 5TH
Grade: B+
Winn lined a pitch the other way for a single (left). Winn took second base on the 2-1 pitch that Pierzynski had trouble coming up with (wild). Dobbs had a 3-1 count, but ended up grounding out to second, which at least moved Winn over to third. Olivo hit his second pitch down the leftfield line, easily scoring Winn. Olivo was thinking double all the way, and that was unfortunate because Perez came up throwing from leftfield. Olivo was out by about four strides trying to stretch his hit into a double. Nonetheless, the game was tied.
»» WHITE SOX 3, MARINERS 3
Valdez got down 0-2 but singled to rightfield. Dye quickly contracted Buckner Syndrome while fielding and the ball rolled to the fence. Valdez ended up on third. Garcia fell behind 2-0 before they gave Ichiro two more intentional balls for the walk. Ichiro took second on the 2-0 pitch to Reed. Reed later had counts of 3-0, 3-1, and full, and eventually walked on a curveball in the dirt; the at-bat took some patience from the youngster. With the bases now loaded, Beltre ripped a 2-0 pitch into center to score Valdez and Ichiro; the Mariners had the lead. Adrian Beltre is clutch, and clutch is everything in life.
»» MARINERS 5, WHITE SOX 3
Ibanez didn't want the team to soak in the happiness for too long, and sent everyone quickly back out to the outfield by grounding to first base on the first pitch.

BOTTOM 5TH
Grade: C
Meche ordered a big jar full of jam. Meche got ahead 0-2 on Uribe before getting him to fly out to the warning track in right. Perez got the 2-0 and 3-1 hitters' counts and went full before singling into centerfield. Iguchi worked his count from 1-2 to full before singling to center himself. On the 0-1 pitch to Everett, Olivo tried to pick Perez off of second. The throw was low and went through the legs of Valdez and into centerfield. Both runners advanced. Luckily, Everett was out on a very questionable checkswing call for strike three. Konerko bounced out to short on his first pitch, and Meche averted disaster. He threw 21 pitches in the inning and had thrown 88 through five.

TOP 6TH
Grade: C-
Garcia faced three hitters. Boone's checkswing for strike three was a bit more of a swing than Everett's, and he was called out on strikes. Winn singled to right. Dobbs hacked at the first pitch and hit it hard to the left side, but right to Crede, who started an easy 5-4-3 double play. Garcia threw nine pitches and had 96 through six.

BOTTOM 6TH
Grade: A-
Garcia looked to be unfazed from his fifth-inning turbulence, and it appeared that Meche was unfazed from his jam as well. Meche threw eight pitches and sandwiched a Rowand groundout between flyouts from Dye and Pierzynski. Meche had thrown 96 through six.

TOP 7TH
Grade: C
The bottom of the order didn't do much for the Mariners. Olivo lined out hard to short, and Valdez lined out to first. The lineup turned over, and Ichiro chipped a single into centerfield, one pitch after Garcia made him swing and look stupid. Payback's a beyotch, I guess. Ichiro took second on the second pitch to Reed, but the latter popped a foul ball to third. Garcia threw 11 pitches.

I hope the fans in Chicago don't get too down on him, but this was a classic April start from Freddy that I'd grown used to over the years. Actually, he might have gone deeper into the game than I'd been used to. Anyway, his line was 7 innings, 5 runs, 9 hits, 2 walks, 2 strikeouts, 108 pitches (63 strikes).

BOTTOM 7TH
Grade: A
It was close to the end of the line for Meche. He got a flyout on the first pitch to Crede and a groundout on the second pitch to Uribe. He was at 99 pitches, which is more than enough coming off of a sore elbow, and Mike Hargrove pulled him since Timo Perez (lefty) was up next. Ron Villone would come in for relief.

Meche had a better start than I thought he'd have. It was bumpy at times, and I'm not sure I would have even let him come out for the seventh, but I guess we'll know more about his condition tomorrow. Hopefully there is no condition and his elbow isn't sore in the morning. His line: 6 2/3 innings, 3 runs, 5 hits, 2 walks, 4 strikeouts, 99 pitches (59 strikes).

Villone threw to Pablo Ozuna, who pinch-hit for Perez and later played left. Villone got Ozuna to tap one back to him on the third pitch.

Apparently Villone's job was done for the day, and he didn't come out for the 8th. His line: 1/3 inning, 0 runs, 0 hits, 0 walks, 0 strikeouts, 3 pitches (2 strikes).

TOP 8TH
Grade: C-
Cliff Politte came in to get through the middle of the Mariner lineup, and he did. Beltre bounced one to Iguchi, who slid to stop the ball on the rightfield grass and threw in time to first. Ibanez had himself a 2-0 count, but later whiffed on a full count. Boone watched the first two pitches for strikes, fouled one off, and then checkswung on strike three, but it went in the books as a looking strikeout anyway. Politte threw 13 pitches.

BOTTOM 8TH
Grade: C
JJ Putz came in for Villone. Iguchi gutted out an eight-pitch at-bat, fighting back from 0-2 to eventually hit one off of the glove of Putz. The ball bounced to Valdez, who didn't have enough time to make a play. Rick Rizzs gave Putz and error on the play, which seemed kind of idiotic to me at the time. The official scoring ruled for a single. Everett fouled his 0-1 pitch into the air along the third-base side, and Beltre leaned over the rail of the third-base dugout and bearly caught it, but had the ball go off his left (glove-hand) wrist instead. On the 1-2 pitch, Everett hit one on the ground to Dobbs, who threw to second to force out Iguchi, but Valdez threw high back to first on what would have been a 3-6-3 double play. Konerko's 2-1 pitch went off of Olivo's glove and to the backstop, and Everett scampered to second. Konerko had a juicy 3-1 count and got a juicy 3-1 pitch, but he got under it and knew it after he hit it. Instead, it was a rainbow ending in Reed's glove in center, and Everett moved to third. Dye took a questionable strike two (outside) in his at-bat, and fouled off three pitches before grounding out to Beltre to end the threat. Putz threw 25 pitches in the treacherous inning.

The Mariners would have the lead going into the 9th, so Putz was done. His line: 1 inning, 0 runs, 1 hit, 0 walks, 0 strikeouts, 25 pitches (17 strikes). With no walks and one hit, his line looks great until you get to the 25 pitches. Oh well.

TOP 9TH
Grade: C-
Maybe the Mariners could get some insurance runs? Winn ripped the first pitch past Konerko and into rightfield. Dobbs whiffed on a 1-2 pitch. Olivo was caught looking on 1-2, and Winn took second when the throw to get him at second went into centerfield. Valdez had a 2-0 count, but it went full and he grounded out to third. Politte threw 19 pitches.

Politte was done. His line: 2 innings, 0 runs, 1 hit, 0 walks, 4 strikeouts, 32 pitches (24 strikes). Pretty good line from the ex-Blue Jay.

BOTTOM 9TH
Grade: C
Eddie Guardado came on to get the save. He fell behind 3-1 to Rowand right out of the gate, and the eventual result was a double that was smoked down the leftfield line and to the wall. Pierzynski fouled off three pitches and flew out to left. Guardado got ahead 0-2 on Crede, which was good. Crede hit a nubber along the third-base line. Beltre came in to charge it, but had no play, and runners were on the corners with one out. Willie Harris, the man who had a tattoo nearing his number 12 until the White Sox later hilarious traded for Roberto Alomar, pinch-ran for Crede. Uribe missed on an outside off-speed 0-1 pitch to make it 0-2. On 1-2, Uribe took Reed to the track in center, which was more than enough to score Rowand from third.
»» MARINERS 5, WHITE SOX 4
The tying run was still at first, but Chicago had two outs. Harris took off for second on the 1-1 pitch to Ozuna. Olivo looked like he had a bit of trouble releasing the ball while throwing to second, but Harris was punched out anyway. I thought Harris had his foot to the bag in time, but the throw looked to have had him beat. I'll take Olivo nailing a guy at second to end any game. Does that ever happen with Dan Wilson behind the plate? No, no, and no. Jolly good fun. Ballgame. Guardado threw 24 pitches.

Guardado's line in yet another shaky ninth: 1 inning, 1 run, 2 hits, 0 walks, 0 strikeouts, 24 pitches (16 strikes).
---
Gameball: Randy Winn.
Sure, there were other key hitters in the game. Ichiro had the homer with his two hits and was intentionally walked, so he could easily get the obvious gameball. Adrian Beltre's hit was the key two-run single. Still, Randy Winn went 3-for-4, and even STOLE a base instead of getting caught. He crossed the plate once as well.

Goat: Bret Boone.
Boone struck out twice in his 0-for-4 day. Greg Dobbs struck out once but stranded three, however, I didn't feel like giving him the goat. He's never going to start that often, and he's only in the lineup because Sir Sexson has the flu.


Well, Gil Meche did better than I thought he would. I thought he'd get into the 5th today, but I wasn't expecting much more than that. I might have hooked him after the sixth, like I mentioned, though if tempted I would have had him face the first hitter in the 7th. Still, he fought through a couple of jams and didn't crap the bed, and the Mariners found a way to chip away at Freddy. Not bad.

Ten hits today followed three hits yesterday. Ichiro had two hits today, and the non-Ichiro components of the lineup went 8-for-32 today instead of 0-for-25 yesterday. Hooray for a little more balance.

Miguel Olivo's game-ending throw capped off a weird day for the Mariner catcher. Even on his RBI single, he was nailed at second. He struck out twice. He rushed his throw trying to pick off a runner at second and the ball went through the legs of Valdez into centerfield, and Meche had to fight through that jam. It sure seems a lot of things happen to Olivo at second base.

I'm glad the Mariners got some longball going in the first. It was bad enough that they hadn't won in Chicago in two years, but having a three-game series in homer-friendly Chicago and not getting a homer would have just been a tad bit unbearable. Hooray for the longball. Luckily the only contribution from Ibanez today was a meaningful one.

We're only 12 games into the season, and a local calculator tells me we're 7.41% of the way through the season. Adrian Beltre's two-run single left him with 11 RBIs on the young season. He's on pace for 149 RBI. It's probably not realistic unless he just goes on a tear. Still, one can't help but be slightly encouraged by the fact that he has the 11 RBIs despite hitting only .239.

The team is back at .500. Remember, kids, if you hear yourself complaining about mediocrity this year, think back to last year. If you complain about mediocrity next year, it'll be much warranted.

Sele. Byrd. Tomorrow.