Tuesday, April 19, 2005
GAME 13: ANGELS 6, MARINERS 1
Angels 6, Mariners 1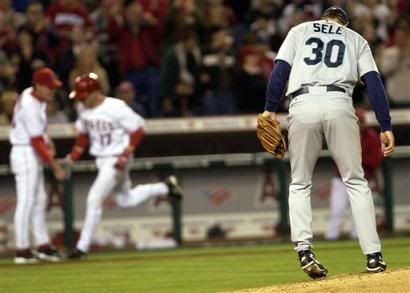 In 25 words or less: Aaron Sele got taken to the woodshed. The Mariners got hits, but not of the timely variety.

Tonight's matchup featured former Angel Aaron Sele going up against one of the many pitchers the Mariners didn't get at the trade deadline in 2002 to cover up for The James Baldwin Experiment, Paul Byrd, who went 17-11 for Kansas City that year. The Mariners instead chose to fill the hole with Ismael Valdes/z, who wasn't bad, but wasn't overly good either. To those who've forgotten, that year also brought some key additions to the Mariners in the form of shutdown lefty reliever Doug Creek and pinch-hitter extraordinaire Jose Offerman.

TOP 1ST
Grade: C-
Byrd got through the top of the Mariner lineup with ease. Ichiro grounded a hard one to first, Jeremy Reed grounded out to second, and Adrian Beltre hacked and missed on a fastball over the outside corner. Byrd threw 12 pitches.

BOTTOM 1ST
Grade: C-
Sele was touched up pretty quickly. The Angels were a-hackin' in the inning, forcing Sele to throw only 10 pitches. Darin Erstad took his 1-1 pitch down the leftfield line, and one-hopped it into the stands in foul ground for a double. Jeff DaVanon rolled a bunt to Sele's left, and Sele couldn't quite shovel the ball to a covering Bret Boone in time to get DaVanon. Sele jammed Vladimir Guerrero and got him to hit a harmless pop fly to Boone. Garret Anderson took Jeremy Reed to the 400 marker in centerfield for the flyout, sufficiently deep to get the Angels the lead as Erstad scored.
»» ANGELS 1, MARINERS 0
Steve Finley hit a high fly ball to Randy Winn in left to end the inning.

TOP 2ND
Grade: C+
The only ruckus occurred with two out. Richie Sexson, eight pounds lighter thanks to the flu, hit a seemingly lazy flyout to rightcenter which somehow ended up just short of the warning track. Bret Boone whiffed on a high 2-2 pitch. Raul Ibanez was down 0-2, but doubled into the gap in rightcenter. Randy Winn got ahead 2-0, and on 2-1, he hit a ball up the middle that Chone Figgins knocked down. Winn would safely get to first, though Figgins tried to nail Ibanez at third on the play to no avail. Miguel Olivo nearly dropped one down the rightfield line for a double, but it went foul. Instead, Olivo bounced a ball to third for a fielder's choice to end the inning. The Mariners got Byrd to throw 24 pitches in the inning, but had nothing to show for it.

BOTTOM 2ND
Grade: B-
Sele allowed the leadoff hitter to get on board again, this time on a parachute single to leftfield by Orlando Cabrera. Sele fell behind 3-1 to Dallas McPherson, but got him to fly out to Winn in left. Josh Paul whiffed on a hit-and-run attempt on his 1-1 pitch, and Olivo dirtballed his throw to Boone at second. Valdez backed up the throw, and then threw to first to try to catch Cabrera, though he was back in time. Still, Cabrera never took second. McPherson was caught looking on an outside-corner 1-2 pitch. Chone Figgins made Winn drift back a little for his first-pitch flyout. Sele threw 11 pitches in the inning.

TOP 3RD
Grade: C-
Wilson Valdez bunted his second pitch along the first-base line and got aboard since he beat everyone to the bag. Ichiro got behind 0-2 and sliced a slow liner to McPherson at third, who easily doubled off Valdez because he was going on the play. There goes that threat. Reed ripped one up the middle on his second pitch to pour salt on the wound. Beltre looked like he might have tagged the 1-2 pitch out of the yard, but Finley had it just in front of the fence in leftcenter. Byrd threw 11 pitches.

BOTTOM 3RD
Grade: D+
Sele got the inning off to a great start with a four-pitch walk to Erstad. He at least got ahead of DaVanon 0-2, and eventually caught him looking with a pitch on the inside corner. I've been victim to those kinds of pitches before; the ones that seem like they're almost thrown under you, and are therefore unhittable. Sele threw something quite high and very hittable to Guerrero on 1-0, though, and it was a homer the instant Guerrero's bat touched it. There was absolutely no doubt that it was gone. The ball sailed into the upper-tier (Mariner) bullpen in leftcenter, and the Angels put up two more runs.
»» ANGELS 3, MARINERS 0
Sele immediately fell to 2-0 on Anderson, but got a flyout to Reed in leftcenter. Finley fisted one that Boone caught in the grass in shallow right. Sele threw 17 pitches in the inning.

TOP 4TH
Grade: C-
Byrd got ahead 0-2 on each of his first three hitters. Sexson whiffed on a pitch up and away. Boone was jammed and bounced out to short. Ibanez hit a grounder to third that ate up McPherson (E5). Winn avoided any 0-2 counts by swinging at the first pitch and grounding it right to Erstad at first. Byrd threw 13 pitches in the inning.

BOTTOM 4TH
Grade: D
Another inning, and another leadoff baserunner against Aaron Sele. This time Cabrera repeated his second-inning performance, singling to Beltre's left and into leftfield. McPherson grounded one to Boone, who quickly turned and forced out Cabrera at second. Valdez threw a bit wild to first, but it wouldn't have been in time to complete the double play anyway. Mike Scioscia put the hit-and-run on with a runner on first, one out, and Josh Paul at the plate. Paul popped the first pitch foul. Sele's second pitch was way out of the strike zone, and Paul was forced to wave at it, but Olivo was able to fire away and gun down McPherson. The situation was a lot less grisly than just a few moments before. There were now two out, and Sele had an 0-2 count on the Angels' #8 hitter. Not bad, right? Paul took three straight balls and singled on his full-count pitch. Sele started off Figgins with three straight balls. Scioscia again put on the hit-and-run, this time on the 3-1 pitch, and Figgins singled through the hole on the right side to put runners on the corners. Figgins stole second uncontested on the 1-2 pitch to Erstad. On the next pitch, Erstad pulled the 9-iron out of the bag and feasted on a knee-high curve, taking it two-thirds of the way up the foul pole in rightfield.
»» ANGELS 6, MARINERS 0
Yeah, this game was basically over. Luckily, DaVanon would at least end the inning, swinging at the first pitch and grounding it to Sele, who threw to first for the putout. Sele threw 29 pitches in the inning.

Aaron Sele's pitch count wasn't anywhere close to 90 or 100 or anything, but he didn't come out for the 5th. In our comment box, I wondered aloud if maybe Sele's arm might have been hurt or something, and faithful reader Morgan suggested, "I think Sele's arm problem is that it sucks." Well put, Morgan.

Sele's absolutely brutal line: 4 innings, 6 runs, 8 hits, 1 walk, 2 strikeouts, 67 pitches (40 strikes). Craaaaaaaaaaaaaaaap-tabulous!

TOP 5TH
Grade: C-
Byrd got 0-2 counts on the first two hitters. Olivo ripped the next pitch, but right to Anderson in leftfield. Valdez fished at his pitch, but dumped it over the head of Cabrera at short and into leftfield. Ichiro then bounced a ball right to short, resulting in Valdez getting forced out at second (Ichiro's too fast for that double play). Reed grounded the first pitch to Erstad at first. Byrd threw only nine pitches.

BOTTOM 5TH
Grade: B-
Matt Thornton, Official Garbage-Time Reliever of the Seattle Mariners, came in to replace and hopefully not do anywhere near as horribly as Aaron Sele. Guerrero popped another infield fly to Boone. Anderson fanned on a low and outside pitch. Finley walked on a 3-1 pitch and Cabrera got a base knock to right, making it interesting before McPherson flew out to fairly deep leftcenter. Crown of Thornton threw 18 pitches.

TOP 6TH
Grade: D
The Mariners would load the bases, but then leave their fate in the hands of the wrong part of their lineup. Beltre clubbed a double off the wall in rightcenter off the Banco Popular sign. Sexson grounded a ball to Cabrera at short, who tried to slide to get to it, but only knocked the ball further away. The play was ruled as a single for Sexson. With two on and nobody out, Boone bat-flipped after hitting his 1-1 pitch to right, but it wasn't close to even getting to the warning track, as Guerrero caught it and nobody advanced. Ibanez hit his 1-1 pitch through the hole on the left side for a single, and the bases were loaded with one out. Randy Winn and Miguel Olivo would respond valiantly by not hitting a ball out of the infield. Winn splintered his bat on the first pitch and popped out to McPherson on the infield grass in front of third base. Olivo had a 2-0 count, but popped a weak one on 2-1 to Erstad inside of first. These aren't the 2004 Mariners we're watching, but it'll take a lot longer than 13 games to shake some of the 2004 elements out of this team. Ugh, though. Byrd threw 16 pitches.

BOTTOM 6TH
Grade: B
Thornton got through his inning. Paul flew out to Ichiro on the first pitch. Figgins worked his count full and singled up the middle. Thornton got to 0-2 on Erstad and got him to fly out to Winn. Figgins stole second on the 1-1 pitch to DaVanon; Boone couldn't come up with the throw, but it was late anyway. Nonetheless, DaVanon went down swinging. Thornton threw 18 pitches.

Thornton was done in garbage time with two passable innings. He didn't crap the bed, he didn't allow any runs, but he wasn't overly spectacular and had mini-jams. His line: 2 innings, 0 runs, 2 hits, 1 walk, 2 strikeouts, 36 pitches (23 strikes).

TOP 7TH
Grade: C-
The Mariners continued to do nothing at the plate. Valdez made an out for the first time in the game, hitting a low liner to Finley in left. On the first pitch, Ichiro bounced one to the third-base side of the mound, and Byrd easily threw him out. Reed hit his 2-2 pitch toward the middle, and Figgins tried to slide for it, but ended up knocking it further away. That went in the books as a single. Beltre hacked at his first pitch, but just hit a very high fly ball that took an eternity to come down into the glove of Cabrera in shallow leftfield. Byrd threw only seven pitches, and the Mariners probably thought, like me, that the game had long been over and just wanted to speed up the process a bit.

BOTTOM 7TH
Grade: C+
Shigetoshi Hasegawa came in for some garbage-time relief. Guerrero drilled his second pitch through the left side for a single. Hasegawa caught Anderson looking at a 2-2 pitch on the inside corner. Finley poked a 2-2 pitch out to right for a single. Cabrera flew out to Winn in left, and the relay back to the infield nearly caught Finley off of first. Hasegawa got ahead 0-2 on McPherson and got him to whiff on a 2-2 breaking ball. Hasegawa threw 21 pitches in the inning.

Hasegawa came out of the game because, well, they'll need him for the rest of the series. His line: 1 inning, 0 runs, 2 hits, 0 walks, 2 strikeouts, 21 pitches (14 strikes).

TOP 8TH
Grade: B-
Byrd would finish off his outing, though the Mariners would manage to put a positive integer (hint: I'm a dork) onto the scoreboard. Sexson hit one skyward, but it was caught on the infield grass by Figgins. Boone roped his third pitch down the leftfield line for a double to break the monotony a bit. Ibanez singled down the leftfield line, though he probably hit it too hard to get a double, and Garret Anderson came up throwing anyway. Nonetheless, the Mariners at least spoiled the shutout.
»» ANGELS 6, MARINERS 1
On a 2-0 pitch, Winn grounded right to second to start the 4-6-3 double play. What's new? Byrd threw 12 pitches.

Byrd was deservedly done. I guess this is one of those pitching performances where you would use the word "scattered" before relaying the number of hits the pitcher yielded. Byrd's line: 8 innings, 1 run, 11 hits, 0 walks, 3 strikeouts, 104 pitches (78 strikes).

BOTTOM 8TH
Grade: A-
Julio Mateo came in to mop up the rest of the garbage-time relief, and he needed work since he hadn't thrown since Thursday afternoon in Kansas City. He got ahead 0-2 on Paul and caught him looking on an outside-corner 2-2 pitch. Figgins hit a ball down the leftfield line and unfortunately for him, he decided to try to take second on the one time out of a million where Randy Winn guns down somebody at second trying to stretch a single into a double. Mateo got ahead 0-2 on Erstad and got him to eventually fly out to Winn. Mateo threw 12 pitches.

Mateo was done, but he had a relatively easy inning. His line: 1 inning, 0 runs, 1 hit, 0 walks, 1 strikeout, 12 pitches (9 strikes).

TOP 9TH
Grade: C
At least the Mariners were so far behind that Francisco Rodriguez had no reason to come in and make the Mariner hitters look stupid. Brendan Donnelly came in to turn out the lights. Greg Dobbs came in to pinch hit, and he swung at the first pitch, nubbing a weak fly to Cabrera in shallow left. Scott Spiezio got scattered cheers from the Anaheim crowd and had a decent rip on a 1-1 pitch into the corner in rightfield, which hit a fan's wrist before hitting the ground. The fan's wrist wasn't much of an impact on the play, which probably would have been a double anyway. Ichiro looked like he brought his home-run swing on the second pitch, but he could only take it just short of the track in rightfield. For the Mariners' last stand, Reed grinded out an eight-pitch at-bat, fouling off four pitches before flying out to Guerrero in right to mercifully end it.

Token Brendan Donnelly line: 1 inning, 0 runs, 1 hit, 0 walks, 0 strikeouts, 14 pitches (10 strikes).
---

Gameball: Raul Ibanez.
Jeremy Reed and Wilson Valdez had two-hit games, but Ibanez went 3-for-4 and drove in the Mariners' only run. His non-hit was on the ball that ate up McPherson at third, so Ibanez reached base all four times he came to the plate. His first two hits came with two out, and the other was the RBI single. Needless to say, he never crossed the plate since he drove in the only run and it wasn't himself.

Goat: Aaron Sele.
It was a choice between a brutal Sele and an 0-for-5 Ichiro. I asked myself this question: What would be worse for the Mariners' chances to win on a given day? (A) Have Ichiro go 0-for-5, or (B) have the starting pitcher give up six runs in four innings? I'm sorry, and I'm sorry the goat is so obvious, but if your starting pitcher gives up six runs, you're not going to win a lot of games, even with the bats that this team added in the offseason. I realize I'm saying this when there the number 5 is in the boxscore's "LOB" column next to the names of Randy Winn and Miguel Olivo, but Sele dug the deep hole before that was even a factor.

How about this offense tonight, huh? Twelve hits and one run, and they got the run on their 11th hit. Great stuff. The Mariner hitters never walked (obvious from the boxscore), and actually never saw a three-ball count in the game (you gotta dig through the game log for that). Paul Byrd started off nine of the Mariners' 20 hitters in the first five innings with 0-2 counts. That's almost half. I'll risk being Fairly-esque in saying this, but that gave Byrd a huge advantage. Let's see what happened in those nine at-bats: whiff, flyout, double (Ibanez), line into double play (Ichiro), whiff, groundout, error (Ibanez), lineout, single. Over the same 20-hitter span in the first five innings, 13 Mariner hitters got to two strikes at some point in their at-bat. This all tailed off starting in the 6th when the Mariners started swinging earlier in the count as a whole, and a conspiracy theorist like myself would suggest that they wanted to go to the hotel because the game was all but done.

In the comment box in the game thread, I recounted an instance back in 2001, where the Mariners had come back from a 6-0 deficit (wham bam, thank you, Tam) the day before the game where Jeremy, friend Grant, and I saw the Angels and Mariners at the Safe. Some fans for some reason drew up a "SIX-ZIP, SO WHAT?" sign and had the nerve to show it after Aaron Sele hung up a six-spot for the Angels in that game. I remember being ticked off at most fans in general during that game, and I think I was wearing my Sexson #11 Brewers shirt that day, so that's how long I've had the thing. We went down to Portland to see the Beavers play the next day, and we were just plain overjoyed when we found out that Jamie Moyer lost to Pat freakin' Rapp, who had a sparkling record of 2-7 after that game. Of course, the Mariners' losing streaks weren't long that year, and Paul Abbott won the next day.

Back to the game, though, Sele put another 6 runs on the board, but come on. He dug the hole, and that was it. In a related story, these aren't the 2001 Mariners, which will be the case for every team anyone reading this will see in their lifetime. With Sele's stellar 6.19 ERA, maybe the Mariners will have a chance to relive their 6-0 comeback in 2001 every day that Sele takes the mound!

How about that Vlad Guerrero? The guy just jumps on the ball. Sure, we saw Juan Uribe in Chicago tagging the hell out of some pitches, but Vlad just drills the ball. I had this sick sense of anticipation on the pitch before the homer actually happened. As soon as he hit it, the only question was how far it would go. If there's one homer that sold me on Vlad, it was when he turned an eye-high Randy Johnson fastball into a bomb well over the centerfield wall in Phoenix. I didn't see the Mark McGwire shot off Randy Johnson in the Kingdome firsthand (and that's the only way you could've seen it, since the camera couldn't follow the ball), so the Guerrero homer is the best thing I've got to match that.

Hey, look on the bright side. Dallas McPherson got called up, started at third, then went 0-for-4, struck out once, had a ball eat him up at third for an error, and stranded six runners at the plate. But his team won.

But there's always tomorrow to get back to .500. Is anyone sick of non-televised day games yet? Today's is the fifth and final one of the month. There are three such games in May, two in June, two in July, three in August, and four in September.

This post was aided by the following albums' background music...
-- Crystal Planet, Joe Satriani
-- No More Tears, Ozzy Osbourne

Moyer. Gregg. Today.