Thursday, April 21, 2005
THE NOT-SO-PRODUCTIVE OUT-MAKING BOX 4/21/05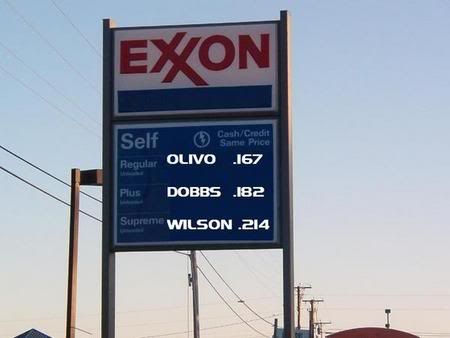 Athletics at Mariners, 7:05 p.m. Pacific (FSN Northwest, MLB.TV)

Rich Harden (1-0, 0.68 ERA) vs Ryan Franklin (1-1, 2.18 ERA)

LINEUPS!

OAKLAND ATHLETICS (7-8)
M. Kotsay cf .355
J. Kendall c .241
E. Chavez 3b .200
E. Durazo dh .216
S. Hatteberg 1b .268
M. Ellis 2b .333
N. Swisher rf .241
C. Thomas lf .000
M. Scutaro ss .325

SEATTLE MARINERS (8-7)
I. Suzuki rf .383
J. Reed cf .250
A. Beltre 3b .271
R. Sexson dh .234
B. Boone 2b .263
R. Ibanez 1b .268
R. Winn lf .308
M. Olivo c .167
W. Valdez ss .239

Believe it or not, we have an open thread as well. We just like to call it "The Not-So-Productive Out-Making Box", that's all. If you haven't had a chance yet, here's my take on the 2005 NFL Draft, Seahawks style.

The box is now open. Use it. OKAAAAAAAAAAAAAAAAAY!