Thursday, April 21, 2005
GAME 15: MARINERS 7, ATHLETICS 6
Mariners 7, Athletics 6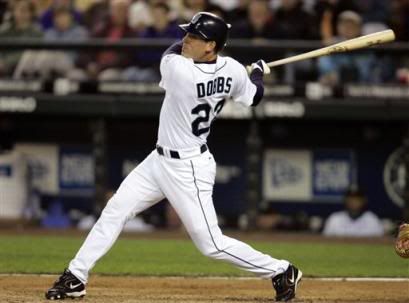 In 25 words or less: The Mariners scored early, blew the lead, and then got the lead for good on a rare clutch pinch hit.

Barry Zito, former wielder of the Curveball O' Death, would face off against Joel Pineiro. Due to Scott Spiezio's placement on the disabled list, Shin-Soo Choo was called up to the Major League roster. Congrats to the young Korean.

TOP 1ST
Grade: B+
Pineiro got a quick inning to start. He got ahead 0-2 on Mark Kotsay and was able to blow him down on a 1-2 fastball up and in. Conversely, Pineiro fell behind 3-0 on Jason Kendall and walked him two pitches later. Luckily the next two hitters were quick hackers. Eric Chavez popped his first pitch high to Wilson Valdez in shallow leftfield. Erubiel Durazo bounced his first pitch to Boone at second, who spun the 4-6 fielder's choice to end the inning. Pineiro threw 11 pitches.

BOTTOM 1ST
Grade: A
The (moderately) big inning appeared again. Ichiro didn't have much of a hand in it, though, as he popped one foul down the leftfield line on the first pitch and it was caught by Eric Byrnes. Randy Winn took his 3-1 pitch inside and walked. Adrian Beltre was green-lit on 3-0 and smacked one through the left side for a single. Richie Sexson took a 3-1 pitch way inside for a walk to load the bases. Bret Boone took a 3-0 pitch that was barely a high strike, and then creamed the 3-1 pitch halfway up the black fence in the back of the Oakland bullpen in leftcenter. Yes, 'twas a slam of grand proportions. No delusions of grandeur here.
»» MARINERS 4, ATHLETICS 0
Raul Ibanez grounded his first pitch to second, and Willie Bloomquist hit a high popup that Mark Ellis caught in front of the bag at second. The Mariners worked Zito for a whopping 25 pitches in the first.

TOP 2ND
Grade: C-
Oakland almost got all of it back. Scott Hatteberg bounced one to Pineiro's glove side, and Joel took it and ran to the bag. Mark Ellis poked a single into rightcenter. Pineiro fell behind 3-1 on Eric Byrnes but was able to strike him out swinging on a curve. Nick Swisher singled past the glove of Ibanez and into rightfield. Pineiro fell behind 2-0 on Marco Scutaro, the #9 hitter. On the 2-1 pitch, Scutaro hit a ball along the third-base line, and Beltre tried to barehand it or something, but he didn't come up with it. Scutaro was given a hit on the play, and Ellis scored. Runners were on the corners.
»» MARINERS 4, ATHLETICS 1
The lineup turned over, and Pineiro just about grooved the second pitch to Kotsay, who tattooed it off the FSN Northwest sign in the gap in rightcenter. Swisher and Scutaro scored on the play. Not good.
»» MARINERS 4, ATHLETICS 3
At least there were already two out. Kendall grounded out to Valdez on his second pitch to end the inning. Pineiro threw 21 pitches in the inning.

BOTTOM 2ND
Grade: C
This inning gave a tiny bit of false two-out hope. Miguel Olivo hacked and missed on a high pitch. Wilson Valdez tried to bunt his way aboard, rolling one along the first-base line, but Zito pounced on it and threw him out. Ichiro hit an 0-2 pitch under Ellis' glove and into centerfield for a single. Winn got a 2-0 count and hit a well-placed grounder to the left side. Scutaro backhanded the ball and threw toward first, but it three-hopped Hatteberg at first and Winn was safe by a considerable margin. Beltre had a 2-0 count with two on and two out, but he eventually was jammed and could only manage a groundout to short. Zito threw 18 pitches in the inning.

TOP 3RD
Grade: A-
This was a pretty short inning for Pineiro. Chavez flew out to Ichiro on the second pitch. Four pitches later, Durazo flew out to Winn in leftcenter. Hatteberg got a 2-0 count, but ended up grounding out to Valdez. Easy enough. It was a 1-2-3 inning on 11 pitches for Pineiro.

BOTTOM 3RD
Grade: C-
Once again, there were scattered baserunners and nobody crossing the plate. Sexson flew out to Hatteberg in foul ground on the first pitch. Boone took a 3-1 pitch low for a walk. Boone stole second on the 1-2 pitch to Ibanez, who ripped a hanging curve on the next pitch into rightfield. Boone was held at third since the ball was hit too hard for him to score. Unfortunately, the upcoming hitters were who they were. Bloomquist was GREEN-LIT (sacrilege) on the 3-0 pitch and fouled it off. He hit the 3-1 pitch to shallow right (not enough for Boone to score), where Swisher caught it. Olivo whiffed on another head-high pitch to end the inning. At least Zito threw 20 pitches.

TOP 4TH
Grade: A-
This was a pretty quick inning for Joel. Ellis splintered his bat on the second pitch and flew out to Valdez. Byrnes grounded his second pitch to Beltre for a groundout. A hanging curve was served into rightfield by Swisher, but Pineiro came back to get a first-pitch flyout to Ichiro from Scutaro. Pineiro threw only seven pitches in the inning.

BOTTOM 4TH
Grade: C-
It was an easy inning for Zito, who needed one because his pitch count was quite high. Valdez did his best Olivo impression and swung and missed on a 1-2 pitch high and away. Zito made Ichiro just plain look stupid on a 1-2 breaking ball low and away. It's just a part of Ichiro's swing though; almost all the time he makes contact, and that's great, but when he misses, it just looks horrid and kinda like a corkscrew almost. Ichiro would make up for that at-bat in the 6th inning. Winn flew out to center on his first pitch to end the inning. Zito threw 12 pitches.

TOP 5TH
Grade: B+
Pineiro put out a small fire in this inning. Kotsay tagged the first pitch into rightfield for a single. Ken Macha put on the hit-and-run, and Kendall grounded one to Valdez, who had only the play at first. Kotsay would be stranded at second. Pineiro got Chavez to whiff on a ball in the dirt (Olivo threw to first), and he got Durazo to bounce a 2-0 pitch over to Ibanez at first, who threw to Pineiro covering. Pineiro threw only eight pitches and was at 60 through five.

BOTTOM 5TH
Grade: C-
Beltre singled hard past Scutaro at short to lead off. Sexson fanned on a breaking ball low and away. Boone swung at a pitch up and in, and flew out to left. Ibanez flew out to shallow right. Zito threw 15 pitches and was at 90 through five.

TOP 6TH
Grade: D+
Pineiro was in peril. He had Hatteberg 0-2 but allowed him to single up the middle to lead off the inning. Ellis lined out to Winn in right, and Byrnes flew out to Ichiro. Then Pineiro walked Swisher on four pitches, which was very ill-timed. Pineiro threw a high 1-1 curve to Scutaro, who put it into rightcenter to score Hatteberg and tie the game.
»» ATHLETICS 4, MARINERS 4
Luckily, there were two outs, and Kotsay popped one into foul territory along the leftfield line toward the outfield. Valdez ran all the way from short to make the catch and end the inning. Pineiro threw 17 pitches and was at 77 through six.

BOTTOM 6TH
Grade: C-
Okay, if Olivo and Valdez get on in the same inning, at least one of them better be crossing the plate. Bloomquist fell behind 0-2 and was eventually victim to a sliding catch by Swisher in foul ground along the rightfield line. Olivo then ripped the first pitch through the hole on the left side for a single. Valdez knocked a 1-2 hanging curve through the left side for another single. Then came the Ichiro at-bat. He fell behind 1-2, took a ball, and then fouled off four straight pitches as Zito was trying to get him to strike out on the pitch low and away as he did in the fourth. Ichiro worked the count full, but grounded out to short. It was a nice battle though. Winn had a 2-0 count to work with, but then eventually was victim to the curve on a full-count pitch. Though nobody scored, Zito threw 26 pitches in the inning, with much thanks to Ichiro.

Zito just threw way too many pitches in the first couple innings, though once he got the feel for the ball, he wasn't overly bad. It'd be better if he'd had a normal first couple innings. Since he's facing the Mariners, though, who cares? Let him suck. His line: 6 innings, 4 runs, 8 hits, 3 walks, 6 strikeouts, 116 pitches (70 strikes).

TOP 7TH
Grade: B+
Pineiro only gave up a nicely placed ground ball. Kendall grounded out to Beltre. Chavez hit one up the middle, and Valdez tried to make a crazy play on it, diving and trying to throw from the seat of his pants. The wide throw almost made the whole thing backfire, as Ibanez had to dive to stop it. Thanks to Ibanez, though, Valdez will simply be lauded for his effort on the play. Durazo hit a grounder to Beltre, who threw to second for the forceout, then Hatteberg bounced his first pitch to Boone to end the inning.

Pineiro left with the game tied at 4. Nonetheless, the start was a big improvement over his last one. In Chicago, he staked the White Sox out to a 5-0 lead before he left in the sixth. In this game, I guess it's a whole lot different when Juan Uribe isn't in the lineup to drill Pineiro's stuff. His line: 7 innings, 4 runs, 9 hits, 2 walks, 3 strikeouts, 86 pitches (53 strikes).

BOTTOM 7TH
Grade: A
Huston Street came in for the departed Zito. The way things were going, and the way the Mariners this year tend to put up a big inning and then do nothing for the rest of the game, I didn't expect much from this inning. Beltre poked an 0-2 pitch into centerfield for a leadoff single. Sexson and Boone both whiffed on 1-2 sliders low and away. Ibanez softened the buzzkill by singling his first pitch into leftfield. In a good move, Jeremy Reed was brought off the bench to pinch hit for Bloomquist. Reed got the juicy 3-1 count, but rolled one to Chavez, who charged in from third. It was a quick play, and Chavez threw short to Hatteberg, who had to come off the first-base bag to field the throw. The bases were loaded. Unfortunately, since the Mariners' bench needs Bucky Jacobsen baaaadly, they're left with a bare cupboard. Greg Dobbs came on to pinch hit for Miguel Olivo. Dobbs lined a 1-0 pitch into leftfield which Byrnes dove for and missed. The ball rolled past, the bases were cleared, and Dobbs stood on second with a double.
»» MARINERS 7, ATHLETICS 4
Valdez fell behind 0-2 and eventually shorthopped Hatteberg with a grounder at first. The latter came up with the ball and stepped on the bag. Street threw 25 pitches.

Street was done for the night. His line: 1 inning, 3 runs, 4 hits, 0 walks, 2 strikeouts, 25 pitches (19 strikes).

TOP 8TH
Grade: D+
I would have maybe let Pineiro get an out before pulling him out of the game since his pitch count was fairly low, but oh well. The move especially looks better after seeing how the inning started.

Jeff Nelson came in for Pineiro. He got ahead of Ellis 1-2 but the count went full. Ellis bounced one up the middle and Boone tried to make a crazy play (dive/turn/throw), but it was late. Bobby Kielty came on to pinch hit for Byrnes, worked the count full, and drew a walk. Nelson had allowed the first two hitters to get on base. Luckily, Swisher cooled things down a bit by flying out to left. Then Scutaro, the #9 hitter, dumped the first pitch just past a leaping Boone and into rightfield to load the bases.

I had seen enough, and so had Mike Hargrove, who summoned Ron Villone from the bullpen, who had thrown 1 1/3 innings (21 pitches) the night before. He started Kotsay out 1-2, but then nicked him on the right elbow, though Rick Rizzs thought Kotsay might have done an acting job and the ball might have actually hit the bat. Anyway, that forced a runner in, and I was pretty ticked off at that moment.
»» MARINERS 7, ATHLETICS 5
Villone then got ahead of Kendall 0-2 and got him to line out softly to Boone later in the at-bat. Villone really played with fire when Chavez came to the plate, giving him 2-0 and 3-1 counts to work with. Villone took advantage of home plate umpire Phil Cuzzi's elongated outside corner to get Chavez to look at the final two pitches for the key strikeout.

Nelson was horrid. It happens. Of course, with Nelson, I'm a bit concerned it might happen more often, since he's getting up there in years and stuff. His line: 1/3 inning, 1 run, 2 hits, 1 walk, 0 strikeouts, 16 pitches (8 strikes).

Villone wasn't quite as good as the night before, and I really could have done without even coming close to beaning a guy with the bases loaded, but at least he left the game still ahead. His line: 2/3 innings, 0 runs, 0 hits, 0 walks, 1 strikeout, 15 pitches (11 strikes)

BOTTOM 8TH
Grade: C
Justin Duchscherer (Mr. Walk-Off Balk) came on to pitch the 8th for Oakland. He got Ichiro to whiff on a 1-2 pitch down and in. Where were you on the night that Ichiro struck out swinging twice? Winn reached up and smacked a high pitch, doubling into the gap in rightcenter and coming just a couple feet short of a homer. Beltre had a 1-1 count and fouled off four straight pitches (one almost went down the line for a double) before foul-tipping a low and away pitch into the catcher's glove. Instead of whiffing at a pitch low and away, Sexson instead watched his third strike come up and in. He's got a big strike zone, that guy.

Duchscherer was done for the night. His line: 1 inning, 0 runs, 1 hit, 0 walks, 3 strikeouts (he struck out the side), 16 pitches (13 strikes).

TOP 9TH
Grade: C+
Eddie Guardado came in for another installment of the Cardiac Ninth, sponsored by the American Heart Association. Guardado served up a 2-1 pitch that Durazo tagged over the FSNNW sign in rightcenter for a solo shot. That's a way to cut the lead in half.
»» MARINERS 7, ATHLETICS 6
Guardado then got ahead 0-2 on Hatteberg and got him to hit a low liner to Winn. Ellis flew out to Ichiro on his second pitch. Kielty couldn't quite hold up his swing on a 2-2 pitch. Ballgame.

Does anyone remember when Jose Mesa would go through these heart-thumping saves? The difference here is that Guardado doesn't blow a bunch of them like Mesa did. I guess what I'm trying to say is that although I like Guardado, I miss Kazuhiro Sasaki at the top of his game. I remember the difference between him and his predecessor Mesa at the end of games was like night and day. I know the ending for Sasaki in Seattle was pretty unceremonious, and he's gone and "teamed up" with another woman since, but when sanshin and the Thang were in full force, it was beautiful to watch. Of course, Guardado should hopefully get sharper as the season goes along, so forgive me for a bit of nostalgia there.

Guardado's line: 1 inning, 1 run, 1 hit, 0 walks, 1 strikeout, 15 pitches (11 strikes).
---

Gameball: Adrian Beltre.
How often will Beltre go 3-for-5 and not have any RBIs afterward? I guess it'll happen whenever Ichiro goes 1-for-5, strikes out twice, and doesn't walk. Beltre singled behind Winn in the second, and led off the 5th and 7th with singles. He came close to a double in the 8th for what would have been his fourth hit of the night, but it went foul. Beltre scored the go-ahead run in the 7th on the Dobbs double. It's weird that on a night that Ichiro managed only a two-out single, Beltre was the guy leading off innings with hits and starting rallies. To heck with Ron Villone and Willie Bloomquist, it's Adrian Beltre who is versatile. I seriously can't wait until this guy starts getting the power in his stroke. It'll be fun. Yes, I do realize I've let him off the hook for the barehand play gone bad.

Goat: Jeff Nelson.
If Mike Hargrove didn't hook him at the right time, Nelson could have blown this game. He got the ground ball from his first hitter, so I'll let that slide even though the baserunner got aboard. Walking the next guy is inexcusable, and surely giving up a single to the #9 hitter isn't a good thing. I was so glad Mike Hargrove pulled him when he did. Some nights Nelson might have it, and sometimes he won't and in this game he definitely didn't have it.


You know, I'm going to like it one of these games when the Mariners scatter their scoring a bit. Maybe they'll have two runs here, a couple runs there, one run here and there, and score in about five innings in a ballgame. I like the big innings and everything, but the utter futility in between the offensive innings is offensive in a whole other way. Of course, the other way to look at it lately is that they're getting the runners aboard in the first place, and in the future they'll hopefully more often than not come through with the runners aboard. To clarify, the Mariners get their scoring in bunches, and they also get big chances in other innings as well but fail to tack on runs.

Bret Boone hit the grand slam, and any one of those deserves some props. That was a healthy poke too, to the back fence of the bullpen. I went to about six games back in 2000, and I'd buy centerfield bleacher seats ($5 at the time) and instead of watching the game from up in those seats, I'd just hang out behind the visitors' bullpen the whole time. It just seemed more fun that way, and I'll never get that close to Dave Stewart again. I'm talking the former ballplayer, not the Eurythmics' guitarist.

Other than Beltre, multi-hit nights went to Randy Winn and Raul Ibanez, whose bat has warmed up over the last couple games. Winn almost hit one out late in the game. I'm finally to the point where I can gauge whether Winn is close to hitting one out or not by the way he hits the ball; usually I have trouble doing this with slap hitters. After seeing the ball he hit off the Cafe windows, you'd think I would have picked up on it by now, but I think I've finally got it down. As for Ibanez, even though he was served up a juicy curve, I liked the way he stuck it for a base hit.

As I said earlier, it was a much better start for Pineiro. He had some gas left in the tank, sure, but I think with just coming off of the elbow rehab and being just the second start, it's perfectly okay to cut him off at 86 pitches. He did give up nine hits, and I really could have done without the meatball that Kotsay obliterated, but other than that and the four-pitch walk, it was a solid start. Okay, I guess I could have done without Oakland scoring the half-inning right after the Mariners put up their first four runs, but again, Joel pitched well enough to win in his second start of the year. Not bad. Not stellar, but not bad.

Mariner hitters struck out 11 times in this game. Sexson struck out thrice, though that can be attributed to him being himself and/or being sick. Olivo struck out twice on high pitches, and looked like a fool doing it. Ichiro struck out twice as well, and we probably won't see that again for two months.

HOLY CRAP, Oakland stranded 21 runners in the game.

A winning record! A share of the division lead! Oakland's below .500! Baby steps, kids. Baby steps.

This post was aided by the background music of the Deftones' Around the Fur. Who loves the ~28 minutes of silence (minus the few seconds-long noise midway through the silence) before the hidden track at the end of the disc? I knew you did.

[Add ~1:15a -- The crowd of 24841 for this game was the LOWEST in the history of Safeco Field.]

Harden. Franklin. Tonight.