Friday, April 22, 2005
GAME 16: ATHLETICS 3, MARINERS 0
Athletics 3, Mariners 0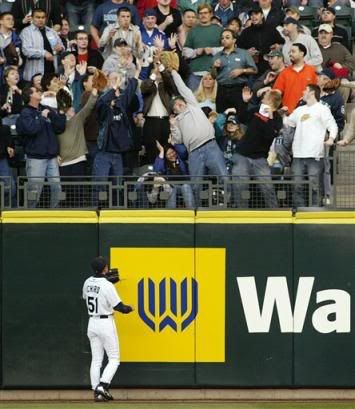 In 25 words or less: Zzzzzzzzzzzzzzz. Huh? Oh, the game. Ryan Franklin made a couple bad pitches, spoiling his solid start. The Mariner bats found runs Harden to come by.

This one featured ex-Mariner draftee Rich Harden of Victoria, BC (both facts were made clear very many times on the FSNNW broadcast), going up against Ryan Franklin of Spiro, OK.

Victoria's a nice town. That 90-minute boat ride from Port Angeles is a rough one, though. Plus, that necessitates actually going through Port Angeles.

TOP 1ST
Grade: A-
Franklin started off well enough, getting results much like his last two starts. He got ahead 1-2 on Mark Kotsay, though the count went full. Kotsay ended up flying out to Reed in rightcenter. Franklin got ahead of Jason Kendall 1-2 and eventually got a grounder to second. Eric Chavez had himself a 2-0 count, but popped a ball down the leftfield line, which was caught by Wilson Valdez, racing over from short. Franklin threw 14 pitches in the inning.

BOTTOM 1ST
Grade: C-
There's going to be a lot of C-minuses in the bottom halves of the innings in this here piece. Ichiro lined his second pitch to Kotsay in center, Jeremy Reed whiffed on a fastball, and Adrian Beltre broke his bat on a popup to left. Harden threw nine pitches.

TOP 2ND
Grade: C-
Franklin was struggling in this inning. He gave Erubiel Durazo the juicy 2-0 and 3-1 counts. Franklin got the second strike to make it a full count before walking Durazo. Scott Hatteberg swung at the first pitch and Beltre caught the high popup in front of the mound. Franklin then gave the same 2-0 and 3-1 counts to Mark Ellis and got burned. Ellis smoked it to the gap in rightcenter, scoring Durazo from first, who was running on the pitch. Ellis ended up with a triple.
»» ATHLETICS 1, MARINERS 0
Nick Swisher checkswung on his first pitch but made contact, grounding out to Richie Sexson at first. Charles Thomas bounced out to Boone to end the inning on a 4-1 putout. Franklin threw 16 pitches in the inning, but the walk coming around to score proved to be the kicker.

BOTTOM 2ND
Grade: C-
Harden basically started this game in a groove and rarely got out of it. Richie Sexson fouled off two 0-2 pitches before missing a slider low and away. Bret Boone bounced a 1-2 pitch up the middle, and Ellis had a long way to go to field the ball. He threw high, the ball went into foul territory (somehow no error was ruled anywhere on the play), and Boone broke for second. The catcher Kendall was backing up on the play like all good catchers do in that situation, and he gunned down Boone by roughly a mile. It wasn't even close to being close. Raul Ibanez got the nice 2-0 and 3-1 counts, but hit a high popup to right. Harden threw 14 pitches in the inning.

TOP 3RD
Grade: C-
Ryan Franklin would be struck by a remnant of 2004. Marco Scutaro fought back from 1-2 to work the count full and then he tagged a ball past Valdez for a single. Franklin then threw a belt-high fastball to Kotsay; he got an inch too much of the plate, and Kotsay took it yard to rightfield, into the fourth row or so of seats out there.
»» ATHLETICS 3, MARINERS 0
It didn't look much better after the homer either. Franklin started off 2-0 on Kendall, and ended up walking him on a full count. This brought pitching coach Bryan Price out to the mound, predictably. At this point, Franklin had thrown 42 pitches and had three-ball counts on five of the 11 hitters he'd faced. Franklin then got ahead 0-2 on Chavez and eventually got a high flyout to the gap in rightcenter. Durazo grounded his first pitch to Valdez, who started the double play. Franklin threw 19 pitches in the inning.

BOTTOM 3RD
Grade: C
The Mariner offense decided to mix up the nature of their failure tonight by scattering some baserunners. Randy Winn scorched one on the ground down the rightfield line to lead off, good for a double. Miguel Olivo fell behind in his count and fanned on a low breaking ball. Wilson Valdez got behind 0-2 and later grounded a ball toward the left side which was cut off by Chavez, who nailed Valdez on the run at first (Winn went to second). Ichiro hit his third pitch to Scutaro at short, who looked to have had an easy play, but the ball came out of his glove as he was playing the hop. Replays showed that Winn running in front of Scutaro on the play may have distracted him, and Ichiro was given a hit. Runners were on the corners with two out for Reed. He fouled off a 3-1 pitch before whiffing on a slider down and in. Harden threw 21 pitches in the inning, and got first-pitch strikes on all five batters he faced.

TOP 4TH
Grade: A
Franklin was about to settle into a groove, but his only crime tonight was that it didn't start in the first inning instead of the 4th. Every hitter took a first-pitch strike. The last two hitters had 0-2 counts. Hatteberg grounded out to Boone, Ellis tapped one back to the mound, and Swisher whiffed on a breaking ball low and away. Franklin threw nine pitches in the inning.

BOTTOM 4TH
Grade: C-
Beltre got down 0-2 and later hit one off the end of the bat for a flyout to center, though Kotsay had some footwork issues while trying to get a jump on it. Instead of swinging through a pitch low and away to strike out, Sexson watched a fastball down and away, taking a strikeout of the called variety. Boone chopped a ball over the mound which was barehanded by Ellis, who threw to first. Words don't do justice for the nice play that had just occurred, especially my words. Harden threw 16 pitches.

TOP 5TH
Grade: A-
As mentioned, Franklin was groovin'. He fell behind 2-0 on Thomas to start off, but Thomas flew out to Winn in the leftfield corner. Scutaro shattered his bat on an 0-2 groundout to Boone. Kotsay hit a ball up the middle, and Valdez made a nice play to throw him out from the outfield grass. Franklin threw 10 pitches.

BOTTOM 5TH
Grade: C-
Mas. Ibanez went down swinging. Winn bounced out to first. Olivo fouled off an 0-2 pitch instead of striking out, then he popped a ball down the rightfield line which Ellis caught in foul territory. Harden threw 14 pitches.

TOP 6TH
Grade: A
Zeroes were becoming aplenty. Kendall was victim to a sliding catch by Winn in leftfield. Chavez grounded out to second. Durazo hit his second pitch for a high fly ball to Reed in center. Franklin threw only eight pitches, and was at 76 through six.

BOTTOM 6TH
Grade: C
Harden looked like he might be losing a little bit of sharpness, though the result remained the same. He hung one a bit to Valdez, who ripped it into left for a single. Ichiro hit a hard ground ball, but right to the shortstop for a 6-4-3 double play. How rare is it that I'd wanted somebody to hit the ball soft? In that situation, a softer hit ball would have been beaten out by Ichiro at first. Oh well. Reed took a 3-1 pitch inside for a walk. Beltre then provided the most engaging few minutes for the Mariner offense to that point in the game. He fouled off five straight pitches on an 0-2 count before lining one right to Thomas in left on the 11th pitch (2-2 count) of the at-bat. Harden threw 22 pitches in the inning (half of them to Beltre), and was at 96 through six.

TOP 7TH
Grade: A-
Franklin was mostly still in the groove. The only blemish here was a two-out single. Hatteberg was down 0-2 before flying out to Reed. Ellis bounced one to short. Swisher lined a single into centerfield to snap Franklin's streak at 13 straight retired Oakland hitters. Thomas hit a grounder to Valdez, who stepped on the bag at second to end the inning, though it looked like he wanted to turn two or something, but had forgotten how many outs there were. Franklin threw 13 pitches and was at 89 through seven.

BOTTOM 7TH
Grade: C-
Baserunners? What are those? Sexson was nearly one when he stung a ball up the middle. It was probably the hardest-hit ball of the game, and it went right into Harden's glove. Boone checkswung on a pitch, and it dropped in centerfield, with Kotsay diving and trapping it off the hop. Ibanez had a 3-0 count and walked on a full-count pitch to put two runners on and one out. Winn fouled off three pitches before foul-tipping his fourth pitch into Kendall's glove behind the plate. Olivo swung through a fastball away, but at least he fouled off four pitches in the at-bat before that, which is an improvement for him. Harden threw 23 pitches in the inning.

Rich Harden didn't come out for the 8th, but he had already spun a beauty. Barry Zito has been passed as the ace in Oakland if the past two days are any indication. At least the Mariners only have to face Oakland about 19 times or something. There will be more of Harden to go around. Harden's line: 7 innings, 0 runs, 5 hits, 2 walks, 8 strikeouts, 119 pitches (80 strikes).

TOP 8TH
Grade: B+
Franklin bailed himself out before hitting the showers for good. Scutaro bounced out to short. Franklin walked Kotsay on four pitches, possibly due to what Kotsay did earlier and/or due to losing sharpness and control as a whole. I might have pulled him right then and there, but Mike Hargrove left him in. Three pitches later, Kendall had bounced into a 4-6-3 double play to end the inning and the outing.

I know the run support people are going to cry foul again, and they aren't entirely wrong, but come back to me when Franklin isn't going up against a Mark Buehrle or a Rich Harden on their A-games. Sometimes the other pitcher is just going to twirl a gem, and unfortunately for Ryan, he's had it happen in consecutive starts. If there's one good thing, though, it's that he's been consistent. I didn't think this outing was as good as the last two, but it was still good enough to win on a normal day. Not just a normal day when the bats are putting across a couple runs, but a normal day when the other pitcher isn't mixing his pitches and speeds at an exceptional level.

Franklin's line: 8 innings, 3 runs, 4 hits, 3 walks, 1 strikeout, 102 pitches (61 strikes).

BOTTOM 8TH
Grade: C-
All the good stuff happened with two out, though it was still not much. Ricardo Rincon came in for Harden. He got ahead 0-2 on his first two hitters. Valdez grounded out to Ellis, and Ichiro was thrown out by Chavez, who nicely played the short hop. Reed grounded a base hit through the right side.

Justin Duchscherer was summoned from the Oakland bullpen. Beltre had a nice 3-0 count, but wasn't green-lit; a homer in that situation wouldn't have tied it anyway. On 3-1, he chopped one along the third-base side, and Chavez almost had another putout on a charging throw, but the throw was a bit into the runner, and Hatteberg had to lean a bit to get it. Beltre was safe.

Then Octavio Dotel was brought in to face Sexson. Richie got behind 0-2 right away. He stung his 1-2 pitch pretty well, but it went right to Swisher in rightfield. That pretty much rendered the game over with. Dotel threw four pitches.

Token Oakland bullpen pitching lines...
Rincon: 2/3 inning, 0 runs, 1 hit, 0 walks, 0 strikeouts, 10 pitches (9 strikes)
Duchscherer: 0 innings (1 batter), 0 runs, 0 hits, 0 walks, 0 strikeouts, 5 pitches (2 strikes)

TOP 9TH
Grade: C+
Matt Thornton was brought in from the bullpen to face Oakland's lefties. Chavez ripped the first pitch back through the box and into centerfield for a single. Thornton bounced back by getting Durazo to whiff on a pitch low and away. Thornton's 2-0 pitch to Hatteberg went off Olivo's glove for a passed ball. Olivo caught the next pitch, but it was ball four -- a four-pitch walk.

Both Mike Hargrove and I had seen enough of Matt Thornton. He supposedly was brought into the game to get the lefties out, and he lets two of them aboard. I liked the progress he'd made in the last couple appearances before this, but this one reminds us of something closer to the mean or something closer to "out-of-options guy."

Shigetoshi Hasegawa was brought in from the bullpen to put out the mini-fire. Ellis flew out to Winn, and Swisher hit a 3-1 pitch high in the air, and it landed in Beltre's glove in front of the bag at third.

Token lines from the Mariners' pen...
Thornton: 1/3 inning, 0 runs, 1 hit, 1 walk, 1 strikeout, 10 pitches (4 strikes)
Hasegawa: 2/3 inning, 0 runs, 0 hits, 0 walks, 0 strikeouts, 8 pitches (4 strikes)

BOTTOM 9TH
Grade: C-
The Mariners' last gap was in the 8th, and the 9th was just a formality. Boone hit a low fly to Kotsay for the first out. Ibanez saw a 3-0 count and walked two pitches later. Winn gave his 2-1 pitch a decent ride, taking it to the gap in leftcenter, but that was a flyout. Shin-Soo Choo came on to make his Major League debut, wearing the number 54. He was nearly beaned by Dotel in the leg on the first pitch, but Choo bounced out to first on the next pitch. Welcome to the big leagues, Hooch! Is that an applicable nickname? That's a trial run you just read. Anyway, that was the ballgame.

Dotel's line: 1 1/3 innings, 0 runs, 0 hits, 1 walk, 0 strikeouts, 18 pitches (9 strikes)
---

Gameball: Shigetoshi Hasegawa.
As much as I'm tempted to go with the obvious other pitcher that went in this one, I'll give it to the consistent reliever instead of the consistent starter. In a tale of two guys that sucked horribly in 2004, both Franklin and Hasegawa have consistently done well so far this year. I'm probably putting too much stock into it, but Hasegawa sits here 16 games into the season with an ERA of 1.13. It's safe to say he won't stay this good forever or anything, but let's enjoy it while it lasts. He can't be 2004 bad, and he can't be 2003 insane, but let's hope for something close.

Goat: Miguel Olivo.
This might be beating a dead horse, but good gracious. Wilson Valdez at least got a hit. Richie Sexson at least hit the ball hard twice in his 0-for-4 night, and tonight was his first night back playing first, so I'm thinking he's still got a few days to get back to 100%. I know the competition was stiff tonight, but I've seen Olivo swing at some stupid pitches the last few days. Could it be that the only difference between Dan Wilson and Olivo is that one blocks the ball and the other has an arm? I knew one of them definitely didn't have a bat, but I thought the younger of the two would have at least some semblance of a bat. He's had some decent hits here and there, but that average is horrid right now.


As mentioned, Ryan Franklin made a couple mistakes, and he paid for them. He pitched well enough to win on most nights, but Rich Harden was nuts. I put this loss more on the other guy just throwing a great game more than I do the Seattle bats not producing, though they're not blame-free. The thing is, Harden's going to do this to a number of teams this year, not just the Mariners. At the very least, we can hang our hats on the fact that Ryan Franklin has gotten deep into the game every time out, and with limited walks and limited damage, though he was burned by one of his walks in this one.

I wonder how much longer the Mariners are going to tread water around the .500 mark and resist going on streaks one way or the other. I'd rather tread water than go on a 5-game losing streak, of course, but I'm sure we'll be annoyed at anything other than a winning streak soon enough. Through 16 games, the Mariners have strung together consecutive wins only twice: the three-game sweep in Kansas City and two games before this one against Anaheim and Oakland. There have been consecutive losses three times in the form of two-game losing streaks. One here, one there, two here, two there...maybe if it levels off, every game will end in a tie or something.

I'm thinking of something to put here and I just realized that I was thinking of Matt Thornton for the goat before I put down Olivo and completely forgot about Thornton. The thought isn't lost, though. Thornton was erratic in this game, knocking some of the lustre off his last couple appearances. Maybe he should just be the garbage-time reliever, when the Mariners are down four or more runs.

Richie Sexson's Opening Day performance and his freak flu have bought him probably another week of reprieve before anyone starts ripping him; he's at .216 right now.

I saw Bill Krueger on FSNNW say that Bret Boone was his player of the game, but "screw that," I said. That's why you see Hasegawa's name for the gameball. Of course, I couldn't let Boone get the gameball after that embarrassing baserunning blunder. Boone was running like me out there, for goodness' sake. It was one of those things where I was like, "yeah, he's gonna get there," and then the throw comes over, they switch to the right camera, and I'm left thinking, "how the hell is he not there yet?"

I wish Shin-Soo Choo would have homered in his first at-bat. Then again, Greg Dobbs did that, and he's relegated to bench duty. Reed didn't, and he's a starter. Maybe they can get someone to take the final year of the Ibanez contract? Maybe Winn gets traded eventually and "Doyle" gets to come up, signaling the true onset of the youth movement, along with Felix?

I keep saying it, but I'm highly anticipating the 2006 season for the Mariners. For now, you've got a team that's better than last year, and I've got to believe that help is on the way. I keep telling myself that going from 99 losses to the playoffs in a span of two years is a good turnaround.

Your completely mediocre Seattle Mariners! It only makes me happy in comparison to last year. Does anyone realize how low this team sunk last year? I don't even think I want to believe it. I don't want to believe the run of competitive baseball ended, but it did. Even more sad was that the baseball was competitive, but it didn't win a World Series. I don't feel like going through the whole "116 wins: blessing or curse?" dialogue here, so I'll save it for another time.

This post was aided by the background music of the following albums...
-- Turn On the Bright Lights, Interpol
-- Beyond Good And Evil, The Cult
-- Avantgardedog, Eleven

Sabathia. Meche. Tonight.