Friday, April 22, 2005
MARVIN DECLARES FOR THE NBA DRAFT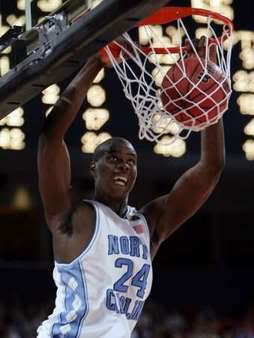 North Carolina freshman forward and Bremerton native Marvin Williams will enter the 2005 NBA Draft, according to ESPN.com. Juniors Sean May and Raymond Felton also announced that they would enter the draft as well.

Williams averaged over 11 points a game for the Tar Heels, who won their first national championship since 1993 this past season. Because of North Carolina's depth, Williams did not start a single game during the 2004-2005 season.

If he would have entered the NBA Draft out of Bremerton High School, Williams would have probably been a lottery pick. Now that he has a year of college on his resume, he's still a lottery pick, so his stock didn't drop at all.

The 2005 NBA Draft will take place June 28 in New York. Best of luck to Marvin in the NBA. He will be a good one, no doubt about it.