Friday, April 22, 2005
GAME 17: INDIANS 6, MARINERS 1
Indians 6, Mariners 1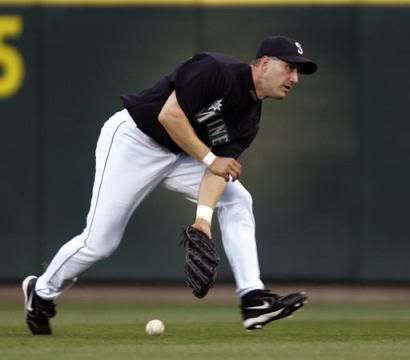 [actually posted Sat ~2:03a]

In 25 words or less: Zzzzzzzzzzzz. Huh? Oh, the game. Pretty much the same as the night before, except Meche sucked WAY more than Franklin did.

This game featured two pitchers coming off recent injuries, CC Sabathia for Cleveland, and Gil Meche for Seattle.

Ichiro received the commissioner's Historic Achievement Award before the game in honor of his 262-hit season last year, and he addressed the Seattle fans in English for the first time. This of course is different from past short phrases such as "duuude," "I hit singles in mine...all the time!" and "you gotta hit 'em where they ain't!"

Unfortunately, that was the best moment of the night.

Shortly before I go on here, I'd just like to show you this. It's been sitting on the back burner for a while now, but we figured we'd finally unveil it. A link to the sidebar will be forthcoming. The work for that stuff was done on a pretty sporadic basis. I guess the bottom line is, if anyone goes to a sporting event in Seattle and takes a picture of themselves wearing any of that stuff, we'll feel truly honored.

But enough of that, here's the game.

TOP 1ST
Grade: F
Meche had the infamous Big Inning (I didn't want to use "notorious" there), and the game was over in the first inning. Coco Crisp mashed the first pitch of the game down the leftfield line for a double before FSNNW could even get the feed back from commercial. Alex Cora bunted on the first pitch down the third-base line and Meche collided with Adrian Beltre, who was trying to field the ball. Beltre had no play after that. Victor Martinez, who lit up the Mariners last July, flew out to Randy Winn in leftcenter. Travis Hafner fouled off two pitches with an 0-2 count and ripped a single through Meche's legs and into centerfield, scoring Crisp.
»» INDIANS 1, MARINERS 0
Casey Blake punched a 2-2 pitch through the hole on the left side, scoring Cora, and digging the hole ever deeper.
»» INDIANS 2, MARINERS 0
Ben Broussard hit his first pitch into the gap in leftcenter, but Randy Winn caught it, and the relay to the infield almost nailed Blake too far off of first. Then Meche grooved a 2-0 pitch to Ron Belliard, who tagged it to the seats inside the rightfield line.
»» INDIANS 5, MARINERS 0
Jose Hernandez, who is hitting eighth in this Cleveland lineup (it's a surprise to me, anyway) lined out to leftcenter to end the hellaciously bad inning. Meche threw 24 pitches. This inning reminded me of the first game I ever went to at Safeco Field, on a stormy day in 1999. It was a day that included a brawl against the Yankees. Yes, in one of the weird instances where I didn't get there two hours before the game, Jeff Fassero spotted the Yankees a five-run lead before I even sat down.

BOTTOM 1ST
Grade: C-
If you want me to spoil this for you now, Sabathia didn't pitch much worse than Harden the night before. Ichiro ripped a 2-0 pitch right to the first baseman. Randy Winn grounded out to second. Adrian Beltre walked on four pitches, but there were two out. Richie Sexson chased an 0-2 breaking ball low and away, out of the zone. Is it just me or does Richie have an 0-2 count every time I turn around? Sabathia threw 14 pitches in the inning.

TOP 2ND
Grade: C-
Meche continued his nonsharpitude, but somehow escaped devastation in this inning. He had an 0-2 count on Grady Sizemore before walking him. Crisp blooped his first pitch into shallow centerfield for a single. Boone stopped drifting back for it when he knew it was over his head, and Bloomquist didn't have much of a chance to catch it. Going full speed toward the ball, Bloomquist overran it after it hit the ground, allowing Sizemore to scoot over to third (error on Bloomquist). Luckily, Cora bounced one back to the mound, and Sizemore went too far off the bag at third and was caught between third and home. Predictably, Crisp went to second. Martinez looped his first pitch to shallow leftfield, and it looked like it might drop until Winn got under it. Meche got ahead 0-2 on Hafner and whiffed on a head-high fastball. Meche threw 20 pitches, and I was amazed he got through this inning unscathed. Of course, he had already been scathed enough in the game.

BOTTOM 2ND
Grade: B-
The Mariners would score! Oddly, Sabathia got 0-2 counts on his first two hitters, but they both singled. Bret Boone hit one off Sabathia's leg and into rightfield, and Raul Ibanez tipped one through the right side as well to put runners on the corners. Willie Bloomquist, playing in this game because he has an okay career split against Sabathia and Jeremy Reed's not righthanded, hit his second pitch just short of the track in rightfield, a sacrifice fly deep enough to score Boone.
»» INDIANS 5, MARINERS 1
Ibanez stole second on the full-count pitch to Olivo thanks to a high throw. Olivo swung through the fastball for a strikeout, and the inning was prolonged thanks only to the high throw by Victor Martinez. Then Wilson Valdez swung through an 0-2 pitch in the dirt to end the inning. Sabathia threw 22 pitches.

TOP 3RD
Grade: C
Meche escaped more disaster. Blake had the juicy 2-0 and 3-1 counts before walking with a full count. Blake took off for second on the 1-0 pitch to Broussard, and Olivo caught the outside pitch and threw somewhat wide to second, but Valdez came down with the ball in his glove and tagged Blake in the chest as he slid past. Meche went to 3-0 on Broussard, who was still at the plate. Broussard flew out on a full count to Valdez at short. Meche had an 0-2 count on Belliard and walked him (ugh). Hernandez bounced out to Boone to end the inning. Meche threw 21 pitches in the inning and was at 67 through only three innings.

BOTTOM 3RD
Grade: C
More of nothing. Ichiro chopped a high one to the first baseman on a 2-0 pitch. Winn doubled hard down the leftfield line. Beltre hit one hard back to the mound, but Sabathia held Winn at second and threw easily to first. Sexson was jammed on his 1-1 pitch and grounded it to third. Sabathia threw 13 pitches in the inning and was at 49 through three.

TOP 4TH
Grade: A
Meche's best inning of the night. Sizemore flew out to center on the first pitch. Crisp flew out to left on the second pitch. Meche froze Cora on a 1-2 breaking ball over the outside corner. Meche threw seven pitches, but was still high at 74 through four.

BOTTOM 4TH
Grade: C-
It started out okay, but then there was a thud. Boone singled into leftfield on the first pitch. Ibanez had a 3-1 count, but that went full. He bounced into a double play of the 4-3 variety. Bloomquist padded his career numbers against Sabathia by bouncing a full-count pitch over the wall in leftcenter. Then Olivo flew out to Sizemore in leftcenter on the next pitch. Sabathia threw 15 pitches and had thrown 64 through four.

TOP 5TH
Grade: C-
Meche's swan song predictably was a dreary one. Martinez mashed a 3-1 pitch into the rightfield corner for a double. Hafner had a terrible night after his RBI single in the first at-bat, and he was frozen on a 1-2 breaking ball. Blake walked on a 3-1 pitch. Adrian Beltre tagged runners going to third on the next two plays. After having the two hitters' counts, Broussard grounded one to Beltre, who tagged Martinez. Belliard grounded a 2-2 pitch to Beltre, and Blake was tagged this time to end the inning. The plays were easy tags, and they weren't bang-bang. Beltre could have easily stepped on the bag for at least one of the outs. Meche threw 25 pitches in the inning.

Meche was done stinking up this non-Spike Lee joint. The first inning was a trainwreck that neither Meche nor the Mariners recovered from in the game. He was all over the place.

Meche's line: 5 innings, 5 runs, 7 hits, 4 walks, 3 strikeouts, 99 pitches (59 strikes)

BOTTOM 5TH
Grade: C-
More of less. Valdez bounced out to second, Ichiro kept the other middle infielder busy with another groundout, and Winn took a 1-1 pitch to the warning track in left. Sabathia threw only eight pitches and had thrown 72 through five.

TOP 6TH
Grade: C-
The Indians got another one. Julio Mateo came on for Meche. Hernandez popped the first pitch just past the third-base bag on the line, and Beltre came down with it. Then Sizemore was down 0-2 and ended up grinding out a 13-pitch walk. Sizemore fouled off seven pitches after having two strikes on him. Crisp hit a hard grounder that Sexson dove for and stopped. Sexson had a bit of trouble getting a handle of the ball before one-hopping a wide throw to Valdez at second. Valdez caught the throw, but it just barely pulled his foot off the bag, and everyone was safe (Sexson was charged with the error). Then Cora singled his first pitch into rightfield. Ichiro tried to throw home, but it was a little high if it was in time, which I don't think it was. Sizemore scored as a reward for his crazy at-bat.
»» INDIANS 6, MARINERS 1
Then Martinez lined out to centerfield, and Crisp was easily doubled off the bag at second. Mateo threw 18 pitches in the inning.

BOTTOM 6TH
Grade: C-
The bats must have been in the belfry, because they weren't at the ballpark tonight. Of course, Sabathia had a lot to do with that. Beltre fanned on a 1-2 breaking ball. Sexson hit the second pitch to fairly deep rightfield. Boone swung through a change in the dirt. Sabathia threw 11 pitches in the inning and was at 83 through six.

TOP 7TH
Grade: A-
Mateo threw a 1-2-3 inning. Hafner had a 2-0 count but fanned. Blake hit a shallow flyout to Ichiro. Broussard flew out to Winn. Mateo threw 13 pitches.

Mateo had an okay outing, burned mostly by the insane Sizemore at-bat and Sexson throwing from his knees.

Mateo's line: 2 innings, 1 run, 1 hit, 1 walk, 1 strikeout, 31 pitches (22 strikes)

BOTTOM 7TH
Grade: C-
It's not easy for me to keep my attention when I get these kinds of games where I pretty much know it's over. Ibanez walked on four pitches, then was erased from the basepaths when Bloomquist grounded into the 5-4 fielder's choice. Olivo flew out to left. Valdez shattered his bat twice in his at-bat, and on the second shatter, he bounced out to third. Sabathia threw 14 pitches.

Congratulations, CC Sabathia! You've shut down the Mariners! He wasn't as dominating as Harden the night before, but he was still very good. He threw two less pitches than Meche and got six more outs.

Sabathia's line: 7 innings, 1 run, 5 hits, 2 walks, 5 strikeouts, 97 pitches (58 strikes)

TOP 8TH
Grade: B-
Jeff Nelson came in for Mateo and proved he's just about lost his control permanently. Belliard whiffed to lead off, but Nelson then walked Hernandez, who I thought was supposed to strike out a lot. Sizemore singled into centerfield. Crisp was badly fooled and swung at a 1-1 pitch that hit him in the knee. By rule, that's a strike. The runners tried to advance after the ball bounced away from the plate, but by rule the ball is dead once it makes contact with the batter on such an odd play, so the runners were sent back. Crisp flew out to Valdez in shallow left, and Valdez tried to nail Hernandez off the bag at second to no avail. Cora then whiffed on an 0-2 pitch. Nelson threw 21 pitches in the inning.

Nelson's line: 1 inning, 0 runs, 1 hit, 1 walk, 2 strikeouts, 21 pitches (13 strikes)

BOTTOM 8TH
Grade: C-
David Riske came in to do some easy mop-up work for Sabathia. Ichiro lined out to left. Winn grounded out to Belliard at second. Beltre hit an 0-2 pitch to the third baseman. Riske got through the inning in 13 pitches.

TOP 9TH
Grade: A
JJ Putz came in for Nelson. Martinez grounded up the middle on the first pitch, but Valdez scooped it up and threw him out. Hafner did something other than strike out (which he'd done three times), and flew out to Winn with a full count. Blake hit the first pitch to Beltre. Putz threw nine pitches in a very easy inning.

The Putz line: 1 inning, 0 runs, 0 hits, 0 walks, 0 strikeouts, 9 pitches (6 strikes)

BOTTOM 9TH
Grade: C-
Sigh. Sexson executed the hurry-up offense and swung at the first pitch, flying out to Broussard down the rightfield line. Boone flew out to left on his third pitch. Ibanez decided to drag out the finish a little longer, getting the two hitters' counts and doubling to the rightfield wall on a 3-1 pitch. Bloomquist got behind 0-2 and grounded a 2-2 pitch to short. Ballgame. Riske threw 14 pitches in the inning.

Riske's line: 2 innings, 0 runs, 1 hit, 0 walks, 0 strikeouts, 27 pitches (18 strikes)
---

Gameball: JJ Putz.
Well, I guess the clear-cut favorite would be Boone, but I didn't feel like going with him. Ibanez went 2-for-4 with a walk (and a .279 average) and I almost went with him here, but he did bounce into the one double play. Thus, it's a day for JJ, who learned recently that his wife is expecting twins. Seventeen games into the season, Putz sits with an ERA of 0.00. It's sad when I give a gameball to a guy that threw a nine-pitch inning in garbage time relief, but that's what it's come to. Not that he didn't do a great job, because he did.

Goat: Gil Meche.
Meche's big inning in his last start (Chicago) was the third, and that time he only gave up three runs and the Mariners had the lead going into the inning. This time, he was getting torched from the first pitch of the game, and the Mariners were down five runs before they sent a batter to the plate. Five runs isn't insurmountable or anything, but it is a sizable hole, and it's an even more sizable hole when CC Sabathia is pitching for the other team. I was hoping Meche would at least match his outing last time, which wasn't his sharpest outing but was still decent. Instead, Meche reverted back to the degenerative big-inning Meche, digging a hole much too deep for his team to climb out.


Well, what to say about this game? The Mariners are an Eric Byrnes diving catch away from possibly staring at a three-game losing streak right now. They've had the rotten luck of drawing Barry Zito, Rich Harden, and CC Sabathia three straight nights, and those are three of the better pitchers in the AL (Zito at least was one at one time). So while no one (including me) is pleased that the Mariners' bats have fallen on some hard times as of late, they have had the rotten luck of having to face three great pitchers in a row. Combine that with league adjustments for Richie Sexson (plus the sickness recovery) and Adrian Beltre, and you've got the recipe for offensive doldrums. Man, I can't wait till until those guys start bashing the ball around, though. It's going to be fun.

I could say more about Meche, but yecccchhh. Instead of taking a step forward or even a step laterally from his last start in Chicago, he took an authoritative step back. It reminded me almost of Freddy Garcia getting lit up and throwing 99 pitches in five innings (a typical April Freddy start from a couple years ago), except Meche doesn't let it show in his body language that he's getting rocked like Freddy did.

Man, what an uneventful game. It was eventful for CC Sabathia, but for the Mariners, ugh. All of the events happened before the game. Although Bud Selig moved the Pilots and professional baseball out of Seattle many moons ago, I think it's great that he's flown all the way out here a couple times to recognize Ichiro. For this and for the pure genius behind allowing baseball to take on MLB.tv, I give him credit. THE NFL NEEDS TO DO SOMETHING LIKE MLB.TV. But they won't, I know that.

The weirdest part of the game may have been after Dave Niehaus read off the disclaimer; Dave and Ron started talking about "dissemination" and "disseminating," and that was 30 seconds of airtime that I really didn't need to hear. On the radio side, they had a Frank Howard nostalgia moment, so at least that was half-worthwhile.

Yes, the Mariners have lost two straight for the fourth time this season. As much as I despise mediocrity, this 8-9 record would translate out to 76 or 77 wins, and I had them pegged at 77 at the start of the year, and dang it, I'm sticking to that.

Is it just me, or would Meche just be a terrible name for a hockey goalie? Somehow I think Meche's name would ring like a Mike Wall would.

Lee. Sele. Tonight.