Sunday, April 24, 2005
GAME 18: INDIANS 5, MARINERS 2
Indians 5, Mariners 2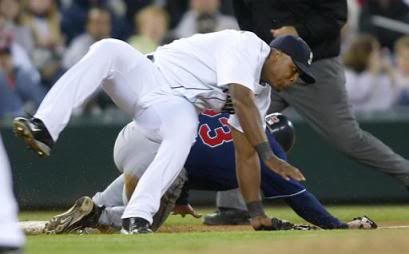 In 25 words or less: Cliff Lee had a hot start last year, but I think we can pin this one on the Mariner bats. He's not Sabathia or Harden.

This one featured lefty Cliff Lee for Cleveland and righty Aaron Sele for Seattle. Willie Bloomquist was ridiculously given his third start in four days, but luckily Jeremy Reed didn't sit a second straight game against a lefty pitcher, though he was bumped down to the #8 slot in the lineup.

TOP 1ST
Grade: C+
Sele managed to get out of this one unscathed. Coco Crisp bunted on the first pitch of the game, and it was a perfect bunt, and Sele came off the mound and sorta got in Adrian Beltre's way fielding the ball, though not in a collision quite like yesterday's Beltre/Meche meeting. Ron Belliard saw an 0-1 hanging curve, but got under it a bit too much, hitting it high to Randy Winn in left. Victor Martinez flew out to Reed in leftecenter. Sele had Travis Hafner with a 1-2 count, but ended up walking him. Casey Blake was at the plate for three pitches and watched three strikes, the last one being a fastball over the outside corner. Sele threw 17 pitches.

BOTTOM 1ST
Grade: C
There was a minor threat, I guess. Ichiro doubled his first pitch down the leftfield line and was nearly thrown out by Crisp in leftfield. I thought the throw was in time, but that ended up being moot because Belliard never got a glove on it. Instead, the ball bounced up once and apparently nailed him in the nuts. Belliard lie on the dirt in pain for a minute or so as the requisite trainers attended to him. Okay, it was one thing when Josias Manzanillo got nailed; he was a pitcher. Though baseballs can be rocketed at the pitcher, who is just 60'6" from the plate, I can see the uncomfortable mobility caused by cup-wearing to be a semi-plausible excuse to not wearing one. An infielder, however...come on. Mitch Williams shattered John Kruk's cup with a one-hopper, and even with the cup on at the time of impact, Kruk's got one less vital organ than most other males on the planet. Worse still, when I was 15 and playing Babe Ruth ball, we were practicing and one of our catchers took one because he wasn't wearing a cup. How did I react? Freakin' laughed like a psycho, though my laughing wasn't triggered only by the non-cup incident.

Okay, enough of that cup talk. The Mariners had a runner on second with nobody out. Never mind that Randy Winn ended up batting .286 even after this game, let's bunt him over and waste an out. Winn squared up and bunted an airball into Lee's glove. Adrian Beltre smoked a 1-2 pitch right into Jhonny Peralta's glove, and he easily doubled Ichiro off of second. Lee threw only six pitches in the inning.

TOP 2ND
Grade: C+
Sele averted disaster once again. He fell behind 2-0 on Ben Broussard to lead off, fought back to get two strikes, and then walked him. Aaron Boone took struck out on three pitches, taking the third pitch over the outside corner (fastball) for strike three. Grady Sizemore had a 2-0 count, but later grounded one to short for a 6-4 fielder's choice; the ball apparently wasn't hit hard enough to turn a double play. Jhonny Peralta took an 0-2 pitch just barely high over the outside corner. His count went full, but Sele blew him down with a fastball way low and outside. Sele threw 19 pitches in the inning.

BOTTOM 2ND
Grade: C-
This was another quick one for Lee. Richie Sexson swung at the second pitch and flew out to Blake along the rightfield line. Bret Boone lined his second pitch right to Crisp in leftfield. Raul Ibanez took a little longer to get set down, finally waving at a 1-2 pitch low and away for strike three. Lee threw only nine pitches in the inning.

TOP 3RD
Grade: C
Despite allowing another leadoff hitter to get aboard, Sele somehow kept the shutout intact. Instead of walking Crisp on four pitches, Sele walked him on six pitches (full count). Sele left a 1-2 pitch right over the plate to Belliard, who mashed it to leftfield for a single. Martinez bounced out to Sexson, moving the runners. Hafner hit a 1-1 pitch into Sele's legs. Sele picked up the ball and threw low toward home plate. Dan Wilson reached down for the catch, and was in the right place to tag Crisp, who never actually touched the plate. Blake then grounded out to Boone on a 1-2 pitch to end the inning. Sele threw 19 pitches in the inning and had thrown 55 through three.

BOTTOM 3RD
Grade: C-
Lee had another easy inning. Dan Wilson worked the count full and looked like he crushed a ball, but since it's Dan Wilson that hit it, it didn't even get to the warning track in leftfield. Jeremy Reed hit one pretty good as well, but the ballpark held that one too, falling short in the gap in rightcenter. Willie Bloomquist swung at his first pitch and flew out to Blake in rightcenter. Lee threw only nine pitches.

TOP 4TH
Grade: B-
Sele had a little better of an inning this time, though it start the same. Broussard ripped one up the middle for a leadoff single. Aaron Boone bounce a ball up the middle that Bloomquist flipped to Bret Boone to try to turn the double play even though the runner Broussard was pretty much there anyway, but Bret threw in time to first to get his brother. That went as a single 6-4-3 putout. Sele got ahead 0-2 on Sizemore and eventual got him looking at a 1-2 fastball over the inside corner. Peralta swung and missed on a 2-2 pitch outside and in the dirt. Sele threw 17 pitches and had thrown 72 through four.

BOTTOM 4TH
Grade: C-
Lee at least threw more than nine pitches this inning, which didn't happen for the first three. Ichiro flew out to Peralta in short leftfield. Winn had a 2-0 conut before grounding out to short on a full count. Beltre whiffed on a 1-2 pitch outside and in the dirt. Lee threw 14 pitches in the inning.

TOP 5TH
Grade: A-
Oddly, Sele seemed to be getting better as the night progressed. Crisp had a 2-0 count, but he fouled off two pitches and whiffed on a breaking ball. Belliard gronuded out to Beltre. Hafner's high hopper to first was blocked by Sexson, who underhanded to a covering Sele. Sele threw 11 pitches in the inning and had 83 through five.

BOTTOM 5TH
Grade: C
It was more of little from the Mariner lumber. Sexson struck out on three pitches, the last being a slow curve. Boone grounded one up the middle that Belliard grabbed and threw to first. Ibanez worked his 1-2 count full and doubled down the rightfield line. Then Wilson kept the momentum going by lining a ball right to Blake to end the inning. Lee threw 14 pitches and had thrown only 52 through five.

TOP 6TH
Grade: A-
Probably Sele's best inning. Hafner bounced out to Beltre. Blake worked his 1-2 count to full, but lined out right to Boone. Broussard popped a ball into shallow left that was caught by Bloomquist. Sele threw 12 pitches in the inning and had thrown 95 through six.

BOTTOM 6TH
Grade: D+
It's only more disappointing because the #8 hitter got to second right away and never got home. Reed worked a 1-2 count full and socked a double into the gap in rightcenter (possibly aided due to Sizemore playing closer to leftcenter). Bloomquist fouled a 1-1 pitch back into the catcher's glove. The count eventually went full. Bloomquist fouled off five pitches with two strikes on him. On the twelfth pitch of the at-bat, Bloomquist swung at a ball low and away in the dirt, not even close to the strike zone. It would have been ball four. Ichiro bounced out to third on his first pitch, moving Reed to third like Bloomquist couldn't. Winn had a 3-0 count, but flew out to center on the 3-1 pitch. Lee threw 25 pitches in the inning (Bloomquist), and had 77 through six.

TOP 7TH
Grade: D+
With Sele having 95 pitches going into the inning, and having thrown six jammy-though-scoreless innings fairly early in the season, I probably would have not let Sele come back out for the 7th, or at least have yanked him out after the first righty (Aaron Boone). Sele got a 2-2 flyout to Sexson in foul territory off of the Other Boone. Sizemore then ripped his second pitch through the middle for a single. Peralta grounded to Boone, though that moved Sizemore to second. Crisp grounded a 1-0 pitch through the middle, Sizemore scored, and the shutout was no more. Worse yet, the Mariners were now behind.
»» INDIANS 1, MARINERS 0
Sele fell behind 2-0 and Belliard stung a line-drive single into center, moving Crisp over to second.

I thought Sele was left in a bit too long. Not Al Leiter circa 2000 playoffs long, but still long. Ron Villone came on in relief. He immediately fell behind 3-0 to Martinez, who got the green-light because he's the #3 hitter and he raked at Safeco Field that one day last July. He swung and doubled off the GAME TIME (Budweiser) sign in front of the bullpen, halfway up the wall. Crisp and Belliard crossed the plate, and I'm sure Sele loved the inherited runners scoring runs.
»» INDIANS 3, MARINERS 0
Hafner lined his 1-2 pitch to Bloomquist to mercifully end the inning. Villone threw eight pitches.

Sele's first six innings were six innings full of "how the hell is this still a shutout?" from me since he got in some early jams, threw a lot of pitches early, and I thought some of his pitches were getting hit pretty hard. I'm not sure I would have even let him trot out of the dugout for the 7th. I'm not a big fan of Aaron Sele, but I would have rather had Ron Villone set up to lose this game rather than Sele, who I didn't feel deserved to lose it and had thrown enough pitches for this early in the season.

Sele's line: 6 2/3 innings, 3 runs, 6 hits, 3 walks, 6 strikeouts, 113 pitches (71 strikes)

BOTTOM 7TH
Grade: D+
Hey, it's some more frustration for the Mariner offense. Beltre hit his second pitch just short of the track in leftcenter, where Sizemore tracked it down. Sexson worked his count full and singled over Belliard and into rightfield, thankfully snapping an 0-for-18 skid. Boone drew the two hitters' counts, but walked. The Mariners had two on and one out. Ibanez fouled off four pitches with an 0-2 count, took two pitches for balls, then whiffed on a pitch up and in. Before I could think of questioning why Wilson was hitting seventh in the lineup and Reed was hitting eighth, Wilson bounced out to first (Broussard slid into the bag on a weird play) to end the threat. Lee threw 30 pitches in the inning and had thrown 107 through seven.

Lee was done for the night. Perhaps Rich Harden and CC Sabathia had softened up the Mariners enough to where all Lee had to do was pitch. Or something like that.

Lee's line: 7 innings, 0 runs, 4 hits, 1 walk, 5 strikeouts, 107 pitches (70 strikes)

TOP 8TH
Grade: C-
This inning was filled with some weirdness. Villone got behind 2-0 on Blake before eventually walking him on a full count. Villone balked on a 1-1 count to Broussard, apparently stepping toward home and throwing to first. Broussard ended up tapping one back to Villone, and the infield got Blake into a rundown between second and third. They got Blake, but unfortunately they let Broussard scoot over to second (I was listening on radio at this point, but I'm thinking they tagged Blake on the way to third rather than second, which is bad in terms of rundown fundamentals). This would immediately make a difference. Broussard took off for third on the 1-1 pitch to Aaron Boone, and Wilson came up throwing. He airmailed it, and Broussard scored.
»» INDIANS 4, MARINERS 0
Other Boone worked a 1-2 count full, but took a breaking ball for strike three. Sizemore encountered the same fate on a 2-2 pitch. Villone threw 22 pitches in the inning.

Villone was done for the night, and I'd have to say his appearance was below average, and that might be the upper extent of it. He scored all of Sele's runs and let the leadoff runner on in an inning that eventually saw Cleveland score via some weird ways of having runners advance. Seriously. That inning in a nutshell was walk, balk, rundown with other runner advancing, steal, catcher airmailing ball, strikeout, strikeout. NO HITS, though the leadoff hitter got into scoring position on the walk and balk, and that's all on Villone even though that runner didn't score.

Villone's line: 1 1/3 innings, 1 run (unearned), 1 hit, 1 walk, 2 strikeouts, 30 pitches (15 strikes)

BOTTOM 8TH
Grade: D+
Arthur Rhodes came in for Cleveland and unfortunately he was earringless, so the Mariners couldn't pull his chain. Too bad Omar Vizquel isn't still with Cleveland. Reed hit a 1-2 breaking ball into left for a single. Bloomquist killed the buzz quickly, grounding a ball right to short, starting the ol' 6-4-3 double play. Nice job, Willie. Thus, there were no runners for Ichiro to advance. He had a 2-0 count, but couldn't hold a checkswing on a 2-2 slider.

Rhodes' line: 1 inning, 0 runs, 1 hit, 0 walks, 1 strikeout, 11 pitches (8 strikes)

TOP 9TH
Grade: C
Shigetoshi Hasegawa was called on to keep it close. He gave a 3-1 count to Peralta, but got a lineout to Boone. Hasegawa got ahead 0-2 on Crisp and got him hacking on a 1-2 fastball over the outside corner. Just when I was about to at least consider Hasegawa for a gameball, he laid a 1-0 pitch into the wheelhouse of Belliard, who deposited it over the manual scoreboard in leftfield. At least it was only a solo shot, I guess.
»» INDIANS 5, MARINERS 0
Martinez tapped one back to Hasegawa to end the inning.

Hasegawa's line: 1 inning, 1 run, 1 hit, 0 walks, 1 strikeout, 14 pitches (9 strikes)

BOTTOM 9TH
Grade: B-
The Mariners would have a mild case of the runs. Bobby Howry came in for Rhodes and promptly walked Winn on four pitches. Beltre got the two hitters' counts, but went to a full count soon enough. Beltre fouled off four pitches before smacking a single over the middle and into centerfield. Sexson then worked a 1-2 count full and dropped one in front of Blake in rightfield, who misplayed the ball, allowing Winn to score and Beltre to go to third.
»» INDIANS 5, MARINERS 1
Runners were on the corners with nobody in and the Mariners down four.

Bob Wickman came in for Howry, and I was immediately clamoring for Greg Dobbs to pinch hit, since he got that MLB debut homer against somebody in particular. Yes, I know that'd be a huge stretch for that to happen again. Nonetheless, Bret Boone came up as scheduled and grounded into the 6-4-3 double play, scoring a run and killing the rally in the process.
»» INDIANS 5, MARINERS 2
Ibanez flew out to rightfield two pitches later to end the madness.

Token Cleveland bullpen lines...
Howry: 0 innings, 2 runs (1 earned), 2 hits, 1 walk, 0 strikeouts, 21 pitches (11 strikes)
Wickman: 1 inning, 0 runs, 0 hits, 0 walks, 0 strikeouts, 4 pitches (4 strikes)
---

Gameball: Jeremy Reed.
Well, thankfully he didn't sit down two days in a row because a lefty was on the mound, though he was batting 8th instead of 2nd this time. Still, his 2-for-3 is a bit quieter compared to Richie Sexson's slump-breaking 2-for-4 day. Reed's average is also now a quiet .278, very far from the daily Pump here at Sports and B's.

Goat: Dan Wilson.
This is the easiest choice based on only one look at the boxscore. He airmailed that throw to third, causing a run to score. That was the cherry on top of an 0-for-3 day where he stranded three runners.


Well, yeah, it's one thing to know that your team lost to a Rich Harden or a CC Sabathia. Cliff Lee isn't chop liver or anything, but he's not in the class as the two pitchers I mentioned, so like I said at the top of all this, I'm pinning this one on the offense. Though Sele could have gotten into less jams and maybe not have issued so many walks, from a pure numbers standpoint this outing was more than solid for Sele. I don't know how much more you could expect numberswise than what's in his line for this game. Hell, if Sele gave up three runs and got into the 7th in every outing for the rest of the season, I'd gladly take it every five days, no question. Of course, the way he went about getting through those 6 2/3 innings included some playing with fire, and I'm sure if he pitches like he did in this game some other time, he's bound to get burned.

Dan Wilson blocked the dish well early in the game on the play at the plate, and then airmailed the throw to third base late in the game. Do you think Ben Broussard knew exactly what he was doing when he took off for third? It's like Frank Thomas tagging up on Randy Winn. Everyone knew about the cannons involved, or more like the noodles.

If it seemed like there were a lot of double plays, well, the Mariners hit into three of them. Beltre lined into the one, and Bloomquist and Boone both bounced into twin killings. That's a good way to kill three innings. Beltre whacked his ball, so that was just bad luck, but the other two, well, yeah.

I just now realized I said Aaron Sele didn't deserve to lose this game, and then I look and see his shimmery 5.56 ERA. I guess it wouldn't be such an inside joke after this, but me and a fellow geology major had this thing where if we were hearing a dumb question in class or someone was giving a God-awful boring presentation on something, we'd throw reactive facial gestures or pantomimes back and forth, and one of my go-to pantomimes was me trying to cup my hands together and collect the brain that was leaking out of my ears because it wanted to escape and be somewhere other than that particular room at that moment. Where am I going with this? I'm saying that other than "head exploding," "throwing up in one's own mouth," "dropping jaw," and others, "brain leaking out of ears" is a valid reaction to stimuli such as knowing Aaron Sele is unfortunately a main contributor in the Mariners' starting rotation and has a 5.56 ERA.

So, the Mariners have lost three in a row, yet I'll sit here and argue that the Mariners are an Eric Byrnes diving catch (as opposed to a miss) away from being in a four-game losing streak right now. Zito can be considered good, Harden looked awesome, Sabathia is solid. Lee is Lee, and the Mariners discovered he could get them out on a consistent basis instead of just being the title of some Tenacious D song.

But hey, if the Mariners are two games below .500, that means there has to be a winning streak to get back to .500, and maybe even one or two games over it. Also, if you take 8-10 and project that winning percentage over 162 games, you get a record of 72-90, which would be a nine-game improvement over last year. It'd also be five games under my prediction.

This post was aided by the background music of the following...
-- V, Live
-- Contraband, Velvet Revolver
-- Chuck, Sum 41

Elarton. Moyer. Today.