Saturday, May 07, 2005
MARINERS-RED SOX RAINED OUT
GAME 29: RED SOX 7, MARINERS 2
Red Sox 7, Mariners 2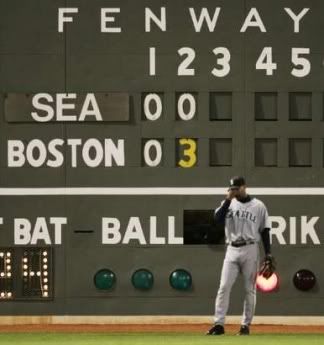 In 25 words or less: The Red Sox teed off on Jamie Moyer and quickly put this one out of doubt.

This one featured Jamie Moyer and Matt Clement. Richie Sexson was back home with wife Kerry for the birth of their newborn son, given the name Gavin Richmond Sexson. I bet he'll be a basketball player.

TOP 1ST
Grade: D+
As usual, the duck stayed on the pond. Ichiro's fly to left was caught by Manny Ramirez on the run in the corner. Randy Winn doubled down the leftfield line and into the corner. Adrian Beltre sent Trot Nixon to the warning track in rightfield. Raul Ibañez had a 2-0 count, but ended up rolling one to second with the count full. Clement threw 16 pitches.

BOTTOM 1ST
Grade: A
Boy, did this game start out deceiving. Mark Bellhorn hit the second pitch back to Moyer. Moyer got ahead 0-2 on Trot Nixon, and caught him looking. Manny Ramirez grounded one to Beltre at third on the first pitch. Moyer threw seven pitches in the 1-2-3 inning. Here's a hint: it was his best inning of the night.

TOP 2ND
Grade: C-
Slightly higher grade for this inning because I don't expect the bottom of the lineup to do anything with a runner on second and one out. Bret Boone couldn't check his swing on a 1-2 dirtball. Jeremy Reed doubled to the gap in rightcenter, in front of the bullpen. Greg Dobbs tapped a ball back to the mound, and Clement could have had Reed going to third, but chose to go to first instead, not that it matters with this offense lately. Miguel Olivo, who came into the game on an 0-for-14 tear, whiffed on a slider low and away. Sometimes I'm led to believe that this team as a whole just forgot how to pick up the rotation on a slider or something. Clement threw 16 pitches.

BOTTOM 2ND
Grade: D
Geeeeeeeeeeeeet ready; all nine Boston hitters were about to come to the plate. Dave Niehaus made it a point to mention that David Ortiz hadn't hit a ball off the Green Monster until he did so to lead off this inning, good for a double. Kevin Millar grounded a ball to Wilson Valdez at short before the carnage resumed. Jason Varitek hit a slow roller along the third-base line, but Beltre was playing back and had no play (single), and Ortiz scooted to third on the play. Jay Payton worked a walk from a 1-2 count to load the bases. Bill Mueller reached on a 1-2 pitch low and outside, and parachuted it down the rightfield line to score Ortiz and Varitek, and send Payton to third.
»» RED SOX 2, MARINERS 0
Ramon Vazquez hit one by Ibañez at first and into rightfield for a single, good to plate Payton and put Mueller on second.
»» RED SOX 3, MARINERS 0
Bellhorn lined out to Reed in center. Nixon apparently was beaned on a 1-2 pitch, though it was hard to tell if it really hit anything, and it might have hit the bat, which of course would have been a foul. It didn't matter soon enough since Ramirez bounced out to short to end the inning. Moyer threw 36 pitches.

TOP 3RD
Grade: D+
More frustration. Wilson Valdez fouled off an 0-2 pitch before swinging through a pitch way off the plate. Ichiro bounced one to Millar off the first-base bag, but Ichiro beat Clement (trying to cover) to the bag for a single. With the count 1-1 on Winn, Ichiro was badly gunned down at second, not even getting to the bag; it looked to me like he slid about five feet too early as well. Winn was beaned in the leg on the next pitch. Beltre, hitless in 20 straight at-bats to this point, creamed a single to left, which was at least somewhat encouraging. Ibañez foul-tipped a full-count pitch into the catcher's glove. Clement threw 22 pitches.

BOTTOM 3RD
Grade: D
The game effectively ended in this inning. Ortiz led off with a rainmaker of a deep fly ball which wrapped around the Pesky pole in rightfield, though I'm sure it's much easier to tell in person than on television. Anyway, that's a solo shot from f.k.a. David Arias.
»» RED SOX 4, MARINERS 0
Millar had the hitters' counts and walked. Varitek hacked and missed a low 0-2 pitch. Payton hit a ball back to the mound that went off Moyer's leg and high into the air; Moyer couldn't immediately locate it, and everybody was safe. Mueller hit the second pitch into the leftfield corner, and Millar and Payton scored.
»» RED SOX 6, MARINERS 0
Vazquez grounded out to Boone at second. Moyer started Bellhorn out 3-0 before walking him on 3-1.

If someone was going to stop this Mariner losing streak on this night, it wasn't going to be Jamie Moyer.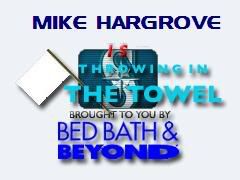 Matt Thornton came in for Moyer. Thornton's first pitch went into the dirt and past Olivo, allowing Bellhorn to move to second. Nixon eventually put a very high fly ball into Ichiro's glove to end the inning. Thornton threw five pitches.

Moyer's line: 2 2/3 innings, 6 runs, 7 hits, 3 walks, 2 strikeouts, 72 pitches (45 strikes)

TOP 4TH
Grade: C-
There's only one way to respond to Boston doubling its lead in a half-inning. Boone flew out to center. Reed smoked a ball right into Clement's glove. Dobbs whiffed on an 0-2 dirtball. Hoorah! Clement threw eight pitches.

BOTTOM 4TH
Grade: C-
The Red Sox still had a case of the runs. Ramirez walked to lead off the inning. Ortiz flew out high to Reed in centerfield. Millar singled to center. Varitek blooped a shallow single to rightfield to load the bases. Thornton stepped up and walked Payton on a 3-1 pitch.
»» RED SOX 7, MARINERS 0
Mueller had a 2-0 count, but two pitches later he hit a broken-bat fly, and Ichiro caught it on the run toward the rightfield line. Ichiro was shallow, so the Millar held at third. Vazquez grounded out to Ibañez to end the inning. Thornton threw 30 pitches.

TOP 5TH
Grade: B-
Offense? Capitalizing off a mistake? Imagine that. Olivo grounded to short, and should have grounded out, but Vazquez airmailed the throw into the first-base dugout. Valdez hit a ball up the middle, but Bellhorn got it and threw him out. Ichiro hit the first pitch to Payton in centerfield, and Olivo was able to tag up and beat the throw home to dent the deficit just a tiny bit.
»» RED SOX 7, MARINERS 1
Winn had a semi-epic at-bat (you have to reach a bit for this game), fouling off three pitches with two strikes. He nearly got a double down the rightfield line out of the deal. Instead, he flew out to Mueller down the leftfield line. Clement threw 15 pitches and was at 77 through five.

BOTTOM 5TH
Grade: A-
Oddly, Thornton struck out the side. Bellhorn got ahead 2-0 but whiffed on 2-2. Nixon dropped a shallow single into center before Thornton got ahead 0-2 on Ramirez and Ortiz and got them both looking on 1-2. Ramirez gazed at a pitch over the inside corner, whereas Ortiz checkswung on a pitch down and over the outside corner.

Thornton's line: 2 1/3 innings, 1 run, 3 hits, 2 walks, 3 strikeouts, 53 pitches (31 strikes)

TOP 6TH
Grade: C-
The meat's expired. Beltre had a frustrating at-bat, swinging at a 1-1 breaking ball low and away, then fouling off a 2-2 pitch that seemed destined toward his back shoulder. He rolled out to short. Ibañez whiffed on an 0-2 dirtball, and Boone grounded out to short. Clement threw 14 pitches and had thrown 91 through six.

BOTTOM 6TH
Grade: A
Julio Mateo came in for Matt Thornton. Millar flew out just short of the track in centerfield. Varitek grounded out to Boone, and Payton flew out to Reed to end the inning. Mateo threw 11 pitches.

TOP 7TH
Grade: C-
Baserunners? Reed singled over Bellhorn's head and into rightfield. Dobbs flew out to leftfield on the first pitch. Olivo got the hitters' counts and walked on 3-1. Valdez got ahead 2-0 and grounded a 2-2 pitch to short, beating out a double play in the process (6-4 fielder's choice). With runners on the corners and two out, Ichiro chopped the 2-0 pitch back to the mound.

Clement's line: 7 innings, 1 run (unearned), 5 hits, 1 walk, 6 strikeouts, 107 pitches (72 strikes)

BOTTOM 7TH
Grade: A
This Mateo guy is good. Mueller bounced out to Boone, Vazquez whiffed on a breaking ball, and Bellhorn whiffed on a low pitch as the Fenway crowd got so bored they were doing the Wave, which has me at a loss for words.

Mateo's line: 2 innings, 0 runs, 0 hits, 0 walks, 2 strikeouts, 27 pitches (20 strikes)

TOP 8TH
Grade:
Alan Embree came in for Clement. Winn bounced out to first. Beltre lined out to Payton in centerfield. Ibañez got down 0-2 and wound up looking at a pitch over the inside corner.

Embree's line: 1 inning, 0 runs, 0 hits, 0 walks, 1 strikeout, 15 pitches (10 strikes)

BOTTOM 8TH
Grade: A
JJ Putz came in for Mateo, and went 0-2 on all three hitters. Nixon watched a pitch over the outside corner. Ramirez grounded out to Ibañez at first. Ortiz hung in for a couple more pitches before foul-tipping a 2-2 pitch into Olivo's glove.

Putz' line: 1 inning, 0 runs, 0 hits, 0 walks, 2 strikeouts, 11 pitches (9 strikes)

TOP 9TH
Grade: B-
Blaine Neal came in for Embree. Boone poked the second pitch of the inning into center for a single. Reed took a 3-1 pitch inside for a free pass. Dobbs fouled off four pitches with two strikes before hitting a soft single to rightfield, loading the bases. Dave Hansen came in to pinch hit, and he flew out to Ramirez, which scored Boone.
»» RED SOX 7, MARINERS 2
Bloomquist came in to pinch hit and flew out to rightfield on the second pitch. Ichiro hit a hard grounder to second. Ballgame.

Neal's line: 1 inning, 1 run, 2 hits, 1 walk, 0 strikeouts, 21 pitches (14 strikes)
---

Gameball: Julio Mateo.
I think I have a tendency to lean toward long relief when it comes to picking gameballs for these clobberfest games. Jeremy Reed was very deserving by going 2-for-3 with a walk and hitting the ball hard in all three official at-bats (the out was the laser into Clement's glove). Mateo, however, threw a couple of 1-2-3 innings, though it was garbage time by that point. It's early, yes, and the team has lost six straight, but Mateo's sitting here with an ERA of 0.59. If they'd move out of the idiocy that is the use of Ron Villone as a situational lefty, Villone/Mateo might be a decent multi-inning combo setup for Guardado or something. Or alternate Hasegawa with either one of those guys every once in a while. Hasegawa has that thing where he gets lefties out pretty well, so maybe you could be nuts and throw him as the situational pseudo-lefty if Villone goes long, who knows. I'm thinking out loud here, but I'm sure you're used to that.

Goat: Jamie Moyer.
Say anything you want about the bats, which are horrible right now, but some of the starting pitching the Mariners have gotten over the last turn in the rotation hasn't been good either. Gil Meche's start was probably the best start in the rotation over the last five games [Edit ~2:05p -- sorry, Joel. Didn't mean to slight your 3-run, 8-inning start in Oakland last Sunday, which was way better than Meche's outing], but Meche still gave up five runs in that one, though he did go eight innings. As for Jamie in this game, I don't even think he got through the second inning before Dave Niehaus and Ron Fairly started making excuses for him -- "this isn't one of Jamie's favorite parks to in which to pitch." You can curse the bats all you want, but how many games can you really expect to win if Jamie Moyer gives up six runs and can't get out of the third inning? Who knows, he might be distraught over Dan Wilson tearing his ACL too. That could be a factor. I know I'd be a little apprehensive if I knew that there'd be a chance that I'd have Wiki Gonzalez back there catching my pitches.


Seriously, I've never been this non-enthralled about watching any sporting events since the Sonics had that last handful of games at the end of the regular season where they were suiting up nine guys because everyone was hurt. You knew that if Ray Allen and Luke Ridnour were the only key cogs on the floor, they were probably going to get trounced every night. Thus, when I was watching those games, I went in hoping they'd maintain some shreds of competitiveness for a while and just maybe get a win, though they probably wouldn't. They'd hang in for maybe most of the first half until reality set in.

Over the last week, the Mariners haven't become completely unwatchable, but they sure have been hard to watch. They've been like clockwork -- starting pitcher gives up a few runs early or gets shelled, offense gets baserunners but barely any of them score. It's also pretty depressing when the bottom of the lineup manages to somehow get on base, and then the order turns over and no one can get those runs across. There have been good times to watch the Mariners, and there have been bad times to watch the Mariners -- this isn't one of the good times.

Congrats to Richie Sexson and wife. Of course, that left the lineup in shambles. Ibanez at first is something I can understand, but Dobbs in the lineup? Can we see if Stan Javier has any sons and if they're too young, can we then give them rapid aging pills so they can take spots on this bench?

In other news for the bats, Adrian Beltre had that nice single to leftfield, so now he's got one hit in his last 22 at-bats. I guess if there's any positive, it's that Beltre has only struck out three times in his last six games, according to what the ESPN BottomLine just told me. Movin' on up! In bad news, Ichiro stranded four runners, and Raul Ibañez struck out three times (hat trick) in his stellar 0-for-4 performance. At least we got error-free play at first base out of it.

Let's see here, the Red Sox don't have Curt Schilling and David Wells right now, but does it really matter for the Mariners at this point? At least the Mariners a chance at revenge in the form of a home series against the Red Sox at the Safe...except the Mariners are beyond horrible at home so far. The Mariners still haven't played the Yankees yet, but hey, they'll get Randy Johnson. I know those two sets against the Yankees are going to be clashes of the titans, but the fact that Randy Johnson, Tino Martinez, and Alex Rodriguez all play for that team now is just too much for my mind to try to comprehend.

Any bets on when this losing streak might stop?

Pineiro. Gonzalez. Today...or tomorrow, if this stormy weather in New England holds up. If it does hold up...

...Franklin. Miller. (Later) tomorrow.
Friday, May 06, 2005
CHAD BROWN SIGNS WITH THE PATRIOTS
TRY
THE PUMP 5/6/05
Thursday, May 05, 2005
IT'S A.......
RANDOM EXCESS MEMORY
HOT HOT HOT
Wednesday, May 04, 2005
WILSON PLACED ON 60-DAY DL
GAME 28: ANGELS 5, MARINERS 2
THE NOT-SO-PRODUCTIVE OUT-MAKING BOX 5/4/05
GAME 5: SUPERSONICS 122, KINGS 118
GAME 27: ANGELS 5, MARINERS 2
FIN
Tuesday, May 03, 2005
THE NOT-SO-PRODUCTIVE OUT-MAKING BOX 5/3/05
GAME 26: ANGELS 5, MARINERS 0
Monday, May 02, 2005
ICHIRO!!!
THE NOT-SO-PRODUCTIVE OUT-MAKING BOX 5/2/05
GAME 4: SUPERSONICS 115, KINGS 102