Saturday, July 23, 2005
THE PUMP 7/23/05
GAME 95: MARINERS 4, INDIANS 3
Mariners 4, Indians 3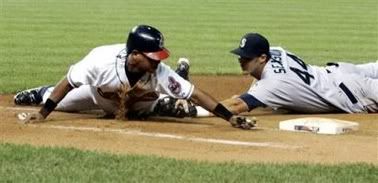 In 25 words or less: Christmas in July? The Indians partly gave away the game, but the Mariners still had to score four runs while only having four hits.

This one featured Jamie Moyer going up against Scott Elarton. Scott Spiezio replaced Jose Lopez in the starting lineup just before the game, stemming from Jose Lopez injuring his knee in the third inning of the final game in Toronto.

TOP 1ST
Grade: C-
At least a couple of balls were hit hard. Ichiro flew out to leftfield on the first pitch. Randy Winn lined out to second on an 0-2 pitch. Raul Ibañez flew out to the track in rightfield.

BOTTOM 1ST
Grade: B-
Not the greatest of starts for Moyer, though nobody scored. Grady Sizemore got ahead 3-1, but bounced the full-count pitch to Richie Sexson at first, who underhanded to Jamie Moyer jogging toward first, who barely got there in time. Coco Crisp whiffed on a 2-2 pitch inside at his feet. Victor Martinez got ahead 3-0 and took a 3-1 pitch low and away for a walk. Jose Hernandez worked a 1-2 count full, fouled off a pitch, then smoked a single over Mike Morse at short, advancing Martinez to second. Casey Blake got ahead 2-0, enough to get Pat Borders to come out to the mound to chat with Moyer. Blake ended up grunding to Adrian Beltre near the line, where he fielded the ball and stepped on the third-base bag to force out Martinez.

TOP 2ND
Grade: C-
This was a quick one. Richie Sexson got under a 2-2 pitch, flying out to Ron Belliard in shallow rightfield. Adrian Beltre flew out high to rightfield on the second pitch. Jeremy Reed flew out to fairly deep leftfield on the second pitch.

BOTTOM 2ND
Grade: C
Amazingly, this could have been a whole lot worse. Jhonny Peralta ripped a single through the left side on a full count. Ben Broussard nubbed the second pitch to short, where Morse thew to second for the force (6-4 fielder's choice). Ronnie (apparently it's not Ron anymore) Belliard poked the second pitch down the rightfield line for a double, moving Broussard to third, drawing a throw from Winn, who could have thrown to second to keep Belliard at first (Belliard could have been credited with a single and advanced on the throw). Aaron Boone got ahead 3-0 and took the 3-1 pitch just off the inside corner to load the bases. Sizemore nubbed the first pitch in front of the plate, and Moyer underhanded it to Borders at the plate for a force, and the bases remained loaded. Coco Crisp took a 3-1 pitch very high and outside for a walk, forcing Belliard in from third and keeping the bases loaded. Pitching coach Bryan Price made a visit to the mound.
»» INDIANS 1, MARINERS 0
Martinez whiffed on some offspeed stuff low and way away. Moyer had thrown 53 pitches through the first two innings.

TOP 3RD
Grade: C-
This offense may make you drowsy. Mike Morse foul-tipped a low and inside 1-2 changeup Martinez' glove behind the plate. Scott Spiezio, added late into the lineup do to a knee injury suffered in the final game at Toronto, fouled a ball down the rightfield line near the stands, and Blake caught the ball at the railing, having run about a mike to get it. Pat Borders flew out to the track in centerfield on the first pitch.

BOTTOM 3RD
Grade: A
Moyer bounced back nicely from the early silliness. Hernandez fouled off four of five pitches before reaching for a pitch low and outside and bouncing out to third. Blake flew out leftfield on the second pitch, though it took Randy Winn to the wall. Peralta reached for a pitch low and outside for a groundout to short.

TOP 4TH
Grade: B-
The Mariners pushed a run across without a hit. Ichiro walked on four pitches, snapping Elarton's streak of setting down nine straight Mariner hitters. Winn bunted the first pitch softly along the third-base line, where Elarton came off the mound to barehand and throw in time to first, and Ichiro moved to second on the sacrifice. Ibañez rolled a full-count pitch toward short, where the ball bounced over Peralta's glove on the backhand. Ichiro scored as a result to tie the game.
»» INDIANS 1, MARINERS 1
Sexson hit a 3-1 rope right to Crisp in leftfield near the track. Beltre went for a high pitch and flew out high to shallow centerfield.

BOTTOM 4TH
Grade: C
The long ball makes scoring runs a snap. Broussard dumped the second pitch into centerfield for a single. Belliard got behind 0-2 and clubbed the 1-2 offering a couple rows over the scoreboard in leftfield for a two-run smash.
»» INDIANS 3, MARINERS 1
Boone rolled out to third. Sizemore flew out near the track in leftfield on the second pitch. Crisp dinked the first pitch into shallow rightfield for a single. Martinez came to the plate, but he didn't see a pitch. Crisp took off on the first move, and Moyer guessed right, tossing over to Sexson and getting Crisp into a rundown that eventually ended with Crisp running outside of the basepath.

TOP 5TH
Grade: B
The Indians were helping out the good guys. Reed stung the ball off the end of Boone's glove at third and into leftfield for a single. Morse singled to rightfield on the second pitch, and Blake had the ground ball go past his glove and behind him, though Sizemore backed him up. Nonetheless, Reed came around to score, and Morse ended up on second.
»» INDIANS 3, MARINERS 2
Spiezio lined the first pitch right to Blake, who caught it this time. Borders had the hitters' counts and smoked the 3-1 pitch to centerfield, where Sizemore went back and caught it. Ichiro attempted to bunt on the first pitch, drawing some skepticism from the Indians' broadcast crew since the tying run was on second and Ichiro's kind of a good hitter. Ichiro swung and missed and looked stupid on the 1-1 pitch before popping the next pitch to Peralta in shallow leftfield.

BOTTOM 5TH
Grade: B
Moyer trudged along. Martinez grounded the second pitch hard to third. Hernandez dropped the first pitch into centerfield for a single. Reed played the ball and bobbled it a bit, but Hernandez didn't try to take an extra base. On the second pitch, Blake took Winn to the leftfield wall once again for another flyout. Peralta took a 3-1 pitch low for a walk. Broussard got behind 0-2 and ended up putting a jolt into the ball toward rightfield, where Ichiro ran back and caught the ball on the track.

TOP 6TH
Grade: C-
Not a great day for hits for the Mariners. Winn flew out on the second pitch to Sizemore just short of the track in the gap in leftcenter. Ibañez hit a high flyout to center. Sexson got behind 0-2 and worked the count full, fouling off three pitches along the way, and walking on a high ninth pitch. Beltre got behind 0-2. The 1-2 pitch to Beltre bounced off the plate, under Martinez' glove, and away in foul territory as Sexson went to second. Beltre hit a 'tweener fly ball into leftcenter, where Sizemore ran forward and made the catch.

BOTTOM 6TH
Grade: A-
Moyer finished, though not exactly in an illustrious fashion. Belliard got ahead 2-0, but whiffed on a 2-2 pitch outside. On a full count, Boone flew out high to Sexson between the mound and first. Sizemore got ahead 2-0, but singled past a diving Sexson and into rightfield on a 2-2 pitch. Sizemore drew three pickoff attempts from Moyer with Crisp at the plate, but stole second on the 0-1 pitch. Crisp fouled off a couple of 2-2 pitches before hitting a fly ball toward the corner in right, where Ichiro ran over and made the catch.

Moyer's line: 6 innings, 3 runs, 8 hits, 4 walks, 3 strikeouts, 115 pitches (68 strikes)

TOP 7TH
Grade: C-
Reed flew out high to shallow leftfield on a 2-0 pitch. Morse bounced the second pitch to short for an out. Spiezio flew out high to Belliard on the very shallow rightfield grass.

BOTTOM 7TH
Grade: A
JJ Putz (seven homers) came in for Moyer. Martinez fouled off a 3-1 pitch, fouled off the next pitch, then took a fastball over the inner half of the plate (with Martinez looking for something outside). Hernandez got behind 0-2 and whiffed on a 1-2 low breaking ball. Blake got ahead 2-0 and fouled off four pitches over the course of the at-bat before whiffing on a full count at a pitch down over the inner half. Putz had struck out the side.

TOP 8TH
Grade: B+
Chris Snelling came in to hit for Borders. Snelling fouled off a full-count pitch, then took ball four down and in. Cleveland pitching coach Carl Willis came in to stall and get warmup time for Scott Sauerbeck and Arthur Rhodes in the bullpen. Cleveland decided to stay with Elarton, who had given up two hits at this point. Ichiro whiffed horribly on a first pitch that bounced to the plate. After a pickoff move, Elarton threw a knee-level fastball down the middle, and Ichiro jumped all over it, taking it out to rightcenter. Snelling came in to score as well, and the Mariners suddenly led.
»» MARINERS 4, INDIANS 3
Winn got behind 0-2 and ended up chopping out to first, where Hernandez stepped on the bag. Ibañez chopped a 1-2 pitch to Peralta in the hole at short, and Ibañez beat the semi-long throw. Sexson clubbed a first-pitch line drive right into a leaping Boone's glove at third. Beltre took a first-pitch strike followed by four balls (3-1 pitch low) and a free pass.

Arthur Rhodes came in for Elarton. Reed whiffed at a high 0-2 pitch.

Elarton's line: 7 2/3 innings, 4 runs (3 earned), 4 hits, 4 walks, 1 strikeout, 110 pitches (69 strikes)

BOTTOM 8TH
Grade: B
The defense picked up for Putz. Peralta had the hitters' counts and walked on a low full-count pitch. Broussard slapped a single into leftfield on the first pitch, eschewing the bunt and moving Peralta to second. Belliard, who had doubled and homered in the game, bunted the first pitch off his foot. On the second pitch, Belliard bunted to the third-base side, and the Mariner defense executed the wheel play, with the pitcher staying back as the corners charged and the middle infielders took the corner bases. Beltre charged and threw to Morse at third, forcing out Peralta for the very conventional 5-6 putout at third. Boone tagged a 1-2 pitch right to Sexson at first, who dove to try to tag Belliard at first. Belliard was originally called safe, but his slide momentum carried him off the bag while Sexson still had the tag on him. That's a double play.

Putz' line: 2 innings, 0 runs, 1 hit, 1 walk, 3 strikeouts, 34 pitches (22 strikes)

TOP 9TH
Grade: C-
No last-minute punch out of the bottom of the lineup. Morse flew out on the first pitch to Blake in rightfield. Spiezio took an 0-2 fastball over the outside corner. Miguel Olivo fisted a liner back to Rhodes.

Rhodes' line: 1 1/3 innings, 0 runs, 0 hits, 0 walks, 2 strikeouts, 12 pitches (10 strikes)

BOTTOM 9TH
Grade: B-
Eddie Guardado came in to nail it down. Sizemore whiffed on a 2-2 breaking ball. Crisp flew out to Reed on the track in centerfield on the second pitch, just feet from tying the game. Martinez worked an 0-2 count for a walk (full-count pitch way outside), which is really good for Martinez in that situation, but quite bad for the Mariners. Brandon Phillips came in to run for Martinez. Hernandez drove an 0-2 single into centerfield to make it way too interesting and to move Phillips to second. Blake foul-tipped a 2-2 pitch into Olivo's glove for the strikeout. Ballgame.

Guardado's line: 1 inning, 0 runs, 1 hit, 1 walk, 2 strikeouts, 22 pitches (13 strikes)
---

Gameball: Richie Sexson.
It's hard to give a non-obvious gameball in a game where Ichiro would be the only obvious gameball and nobody had a multi-hit game. Sexson had zero hits, but hit the ball hard twice, worked an 0-2 count into a walk, and had the unassisted double play that ended the eighth and hot JJ Putz out of a werewolf-hairy situation.

Goat: Scott Spiezio.
Everything is more expensive in Hawaii. Why am I thinking of this? Spiezio's 0-for-4 night left him with an average of .077. What would I be able to buy here with 77 cents? It costs 75 cents to get a bag of Cheetos out of the snack machine at work. Olivo's batting average of .150 would be enough to get a 20-ounce soda, which goes for $1.25 at work. With Ichiro's .308, I may be able to buy a $3.08 gallon of milk, but that might price me out of the ritzy milks. You'd almost think I worked on a Washington State Ferry or something with how expensive these prices are. My point? Well, I guess I really don't have one, other than that I hope Jose Lopez' knee is doing okay. Willie Bloomquist came in late as a defensive replacement for Spiezio, but the offensive ineptitude had already worked its magic. I'll admit that even I would have preferred the chances for a sick-as-a-dog Willie Bloomquist at the plate rather than Scott Spiezio wearing a Mariner uniform.


Yr W-L Pct GB Stk
2001 68-27 .716 -- L1
2002 59-36 .621 9 W1
2003 59-36 .621 9 W1
2000 56-39 .589 12 W1
2005 42-53 .442 26 W1
2004 37-58 .389 31 L1


Sure, no one can be all too pleased with only four hits from the Mariner offense, but any time you can get a win in spite of that, it's always a great win. What also makes it great is the very nice timing of Ichiro's homer in the 8th. You never know when his homers are going to come since he hasn't come up against Jeff Zimmerman lately and probably won't anymore. Still, the clutch homer and the great defense in the bottom of the eighth pulled this game out of the hat for the Mariners. Yes, it's things like this that you have to reach for in a game where neither team gets a hit with a runner in scoring position.

What helped? Jamie Moyer was able to wriggle out of trouble a couple times, something he did to a much greater degree in his previous start. He threw 53 pitches in the first two innings, then threw 82 over the four remaining innings. Any way you slice it, Jamie wasn't sharp, which is something four walks and eight hits would indicate. When Moyer or any other pitcher doesn't have his A-game with him, there's only one thing to do, and that's to just keep your team in the game and give them a chance to win. It's a minor miracle that the Indians didn't get more than one run out of those first two innings.

The other thing that helped was something that would have made me cringe if I'd actually gotten to watch the game rather than watch it on archived MLB.tv when I already know the final score. What am I talking about? With the Mariners down 3-2 and with Jamie Moyer having thrown 115 pitches, Mike Hargrove trotted JJ Putz out to the mound. Again, I'm left to fear the homer at this point. In the seventh, though, it was quite the opposite, since Putz struck out the side. Hopefully that gave Putz some confidence that he can use for later appearances and outings in his career.

...Of course, Putz still had to pitch the eighth, now with the Mariners leading 4-3, and that got way too crazy. The first two Cleveland batters reached base, and it was honestly quite amazing to see the defense pick up for JJ Putz. The Cleveland broadcast crew pointed out the wheel play that the Mariner infield used against the Ron Belliard bunt. Sexson and Beltre charged in, the pitcher stayed put, and the middle infielders went to the corner bases. The ball found Beltre, and thank goodness Beltre's a top-notch defensive player, because he turned and threw to third in time. It's not a play you make every day on the diamond, folks. Then again, neither was the next play where Sexson leapt to spear a line drive, then dove to tag Belliard at first, who went in with his left hand touching the bag, and then his momentum carried his arm off the bag, with the tag still applied. With two very opportune defensive plays, Cleveland went from threatening to tie or go ahead to having their inning end much too soon for their liking.

The other thing that helped Putz was the fact that the Indians had to face a flamethrower that looked much much faster since Jamie Moyer had been throwing the six innings beforehand. As mentioned, Putz struck out the side in the seventh, but in the eighth, no one pulled a fair ball into play off of him. Ben Broussard's single was the only hit Putz gave up, and it went to the opposite field. I guess I'm saying this -- I'm not sure if there's a trend already or anything, but they should bring out Putz to be the long relief guy any time Moyer comes out of the game. Offset the slop with some gas, and you should get deception of the nicest kind. Remember when they had Moyer and Randy Johnson in the same rotation? Ah yes, those were the days...

If the eighth had you cringing, then the ninth had to make you a bit anxious. Eddie Guardado had the most cardiac save I've seen him get in quite a while. Fortunately for the Mariners, that Cleveland lineup looks considerably less formidable without Travis Hafner in it. Still, the tying run was in scoring position, and the winning run was on first. Thank goodness Guardado had set down the first two hitters of the inning, though Coco Crisp nearly tied the game with one swing of the bat for that second out. I remember Kazu Sasaki used to have some cardiac saves every once in a while, and for some reason I thought about Jose Mesa somewhere along the way when I was thinking of this topic. Then I watched Baseball Tonight and saw Todd Helton bash the game-winner off of Mesa in extra innings a few hours after I watched this game.

I know there may or may not be someone out there who got miffed at the fact that the Jacobs Field deejay played "Zombie Nation" after Victor Martinez walked in the ninth to put the tying run on base. It's not exclusively the Mariners' song, so don't get all worked up over it. It's not like "Who Let the Dogs Out" got them anywhere anyway, and that was Alex Rodriguez' idea anyway. By the way, none of the teams that adopted that song that year ended up winning the World Series. You know what they should do? I came up with this idea just now -- take measures two through five of Metallica's "Of Wolf and Man" and just loop it. Well, that wouldn't be an endgame celebration song, but oh well. I'd go on more about this, but I'm getting tired, and this might take away some off-day post material, so I should probably wrap this all up.

Can the Mariners get a series win? If FSNNW was broadcasting the game (they aren't, it's the Fox network of free TV instead), would the Ricoh Scouting Report on Gil Meche consist of "get ahead in the count, spot the fastball, avoid the big inning"?

Lee. Meche. Today.
Friday, July 22, 2005
THE PUMP 7/22/05
QUESTION! NFC WEST STYLE!
GAME 94: BLUE JAYS 6, MARINERS 3
Thursday, July 21, 2005
TURIAF TO UNDERGO OPEN HEART SURGERY
THE PUMP 7/21/05
GAME 93: BLUE JAYS 9, MARINERS 4
Wednesday, July 20, 2005
THE PUMP 7/20/05
HOSED
GAME 92: BLUE JAYS 12, MARINERS 10
Tuesday, July 19, 2005
THE PUMP 7/19/05
Monday, July 18, 2005
KOREN PLEADS GUILTY TO DUI CHARGE
SONICS HIRE BOB WEISS AS HEAD COACH
THE TRENCHES, MID-JULY EDITION
GET OFF THIS
Sunday, July 17, 2005
GAME 91: MARINERS 8, ORIOLES 2