Saturday, May 28, 2005
THE PUMP 5/28/05
GAME 47: DEVIL RAYS 5, MARINERS 4
Devil Rays 5, Mariners 4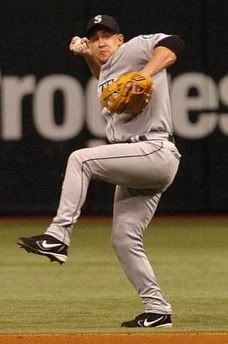 In 25 words or less: At least it was more watchable than that whole Baltimore series, though it took a while.

This one featured Gil Meche going up against the quite tall Mark Hendrickson. Alongside Rick Rizzs in the broadcast booth was ex-Mariner Darnell Coles, who also does some work on ESPN's college baseball telecasts.

TOP 1ST
Grade: C-
More of the same to start. Ichiro grounded a 2-0 pitch to short. Randy Winn chopped a groundout to third where Jorge Cantu threw into the runner, but Travis Lee pulled it down. Adrian Beltre fouled off an 0-2 pitch, but later pulled a pitch low and away to third for a groundout. Hendrickson threw 14 pitches.

BOTTOM 1ST
Grade: C
Meche would set his tone early. Carl Crawford grounded a full-count pitch that went off of Meche and bounced to Bret Boone at second. Though he had absolutely no play at first, he tried to do a spinning-throw kind of thing, but the ball went over everything and toward the first-base dugout. Once the ball was there, it ricocheted past Olivo as well, and Crawford stood on second after the downward spiral stopped. Julio Lugo flew out to rightfield on the first pitch, greatly assisting Meche. Aubrey Huff grounded out to second to move Crawford to third. Travis Lee had a 3-0 count go full before checking his swing on an outside pitch for a walk. Josh Phelps fell behind 0-2, and Lee took second without a throw two pitches later. Phelps fouled off three 2-2 pitches before being beaned in the left tricep. Jorge Cantu nearly hit a homer down the line, but it was foul. He grounded out to short to end the inning. Meche threw 28 pitches.

TOP 2ND
Grade: B
An early lead? Yes, it's true! Richie Sexson clubbed the second pitch into the gap in leftcenter. The ball one-hopped the wall, and Sexson coasted into second with a double. Raul Ibañez grounded out to the right side for the odd 4-1 putout, and Sexson scooted to third. Bret Boone whiffed on a 3-0 curve, and grounded the 3-1 pitch to Lugo at short, who could have had a play at home, but dropped it. He recovered and threw to first, but Sexson scored. Finally, a break goes the Mariners' way.
»» MARINERS 1, DEVIL RAYS 0
Jeremy Reed tapped back to the mound to end the inning. Hendrickson threw 14 pitches.

BOTTOM 2ND
Grade: A-
Meche had his easiest inning of the night. Alex Sanchez had a 2-0 count, but would ground out to short on a full count. Toby Hall flew out to Ichiro. Nick Green fouled off an 0-2 pitch before whiffing on a curve low and away. Meche threw 18 pitches.

TOP 3RD
Grade: C-
Unfortunately, Hendrickson would have one of his better innings. Willie Bloomquist grounded out to second. Miguel Olivo fouled off a 3-1 pitch and whiffed at the next. Ichiro grounded out to first on the 0-1 pitch, though he didn't run it out. That's because he thought the ball hit the bat twice, though a foul ball was never called. I'd have liked to make my own judgment on the play, but all the camera technology at the Trop is crap, and/or they never got a replay onto the telecast that meant something. There sure as hell was no X-mo. Hendrickson threw 15 pitches.

BOTTOM 3RD
Grade: B-
More jam, please. Crawford laced the first pitch under Sexson's glove and into rightfield for a single. Lugo popped up to Ichiro in rightcenter on a play where it looked like there was a chance that Reed and Ichiro would collide. Huff popped a ball foul down the leftfield line, and Beltre made an over-the-shoulder basket catch. Lee had a 3-0 count and took the 3-1 pitch low and outside for a walk. Phelps grounded the 2-0 pitch to short for an easy 6-4 fielder's choice. Meche threw 16 pitches.

TOP 4TH
Grade: C
The Mariners can't even take advantage of Levine's Law. Winn walked on a 3-1 pitch to lead off. Beltre whiffed on a 2-2 change that was outside and quite low. Winn took second on a first-pitch dirtball to Sexson. Sexson fouled off a 2-0 pitch, but tapped the 2-2 pitch gently to the right side, where Hendrickson picked it up and tagged him out. Winn scooted to third, which is where he watched Ibañez ground out hard to second. Hendrickson threw 17 pitches.

BOTTOM 4TH
Grade: C
This one was getting so bad that Ron Fairly was telling secondhand riddles along the lines of "if you take two apples off a tree, what do you have? You have two apples. They never asked you how many were left on the tree." Cantu worked a 1-2 count full before flyout out to Boone in shallow centerfield. Sanchez had a 3-0 count go full, but eventually walked. Hall singled to rightfield on the first pitch, and Sanchez went to third and held. Green walked on four pitches, sending Bryan Price to the mound. Crawford flew out to leftfield on the first pitch, and since leftfield is the home of Randy Winn and his arm, Sanchez scored easily.
»» DEVIL RAYS 1, MARINERS 1
Lugo hit one off the end of the bat to centerfield for a flyout. Meche threw 25 pitches.

TOP 5TH
Grade: C-
Enjoy futility! Boone got down 0-2 and ended up flying out to rightfield. Reed got down 0-2 and ended up whiffing on a 2-2 curve. Bloomquist poked the first pitch through the right side, then decided he'd try to stretch it into a double. It was definitely a bang-bang play, but on that replay they showed before the commercial break, it was clear that Bloomquist was safe. Darnell Coles said afterward that the umpire was in a bad position to make that call. As it was, Lugo didn't have the ball as it came in, and he tagged Bloomquist with the glove, which didn't have the ball in it. The ball eventually ended up in Lugo's bare hand, but Bloomquist was never tagged with the ball. Chalk it up as just another thing not going the Mariners' way. There'd be more. Hendrickson threw 11 pitches.

BOTTOM 5TH
Grade: C-
Meche didn't survive the inning. Huff fouled off three 0-2 pitches before whiffing on a fastball high and outside. Lee worked a 1-2 count for a walk, his third of the night. Phelps fouled off a 2-0 pitch before dinking the 2-2 offering down the rightfield line, barely fair (another bounce not going the Mariners' way), and good for a single as Lee went to third.

Julio Mateo came in for Meche. Sometimes I get a feeling when a Mariner pitcher gets yanked with runners on base that the reliever will manage to score all of the runs. This was one of those times. Mateo grooved the first pitch to Cantu, who laced it through the left side to score Lee.
»» DEVIL RAYS 2, MARINERS 1
Sanchez got down 0-2, but hit a pitch low and away to rightfield, scoring Phelps. Ichiro tried to nail Cantu at third but wasn't in time.
»» DEVIL RAYS 3, MARINERS 1
Sanchez took off for second on the first pitch to Hall, but Olivo gunned him down at second as Boone applied the tag to the helmetless head of Sanchez. Cantu remained on third, not charging home on the throw. Hall got behind 0-2 and eventually whiffed.

Meche's line: 4 1/3 innings, 3 runs, 4 hits, 5 walks, 2 strikeouts, 105 pitches (60 strikes)

TOP 6TH
Grade: B-
This inning could have been a lot more. Olivo nubbed a single into shallow centerfield to snap and 0-for-12 slump. Ichiro grounded one through the left side for a single, and Olivo moved to second. Winn nearly parachuted the first pitch down the leftfield line for a fair ball and possibly a hit, but it was barely foul. Winn lined the next pitch to the second baseman, and Olivo didn't freeze on the line drive. He was easily doubled off at second, and the whole inning looked to have gone to crap. Beltre fouled off an 0-2 pitch, but wound up singling past the shortstop. Too bad Olivo wasn't still on base. Sexson stuck the 2-0 pitch up the middle to score Ichiro. The throw went into third base, and Beltre held at second.
»» DEVIL RAYS 3, MARINERS 2
Ibañez turned too hard on a hung 1-0 pitch, but clobbered it way foul. After Beltre was nearly picked off of second, Raul took a low 3-1 pitch for a free pass.

Seth McClung came in for Hendrickson. With two on and two out, it was a good time for Boone to fly out to centerfield on the first pitch.

Hendrickson's line: 5 2/3 innings, 2 runs, 6 hits, 2 walks, 3 strikeouts, 92 pitches (54 strikes)

BOTTOM 6TH
Grade: B+
Mateo had a relatively easy inning. Green lined a single into leftfield. Crawford popped out to Winn along the leftfield line on the first pitch. Lugo popped out to Ichiro. Huff flew out to short on a 2-0 pitch. Mateo threw 14 pitches.

TOP 7TH
Grade: C
Once again, an inning goes to crap. Reed had the hitters' counts and took the 3-1 pitch high and outside for a walk. Bloomquist took ball one from McClung.

Then Travis Harper inherited the 1-0 count from McClung. Bloomquist split his bat on a 1-2 pitch, rolling the ball up the middle. That's where Lugo took the ball, stepped on the bag, and threw to first. A once-promising inning was dashed by another inopportune double play. Olivo got behind 0-2 and whiffed at a 1-2 pitch low and away.

McClung's line: 1/3 inning, 0 runs, 0 hits, 1 walk, 0 strikeouts, 6 pitches (2 strikes)

BOTTOM 7TH
Grade: C
Then Hargrove went nuts with the bullpen. Lee hit a high fly on 0-2 that was destined for Ichiro until it hit one of the catwalks in play (again, another bad bounce). Lee ended up on third with a triple. Phelps then worked Mateo, grounding the first pitch just foul down the third-base line on the first pitch, then mashing the 0-1 pitch down the line for what was two or three feet to the left of being a homer. After taking the 0-2 pitch barely outside, Phelps covered the 1-2 pitch, sending it dead center over the wall in centerfield.
»» DEVIL RAYS 5, MARINERS 2
Cantu grounded a ball to third that Beltre gloved but bobbled, though it went for a single.

Matt Thornton came in for Mateo. Sanchez bunted the first pitch to the right side. The entire right side of the infield went for the ball, and nobody went to cover the bag. Predictably, Sanchez ended up on first.

Jeff Nelson came in after Thornton's ironman one-pitch outing. Hall bunted the first pitch in the air to Beltre. Green whiffed on a 1-2 pitch.

Ron Villone came in for Nelson. Crawford grounded out to Boone to mercifully end the inning that seemed like it took about two hours to finish.

Mateo's line: 1 2/3 innings, 2 runs, 6 hits, 0 walks, 1 strikeout, 33 pitches (22 strikes)
Thornton's line: 0 innings, 0 runs, 1 hit, 0 walks, 0 strikeouts, 1 pitch (1 strike)
Nelson's line: 2/3 inning, 0 runs, 0 hits, 0 walks, 1 strikeout, 5 pitches (4 strikes)

TOP 8TH
Grade: B
The Mariners would make it interesting. Ichiro grounded out to second on an 0-2 pitch. Rick Rizzs was nonetheless bored, busting out the story of Eddie Guardado retaliating at Greg Dobbs with a use-a-guitar-for-batting-practice gag that Dobbs thought involved his new guitar. Winn slapped a double down the leftfield line. Beltre mashed the 2-0 pitch to leftfield, but it was on a line and Crawford drifted back to catch it. Sexson took a four-pitch walk.

Piniella was probably so incensed at the four-pitch walk that pitching coach Chuck Hernandez came out with the hook and brought in Trever Miller. Ibañez crushed the 2-0 pitch, and I was yelling "get the f#*$ out" to the ball from in front of my TV set, but it was probably about a half-foot short of leaving the field of play in rightfield. Thus, it was a two-run double as Winn and Sexson scored. Again, another bounce that went against Seattle since that could have been the game-tying homer. What's new?
»» DEVIL RAYS 5, MARINERS 4

Danys Baez was brought in by Piniella to make damn sure the game didn't get out of hand. It helped that Boone was the next hitter. He got the hitters' counts and popped the 3-1 pitch to Crawford in shallow leftfield.

Harper's line: 1 2/3 innings, 2 runs, 1 hit, 1 walk, 1 strikeout, 22 pitches (13 strikes)
Miller's line: 0 innings, 0 runs, 1 hit, 0 walks, 0 strikeouts, 3 pitches (1 strike)

BOTTOM 8TH
Grade: A-
Villone closed out with a decent inning. Lugo lined a pitch to Boone's shoetops, but he caught it. Huff was called out on an 0-2 breaking ball over the outside corner. Lee fouled off a 3-1 pitch, and later was caught looking on a pitch over the outside corner.

Villone's line: 1 1/3 innings, 0 runs, 0 hits, 0 walks, 2 strikeouts, 17 pitches (12 strikes)

TOP 9TH
Grade: C
The last hurrah was a bit frustrating. Reed flew out to Lugo in shallow leftfield. Bloomquist walked on a 3-1 pitch. Greg Dobbs came in to pinch hit for Olivo. He fouled off two pitches, then was CAUGHT LOOKING on 0-2. Pinch looker. Ichiro hit a hard grounder that went through Cantu's legs at third (error), and Bloomquist went to third on the play. Winn fouled off two pitches (he knew he should have had the second one), and whiffed on the third pitch off the plate outside. Ballgame.

Baez' line: 1 1/3 inning, 0 runs, 0 hits, 1 walk, 2 strikeouts, 23 pitches (15 strikes)
---

Gameball: Raul Ibañez.
The too-obvious gameball choice is Richie Sexson with the only Mariner multi-hit game. Raul Ibañez had the two-run double that was inches away from being the game-tying homer in the eighth. Other than that, he had the ground ball that advanced Sexson to third, where he later scored on the Boone groundout. Other than that, he grounded out hard to second and nearly turned on a ball in the 6th, but ended up walking. So Ibañez was either moving runners, walking, or hitting the ball hard. Decent enough.

Goat: Bret Boone.
He drove in the first Mariner run with a groundout, but that was kinda thanks to the ball being dropped by Cantu. He stranded four runners. He made that crazy-ass error in the first, and somehow Meche wriggled out of that inning without the run (Crawford) scoring. He didn't hit any balls hard either. Just awful.


I'm just glad the game held my interest at one point, that's all. They got an early lead and held it for a couple innings until they blew it. Meche couldn't get out of the fourth, then Mateo scored his runs. The Mariners scored a run to make it 3-2 in the inning that should have scored way more runs. Then the Phelps homer almost made the victory a for-sure thing for Tampa Bay until the happenings of the eighth.

Still, lots of things going against the Mariners. A couple of untimely double plays (including Olivo running on a line drive), Ichiro not getting another chance after hitting the ball twice on the same pitch (foul), Bloomquist hitting a double but getting nailed on a phantom tag, Travis Lee hitting the catwalk for a triple on something that's a flyout in any other park, Ibañez missing the game-tying homer by inches...I could go on, but it'd just be even more saddening.

As for the hitting, only two hitters hung up zeroes, and they were Boone (covered above) and Jeremy Reed (0-for-3 with a walk). The bats scattered eight hits between everyone else, and the lineup as a whole drew five walks. Richie Sexson's RBI single and Raul Ibañez' double both occurred with two outs, which means that three of the four Mariner runs were driven in with two out. That's somewhat encouraging. Ibañez and Boone both sit at 23 RBIs on the year, which for some reason seems weird to me. Ibañez has a 32-point lead in the batting average department, as you might suspect.

As for the pitching, not a banner night at all. The last time a Mariner starting pitcher failed to get out of the 5th inning was Joel Piñeiro on the 13th, exactly two weeks before this start. Meche never got bit by his trademark big inning, but nearly all of his innings in this game seemed to be on the verge of becoming huge innings. The five walks definitely did not help. Three of the walks were to Travis Lee, making it Christmas in May for him. The other two went to Alex Sanchez (#7 hitter) and Nick Green (#9). I know Tampa Bay has a decent-hitting bottom third of the lineup, but sheesh. Mariner starting pitchers this month have a collective 5.90 ERA (up 0.01 from the night before). Their average start consists of 5.64 innings (5 2/3), 3.78 runs (3.7 earned), 6.4 hits, 2.7 walks, 2.9 strikeouts, 96.4 pitches (58 strikes).

Nearly everyone and their mother got work out of the bullpen in the 7th inning as Mike Hargrove went nuts and ticked me off a bit. Julio Mateo had his first stinker of a relief appearance. Matt Thornton was completely useless with the only pitch he threw. Jeff Nelson and Ron Villone bailed everyone out of that inning. Villone also had a decent 8th against the 2-3-4 hitters in the Tampa Bay lineup. Oddly for the Mariners' staff as a whole, every Devil Ray starter got a hit except for the second and third hitters, Julio Lugo and Aubrey Huff, who both hung up 0-for-5s. Also, the Mariner bullpen didn't walk anyone in their 3 2/3 innings.

Like I said, the game was at least competitive. I felt afterward like my time was at least somewhat well spent/wasted. The Ibañez double made the game interesting, and having the go-ahead run on base in the 9th made it interesting as well, but it's too bad the Mariner bench is horrid. I'm not just referring to Greg Dobbs and his pinch-strikeout, but I'm not a big fan of Willie Bloomquist coming to the plate with one out and the bases empty in the 9th against a flamethrower on the mound. May we pleeeeeease ditch the 12 pitchers thing now? Please?

Sele. Fossum. Today.
Friday, May 27, 2005
HOORAY RESPONSIBILITY!
THE PUMP 5/27/05
GAME 46: ORIOLES 5, MARINERS 2
Thursday, May 26, 2005
BROOMQUIST
THE PUMP 5/26/05
MAJOR LEAGUE BASEBALL TV/RADIO CREWS
GAME 45: ORIOLES 3, MARINERS 1
Wednesday, May 25, 2005
THE PUMP 5/25/05
GAME 44: ORIOLES 3, MARINERS 2
Tuesday, May 24, 2005
MIKE, WHAT WAS THAT?
THE PUMP 5/24/05
NBA DRAFT LOTTERY TONIGHT
Monday, May 23, 2005
SELE IN THE SUN
MAURICE CHEEKS, NEW 76ERS COACH
NEW BLOG IN THE BLOGOSPHERE
GAME 43: MARINERS 5, PADRES 0