Saturday, July 16, 2005
ARKANSAS, SON! WHAT?
THE PUMP 7/16/05
GAME 89: ORIOLES 6, MARINERS 3
Orioles 6, Mariners 3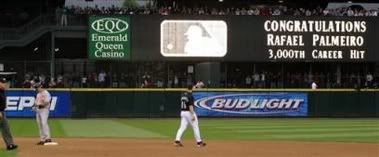 In 25 words or less: Hope you really enjoyed the milestone, because the rest of the game was crap.

This one featured Rodrigo Lopez going up against the ever-so-enigmatic Joel Piñeiro. Eternal Mariner killer Rafael Palmeiro sat on 2999 hits going into the game.

TOP 1ST
Grade: B-
Piñeiro was touched up right away. Brian Roberts foul-tipped a 2-2 pitch into Miguel Olivo's glove behind the plate. Sammy Sosa flew out to centerfield. Melvin Mora homered over the manual scoreboard in leftfield.
»» ORIOLES 1, MARINERS 0
Miguel Tejada doubled into the leftfield corner. Rafael Palmeiro took a strike followed by four balls, and the boos rained down once again. I didn't like it, and it turns out that Dave Henderson didn't like them either, saying that, "Joel Piñeiro's trying to win a ballgame here," and that not pitching to Palmeiro isn't such a bad thing in that situation. Jay Gibbons whiffed on a full-count breaking ball.

BOTTOM 1ST
Grade: C-
Bats on the rocks. Ichiro bounced out to second. Willie Bloomquist bounced out to short. Raul Ibañez got ahead 2-0, and ended up singling through the mound and into centerfield. With the count 1-2 on Richie Sexson, Ibañez broke for second and was nailed by Sal Fasano.

TOP 2ND
Grade: D
Dig that hole, Joel. Piñeiro fell behind 3-0 on Luis Matos, eventually walking him on a full count. Larry Bigbie saw a 3-0 count as well, and hit a broken-bat dinker into centerfield for a single to move Matos to second. Sal Fasano held a checkswing on a 1-2 pitch low and away, then was drilled in the left elbow on the next pitch to load the bases. Roberts grounded the first pitch hard to Sexson at first, who nearly booted the ball away, but recovered and stepped on the bag in time as Matos crossed the plate.
»» ORIOLES 2, MARINERS 0
Sosa hit a hard grounder to Beltre at third, who had a way to go and blocked the ball, but had no play, and Bigbie scored.
»» ORIOLES 3, MARINERS 0
Mora got ahead 2-0 and lined out to Beltre two pitches later. Tejada popped out high to short. Piñeiro threw roughly a billion pitches in the inning.

BOTTOM 2ND
Grade: B-
A sign of life. Sexson, now with a fresh count, covered a 3-1 pitch, depositing it into the Mariner bullpen in leftcenter. Temporary joy and jubilation were had.
»» ORIOLES 3, MARINERS 1
Adrian Beltre popped out high to rightfield on a 2-0 pitch. Jeremy Reed poked the first pitch into leftfield for a single. Mike Morse bounced out to third. Chris Snelling grounded out to first, and Palmeiro tossed over to Lopez for the putout.

TOP 3RD
Grade: B+
If Piñeiro had settled down, it should have happened in the second inning. Palmeiro chopped out to first. Gibbons ripped the first pitch up the middle for a single. Matos fouled off an 0-2 pitch, and whiffed at a pitch over the outside corner. Bigbie took a 1-0 dirtball that got away from Olivo. Gibbons took off for second base, and Olivo fired the cannon, and though the throw was a bit high and wide, Morse is tall, and he brought the ball down in time to tag Gibbons.

BOTTOM 3RD
Grade: C
A squandered opportunity here. Olivo fouled off a couple of 2-2 pitches before whiffing on a breaking ball down and away (Boone-like). Ichiro served an 0-2 pitch into leftfield for a single. Bloomquist poked his first pitch into centerfield, also for a single, moving Ichiro to second. This of course means it's time for an untimely double play, this time off the bat of Ibañez, who had fouled off a 2-0 pitch and hit the next one to short, where said 6-4-3 dobule play was started.

TOP 4TH
Grade: B
Piñeiro mostly handled the lineup turnover. Bigbie grounded the first pitch to Sexson at first. Fasano got ahead 2-0, but hit a 2-2 low and outside breaking ball to Beltre for a groundout. Roberts singled over Piñeiro into centerfield. Sosa whiffed on an 0-2 breaking ball low and outside.

BOTTOM 4TH
Grade: C-
The bats were going away quietly. Sexson flew out to centerfield. On his first pitch, Beltre flew out to Mora on the infield dirt. Reed got ahead 2-0, but later tapped out to the mound.

TOP 5TH
Grade: C-
Piñeiro put the game out of reach. Mora doubled down the leftfield line. Tejada flew out high to Reed, and he made a strong throw to third to hold Mora at second, which sadly was one of the better Mariner moments of the game. Palmeiro got behind 0-2, then doubled into the leftfield corner on his first pitch. Rare because he hit it the opposite way (teams do the shift against this guy), but also rare because it was his 3000th career hit. Nice job, Raf. Oh yeah, the hit scored Mora from second. That was temporarily of no concern to the Orioles, who emptied the dugouts and bullpen not to engage in a brawl, but to congratulate Señor Blue Pill on what should be his ticket to Cooperstown.
»» ORIOLES 4, MARINERS 1
Gibbons doubled down the rightfield line two pitches later, scoring Palmeiro.
»» ORIOLES 5, MARINERS 1
Matos flew out to leftfield. Bigbie bounced out to first.

Piñeiro's line: 5 innings, 5 runs, 9 hits, 2 walks, 4 strikeouts, 99 pitches (60 strikes)

BOTTOM 5TH
Grade: C
Again, more squanderingnessality. Morse stung the first pitch into centerfield for a single. Snelling was ahead 3-0, but flew out to centerfield on the 3-1 pitch. Olivo whiffed at an 0-2 breaking ball outside and in the dirt, channeling his inner Boone. Ichiro grounded out to third.

TOP 6TH
Grade: B+
Shigetoshi Hasegawa (first appearance in a while, due to back complications) came in for Piñeiro. Fasano whiffed on a 1-2 pitch. Roberts flew out to shallow centerfield. Sosa hit a broken-bat single to left. Mora got down 0-2 and whiffed on 1-2.

BOTTOM 6TH
Grade: B
The Mariners would sprinkle some false hope and make the game a tiny bit more respectable. Bloomquist whiffed on a 1-2 pitch low and outside. Ibañez got ahead 2-0, eventually walking on a full-count pitch outside. Sexson got the hitters' counts, hitting a hard grounder to third that played Mora, who was charged for the error after having the ball go off his chest. Beltre had the best at-bat of the night, working the count from 0-2 to full, fouling off four pitches in a 10-pitch at-bat. He bounced the ball off the track in rightcenter and over the fence, scoring Ibañez and putting Sexson at third.
»» ORIOLES 5, MARINERS 2

Tim Byrdak came in for Lopez. Reed grounded out hard to first (too bad it didn't get through), and Sexson scored.
»» ORIOLES 5, MARINERS 3

Jason Grimsley came in for Byrdak. Morse took a 1-2 breaking ball for strike three.

Lopez' line: 5 1/3 innings, 3 runs, 8 hits, 1 walk, 3 strikeouts, 95 pitches (58 strikes)
Byrdak's line: 1/3 inning, 0 runs, 0 hits, 0 walks, 0 strikeouts, 4 pitches (2 strikes)
Grimsley's line: 1/3 inning, 0 runs, 0 hits, 0 walks, 1 strikeout, 4 pitches (3 strikes)

TOP 7TH
Grade: B
A surprise seventh. Tejada took a four-pitch walk. Palmeiro poked a single to centerfield to move Tejada to second.

Matt Thornton came in for Hasegawa. Gibbons looked at an 0-2 fastball for strike three. Matos whiffed on a slider down and in. Bigbie whiffed at an 0-2 slider low and away. Thornton had struck out the side.

Hasegawa's line: 1 inning, 0 runs, 2 hits, 1 walk, 2 strikeouts, 22 pitches (11 strikes)

BOTTOM 7TH
Grade: C
Jorge Julio came in for Grimsley. Snelling grounded a ball to Palmeiro, but Julio was a bit late running over to first, and as Palmeiro underhanded, Julio and Snelling were in a footrace to first, one which Julio barely won. Olivo whiffed on an 0-2 outside pitch. Ichiro singled through the hole on the right side as Henderson was ticked about a pitch at Ichiro's knees earlier in the at-bat. The first pitch to Bloomquist got dirty and went to the backstop, and Ichiro took second. He stole third on the next pitch. Bloomquist ended up taking a four-pitch walk. Ibañez hit a low liner into the gap in leftcenter, where Matos made the catch.

Julio's line: 1 inning, 0 runs, 1 hit, 1 walk, 1 strikeout, 16 pitches (9 strikes)

TOP 8TH
Grade: C
Insurance for the Orioles at a field name Safeco. Fasano got a 1-1 pitch down and in and drilled it into the visitors' bullpen in leftfield.
»» ORIOLES 6, MARINERS 3
Roberts popped to Morse in shallow leftfield.

Jeff Nelson came in for Thornton. Sosa hit the first pitch up the middle, and Bloomquist dove toward the hole, but made a wide throw at first as Sosa got the single. Mora whiffed on a high pitch. Tejada whiffed on an 0-2 slider outside.

Thornton's line: 1 1/3 innings, 1 run, 1 hit, 0 walks, 3 strikeouts, 16 pitches (13 strikes)
Nelson's line: 2/3 inning, 0 runs, 1 hit, 0 walks, 2 strikeouts, 9 pitches (8 strikes)

BOTTOM 8TH
Grade: C-
Chris Ray came in for Julio. Sexson whiffed on an inside fastball. Beltre flew out to Matos in rightcenter. Reed flew out to Tejada on the infield.

Ray's line: 1 inning, 0 runs, 0 hits, 0 walks, 1 strikeout, 13 pitches (8 strikes)

TOP 9TH
Grade: A-
Ron Villone came in for Nelson. Palmeiro got ahead 2-0, but was caught looking on a full count. Gibbons flew out to Reed in the gap in leftcenter. Matos got behind 0-2 and eventually was caught looking.

Villone's line: 1 inning, 0 runs, 0 hits, 0 walks, 2 strikeouts, 13 pitches (8 strikes)

BOTTOM 9TH
Grade: C-
BJ Ryan came in for Ray. Morse worked a 1-2 count full, fouling off seven pitches over the course of his at-bat. He hit a fly to rightfield that had some carry to it, and Gibbons nearly didn't catch up to it as he ran back and reached up to make the catch. Randy Winn came in to pinch-hit. He got down 0-2 and eventually flew out to rightfield. Jose Lopez came in to pinch-hit, and flew out to Palmeiro near the tarp on the second pitch.

Ryan's line: 1 inning, 0 runs, 0 hits, 0 walks, 0 strikeouts, 20 pitches (15 strikes)
---

Gameball: Ichiro.
Ichiro and Richie Sexson were the only Mariners that got more than one hit. Ichiro had two very Ichiro-like singles, one served into left, and one bounced through the hole on the right side. He went 2-for-4, and he did his job. He crossed the plate zero times due to various sources of offensive ineptitude spread through the lineup. Ichiro's sitting at .310, but we're all hoping that number goes way up. He could go on a crazy tear at any time. I hope it happens sooner rather than later. Granted, I'm not delusional and thinking the Mariners have a shot at the playoffs or anything, but I don't like these types of games.

Goat: Joel Piñeiro.
It'd just be too easy to pick on Miguel Olivo for his customary 0-for-3 with three strikeouts, so I'm going with Joel Piñeiro. This guy's still hurt, right? There's no way he can be this bad or this inconsistent if he's fully healthy, which I think a lot of people doubt at this point. Not that Piñeiro's as much a part of it, but do you all remember when the Mariners were really good, and all of these young arms the Mariners had were untouchable? Not that Pat Gillick ever learned the lesson, but hopefully somebody did -- pitching prospects are just that. Prospects. What we're left with in the starting rotation right now are two of the arms in the form of Joel Piñeiro and Gil Meche. Thank goodness the Mariners never traded them to take a shot at the World Series or anything. The hands of Edgar Martinez remain bereft of gawdy jewelry, and I'll never be a happy camper about that.


Yr W-L Pct GB Stk
2001 64-25 .719 -- L1
2002 56-33 .629 8 W2
2003 56-33 .629 8 L1
2000 52-37 .584 12 L1
2005 39-50 .438 25 L2
2004 33-56 .371 31 L2


These Mariners better pick up the pace, because even last year's Mariners went on to win four of five games from this point. In a sick twist, so did the 2001 team. Still, these Mariners have maintained a six-game cushion on last year's team after each of the last four games. The 2005 Mariners have never been more than six games better than last year's team. I've said on multiple occasions that I want that number to be around 14.

Was the Rafael Palmeiro moment great? Of course it was. How often do you watch a game where someone gets their 3000th hit? As for the hit being a double into the leftfield corner (not a pull), that seemed to me to be just as non-fitting as Mark McGwire's 62nd homer being a rope that barely got over the leftfield fence at Busch. As for Palmeiro, it's a great capper to a career in which he's beaten the lights out of the Mariners time and time again. Sure, the fans cheered and they'd seen history, but they'd also seen the home team go down 4-1. Sure, maybe the fans got their money's worth for the night, but I still wanted to see my team win the game, and I knew at that point (probably earlier than that) that it wasn't going to be happening on this night. Actually, just knowing that Rodrigo Lopez was going to be starting the game was enough for me to think the Mariners didn't have too great a chance to win it. I've got an idea for a late-season promotional night. It's called Joel Piñeiro Turn Back the Clock Night.

The Mariners are in the midst of a two-game losing streak. Let's look at their last few streaks. They lost seven straight, won two, lost two, won four (Angels), and now they've dropped their two. I almost miss the back-and-forth stuff back in April because it at least guaranteed us .500 ball. Of course, what the Mariners really need to do is just run the table and finish at 112-50. The greatest part would be that we could say that the team had gone through some adversity and would be tested for the playoffs. Back in 2001, the bullpen really hadn't faced any adversity during the year, and they finally faltered in Game 4 of the ALCS, and that was a horribly bad time for it to happen. Still, I'm just rambling at this point since we know 112-50 isn't going to happen, and the Mariners aren't going to be Houston and trade for Carlos Beltran.

As for offense, the timely hits that we were seeing in the series against the Angels have mostly fizzled. Richie Sexson's homer led off the inning, so it didn't drive in any extra runs. Ichiro got two hits and never scored. Raul Ibañez ended the third with a double play after Ichiro and Willie Bloomquist had singled. Mike Morse led off the seventh with a single and didn't move. Ichiro and Bloomquist got aboard again with two out in the seventh, but Ibañez ended that inning as well, this time with a flyout. The most timely hit of the game was the Beltre double off the track, which was a great at-bat by him.

To the bullpen, Ron Villone did pretty well, but that was in garbage time. Jeff Nelson gave up a single, but otherwise did well in the 8th. Shigetoshi Hasegawa did pretty well in his first inning, but like Matt Thornton wasn't as good when brought out for another inning. Hasegawa put two runners on for Thornton, and Thornton came out in the 8th and fell victim to Sal Fasano. You know it's bad when Matt Thornton serves one up to Fasano, but he's not the first Mariner to get lit up by him. The Orioles need Javy Lopez back so the Mariners don't have to worry about getting Sal Fasano out.

Can the Mariners salvage a split from this series? I doubt it. But hey, anything can happen. I just saw some SpikeTV little baseball show thing where they had a highlight montage and they showed the Ichiro Spider-Man catch. That happened in a pretty crappy game. Anything can happen, and something might be worth watching. I watch in case there are moments like that.

Chen. Moyer. Tonight.
Friday, July 15, 2005
CONGRATS, RAFAEL
THE PUMP 7/15/05
GAME 88: ORIOLES 5, MARINERS 3
Thursday, July 14, 2005
TWO HITS
THE PUMP 7/14/05
RAFAEL PALMEIRO, MARINER KILLER
Wednesday, July 13, 2005
NHL OWNERS, PLAYERS REACH DEAL
Tuesday, July 12, 2005
PG-RATED ALL-STAR GAME
IT DOESN'T COUNT OPEN POST
CLAYTON HAS LOST IT
HEY MAN, LOOK AT ME ROCKING OUT...
Monday, July 11, 2005
BRET BOONE TRADED TO TWINS
TEXAS/ARKANSAS FOOTBALL BONANZA!
Sunday, July 10, 2005
GAME 87: MARINERS 7, ANGELS 4
RALLY MONKEY DEMOLITION WEEKEND
THE PUMP 7/10/05
GAME 86: MARINERS 6, ANGELS 3