Saturday, May 14, 2005
NO VILLONE!
THE PUMP 5/14/05
GAME 35: MARINERS 14, RED SOX 7
Mariners 14, Red Sox 7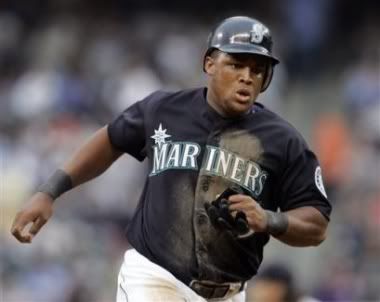 In 25 words or less: Much like Wednesday afternoon in the Bronx, the bats showed up. Unlike that game, the pitching held the lead. Eventually.

This one featured Jeremi Gonzalez and Joel Piñeiro. For purposes of clarity, Jeremi Gonzalez will heretofore (in this recap) be referred to with his last name, whereas Wiki Gonzalez will be referred to with his first (as annoying as that will get). Sports and Bremertonians will heretofore be referred to as "The Company." Okay, I'm kidding about that.

For anyone watching the FSNNW telecast of this game, the crane-cam rules even more than it did on the Sonic telecasts. They brought the super slow-motion over from the Sonic broadcasts as well. Ron Fairly made it a point to mention that the technology for such a camera was developed by NASA. More enjoyably, during Sonic broadcasts, Kevin Calabro eventually settled on the name of "X-mo" for the super slo-mo camera.

Short side note -- I'm not sure if anyone was fortunate enough to hear it, but earlier in the day, Softy on KJR had devised a ratings ploy for Fridays with a theme of '80s guests, I guess sort of like a where-are-they-now thing. What I heard Friday was the first "episode," I guess, and they had Darnell Coles on the segment. What a great talk-show guest he was, and surprisingly so. He still keeps pretty good tabs on the Mariners, and he'll actually be doing a couple of ESPN games this season, though more on the college level than the big-league level. He's putting his kids through college (a daughter goes to the U of South Florida), and he's still real tight with Harold Reynolds. Three cheers for Darnell Coles. Upcoming guests in the coming weeks include a bunch of Seahawks like Jacob Green, Joe Nash, and John L. Williams.

Okay, game stuff.

TOP 1ST
Grade: B-
Piñeiro had mild trouble, but got through unscathed. Johnny Damon flew out to Ichiro. Trot Nixon had a 2-0 count and ripped a 2-2 pitch to rightfield for a single. Manny Ramirez popped a shallow fly to centerfield, and Jeremy Reed looked like he might have a chance to catch it on the fly. Instead, he short-hopped it, but threw to Bret Boone at second in time for the odd 8-4 fielder's choice. David Ortiz had the hitters' counts, eventually taking a full-count breaking ball low and away for a walk. Kevin Millar grounded an 0-2 pitch deep into the hole at short. Wilson Valdez knocked it down, and he threw straight home to Wiki Gonzalez. Ramirez had wandered too far off the bag at third, and Wiki threw to Adrian Beltre, who tagged Ramirez (6-2-5 putout). The last two outs of the inning were recorded on very weird plays indeed. Piñeiro threw 21 pitches.

BOTTOM 1ST
Grade: A-
What's this? Scoring first? Huh? Ichiro ripped his 2-0 pitch to Millar, who thought Gonzalez would be covering the bag a bit sooner. Instead, Millar got into a footrace with Ichiro to the first-base bag, and that didn't work out so well for him. It was a single for Ichiro though, who stole second (his 11th steal of the season) on the 1-1 pitch to Randy Winn. Winn hit his 3-1 pitch right to Millar, who stepped on the bag as Ichiro moved over to third. Adrian Beltre then hit a hard grounder up the middle to score Ichiro.
»» MARINERS 1, RED SOX 0
Beltre took second on a 2-1 dirtball with Richie Sexson at the plate in a show of very alert baserunning. Sexson had the hitters' counts and eventually took ball four low and away. Raul Ibañez flew out on the first pitch to Damon in leftcenter, but Beltre tagged up and went to third since Damon has no arm. Bret Boone took a 3-1 breaking ball low and away, prompting Boston pitching coach Dave Wallace to come to the mound. That didn't help a bit, as Jeremy Reed spanked the first pitch he saw through the hole on the right side. Beltre easily scored, and thanks to the relay throw home being bobbled by the cutoff man, Sexson scored as well.
»» MARINERS 3, RED SOX 0
Wiki Gonzalez fouled off an 0-2 pitch before hitting a fister on his hands, tapping one to the third-base side of the mound. Gonzalez threw 29 pitches.

TOP 2ND
Grade: B+
Piñeiro responded with a 1-2-3 inning. So far, so good, except with some count trouble. Jason Varitek had a 3-0 count, eventually grounding near the middle -- this was the play where Boone backhanded the ball, spun, and threw just barely in time to Sexson at first. Edgar Renteria had a 3-0 count as well, grounding the full-count pitch to Beltre. Bill Mueller flew out to left to end the inning. Piñeiro threw 16 pitches.

BOTTOM 2ND
Grade: C
The bats let up a bit. Wilson Valdez had a 2-0 count, later flying out to Millar in foul territory in front of the tarp. Ichiro had a 2-0 and later flew out to Ramirez in the gap in leftcenter. Winn stuck a single through the left side. Beltre got down 0-2 and later hacked and missed on a 2-2 slider low and away. Gonzalez threw 16 pitches.

TOP 3RD
Grade: D
Uh-oh. Mark Bellhorn golfed a too-high 2-0 pitch just over Ichiro trying to make another one of those catches above the wall.
»» MARINERS 3, RED SOX 1
Damon singled the second pitch up the middle. Nixon tapped one in front of the plate, and Wiki pounced on it, throwing to first. Piñeiro beaned Ramirez in a 2-0 pitch bound for the left elbow or bicep. Ortiz drilled a hard single up the middle, and Reed overran the ball in centerfield (error). Damon scored, Ortiz got credit for the single, and runners stood on second and third.
»» MARINERS 3, RED SOX 2
It looked like it might get easier when Millar tapped the first pitch to Piñeiro coming off the mound. Varitek was put on base intentionally so the Mariners could face Renteria. He had a 2-0 count before roping the 2-1 pitch down the leftfield line. Beltre knocked it down before it could get too far down the line, probably saving a double and a run or two. Ramirez scored on the play.
»» RED SOX 3, MARINERS 3
Mueller tagged a single to rightfield to score Ortiz. Varitek tried to score as well, but Ichiro came up throwing and had him out by about 20 feet. Varitek tried to dance out of the way of the tag, but there's apparently no escape from Wiki. Piñeiro threw 22 pitches.
»» RED SOX 4, MARINERS 3

BOTTOM 3RD
Grade: B+
The Mariners got the lead back in an unexpected way. Sexson crushed the second pitch to the hitters' backdrop beyond the centerfield wall. They said it was a 410-foot blast, but it looked more like 425 or so. Nonetheless, it's double-digit home runs for Sexson on the 13th of May.
»» RED SOX 4, MARINERS 4
Ibañez worked a 1-2 count full and put a lick on the ball, sending it over the wall in the gap in rightcenter. Yes, it's true! Back-to-back homers.
»» MARINERS 5, RED SOX 4
Boone hit a hard groundout to third. Reed fouled off an 0-2 pitch before singling over the second baseman for his second hit of the night. Wiki then hit into what seemed like the slowest double play ever. Mueller had to back up and make a long throw to second, and it seemed to take an eternity for the ball to get back to first, but it still beat Wiki. Ugh. Gonzalez threw 22 pitches.

TOP 4TH
Grade: D+
Piñeiro would not survive the inning. Bellhorn drew a leadoff walk. Damon hit a 2-0 pitch to Sexson's right, and he made a diving stop, then went to his left, took a dive, and tagged the bag with his glove. He gets up very quickly for a tall guy, that Sexson. Nixon bopped the second pitch over the wall in rightfield to take the lead from the Mariners.
»» RED SOX 6, MARINERS 5
Ramirez got a hanging curve, but lined it right into Beltre's glove. Ortiz took a 3-1 fastball outside for a walk, prompting a visit from Bryan Price. Millar hit a grounder to Valdez at short, who didn't get the glove down all the way, and the ball went through and bounced off his foot, high into the air (error).

Mike Hargrove had seen enough. Julio Mateo came in for Piñeiro. He got behind Varitek 2-0 to start, but battled back and eventually got a groundout to first. He threw seven pitches.

Piñeiro's line: 3 2/3 innings, 6 runs, 8 hits, 4 walks, 0 strikeouts, 81 pitches (41 strikes)

BOTTOM 4TH
Grade: B+
Gonzalez wouldn't survive the inning. Valdez tried to bunt his way aboard, but Mueller sniffed it out. Ichiro fouled off four pitches with two strikes on him, singling through the hole on the left side on the ninth pitch of the at-bat. Winn hit a broken-bat parachute single to rightfield to move Ichiro to third.

John Halama came in for Gonzalez. He threw one pitch to Beltre, and it was kinda high. Beltre absolutely walloped the pitch, hitting the top of the scoreboard above the Mariner bullpen. It was one of the biggest shots I've seen over there, and it was measured at 440 feet. Congratulations to Beltre on his first homer in front of the home fans.
»» MARINERS 8, RED SOX 6
Sexson got down 0-2 and eventually took a pitch over the inside corner. Ibañez got down 0-2 as well, eventually flying out to Renteria on the infield grass. Halama threw 11 pitches.

Gonzalez' line: 3 1/3 innings, 7 runs, 9 hits, 2 walks, 1 strikeout, 79 pitches (49 strikes)

TOP 5TH
Grade: B+
The inning was ready to start at 8:53p, surely shaping out to be a long game. Renteria got down 0-2 and eventually whiffed. Mueller hit a pitch down the first-base line, and it went off the bag and high into the air. Sexson came down with it, but there was no play. Bellhorn flew out to centerfield on the first pitch. Damon flew out on the first pitch near the leftfield line, where it was caught by Valdez. Mateo threw 10 pitches.

BOTTOM 5TH
Grade: A
What's this? More runs? Boone had a 3-1 count, fouled off three pitches, then doubled past the glove of Ramirez, who didn't take the wisest route to the ball. Reed was nailed in the left wrist on the first pitch. Wiki got a high first pitch, and sent it into the corner in rightfield to score Boone and move Reed to third.
»» MARINERS 9, RED SOX 6
Valdez flew out to Nixon on the rightfield line. Nixon nearly collided with Bellhorn on the play. The runners held. Ichiro was intentionally walked. Winn doubled into the gap in rightcenter, clearing the bases.
»» MARINERS 12, RED SOX 6
Beltre hit a high fly down the leftfield line, but he'd gotten under it as Ramirez made the catch. Sexson was intentionally walked before Ibañez was victim to a diving catch by Nixon. Halama threw 28 pitches.

Halama's line: 1 2/3 innings, 5 runs, 4 hits, 2 walks, 1 strikeout, 39 pitches (22 strikes)

TOP 6TH
Grade: B
The sixth inning began at 9:14p. Nixon flew out to Winn to lead off. Ramirez had a 2-0 count, which went full. He doubled down the rightfield line and into the corner. Ortiz flew out to shallow left. Millar got down 0-2 before eventually whiffing. Mateo threw 16 pitches.

BOTTOM 6TH
Grade: A-
Halama was replaced with Cla(y) Meredith, promising to bring some rip-roarin' out-of-control submarine action. Boone took a 2-2 pitch in the left ribcage, and for some reason, both benches were warned. Reed hit a 2-0 pitch to the gap in rightcenter, but Nixon made a running catch. The pitching coach visited the mound after a first-pitch ball to Wiki. Two pitches later, Wiklenman tagged a ball off the wall down the leftfield line for a double. Ramirez muffed the ball a bit, enabling Boone to score easily.
»» MARINERS 13, RED SOX 6
Valdez tapped one back to the mound. Ichiro took a 3-1 pitch to the gap in rightcenter, and he legged it out for a triple. Wiki scored easily.
»» MARINERS 14, RED SOX 6
Winn flew out to Mueller to end the inning.

Meredith's line: 1 inning, 2 runs, 2 hits, 0 walks, 0 strikeouts, 22 pitches (10 strikes)

TOP 7TH
Grade: A
It would be Mateo's final inning, but it'd be 1-2-3. Mateo got ahead 0-2 on Varitek, who later flew out to Winn along the leftfield line. Renteria got down 0-2, eventually flying out to Reed just short of the track. Mueller flew out to Reed on the first pitch.

Mateo's line: 3 1/3 innings, 0 runs, 2 hits, 0 walks, 2 strikeouts, 44 pitches (30 strikes)

BOTTOM 7TH
Grade: C-
Matt Mantei came in for Meredith. Beltre flew out to center on a 3-1 pitch. Sexson hit a shallow flyout to Nixon, which was one of those 'tweeners that Bellhorn might have thought about catching, but they probably made sure to communicate better on that ball. Ibañez took his 2-0 pitch to the track in rightfield, but it was caught. Disappointing to see the meat of the order go away, sure, but it was the Mariners' first 1-2-3 inning of the night on offense, which is odd in its own right.

Mantei's line: 1 inning, 0 runs, 0 hits, 0 walks, 0 strikeouts, 13 pitches (6 strikes)

TOP 8TH
Grade: C+
Ron Villone came in for Mateo, and Dave Hansen inexplicably came in for Beltre at third. Bellhorn got down 0-2 and eventually whiff on a high pitch. Damon took a full-count pitch high for a free pass. Jay Payton came on to pinch hit for Nixon. He bounced a ball off the track in centerfield and over the wall. Ramirez hit an 0-2 pitch high to centerfield, deep enough to score Damon.
»» MARINERS 14, RED SOX 7
Ortiz took a 3-1 pitch outside for a walk, and during his at-bat, Rick Rizzs was being mindless in the booth, saying that Kevin "Mil-LAH" was on deck, and then going off about the accent with Dave Henderson. Ugh. Millar got down 0-2 and eventually whiffed at a pitch up and away.

Villone's line: 1 inning, 1 run, 1 hit, 2 walks, 2 strikeouts, 25 pitches (14 strikes)

BOTTOM 8TH
Grade: C
Mantei was replaced by Keith Foulke, who was in to get some work. Boone got down 0-2, but eventually walked. Reed whiffed on an inside pitch. Wiki flew out deep into the hole at short to Renteria on the first pitch. Valdez took a 2-2 pitch over the outside corner to end the inning.

Foulke's line: 1 inning, 0 runs, 0 hits, 1 walk, 2 strikeouts, 20 pitches (12 strikes)

TOP 9TH
Grade: B
Villone was replaced by Eddie Guardado, who was in to get some work. Varitek grounded out to third to lead off. Renteria had a 2-0 count, doubling two pitches later down the leftfield line and off the angled wall in front of the seats. Mueller had the hitters' counts and walked on a high pitch. Bellhorn foul-tipped an outside pitch for strike three. Damon hit the first pitch for a slow roller to Boone on the right side. Boone tried to charge and do a glove-shovel thing to Sexson, but the toss was a bit high, and even the tall Sexson had to come off the bag to get it. Payton got down 0-2, and nearly doubled an 0-2 pitch down the leftfield line for a double. He later lined a 1-2 pitch right into Sexson's glove. Ballgame.

Guardado's line: 1 inning, 0 runs, 2 hits, 1 walk, 1 strikeout, 26 pitches (16 strikes)
---

Gameball: Julio Mateo.
The Mariners didn't have him in the game Wednesday afternoon because he had put out the Aaron Sele blaze on Tuesday night. This game left Mateo with an ERA of 0.41. That's crazy/nuts good. This bullpen would be a lot worse off without him. Could you imagine having to bring in Matt Thornton where you'd usually bring in Mateo? If you can't, then just remember the game on Wednesday afternoon. Mateo got 10 outs and needed 44 pitches to do so.

Goat: Joel Piñeiro.
Okay, this crap with the starting pitching has seriously got to stop. I'll just deal with Joel right now before I get into the rotation as a whole later. Just a terrible line all the way around for Joel in this one. After having a good start in Oakland on the first of the month, Joel took a step back in Boston, and took a huge step back with this one (Hargrove milked him for seven innings in the front end of that Boston doubleheader). He gave up four walks in his short outing, though one of them was intentional. That was offset when he nailed Manny Ramirez. As for homers by Trot Nixon and Mark Bellhorn, I guess when you hang around Jamie Moyer and Ryan Franklin for long enough, it gets contagious.


Hooray bats!! They got homers out of the 3-4-5 hitters in the lineup, and back-to-back homers for the first time this season. Richie Sexson had only the homer in his 1-for-3 night where he also walked twice. Sexson has 10 homers and 30 RBIs. Adrian Beltre had the cannon shot in his 2-for-5 day with 4 RBIs. Beltre has 4 homers and 23 RBIs. Raul Ibañez' only hit of the night was that solo shot (1-for-5). Bret Boone somehow walked twice. Big hoorah for Jeremy Reed, who was 2-for-4 with a couple of ribs, and Wiki Gonzalez, who defied all odds once again, hitting two doubles and driving in a couple of runs. Seriously, the next time I hear Black Sabbath's "Iron Man," my mind will replace it with "IIIIII AAAAAAAAM WIKLENMAAAAAAAN!!! (sliding/descending guitar chord)"

There's more when it comes to the lineup though. We can't forget the top of the lineup. We can't forget the tablesetters. Ichiro was 3-for-4 (triple, three runs, intentional walk, RBI), Randy Winn was 3-for-5 (double, three runs, three RBIs). Winn didn't get up to the second slot of the lineup until Reed was moved down to the #7 slot, but he's sitting there with an average of .307. Combine that with Ichiro's .352, and you've got people who can get on base for the big guys. It appears now that said big guys are warming up.

Now it looks like I'll complain about the rotation a little more. After Wednesday's game, I posted the pitching lines of all the starting pitchers through the last two runs in the rotation. I still have the Excel chart saved on my computer. At the time, the two turns in the rotation coincidentally started with the first day of May. To make it nice and round, I'm just going to leave Piñeiro's good start in there, and call it a bad month of May. In case you're keeping tabs, the Mariners' starting pitchers this month are averaging the following line per game: 5.12 innings (on a ground ball, .12 innings would probably be right before the ball gets into the infielder's glove), 4.82 runs (4.64 earned), 7.5 hits, 2.3 walks, 2.5 strikeouts, and 88.5 pitches (53.6 strikes). After Moyer's start on Wednesday, the starters in May had a collective ERA of 7.69. After Piñeiro's start in this game, the starting pitchers sit with an ERA of 8.15, and Piñeiro himself has a 7.23 ERA after three May starts. Unfortunately, the strikeout rate we'd like to see out of Gil Meche is instead the ERA of the Mariners' starting rotation this month. Ain't that a shame.

Hey, it looks like I can't take the bottom two-thirds of the lineup and crunch their numbers of ineptitude. In this game, they were a combined 7-for-24 with 4 walks, 3 strikeouts, 8 runs, and 6 RBIs. Take out Wilson Valdez and his requisite 0-for-5, and you've got an even better line for the bottom two-thirds of the lineup.

You know, the great thing about Julio Mateo throwing so well and managing to hold the big lead the offense got for him is this -- I don't have to complain about how less-than-good Ron Villone was or how Eddie Guardado's ninth would have been a Cardiac Ninth if the game was actually close. Of course, I get fully prepared for less-than-spectacular work out of closers when you put them in just to get in some work. I fully remember when they'd do that with Kazuhiro Sasaki. Of course, he also had that weird thing where he'd suck if the situation was anything other than one requiring him to protect a lead. He sucked a few times when he had to hold a tie, I remember that.

Amazingly, the boxscore I'm reading says the game only lasted three hours and 18 minutes, though it seemed a lot longer than that. At least it was an enjoyable 3:18.

Miller. Franklin. Tonight.
ANOTHER FOOTBALL SCORE
Friday, May 13, 2005
THE PUMP 5/13/05
GAME 3: SUPERSONICS 92, SPURS 91
Thursday, May 12, 2005
GAME 3: SPURS/SUPERSONICS
1995 THE YEAR IN MUSIC
Wednesday, May 11, 2005
GAME 34: YANKEES 13, MARINERS 9
FOOTBALL HAS RETURNED TO THE BRONX
THE PUMP 5/11/05
GAME 2: SPURS 108, SUPERSONICS 91
GAME 33: YANKEES 7, MARINERS 4