Saturday, March 19, 2005
ROAD TO THE FINAL FOUR SECOND ROUND 3/19/05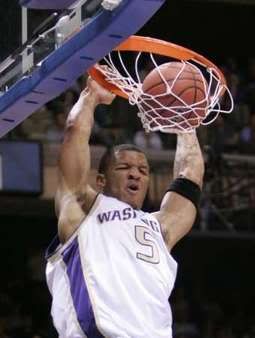 FINAL UPDATE at 9:05 p.m.

It's the second round of the NCAA Tournament.

For those of you on the West Coast, have breakfast with the Zags.

You know the drill. Comments are encouraged.

By the way, welcome to those who are coming from Yoni Cohen's College Basketball site. I posted a diary on my woeful bracket over at Yoni's site earlier this morning, so check it out right here.

--- --- --- --- --- --- --- --- --- --- --- --- --- --- --- --- ---

ALBUQUERQUE REGION
#6 Texas Tech 71, #3 Gonzaga 69

---I'd just like to remind everyone that Gonzaga has not reached the Sweet 16 since 2001. What am I trying to say here? I think a lot of people have been overhyping this program for what happened from 1999 to 2001. The evidence?

2002 - lost to Wyoming, 1st round (#6 seed)
2003 - lost to Arizona, 2nd round (#9 seed)
2004 - lost to Nevada, 2nd round (#2 seed)
2005 - lost to Texas Tech, 2nd round (#3 seed)

Does that mean that Gonzaga is an overrated program? Not at all. But for all their hype, just look at the last four seasons. It's too bad that Ronny Turiaf leaves the little Jesuit school in Spokane with no Sweet 16 appearances.

---That Northwest Elite 8 some people were hoping for, including myself? So much for that.

---I think it would help Gonzaga if they were able to play a major conference team in February. Although to be brutally honest, that won't happen anytime soon.

---Give credit to Texas Tech. After being down by 9 at halftime, they were the team that showed more energy than Gonzaga. That's what it looked like to me, anyway. Then again, the Zags don't have Bobby Knight to give them a halftime speech either.

---Once again, so much for that Northwest Elite 8 matchup.

--- --- --- --- --- --- --- --- --- --- --- --- --- --- --- --- ---

ALBUQUERQUE REGION
#1 Washington 97, #8 Pacific 79

---Nate Robinson scored 25 points today. Will that shut up the critics now? What the national media doesn't realize is that the Huskies are very deep. So Robinson isn't always going to score 25 points like he did today. As a matter of fact, I think he's a better player this year, even though he hasn't scored nearly as much as he did last season. Coming back to school for another season has helped Robinson out in more ways than one.

---Wait, I thought Pacific (or Pittsburgh) was supposed to knock out the Huskies in the second round? Too bad, so sad. The Huskies are still playing.

---And the Zags aren't. Surely, there's gotta be a few chuckles about that right now in western Washington.

---Bobby Jones had 19 points. He was on fire during the first half. If he keeps this up, look out.

---Pacific's Christian Maraker was shut out in the second half, being held to just 12 points. But I thought the Huskies couldn't beat teams with big guys in the middle?

---Did the Huskies look like a #1 seed today?

AUSTIN REGION
#6 Utah 67, #3 Oklahoma 58

---Well, what do you know? Utah isn't all Andrew Bogut. The Utes' leading scorer? Justin Hawkins. He had 20 points and grabbed 13 rebounds. Hawkins not only believes in a thing called love, he also believes his Utes aren't just a one-man team.

---The aforementioned Bogut had 10 points and 11 rebounds.

---Oklahoma's Kevin Bookout was held to 4 points and 1 rebound. He's not Big Country. As far as I'm concerned, he's Big Outhouse.

---Utah head coach Ray Giacoletti is in the Sweet 16 and Gonzaga's Mark Few isn't. Eastern Washington fans unite in this one little indirect victory.

---I'm so glad I decided to pick Utah over Oklahoma

--- --- --- --- --- --- --- --- --- --- --- --- --- --- --- --- ---

CHICAGO REGION
#1 Illinois 71, #9 Nevada 59

---While the attention is centered around Dee Brown, Luther Head, and Deron Williams, don't forget about James Augustine. The big man had 23 points for the Fighting Illini against Nevada. He's really improved his game this season, a season that keeps on going for the #1 seeded Illini.

---The Chicago regional games will be played at the Allstate Arena, formerly known as the Rosemont Horizon. Expect a lot of orange to fill the home of the DePaul Blue Demons.

CHICAGO REGION
#3 Arizona 85, #11 UAB 63

---I've bashed Salim Stoudamire on many occasions, but the kid can shoot. He had 28 in the win today in Boise. J.J. Redick is not the best shooter in America.

---The Wildcats are the only #3 seed to advance to the Sweet 16. How about that, 2 Pac-10 teams in the Sweet 16. But the Pac-10 is terrible, I've been told.

CHICAGO REGION
#12 Wisconsin-Milwaukee 83, #4 Boston College 75

---The Big East is not the best conference in America.

---Wisconsin-Milwaukee head coach Bruce Pearl just earned himself a lot of money after the tournament.

---BC's Sean Marshall to Wisconsin-Milwaukee's Ed McCants:

"I don't give a (hoot) if you beat Alabama. This is the Big East."

Enjoy the ACC next year, Sean.

--- --- --- --- --- --- --- --- --- --- --- --- --- --- --- --- ---

AUSTIN REGION
#2 Kentucky 69, #7 Cincinnati 60

---Yawn.

---Andrew Bogut and the Utah Utes will take care of Kentucky in the Sweet 16.

ALBUQUERQUE REGION
#7 West Virginia 111, #2 Wake Forest 105 (2 OT)

---COTTON NEEDS NEW SHORTS! That's the best line I can give about this great ballgame in Cleveland tonight. Holy crap.

---West Virginia's Mike Gansey was a man among boys. He scored 19 of his 29 points in the two overtimes alone. Once again, holy crap.

---HEY, DID WAKE FOREST REALLY DESERVE A #1 SEED? HELL NO!

---That's the 4th time in the last 5 seasons that the Demon Deacons have failed to advance past the first weekend. Skip Prosser has been part of three of the four first weekend collapses. As a matter of fact, last season (2004) was Prosser's only Sweet 16 appearance in his head coaching career.

---DID WAKE FOREST REALLY DESERVE A #1 SEED?

--- --- --- --- --- --- --- --- --- --- --- --- --- --- --- --- ---

So far, we have 3 Sweet 16 matchups already set:

CHICAGO REGION: #12 Wisconsin-Milwaukee vs #1 Illinois

ALBUQUERQUE REGION: #7 West Virginia vs #6 Texas Tech

AUSTIN REGION: #6 Utah vs #2 Kentucky

I'd love to know how many people actually predicted a West Virginia-Texas Tech Sweet 16 matchup. Who would have thunk it?

The first half of the second round is over. The second half is tomorrow.

My mouth doesn't look dry anymore.
SHAMBLES
GAME 64: SUPERSONICS 98, MAGIC 90
Friday, March 18, 2005
THE ROAD TO THE FINAL FOUR 3/18/05
HALVING
Thursday, March 17, 2005
THE ROAD TO THE FINAL FOUR 3/17/05
MULTIMADNESS
Wednesday, March 16, 2005
GAME 63: PISTONS 102, SUPERSONICS 95
CAN I PLAY WITH MADNESS?
PRELUDE
Tuesday, March 15, 2005
GAME 62: SUPERSONICS 99, BULLS 93