Wednesday, March 16, 2005
CAN I PLAY WITH MADNESS?
There's a reason why I waited until today to unleash my 2005 NCAA Tournament bracket on you, the Sports and Bremertonians readers. It takes more than one day for me to finalize my bracket. I've done more than my fair share of brackets over the past 13 years to realize that it's not easy to fill out a bracket. Luckily for me, I've actually watched a few of these teams play. Yes, I've even watched more than a few games involving West Coast teams. In case you've forgotten, I'm in Arkansas, so you can't accuse me of having an "East Coast bias", or to be more exact, a "Southern bias".

In case you missed it, here's the first-round broadcast schedule. Oh, and don't forget about joining our ESPN Tournament Challenge group. As I've said before, please leave a comment in the box once you've joined the group. Thanks.

Group name: Sports and Bremertonians
Password: bremertonians

So here is my 2005 NCAA Tournament bracket (bracket images courtesy of ESPN.com):

CHICAGO REGION (Midwest)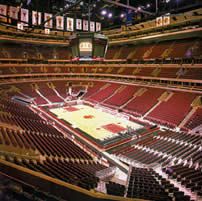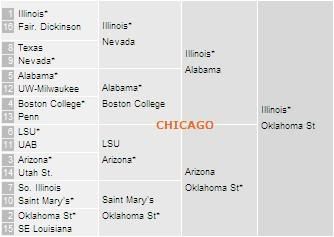 I had thought about going with Oklahoma State instead of Illinois, but the Fighting Illini simply won't lose in Chicago. At least I don't see it happening. Last year, Oklahoma State was the only team I correctly picked to make the Final Four. This year? I have the Cowboys losing to the Fighting Illini.

Best 1st Round Game: UAB vs LSU

Most Dangerous Game: Utah State vs Arizona

Sweet Sixteen: Illinois, Oklahoma State, Arizona, Alabama

Elite Eight: Oklahoma State vs Illinois

ALBUQUERQUE REGION (West)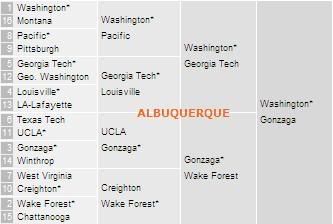 Speaking of biases, I have a "Northwest bias". A Gonzaga-Washington Elite Eight would sure piss off many folks, that's for damn sure. Too bad, so sad. This was a tough one to pick, because I like both teams. But since I'm originally from the west side of Washington, I'm going with the Huskies. Besides, they are due for a victory against the Bulldogs. And Brandon Roy should be able to play this time around. If you love guard play, you are going to love the Albuquerque region.

Best 1st Round Game: West Virginia vs Creighton

Most Dangerous Game: George Washington vs Georgia Tech

Sweet Sixteen: Washington, Wake Forest, Gonzaga, Georgia Tech

Elite Eight: Gonzaga vs Washington

SYRACUSE REGION (East)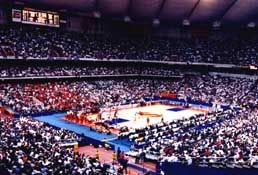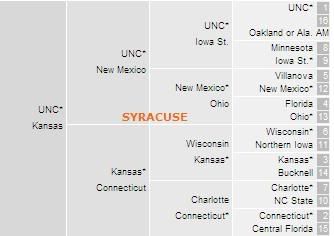 The national media has called the Syracuse region the toughest region in this year's tournament. I would say that the Albuquerque region is more dangerous, but that's just me. I'm picking North Carolina, for obvious reasons. You really think I'm going to go against Bremerton native Marvin Williams here? He's a freshman in title only.

Best 1st Round Game: New Mexico vs Villanova

Most Dangerous Game: Northern Iowa vs Wisconsin

Sweet Sixteen: North Carolina, Connecticut, Kansas, New Mexico

Elite Eight: Kansas vs North Carolina

AUSTIN REGION (South)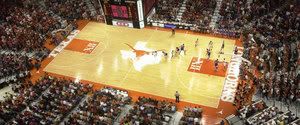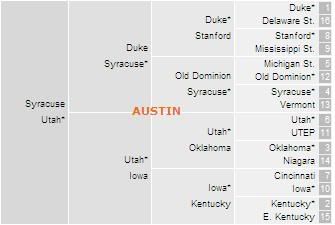 There's always one team in the tournament every season that comes out of nowhere. This year, I think that team is going to be Utah. The Utes lay claim to the best big man in America, Andrew Bogut. I will admit that I want first-year Utah head coach Ray Giacoletti to have a good run in the tournament. Giacoletti was formerly the head coach at Eastern Washington from 2000 to 2004. Bogut is likely to leave Salt Lake City after this season, but the Utah program is in very good hands with Giacoletti. The Utah football program went undefeated and won the Fiesta Bowl. Can the Utah basketball program shock America and go to their first Final Four since 1998? When you have a player like Andrew Bogut on your team, you definitely have a chance to play deep into the tournament.

Best 1st Round Game: Vermont vs Syracuse

Most Dangerous Game: Vermont vs Syracuse

Sweet Sixteen: Duke, Syracuse, Utah, Iowa

Elite Eight: Utah vs Syracuse

FINAL FOUR (Edward Jones Dome, St. Louis)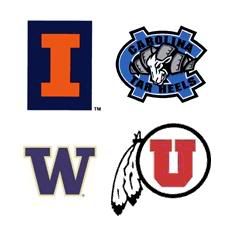 All four coaches in my projected Final Four have never won a national championship. But that doesn't mean that all four men aren't solid in their profession. Bruce Weber has had Illinois on top of the polls for most of the season. Lorenzo Romar has helped make Washington basketball a big deal in Seattle. Roy Williams is Roy Williams. The nation is starting to find out what I knew 4 years ago, that Ray Giacoletti is a damn good coach.

My national championship matchup is Washington vs North Carolina. Think about the subplots for this possible national championship game:

---Roy Williams' quest for his 1st national title
---Bremerton's Marvin Williams goes up against fellow Washingtonians
---Huskies head coach Lorenzo Romar heads back to St. Louis, where he coached the Billikens before accepting the job at Montlake

While I have appreciated the Huskies' stellar 2004-2005 season, I'm going to go with North Carolina to win it all. Once again, I refuse to bet against Marvin Williams. When in doubt, go with the Bremertonian.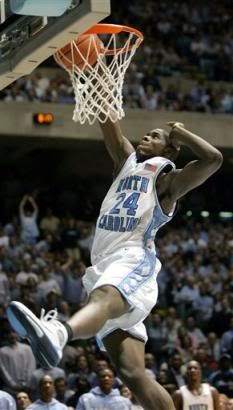 The madness starts tomorrow.