Saturday, March 19, 2005
SHAMBLES
Welcome to Saturday.

For the random...there's this interchange on south SR-3 over here south of Silverdale where four lanes merge into two, and it trips me out every time. One lane is merging onto the highway from Seabeck and the other lane is merging from under the overpass. It merges into two lanes when it should merge into three, though I don't know if there'd be enough room to merge a third lane in there. I've encountered weird traffic situations when going to other towns, though, so I'll probably have more material on this topic at some other times.

Dana Kirk swam in two events for Stanford yesterday at the NCAA Swimming and Diving Championships in the 200 medley relay and the 100 butterfly. The relay team was third in the prelims and fourth in the final. The Stanford junior was 8th in her prelims (53.38 sec) and fifth in her final (53.16). The meet ends today with Kirk most likely in the 200 butterfly.

I'll leave the hockey section for later at this moment due to more pressing issues, but I can tell you locally that the Tomahawks are now down 2-1 in their Cascade Cup series, thanks to falling behind and never quite coming back against the Queen City Cutthroats of Helena, Montana. They got back to within 4-3 before allowing two breakaway goals which pretty much sealed it.

To the post!

MARINERS
Could it be? Spring ball might finally be somewhat meaningful? I hope it gets there soon, because my interest with the actual gameplay right now is a bit low. I can only listen to the broadcast crew for so long just for their stories when the gameplay doesn't matter. We had Rick Rizzs yesterday saying that he and Kevin Cremin were going to be one of the volunteer stadium personnel at Scottsdale Stadium when they retire, i.e., the "men in blue," which correspond to the "ladies in lavender." Note that I did have the NCAA tournament on with the volume down while hearing this.

Unfortunately I wasn't able to follow Richie Sexson's homer too well with the camera they had out in Scottsdale. It went quite far though. Even more shocking is the fact that it was the first homer by a regular veteran, according to the P-I.

Also, Ryan Franklin's start had a conspicuous lack of suck, and Joel Pineiro and Eddie Guardado threw off mounds without pain. Guardado says he'll be ready for Opening Day, while Pineiro says he's "being realistic."

Masao Kida and Kit Pellow were sent to the minor-league camp.

If you want to find out what fantasyhead Tristan Cockcroft thinks about the Mariners, then read here. Yes, he's one of the many that have bolted from SportsLine in the past couple years.

SEAHAWKS
Right tackle Chris Terry has been cut. No more false starts from him on 3rd and short. Pork Chop Womack filled in some for him last year, but is expected to be used at right guard. Hence, it's up to recent draft choices Sean Locklear and Wayne Hunter to fill the spot.

But the killer is this...
The Seahawks don't consider themselves a viable landing spot for free agent linebacker Edgerton Hartwell (Ravens) unless he lowers his asking price -- believed to include a $10 million signing bonus on a long-term contract.

Frankly, I'm hoping no one actually gives him that high of a signing bonus. Since football owners have the most power compared to their owners of any other pro sport, they've gotta collude here. Keep Hartwell's signing bonus down, and BRING HIM TO SEATTLE, DAMMIT!

The Seahawks will open camp with at least four players (Moore, Hutchinson, Hamlin, Trufant) having had shoulder surgery. Ced Woodard has also had knee surgery. I'm having a hard time telling whether I'm talking about the Seahawks or the Mariners' minor-league system.

BASKETBALL
The Miah Davis Update
The Roanoke Dazzle hosts Fayetteville today and tomorrow.

The Marvin Williams Watch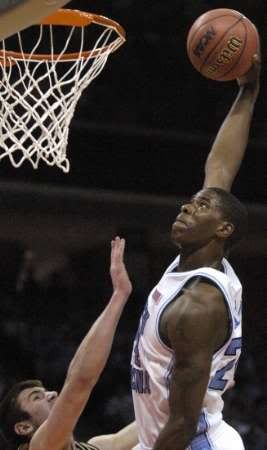 In the Tar Heels' first-round 96-68 win over Oakland of Michigan, Marvin Williams went nuts. He scored 20 points on 8-for-11 shooting from the field, hit one of two threes, and nailed three of four from the line. He also chipped in 8 rebounds, 2 steals, and 2 blocks in 23 minutes off the bench. Dude's only a freshman. This is incredible.

The Tar Heels get 9th-seeded Iowa State tomorrow at 11:30a.

Huskies
I never thought I'd read an article that starts out with "[i]n a narrow hallway of Taco Bell Arena..." Yes, it'll be size against quickness on the boards against Pacific, which sounds a lot like the Stanford game. At least part of the Huskies' success will depend on bench scoring and playing smart. Yes, from here on out, this group of guys is realizing that every time could be the last time.

First-seeded Washington will face 8th-seeded Pacific at 12:20p.

Bulldogs
The Zags will be facing Bobby Knight and the motion offense, spurred by a solid backcourt. Two keys are Ronny Turiaf and Texas Tech transfer Nate Doudney (misleading headline in article), who has been trying to give the Zags some pointers on how the offense works.

Third-seeded Gonzaga will face 6th-seeded Texas Tech today at 10:10a.

Sonics
For my thoughts on last night's game, scroll down one post or click here if this is the only post on the page.

So Vladimir Radmanovic is out 4-6 weeks with a stress fracture to the right fibula. However, no one knew until right before gametime that the Sonics would also be without Jerome James (sore hip) and Danny Fortson (left ankle sprain). Radmanovic has a black cast, and I saw him on TV and he seems to be rocking the goth chic look, if there is such a thing.

The Sonics got through it last night with a tie for a season high from Ray Allen, having Vitaly Potapenko and Ron Murray be fairly productive, and having Nick Collison start for Jerome James and get a double-double. The Sonics also outrebounded a team that had them quite undersized. Nick Collison is five inches shorter than Jerome James, and they had him start at center.

Ray Allen talking to Luke Ridnour on Thursday...

Ray: Luke?
Luke: Yeah?
Ray: Do what you were doing earlier in the season.
Luke: Okay.
Ray: Cool.
Luke: What time does Groz With Gas start?
Dave Grosby: Well, Luke, it starts at 3:05.
Mike Gastineau: It's 3.
Dave Grosby: It's ACTUALLY 3:05!!!

Unfortunately, I'm guessing only the people who get FSNNW in the Seattle area have seen the promo I just bit.

I also didn't see the Steve Francis photographer-kicking incident last night. It doesn't quite sound Rodmanesque, though.

HOCKEY
Portland beat Seattle 2-1. The Winter Hawks got a 2-0 lead in the second period and never let the T-Birds tie it, despite a big shot differential favoring Seattle. Darrell May opened the scoring shorthanded just past the halfway point of the opening period. Brian Woolger then scored on what must have been a pretty quick goal because Portland goalie Blake Grenier was credited with an assist. Ladislav Scurko cut Portland's lead in half, but that was as close as the T-Birds got. Shots were 26-16 for Seattle. Gavin McHale stopped 14 for Seattle, and Blake Grenier stopped 25 for Portland. Grenier is 13-3-1-1 in his last 18 decisions.

Tri-City and Everett skated to a 2-2 overtime tie. Everett got the equalizer in the second period and the last 34:47 of the game went scoreless. Shaun Heshka scored in the first period for Everett, and Curtis Billsten scored in the second to tie it. Shots were 35-25 for Tri-City, and Mike Wall stopped 33 for Everett.

Kelowna beat Vancouver 3-2. The Giants quickly answered a Kelowna goal early in the third period to get to within one goal, but the score was frozen for the remainder of the game. The Giants were never closer than one goal, as they were also down 2-1. JD Watt scored in the second and Jason Reese scored in the third for Vancouver. Shots were 32-26 for Kelowna, and Marek Schwarz stopped 29 for the Giants.

Queen City beat Puget Sound 7-4. The Cutthroats scored twice in the first period, scored first in the second period, and scored four of the first five goals overall. Queen City led 4-1 after 40 minutes with three of their goals coming via the power play; the first goal came when the puck went off the top of Travis Cottom's glove and into the net. Eric Winkelman and Mike Miller scored in the third period to get the crowd into it and get the Tomahawks within one at 4-3 before Brandon Mayer broke away twice and deked Iggy Slepokourev with the same exact move to score both times. Thanks to that, Whit Garey's late goal was just that -- late.

Upcoming...
Tonight: Portland at Seattle, Everett at Tri-City, Kelowna at Vancouver, Houston at Manitoba, Queen City at Puget Sound (Game 4 of Cascade Cup finals)
Tomorrow (end of WHL regular season): Everett at Seattle, Tri-City at Portland, Houston at Manitoba, Queen City at Puget Sound (Game 5 of Cascade Cup finals, if necessary)
Thursday: Saint John's at Manitoba
---

Have a great Saturday.